Clinch River Railroad
Clinch River Railroad - americaN branch
Details

Kategorie: Clinch River Railroad
Zuletzt aktualisiert: Samstag, 05. November 2016 17:42
Geschrieben von Michael Homberg
Clinch River Railroad - americaN branch
Further CRRR Pages:
---
Phil Brooks' "Clinch River Railroad" is a freelanced model railroad. It is modeled to look and work like the prototype railroads in the Appalachian coal fields in the '50s.
The easiest way to lean to know Phil's Clinch River Railroad is to study Model Railroad Planning, 2007, pages 20 to 26. You will find the story behind his freelanced railroad, the maps, the track plans, photos, and a lot of information.
If you want to know how he built his famous Clinch River Bridge, have a look at "N Scale Railroading", March 2006, pages 22 to 31.
If you are a railfan, get "N Scale Railroading" May 2006, pages 28 to 37, and read "Railfanning Mack's Gap and Big Creek".
Clinch River Railroad, German branch:
Starting in 2008, Phil and I discussed the idea of creating a German branch of Clinch River Railroad.
In April 2011, there was the first run of Clinch River trains in Germany, at the FREMO Meeting in Schutterwald, Germany, April 28 to May 01, 2011.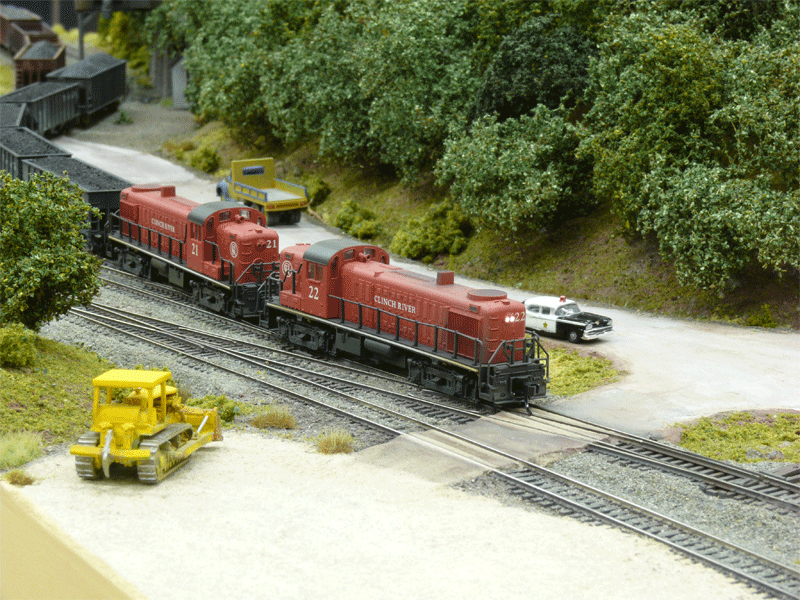 Clinch River RR engines 21 and 22 switching at Hamlin Loader, on the americaN module "Fremont Branch"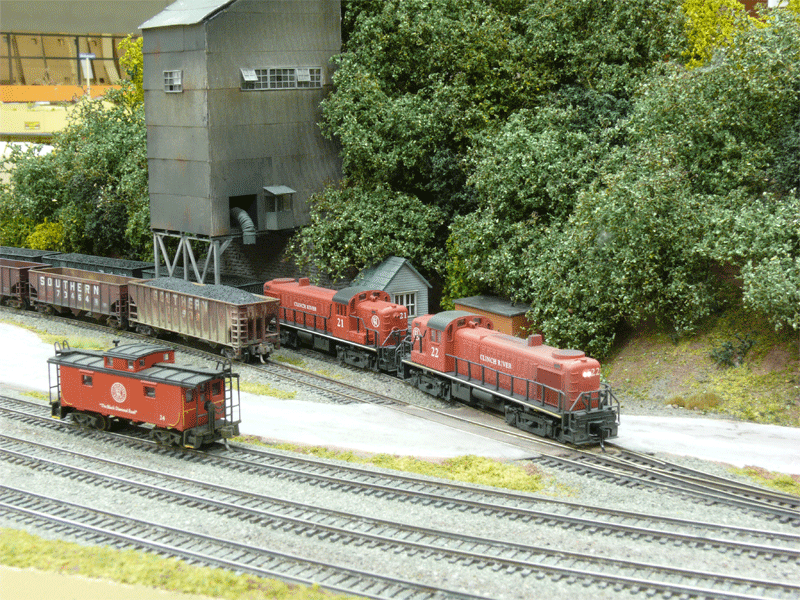 Hamlin Loader, Fremont Branch
CRRR 22 and 21 approaching Fremont Branch on the main line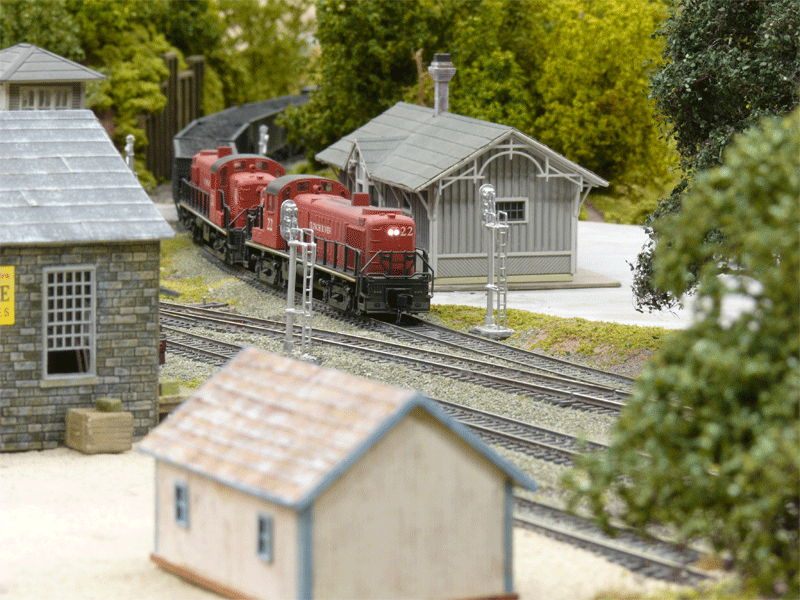 and are coming closer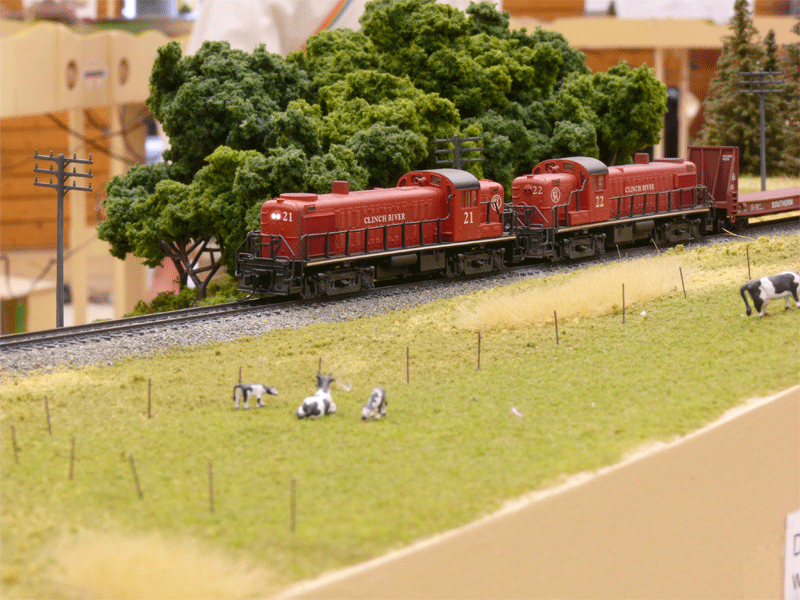 CRRR 21 and 22 with a pulp wood train at "The Culvert", americaN layout Schutterwald 2011
"The Culvert", view from the other side of the module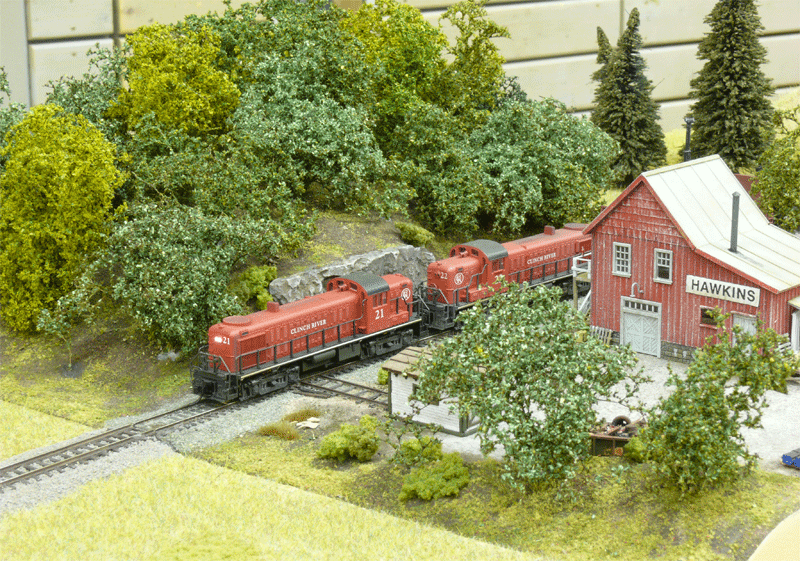 at Hawkins
---
Phil Brook's Clinch River Railroad has been published in:
2006 May: N Scale Railroading: Railfanning Mack's Gap and Big Creek; by Phil Brooks
2007: Model Railroad Planning: Clinch River RR, An Appalachian Coal Hauler; by Phil Brooks (Overview, with track plan)
2007 March: N Scale Railroading: A freelanced yard tower for the Clinch River; by Phil Brooks
2008 March: N Scale Railroading: Bridging the Clinch River; by Phil Brooks
2008 August: N Scale Railroading: An Uncoupling tool for pennies; by Phil Brooks
---
credits:
CRRR engines are Atlas RS-3, undecorated, caboose are by Atlas, undecorated
decals are originals from Phil Brooks
painting and weathering by locomotivpainter
DCC installation by Oliver Hampel