Yard Track plans
Frankfort Elberta, MI - Boat Landing
Details

Kategorie: Yard Track plans
Zuletzt aktualisiert: Freitag, 11. August 2017 16:42
Geschrieben von Michael Homberg
Frankfort Elberta, MI - Boat Landing
Michigan Car Ferry Operation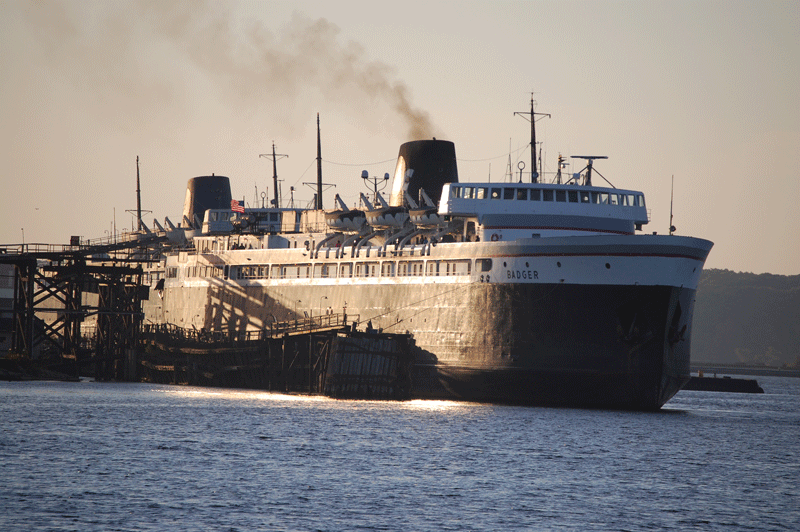 SS Badger in Ludington, October 2011. Photo by John Campbell
---
Being a railroad modeler and member of FREMO and americaN, I was looking for new ideas what could be of interest for modeling.
And found "Michigan Car Ferry Operation" by the late Arnt Gerritsen in Model Railroad Planning 2005, p. 16 - 23.
If you are interested in reading about the model railroad operation of the Elberta Boat Landing by Ann Arbor Railroad in 1971, or how to operate a model railroad yard with Lake Michigan Boats transporting 28 to 40 cars of 40ft, get a copy of this article.
Or get a copy of "Modeling the Ann Arbor in HO Scale" by Arnt Gerritsen, Railmodel Journal, November 2001, p. 28 - 37.
To get a feeling and understanding of Arnt's yard design, I made a schematic track plan of his yard model:

for more details klick here
Details to Arnt's track plan (status is as I know at the moment)
prototype boats were unloading and loading up to 10 times/day at Elberta
boat capacity, Arnt's model: about 25 cars (prototype boats: 25 to 40 cars of 40ft)
--> therefore, it would be 250 to 400 railroad cars per day
Arnt's H0 yard has a length of about 28ft or 8,25m, the yard pull track to the left is not included in this ft./meters
the "Land - Arrival" and "Boat - Arrival" tracks at Arnt's layout had a capacity of 15 cars
the scales is in the "Old Yard", because it had been there first, and did not be relocated because it was considered to be less expensive (but hard to operate)
assumption: the old yard was used to classify the cars for the boats (by weight, to get a balanced loading)
Some days later, I got the
Elberta
Right-of-Way and Track Map
Ann Arbor Railroad Co.
July 1, 1946
Redrawn From Original Val. Map of July 24, 1917
Corrected To May 3, 1946 
To give me a good orientation, I made a schematic track plan:

---
The following photos of Frankfort/Elberta, Benzie County and Sleeping Bear Dunes, October 2011, are by John Campbell: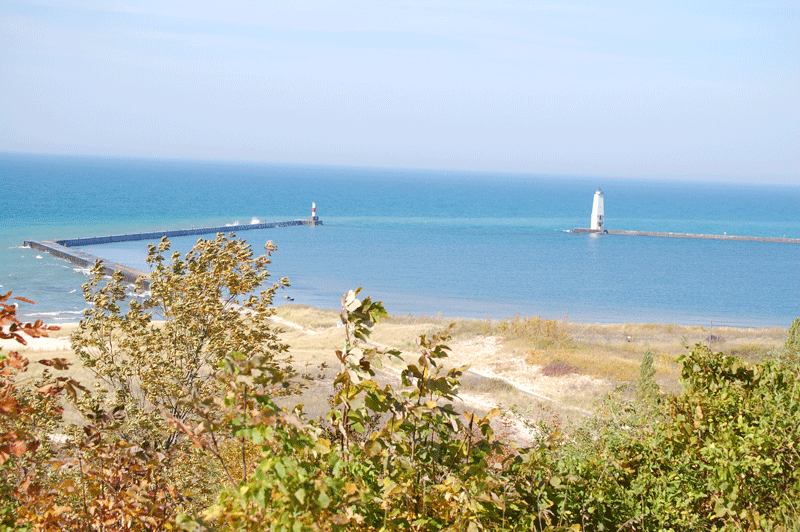 Elberta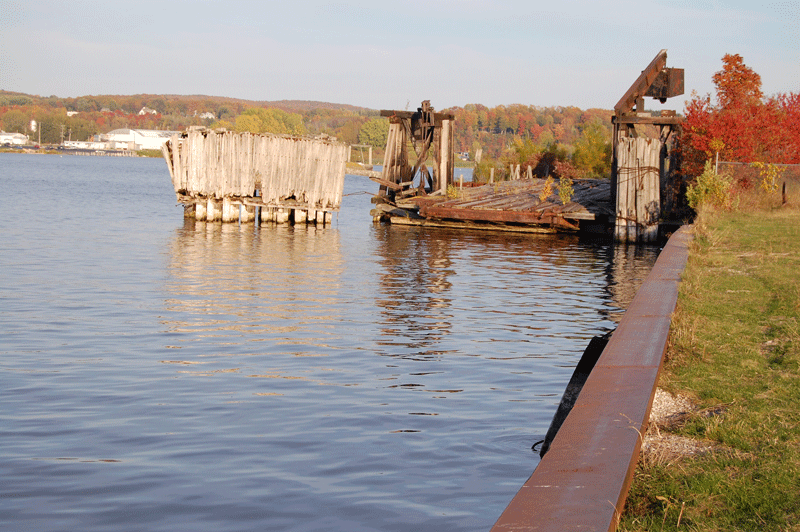 Elberta, boat slip and apron, October 2011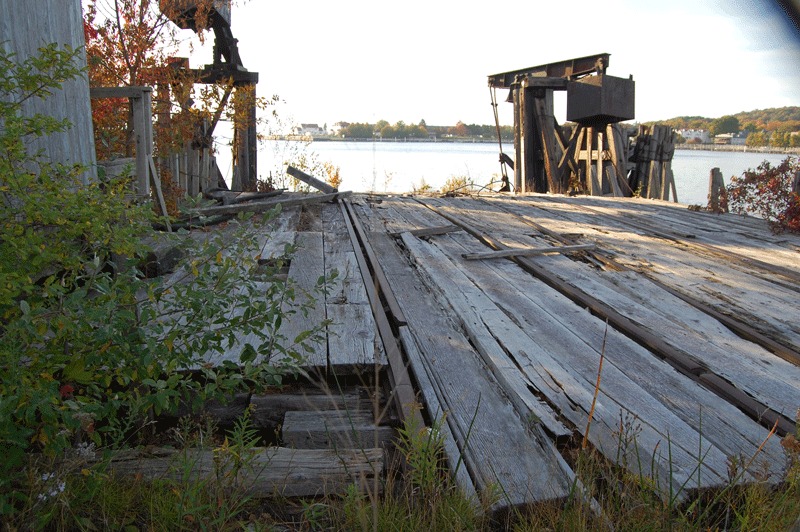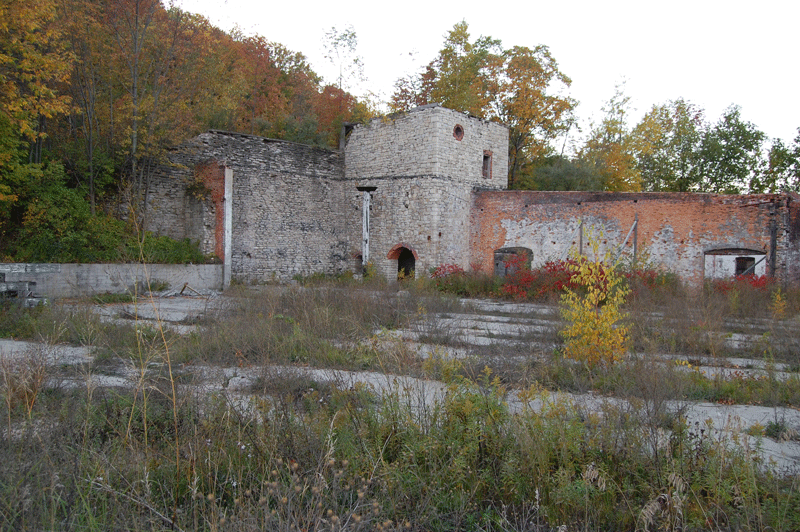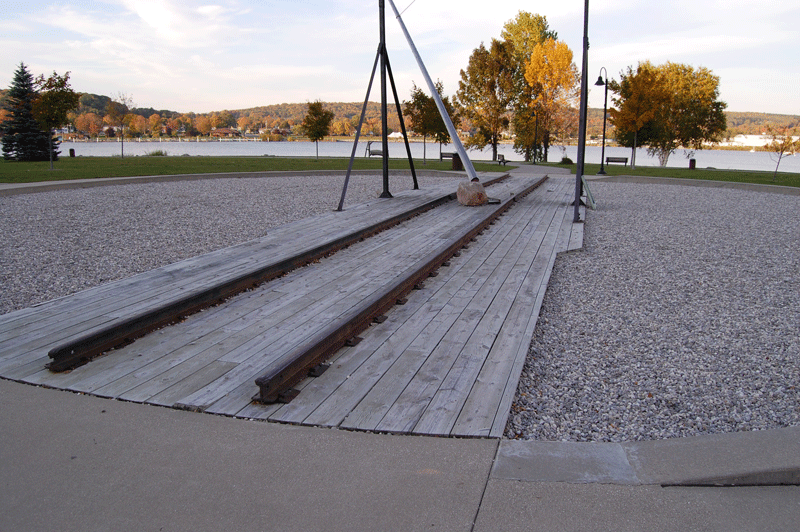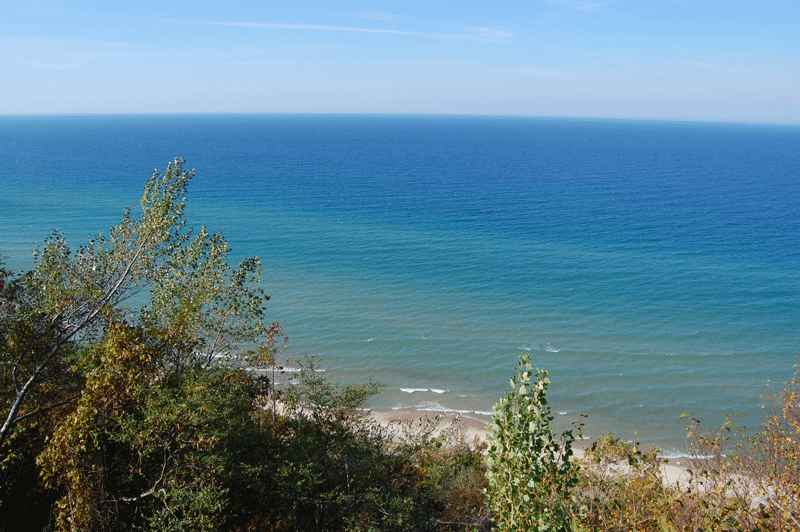 Lake Michigan, view from Elberta sand dunes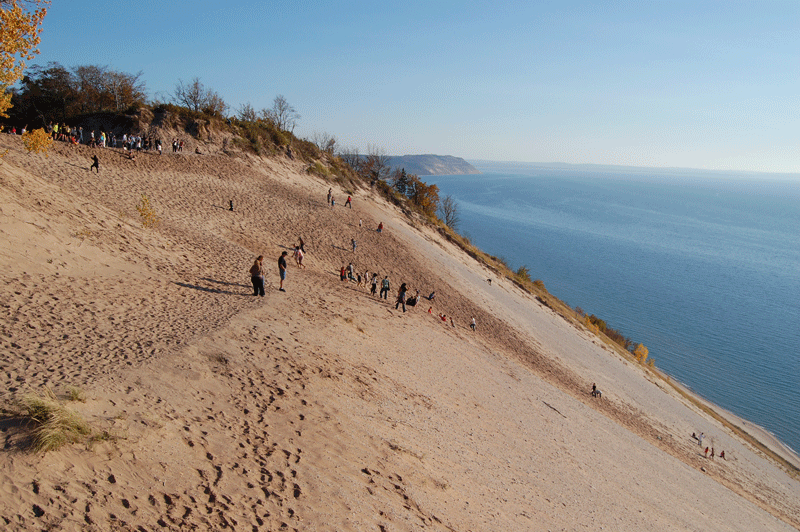 Near Elberta: Sleeping Bear Dunes, in US National Park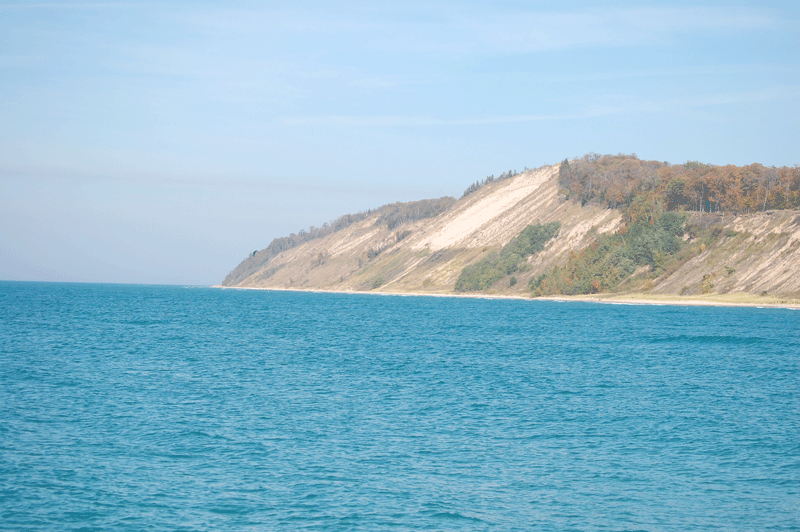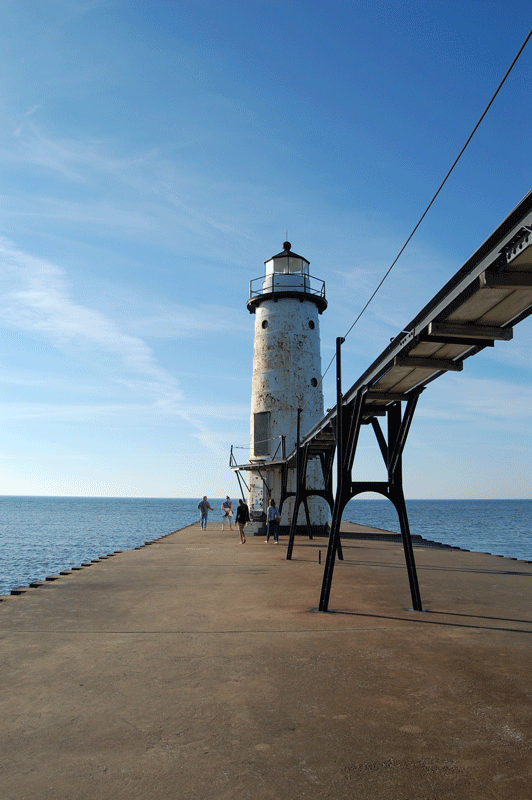 The lighthouse in Manistee had an upper "catwalk" so the lighthouse keeper could reach the structure in rough seas
The lighthouse is Point Betsie, just north of Frankfort, and was a US Lifesaving Station many years ago.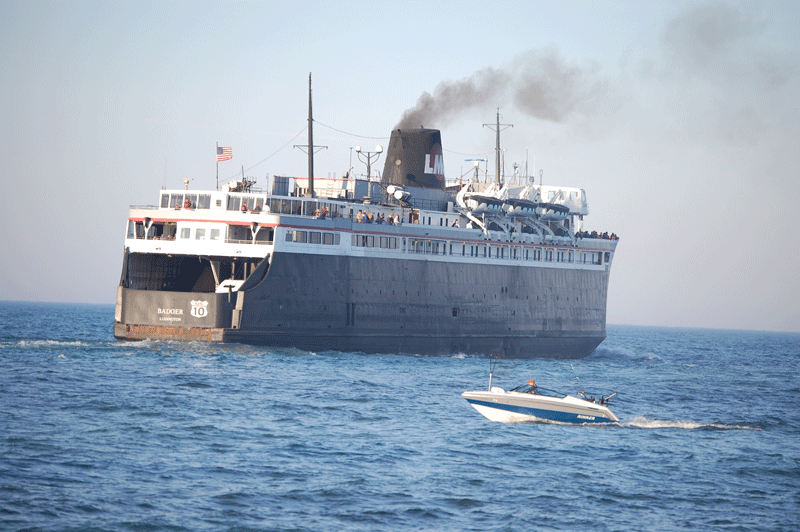 SS Badger in Ludington
The port city of Ludington is about an hour and one half hour drives south from Frankfort and is located in Mason County.
Since the 1890's, it has been the home of Lake Michigan's largest carferry fleet, the Pere Marquette Railway (subsequently the Chesapeake and Ohio, then Chessie System Railroads).
The initially ships were wooden cross lakes freights called "break bulk" boats.  Interestingly, ships on the Great Lakes were called "boats" despite their being as large as ocean-going vessels.  
The first steel-hulled carferry was the Pere Marquette (15) in the 1890's designed by famous naval architect Robert Logan.  
It was followed by many more (Pere Marquette 16, Pere Marquette 17, Pere Marquette 18 (I) which sank, Pere Marquette 18 (II), Pere Marquette's 19 and 20 which hauled railroad cars only and no passengers, then Pere Marquette 21 and 22 (sisters), then City of Flint and City of Saginaw (sisters), then City of Midland 41 which was considered the finest carferry ever built (she was reduced to a barge in 1997 and is still afloat).  
The final two carferries were the sisters SS Spartan (1951) named after the Michigan State University mascot, and the SS Badger (1952) named after the University of Wisconsin mascot. They were identical, and the largest carferries ever constructed at 410ft in length, 60ft in breadth, and could hold about 32 railcars.  Like the City of Midland, they had a sleek, modern appearance and extensive passenger accommodations.  
They carried mostly railcars on their four track car decks, but also trucks and passenger cars and recreational vehicles.  They were the last coaled fired passenger ships ever built in America, and to this day, the SS Badger is the last coal-fired vessel to operate in the USA.  
The SS Spartan was laid up in 1979, and has been heavily cannibalized for spare parts to keep the SS Badger operational.  It is doubtful the SS Spartan will operate again as a steamship.
The SS Badger was purchased and remodeled in the early 1990's and now operates between Ludington and Manitowoc, Wisconsin, from May to October and carries passengers and trucks, but no longer railcars.  
It takes about four hours to complete the trip.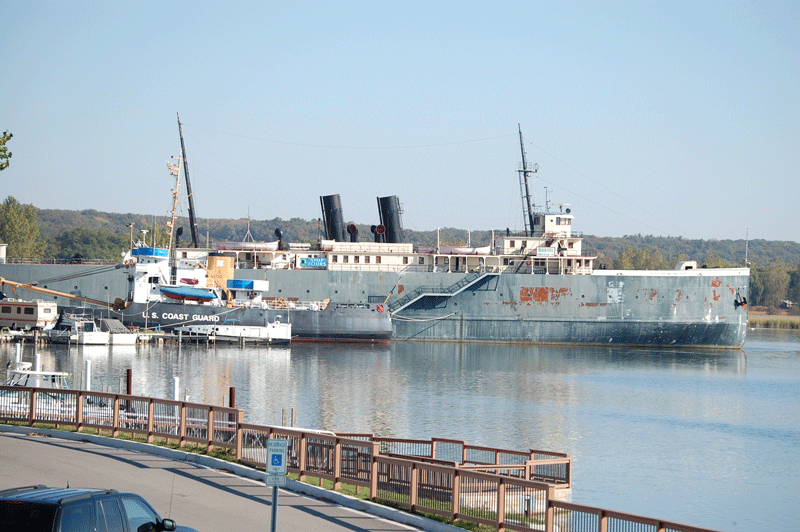 SS City of Milwaukee carferry in Manistee, Michigan
About one hour south of Frankfort is the Victorian port city of Manistee. 
This city is the home of the former carferry SS City of Milwaukee.  It was built in the early 1930's, the last of six nearly identical sister ships built to largely the same design by the Manitowoc (Wisconsin) Shipbuilding Company.  
Three of these vessels were built for the Grand Trunk Railroad (Madison, City of Grand Rapids, and City of Milwaukee), two for the Pere Marquette Railroad (Pere Marquette 21, Pere Marquette 22), and the Ann Arbor Railroad (Ann Arbor 7 - now the inactive MV Viking).  
Of these, only the City of Milwaukee remains in almost original condition and is now a museum ship on Lake Manistee. The Ann Arbor 7 was remodelled in the 1960's, lengthened, repowered, and given bow thrusters.  It was renamed the MV Viking, and was the last vessel operate for the Ann Arbor Railroad until the early 1980's. After years of bouncing around the Great Lakes under different owners, it is now in permanent layup across Lake Michigan.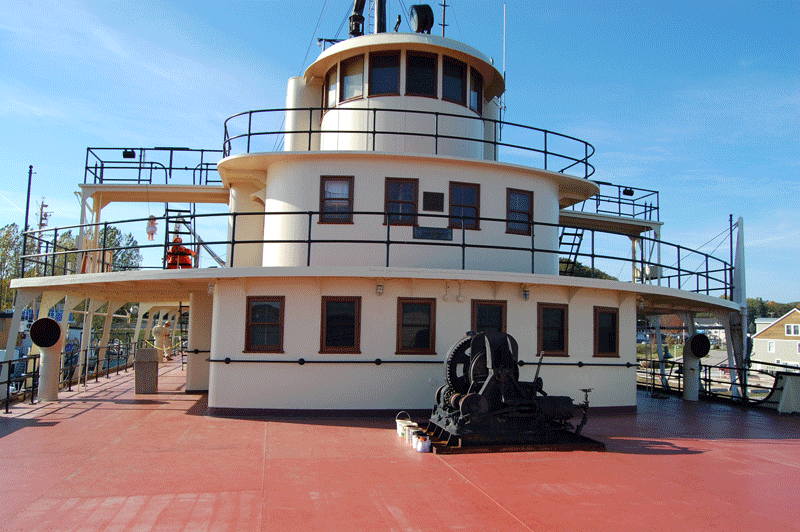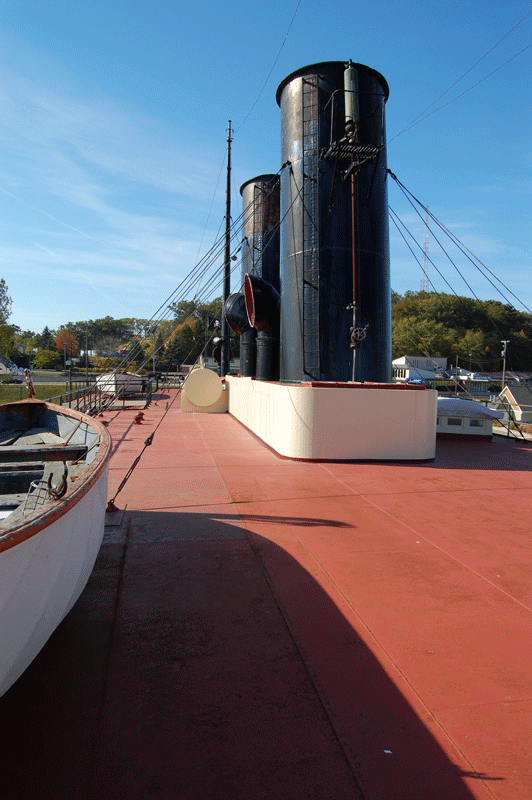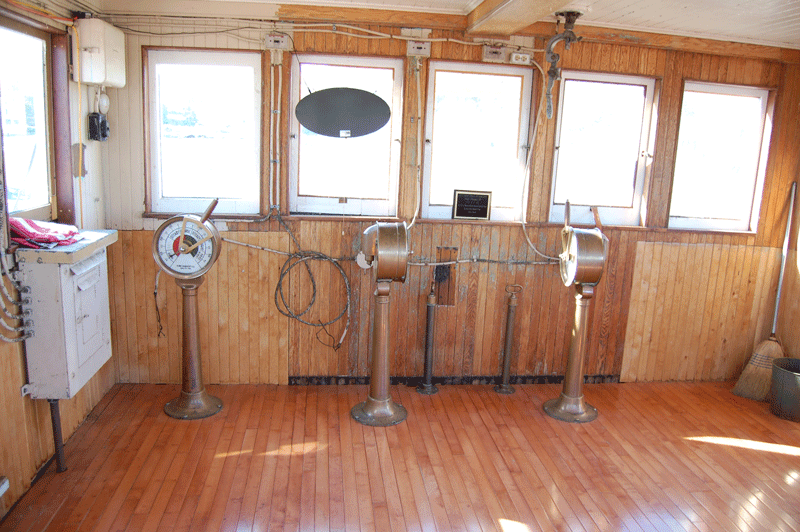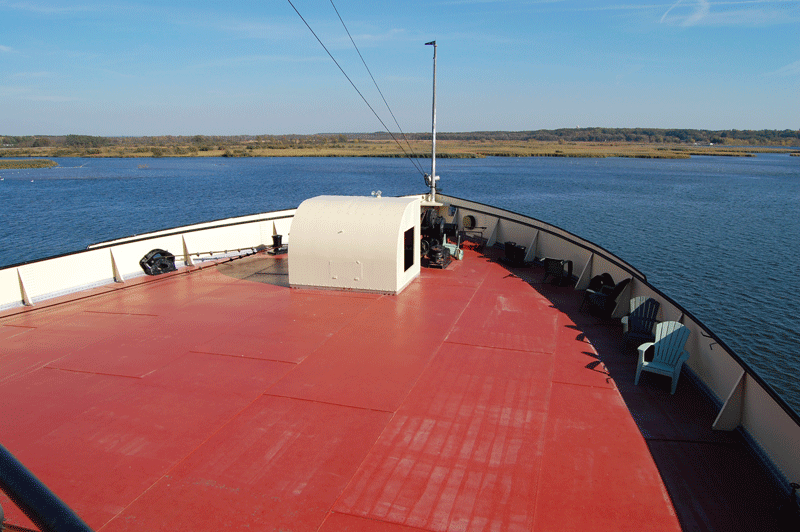 SS City of Milwaukee operated for the Grand Trunk Railroad between Muskegon, Michigan, and Milwaukee, Wisconsin until the late 1970's, and then was leased to the Ann Arbor Railroad during its final years of service.
It is quite well preserved.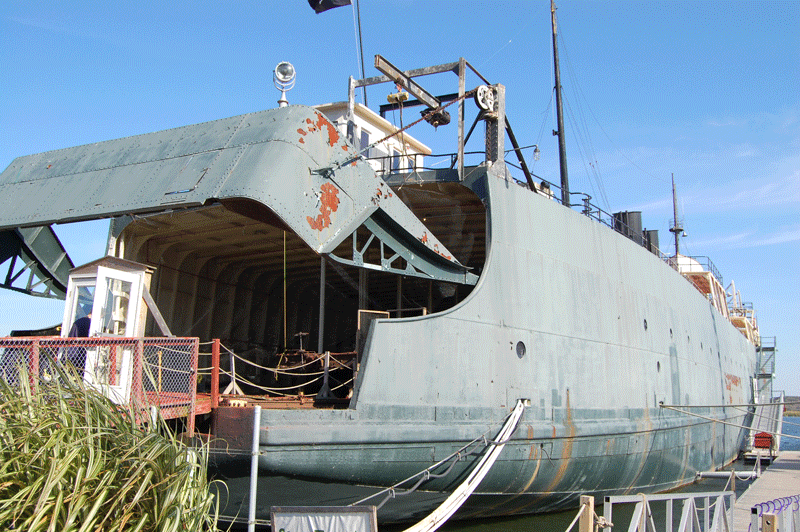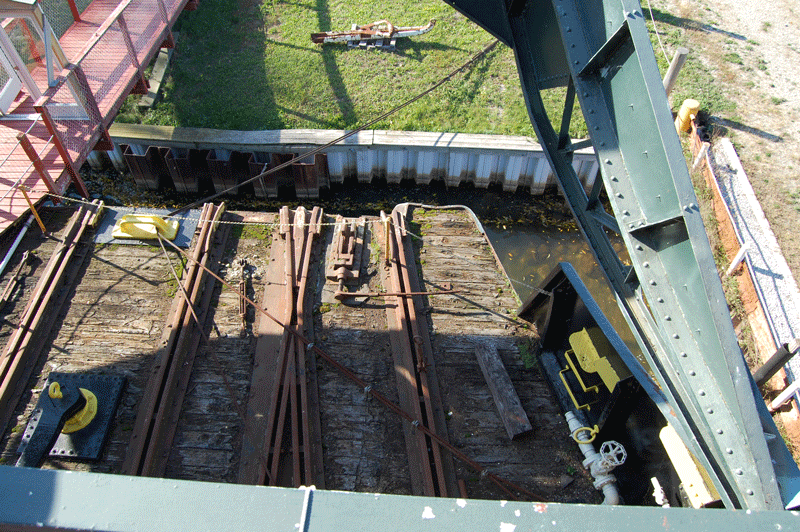 The carferry had four tracks, and had to be loaded carefully to avoid capsizing.  The track layout was standard for carferries on Lake Michigan, Lake Erie, and Lake Ontario.  The carferries at the Straits of Mackinac and the Detroit River carferries used a slightly different three or four track design.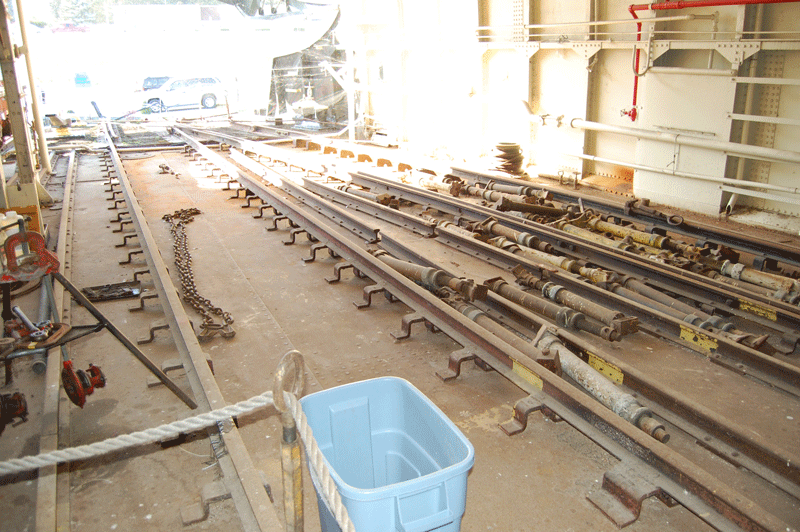 Credits:
Thank you to John Campbell for sharing information and photos, and the allowance to show his photos and accompanying text on this site
---
Video: Ann Arbor Railroad At Elberta- Loading The Carferries 1968-1972 
Two boats can be loaded at the same time, as can be seen at around minute 09:00
And: C&O's "The Golden Link" (C&O's Carferry Promo Film)  
This was a promotional film for the C&O railway's carferry operation based out of Ludington, Michigan. This film was made in 1960 during the peak or golden era of the carferries on Lake Michigan. During this era, 6 carferries were running in and out of Ludington.