More North American Model Railroads which influenced me
Columbia & Western Railway, by Mark Dance
Details

Kategorie: US Model Railroads which influenced me
Zuletzt aktualisiert: Dienstag, 24. Dezember 2019 10:50
Geschrieben von Michael Homberg
Columbia & Western Railway
An N scale railroad model by Mark Dance, Vancouver (BC, Canada)
How I "met" the Columbia & Western Railway
End of December 2013, I re-visited the BAE Braunlage Andreasberger Eisenbahn by OOK Otto O. Kurbjuweit. Photos and Videos you will find here.
The BAE got an excellent publication in the LDJ #38, the "Layout Design Journal" by the LDSIG "Layout Design Special Interest Group".
On January 1st, 2014, the LDJ 38 came back in my hands, and I re-read the BAE article.
In the same #38, there is a 9 page article about the Columbia & Western Railway, by Mark Dance.
I have read the Columbia & Western article with great interest when the magazine was published in summer 2008. And re-read it now. How will it look today, I asked myself. And began to search the web. What I found out was very informative for me, and I am glad that Mark Dance permitted me to set up this web page, and to illustrate it with his photos and graphics. Thank you, Mark!
Track plans of Columbia & Western Railway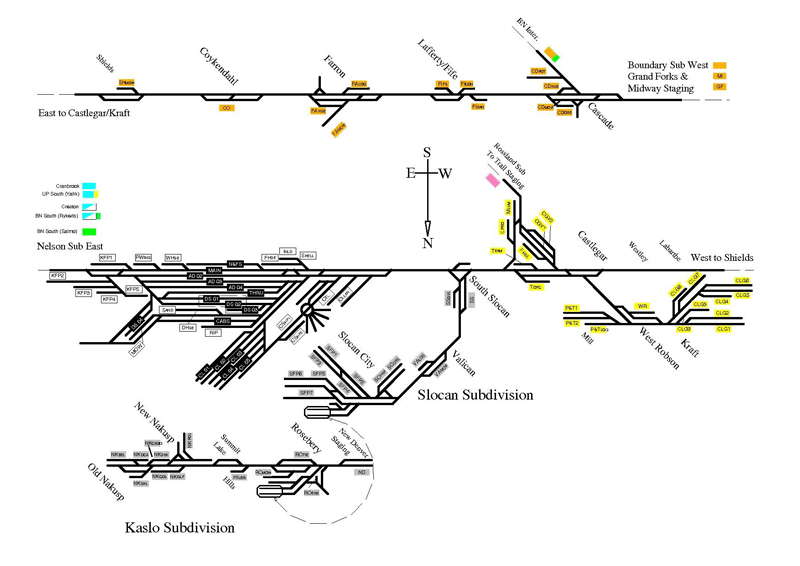 Schematic Track Plan.
Comment for orientation North / West: At the Columbia & Western Railway, in most cases the "west" is to the right and "east" is to the left because on the prototype the rails follow the south or eastern side of the water features. This is practiced on this map, too. Please have a look at the "North" arrow on the map to get oriented.
Located in Google MyMaps: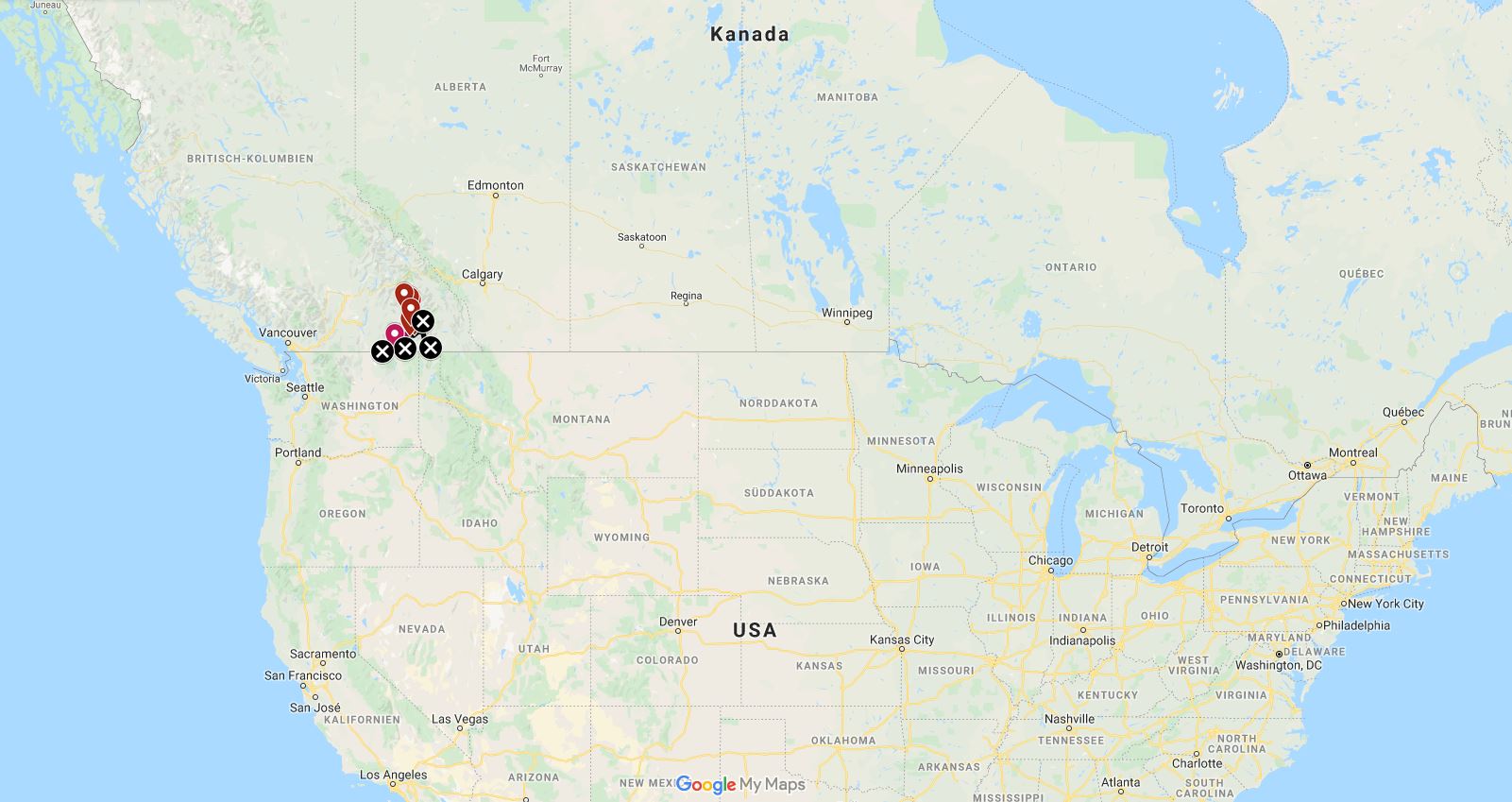 Location: British Columbia, Canada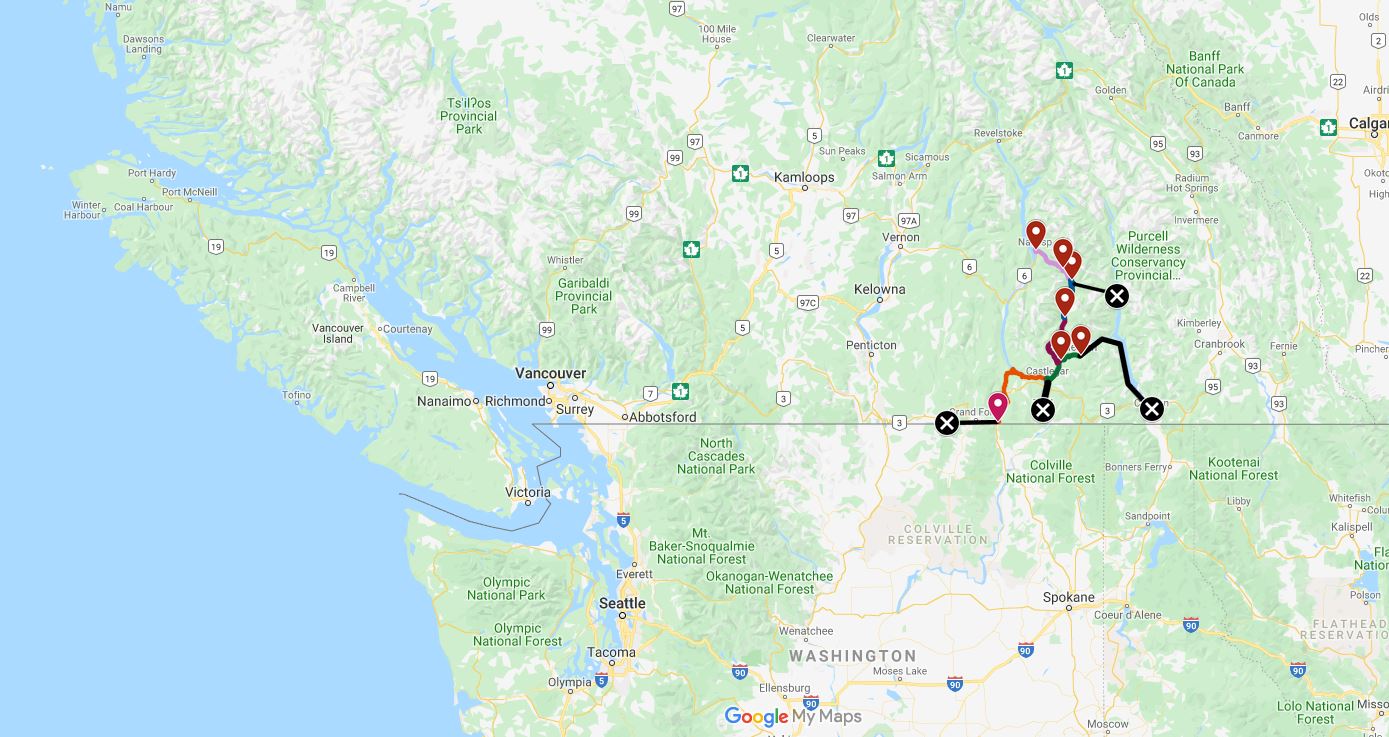 getting closer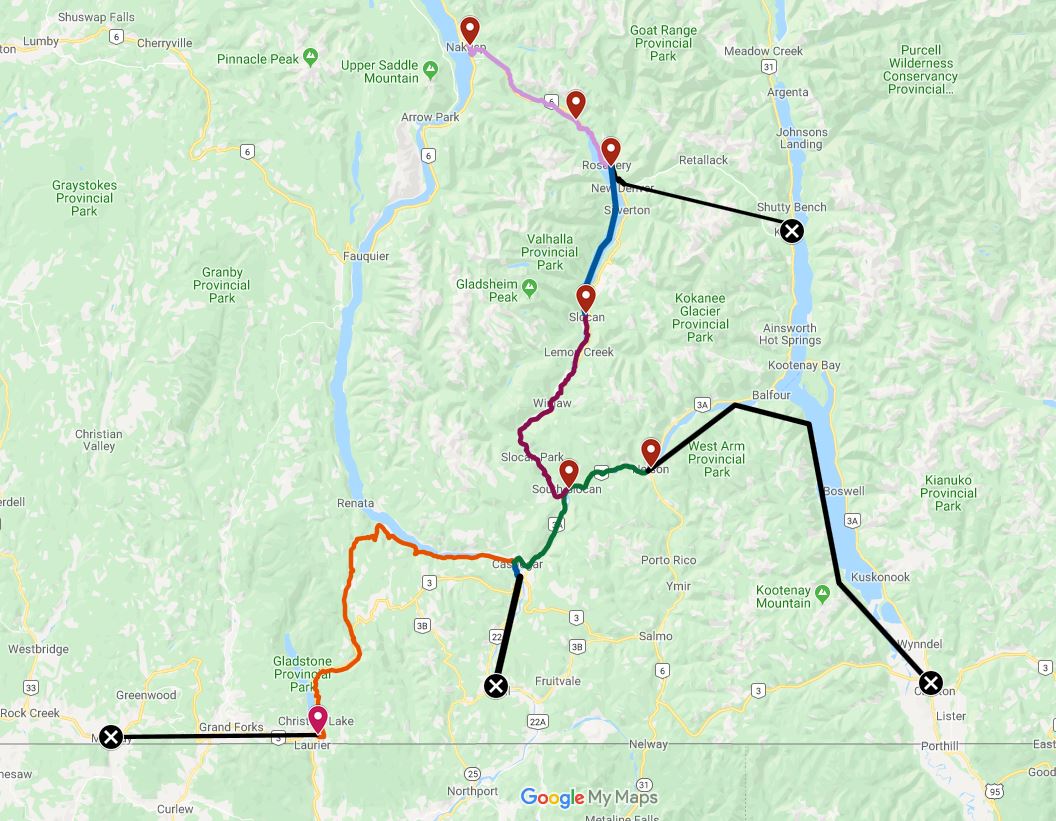 the area modeled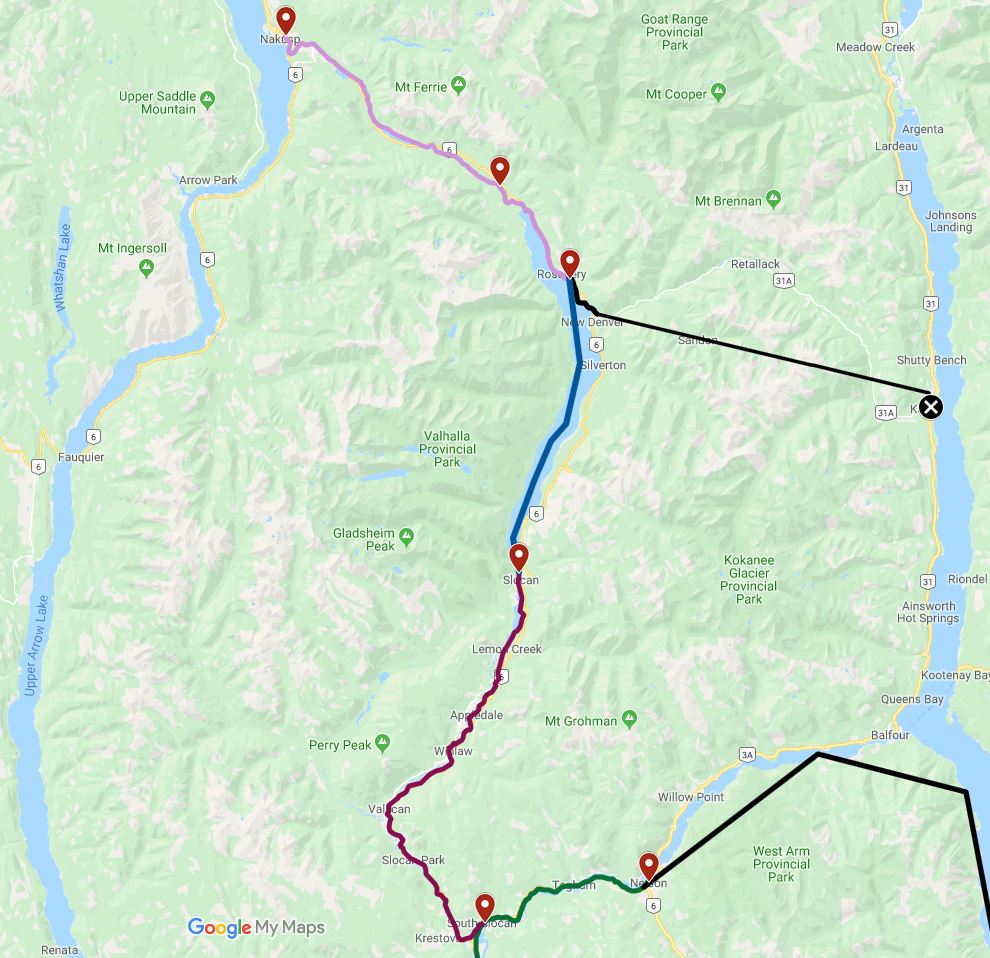 north part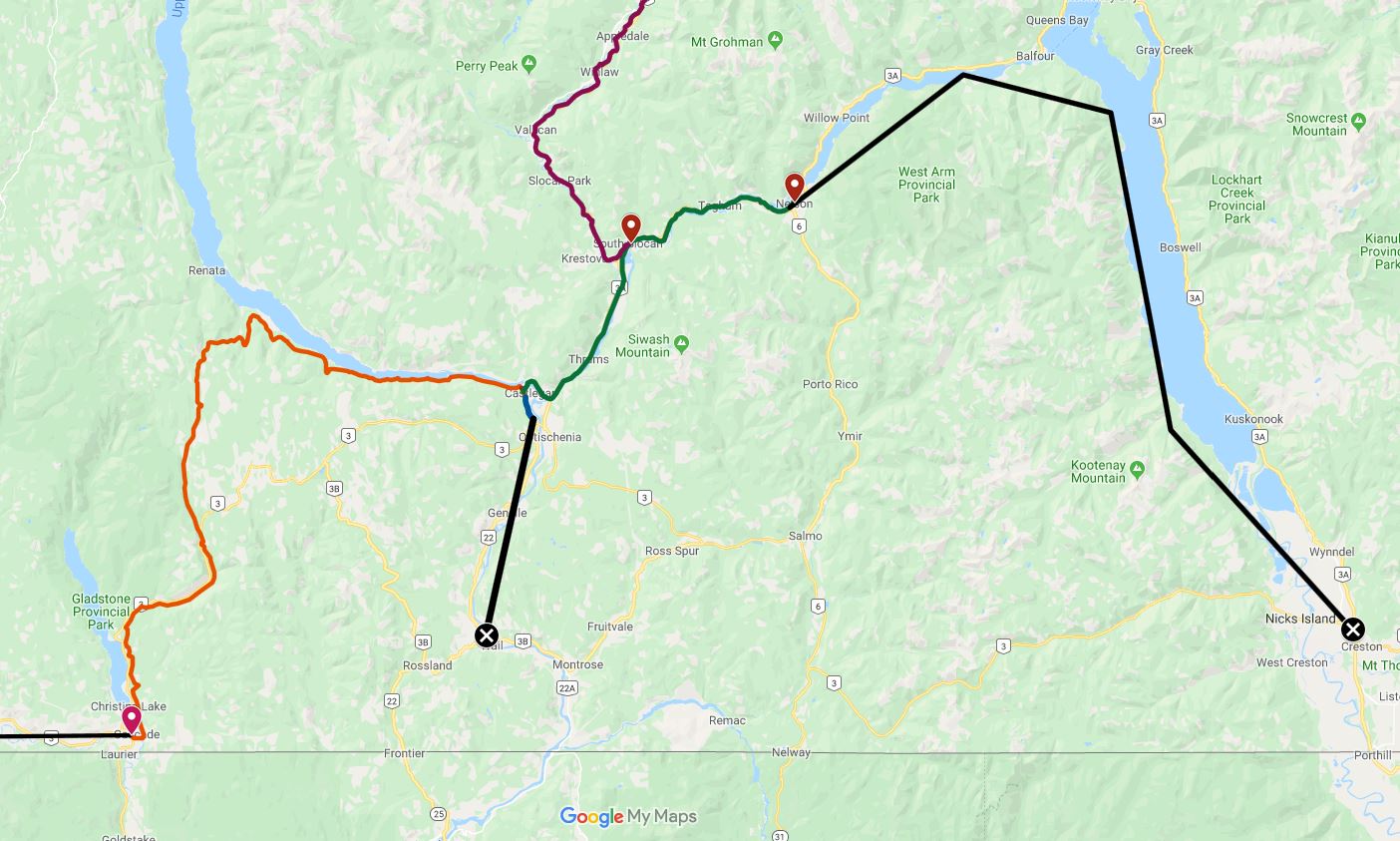 south part
Track Plan by Mark Dance: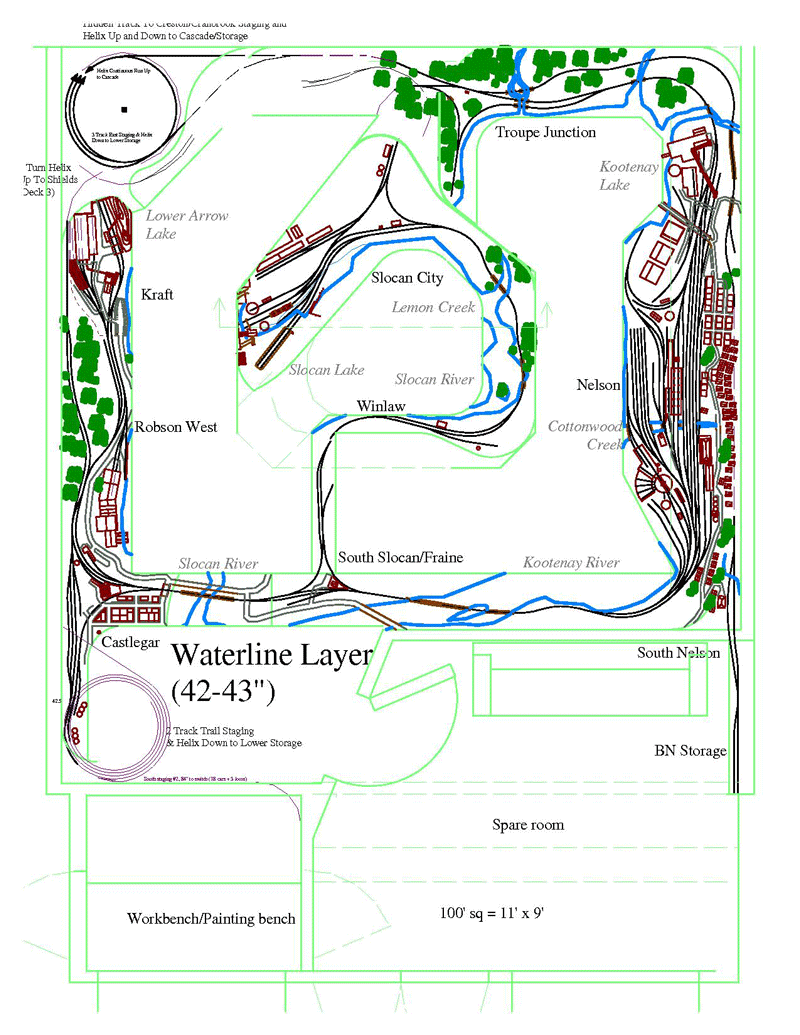 Waterline Layer
Farron Layer
Overview photos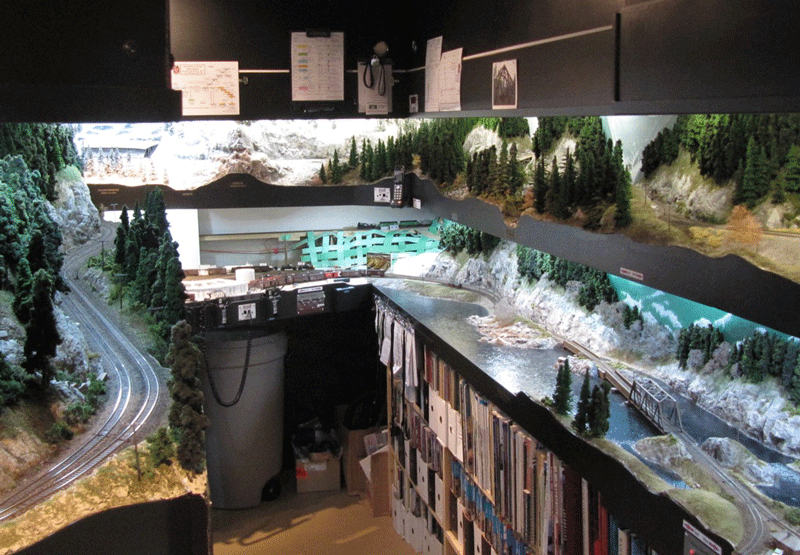 Photo taken from South Slocan,
view to West side of Nelson (lower layer)
and Snow Shed #1 on upper layer. East part of Coykendahl is on the left (upper layer).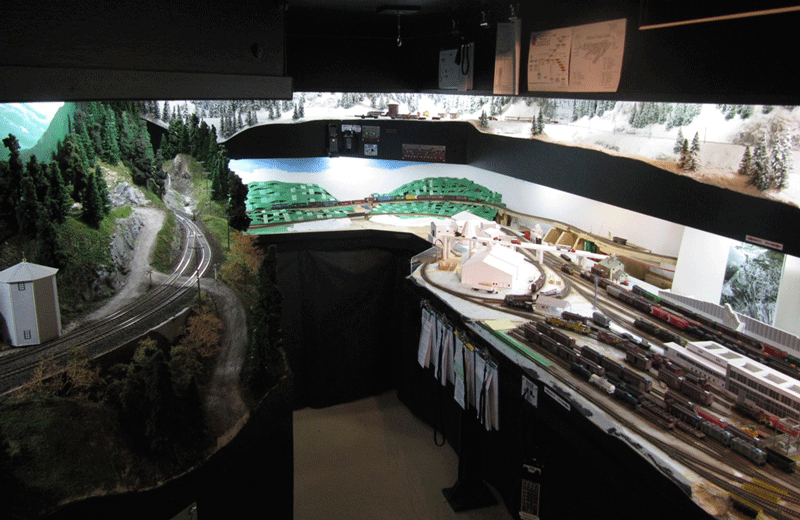 Photo taken at Coykendahl:
Lower layer: Nelson (east part).
Upper layer: Farron (right side and middle), west part of Coykendahl (left)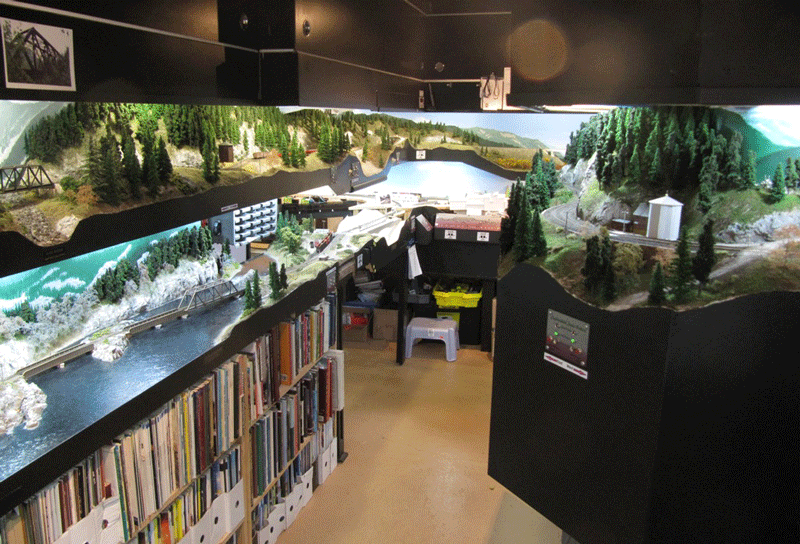 Photo taken at corner of room at east end of Nelson
Lower layer: bridges of Kootenay River, South Slocan (with gate 3 opened, therefore not visible), and Castlegar in the background
Upper layer: Fife/Lafferty on the left, Kettle River Bridge in the middle, Coykendahl on the right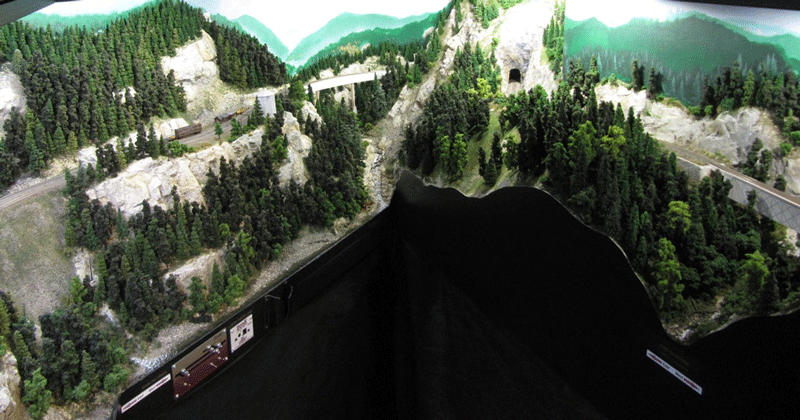 Upper layer: Shields
Snow Area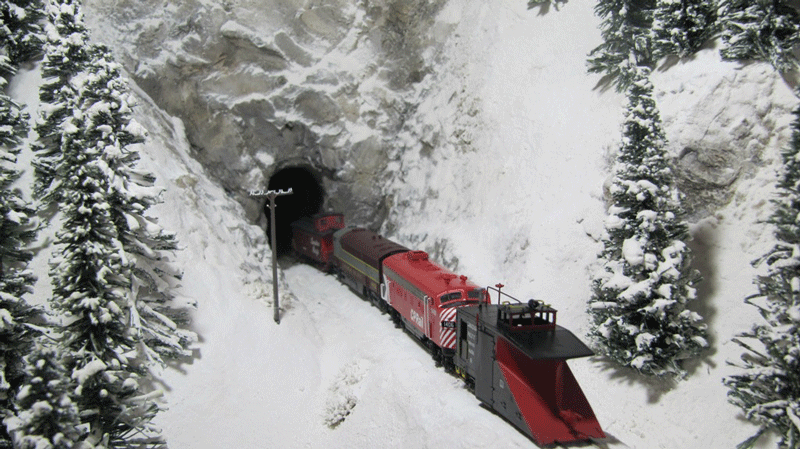 Snow plow train coming from Coykendahl, and moving west towards Farron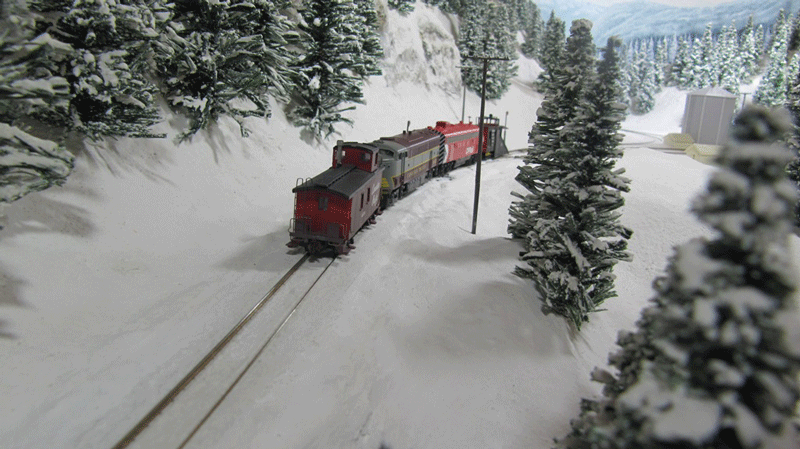 towards first switch of Farron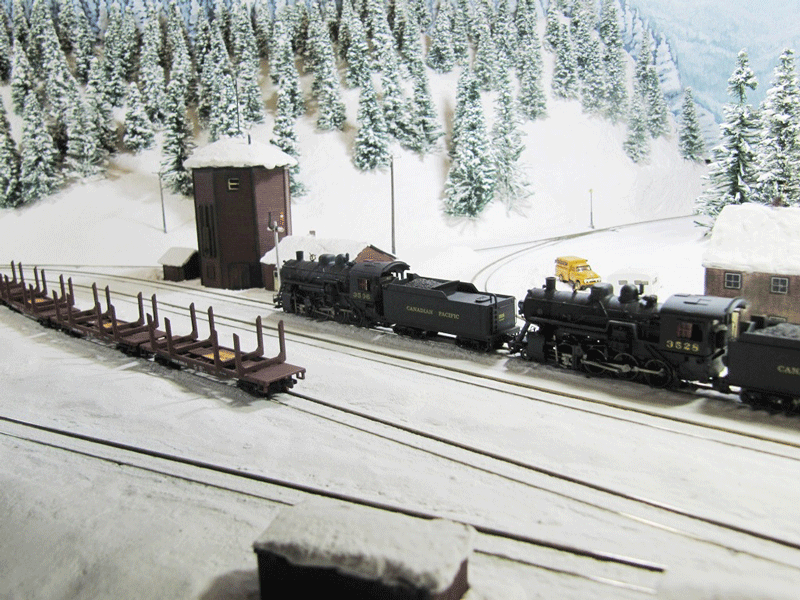 Farron: meet with a steam train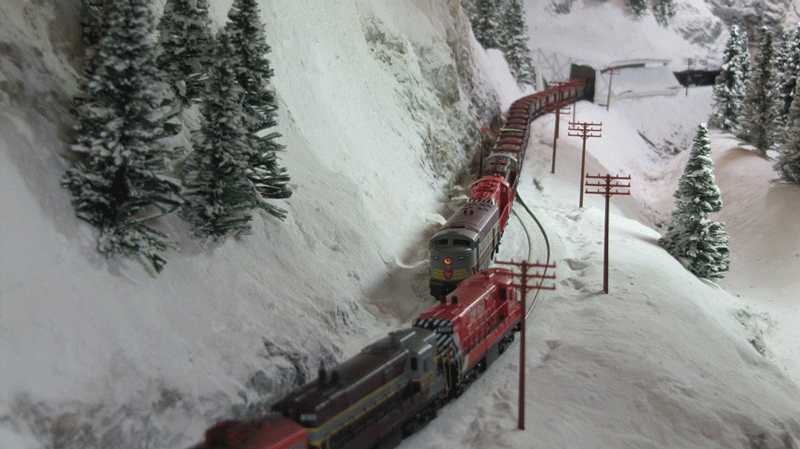 west switch of Farron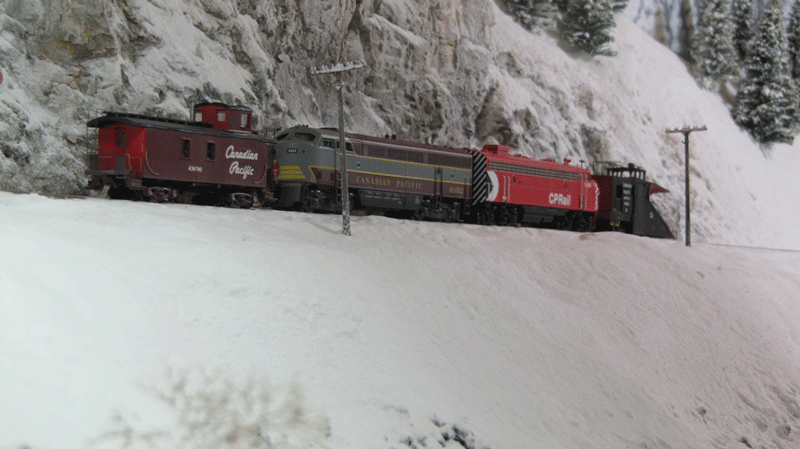 Snow plow train left Farron and continues west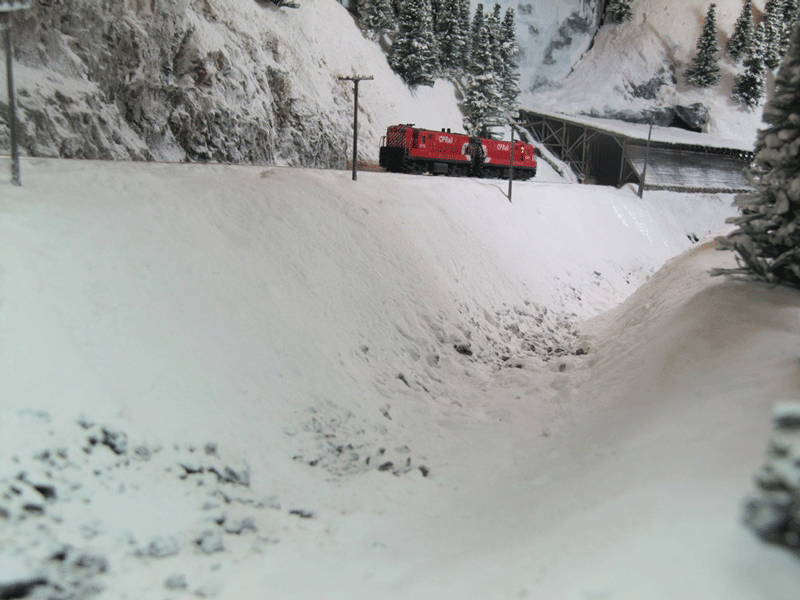 Pushers at Snow Shed #1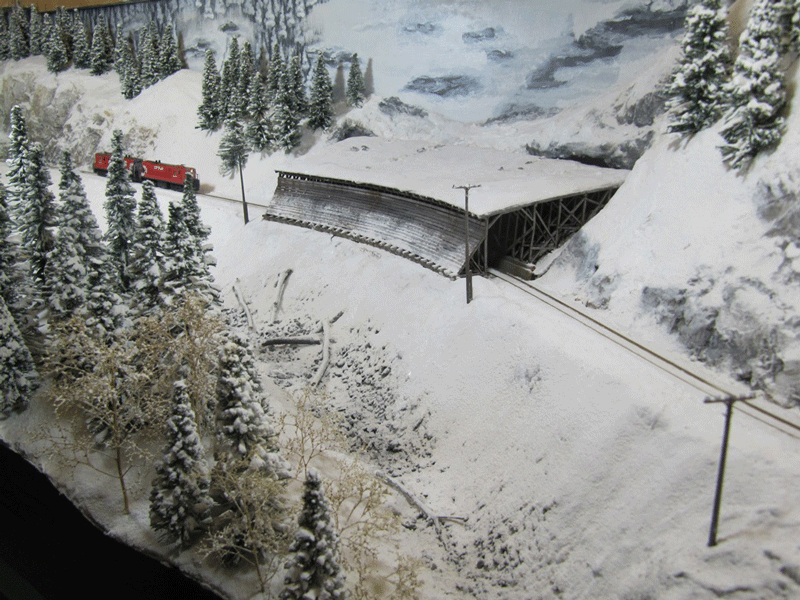 Snow Shed #1, view from other side
Kaslo Subdivision / Slocan Branch
The Slocan Branch hooked me when first looking at the railway system map of the Columbia & Western.
This is a branch which only can be reached by using rail barges which move over the Slocan Lake, from Slocan City to Rosebery.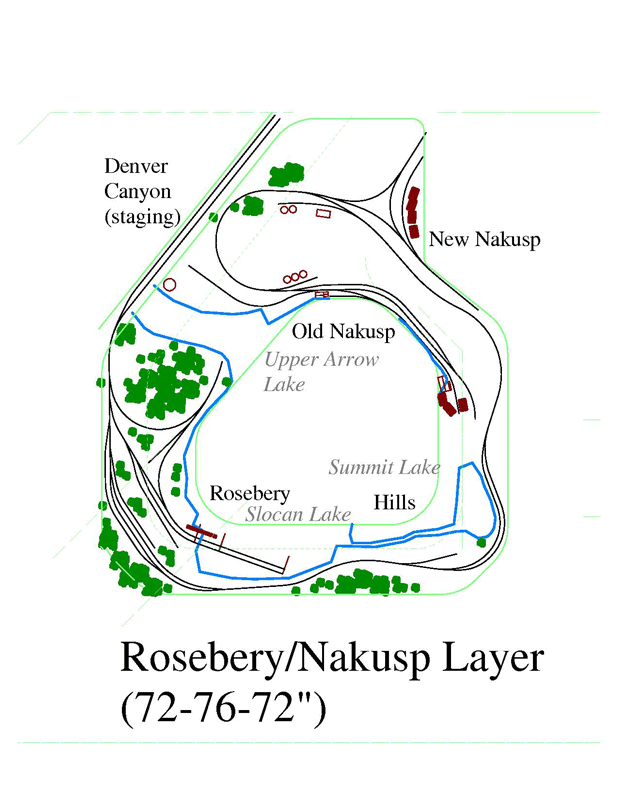 Rosebery / Nakusp Layer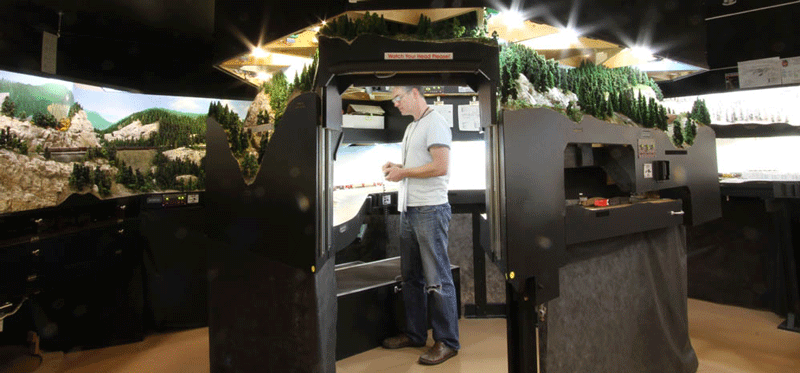 The Kaslo Subdivision is inside the "Mushroom". Slocan City is on the lower (= "Waterline") layer, where Mark is operating at the moment.
Some time later he moved: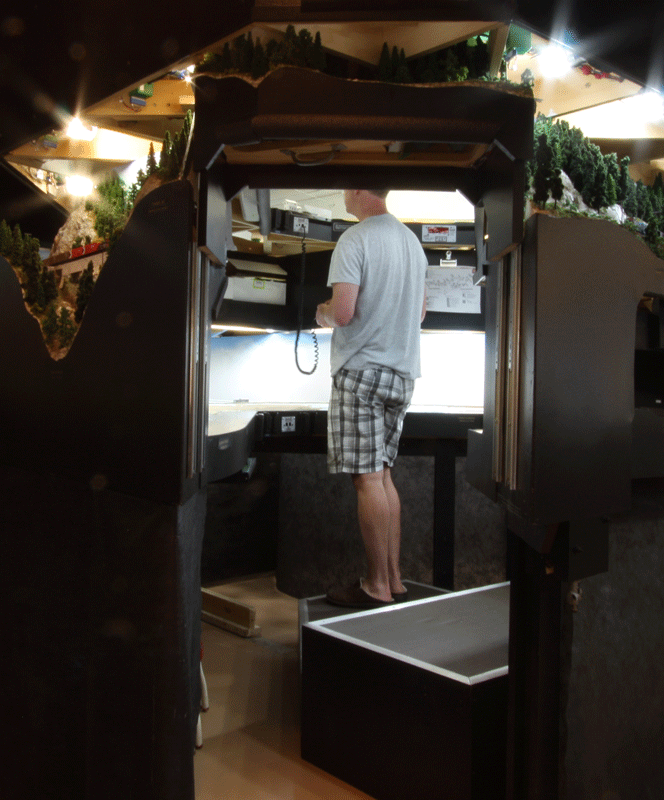 The Nakusp layer is where Mark is now operating trains. Mark is standing on a platform which is removed while operating the Slocan City layer.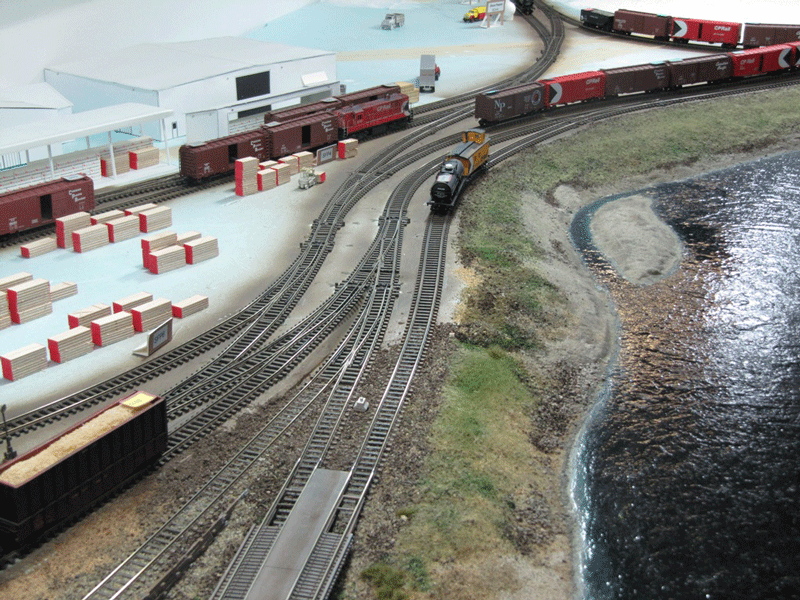 Slocan City with huge wood processing plant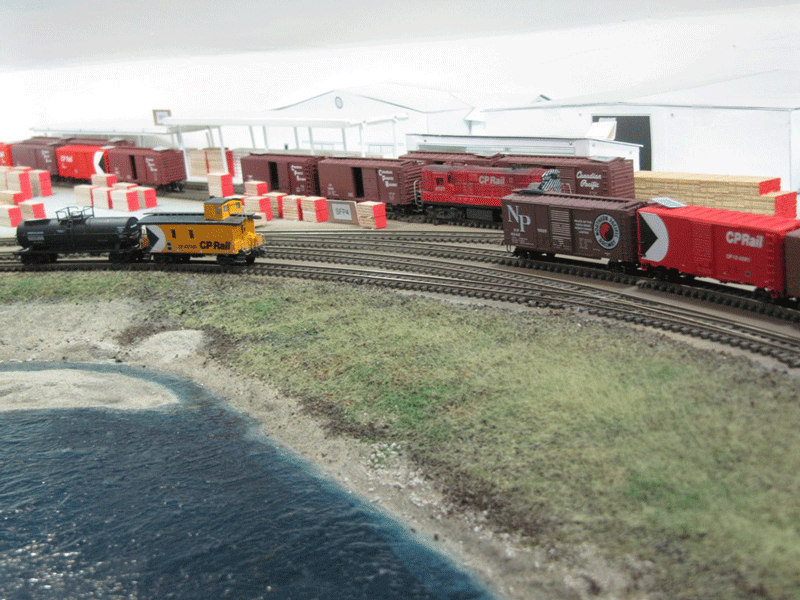 Slocan City is the "End of Rail" from Nelson. Here, the entire train (locomotive, cars, caboose) is loaded onto a rail barge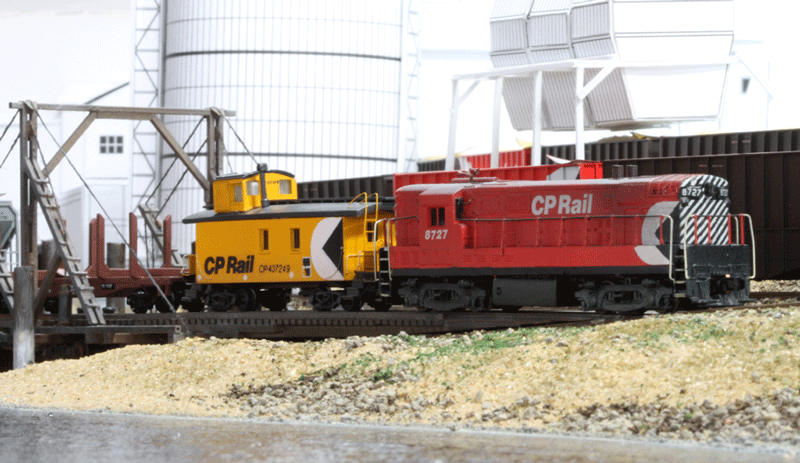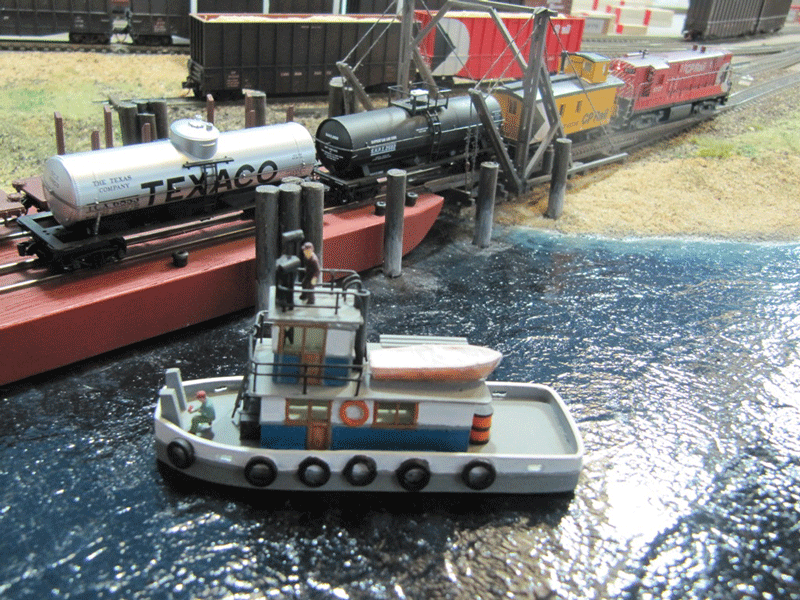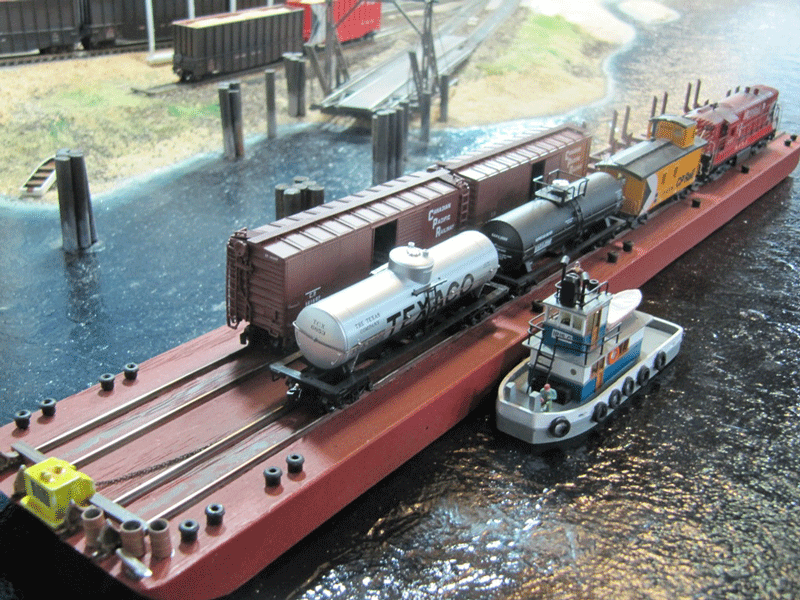 The barge leaves Slocan City, and is pushed up the Slocan Lake, towards Rosebery
This journey is performed up the lake, and on Mark's railroad model ...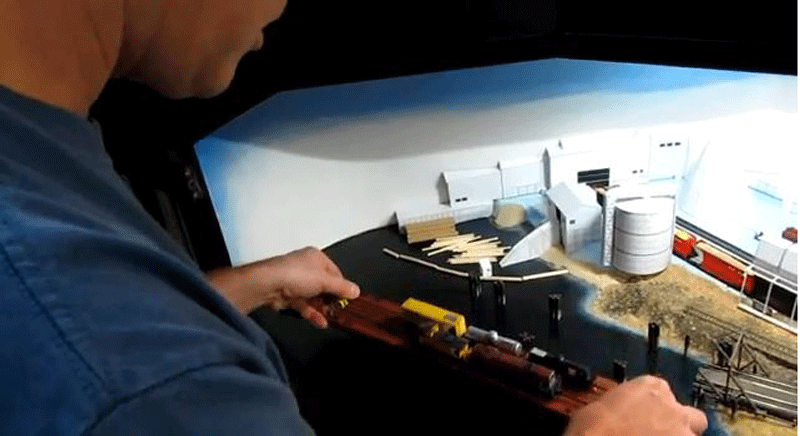 by air transport: the barge including train is lifted up to the elevated layer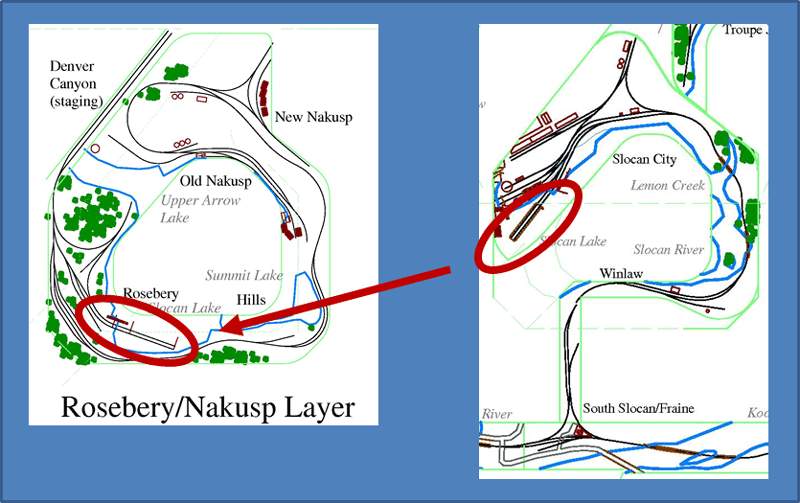 barge up: locations on the track plans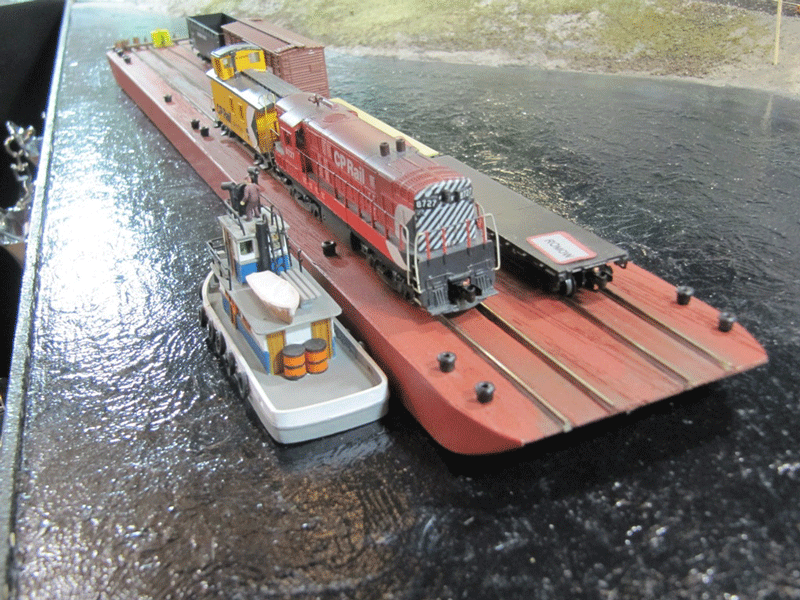 Barge arrived at Rosebery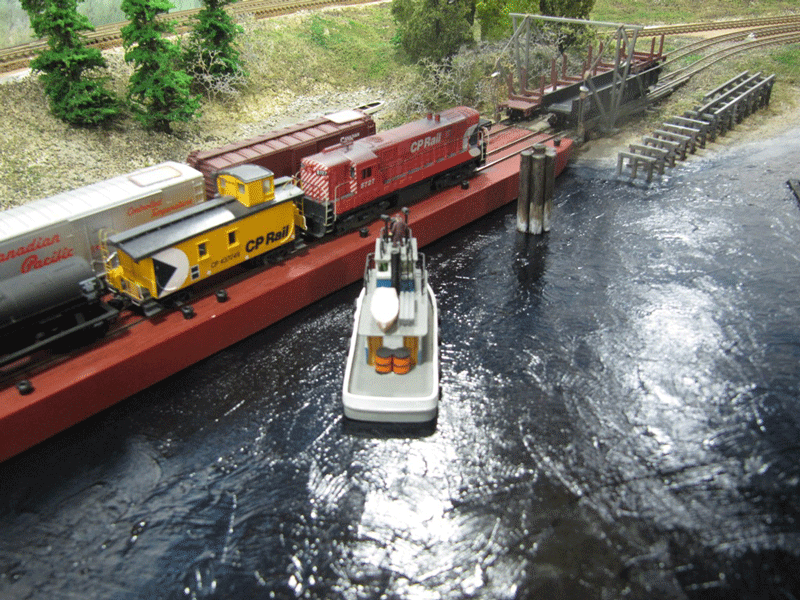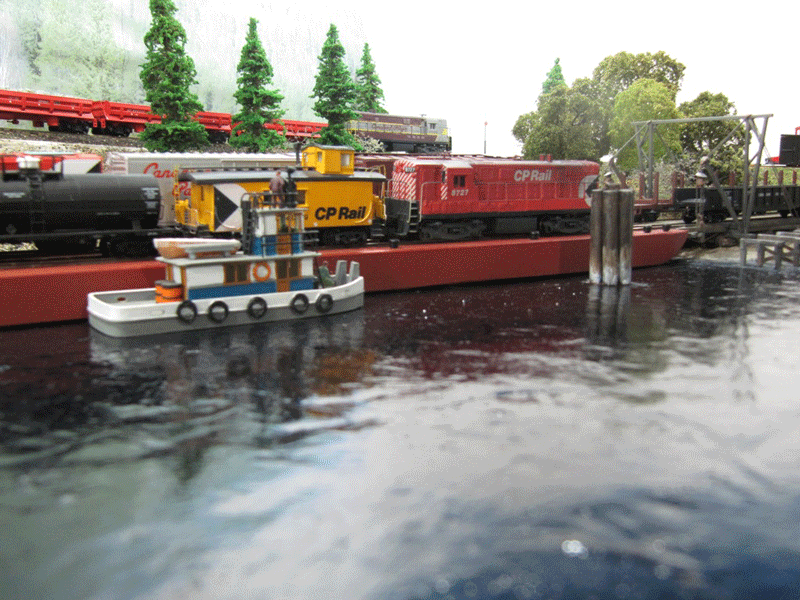 Rosebery, at the barge slip. The train in the background is moving from Hills into Rosebery yard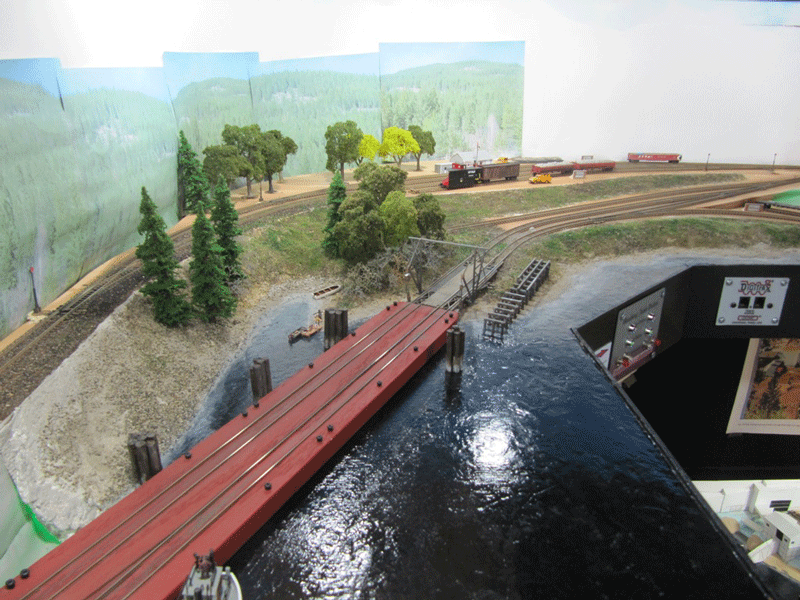 North part of Rosebery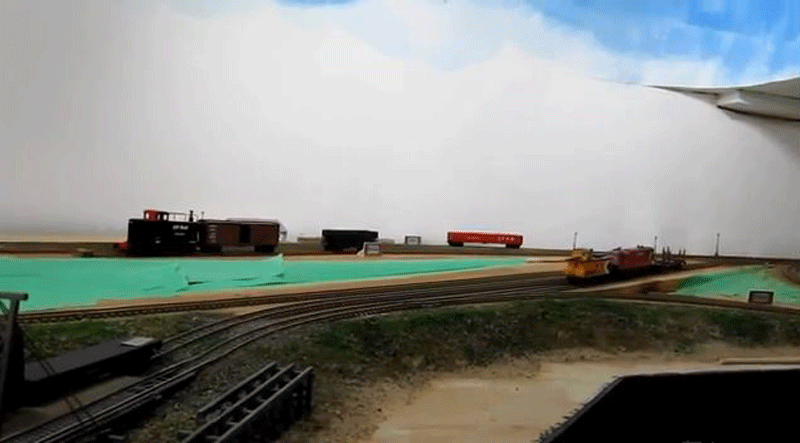 South side of Rosebery. The track in the background to the right is moving towards New Denver Staging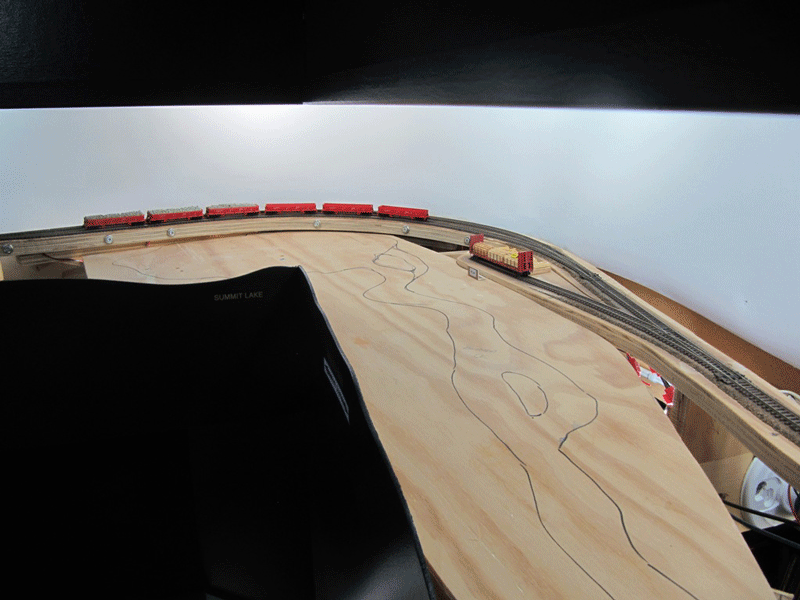 Up to the North: Hills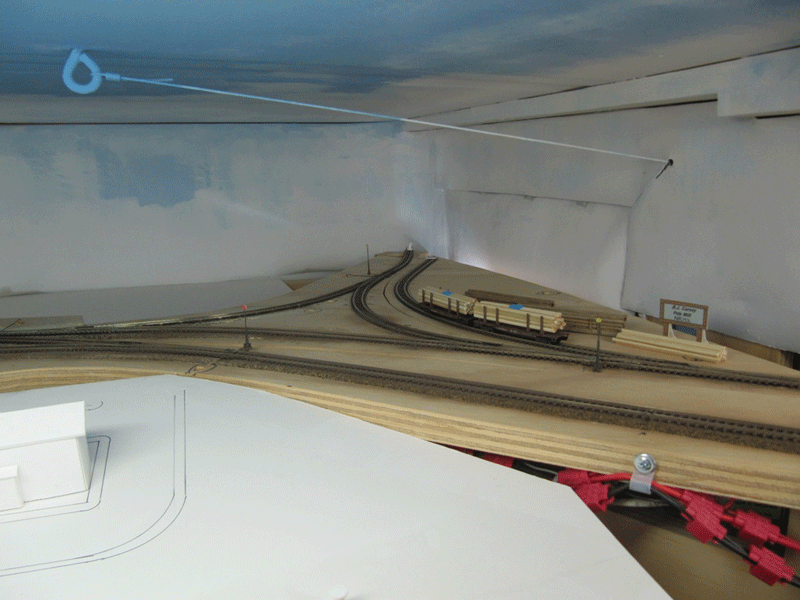 Wye of New Nakusp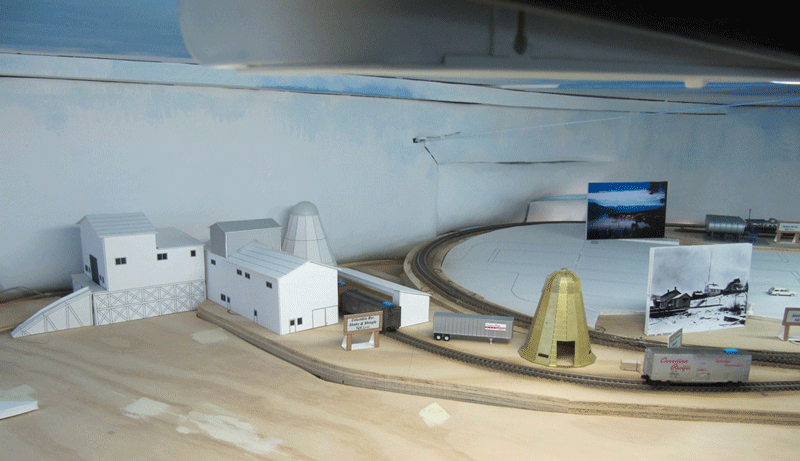 Old Nakusp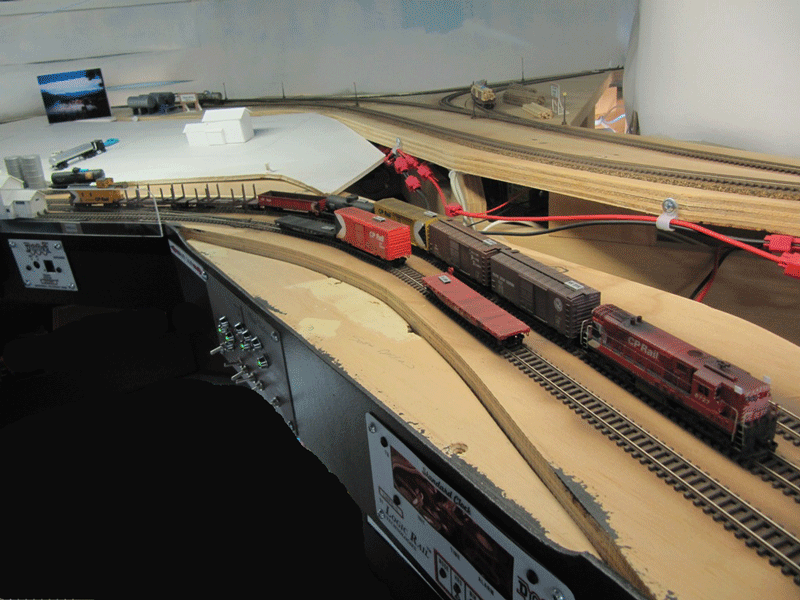 New Nakusp with wye in the background, Old Nakusp in foreground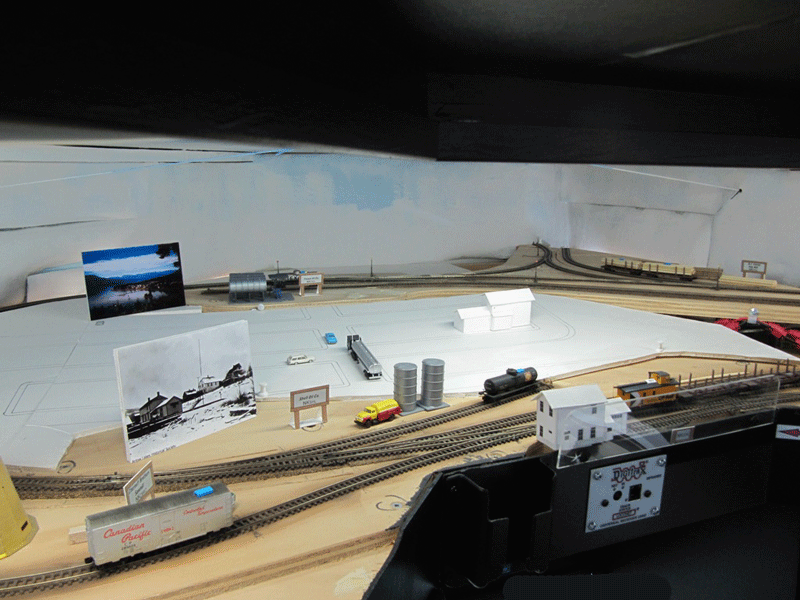 Old Nakusp, North end of Kaslo Subdivision
Video: Rail Barge operations
Here is a video by Mark Dance, which illustrates in detail the operation of the Slocan Lake rail barge: a train moves over slips at Slocan City, the lake, and Rosebery
---
Videos
Overview of the N scale Columbia and Western Model Railroad
Walking tour of entire line showing Nelson/Boundary subdivisions from Troupe to Cascade and Slocan/Kaslo subdivisions from South Slocan to Nakusp
Columbia and Western Overview 2 - Mechanical design and construction of 4 deck layout
Mechanical features including:
indexed storage table on level 1

staging

two helixes of different designs

double mushroom of decks 2 through 4

slide out floor for 4th level

three swing gates and one drop gate
Columbia and Western Overview 3 - Operational design
Including:
Digitrax DCC control and fast clock

switch control

time table and train instructions

car routing and labelling
Tag, Cup and Spreadsheet car forwarding on the C&W:
A car forwarding system using spreadsheets to develop demand, tags as waybills and paper cups to accumulate excess demand

Background, objectives, and elements of the system, then a demo and pros and cons
Video: Kootenay Valley Railway (Canadian Pacific) Cabride - Trail to Nelson, BC on an SD40-2, 2013
Here is a video of the real RR
---
This WebSite covers only some sections of this layout. There you will find further information:
Videos: Mark Dance's videos at YouTube
Photos: Mark Dance's photo page at Flickr
---
(c) 2014 Photos and Graphics by Mark Dance, Vancouver, BC, Canada. Published with permission.