americaN FREMO - modular model railroad in N scale
americaN - Lauffen 2016
Details

Kategorie: americaN
Zuletzt aktualisiert: Donnerstag, 13. Oktober 2016 07:40
Geschrieben von Michael Homberg
americaN module layout - Lauffen 2016
The 2016 FREMO americaN Lauffen layout was a huge one, too. The meeting was Mai 05th to 08th, 2015, participants came from Germany, Netherlands, Sweden and South Tirol (Italy).
Stehan an Oliver did a fine job as layout and traffic workload planner. And the result was a good one, thank you.
It was a super meeting, feedback from all participants was excellent.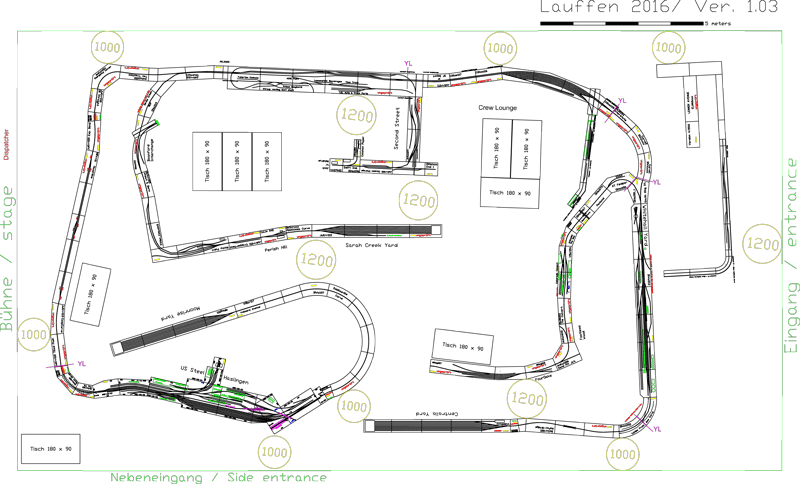 Oliver proudly presents where to go: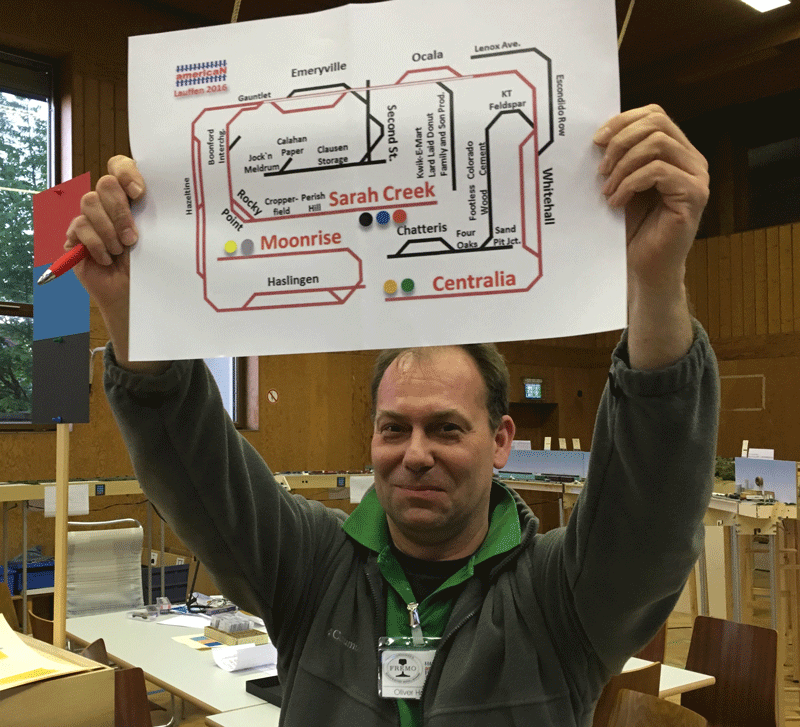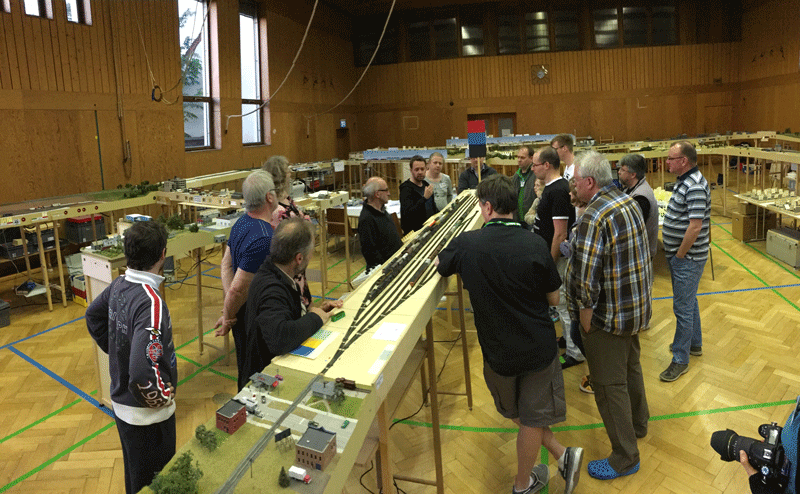 Start of operations: presentation of layout and jobs of this railroad model, the americaN Lauffen 2016
And if you were entering the balcony, you could see the panorama: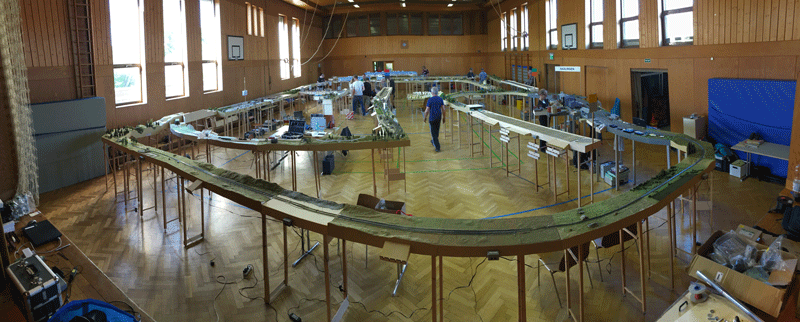 click here for Big panorama, Lauffen 2016 americaN FREMO
Dispatcher:
this job is the same as in reality. What the dispatcher does? He keeps the railroad moving. In a safe way!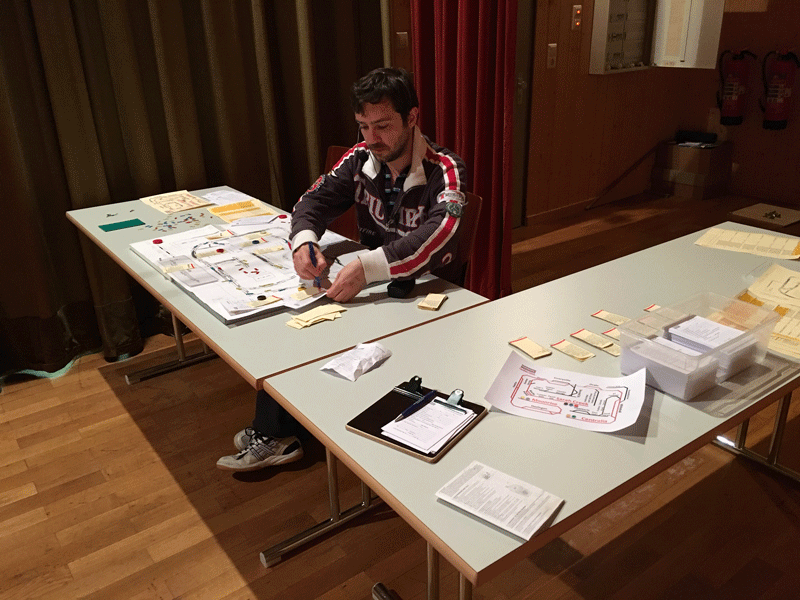 Dispatcher Michael.
Note: Dispatcher cannot see anything of the operating session: this is like the prototype!
Well: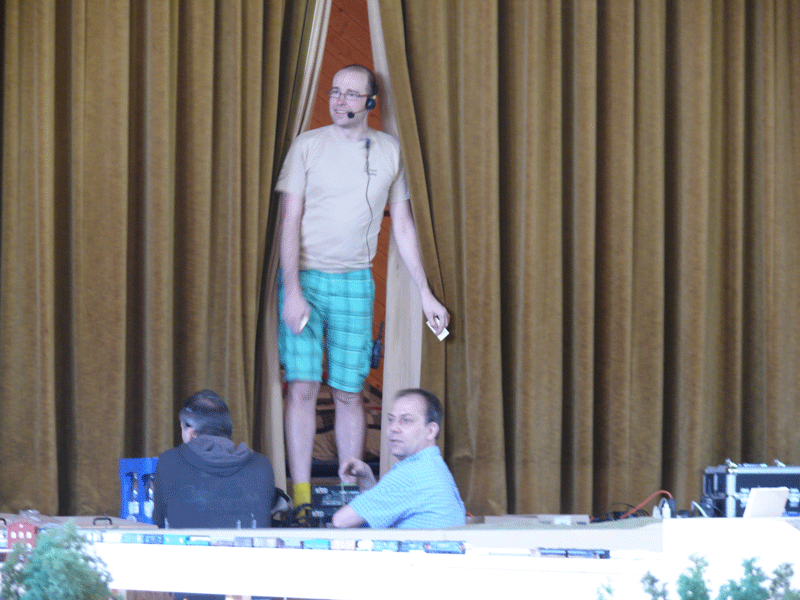 well, just normally, he does not. But what happens if thee are some jobs to deliver?
Haslingen Steel Mill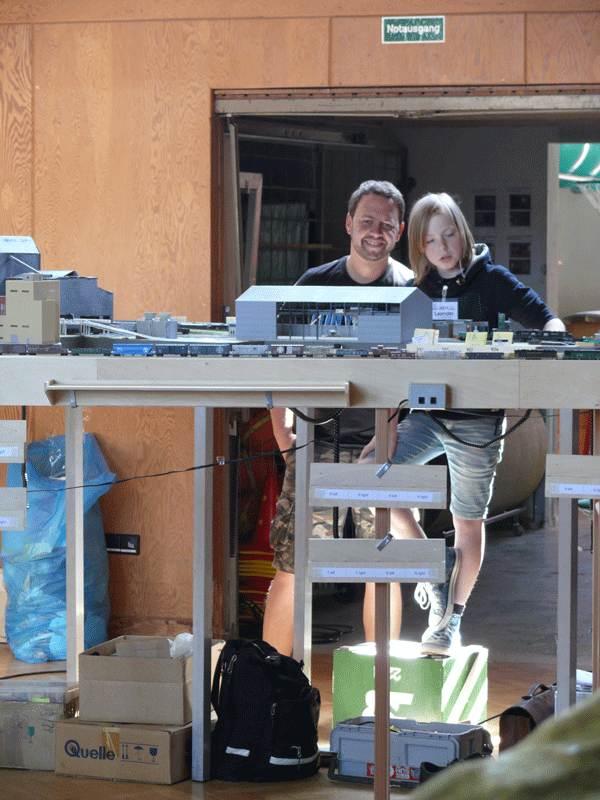 Haslingen Yard Switcher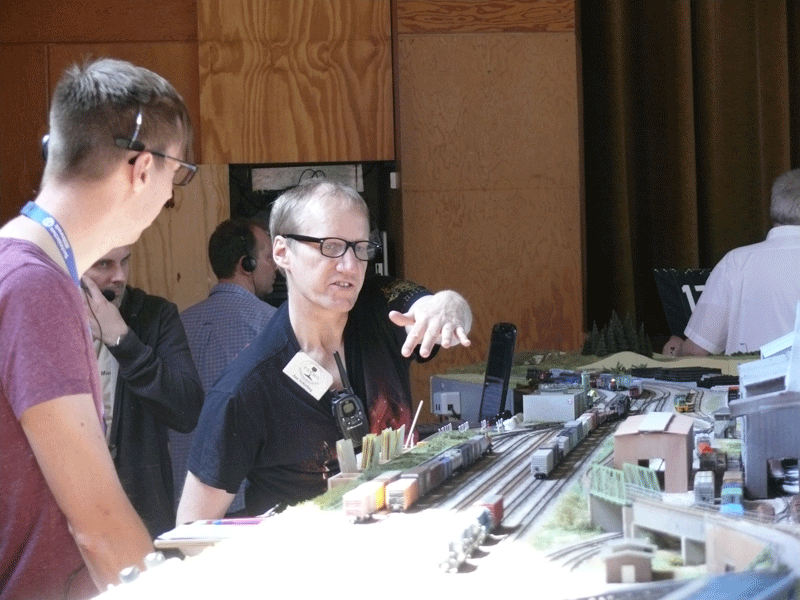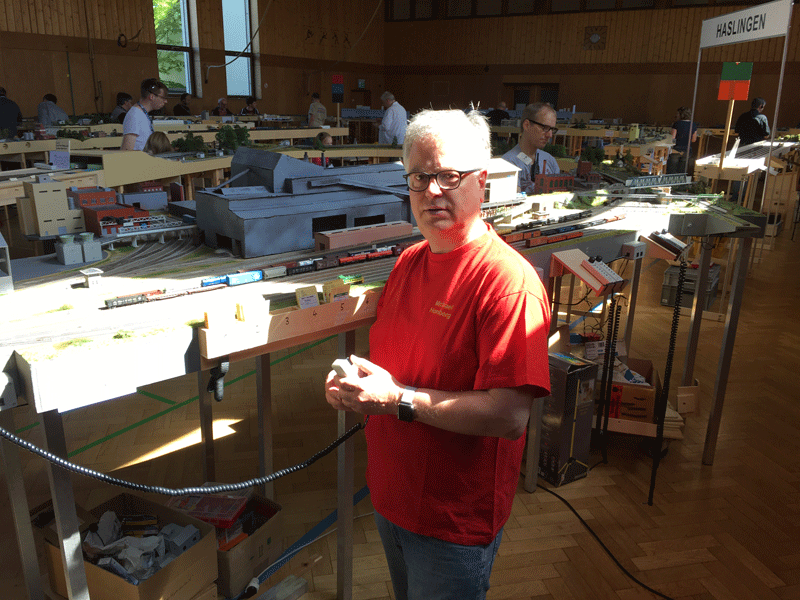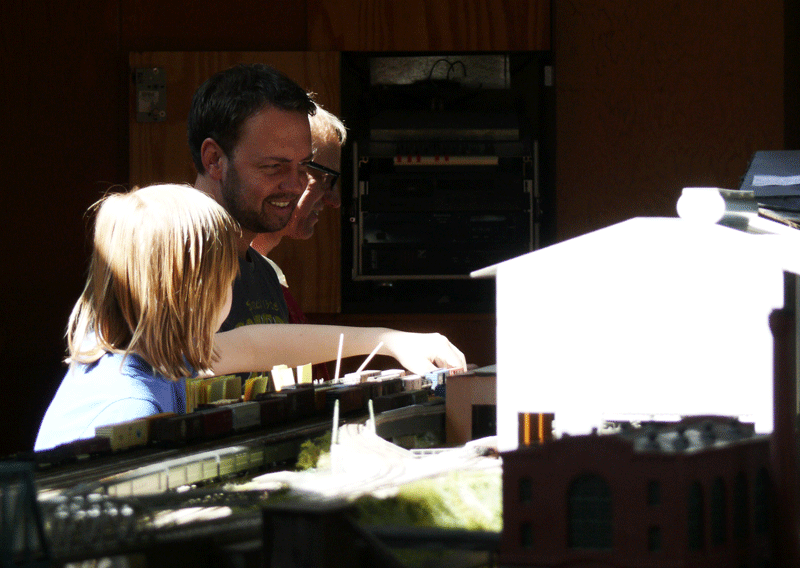 Hazeltine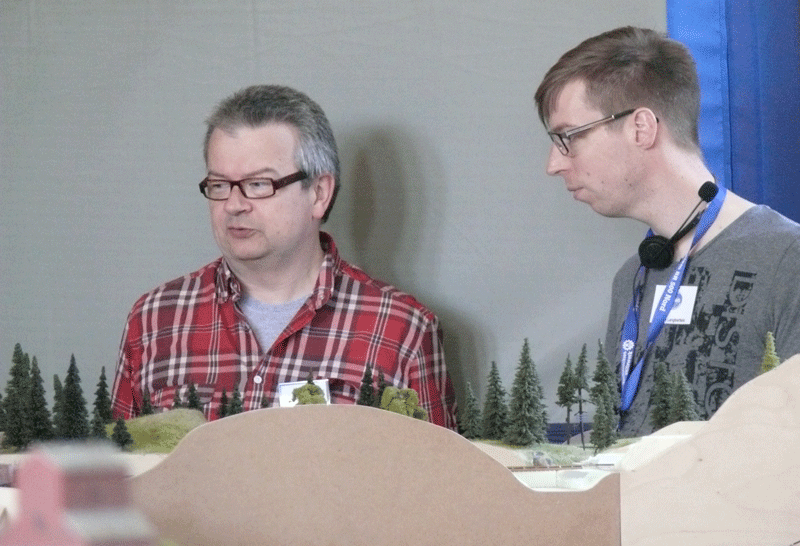 2nd Street Branch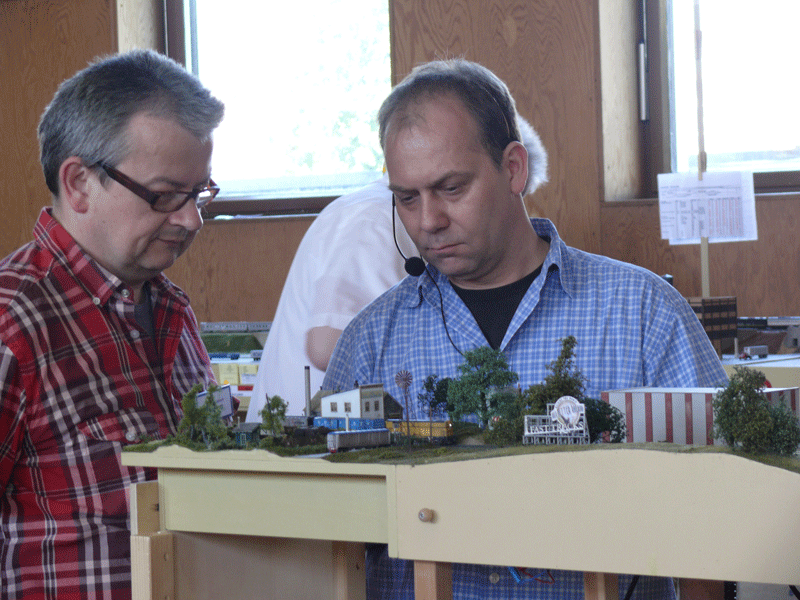 Ocala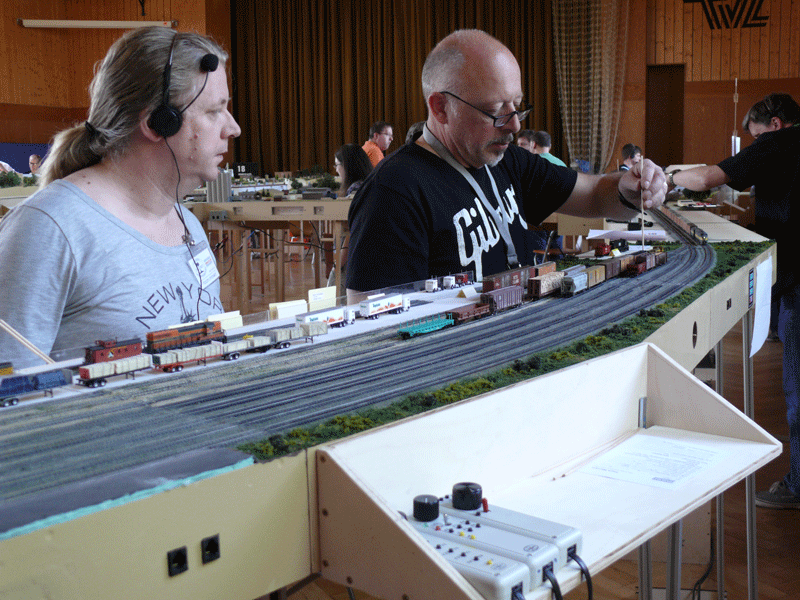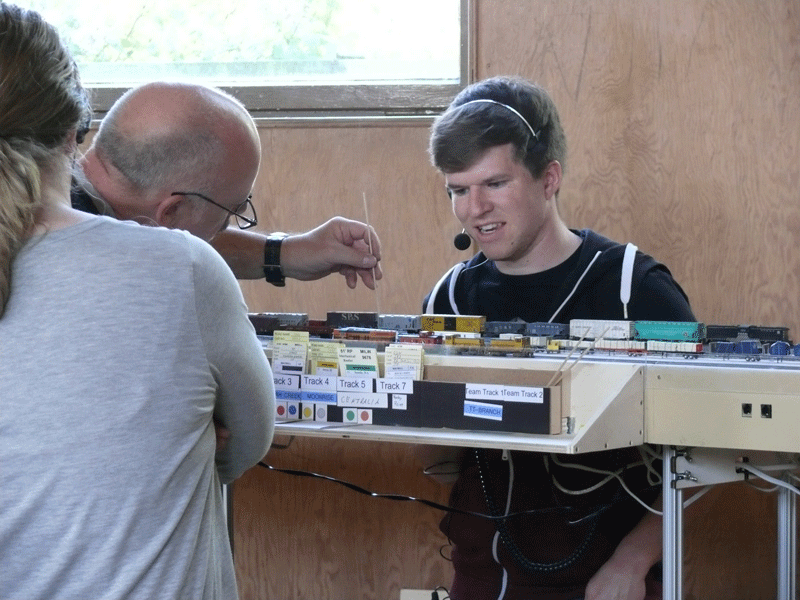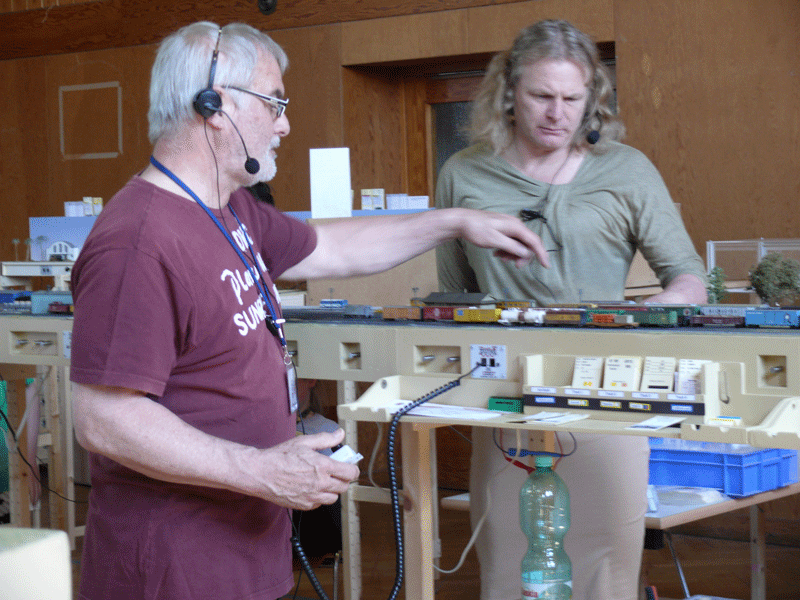 Staging: Rest of World
Railroad cars are moving across the country. Or layout is limited. Therefore, we nee the Rest of World, our staging yards.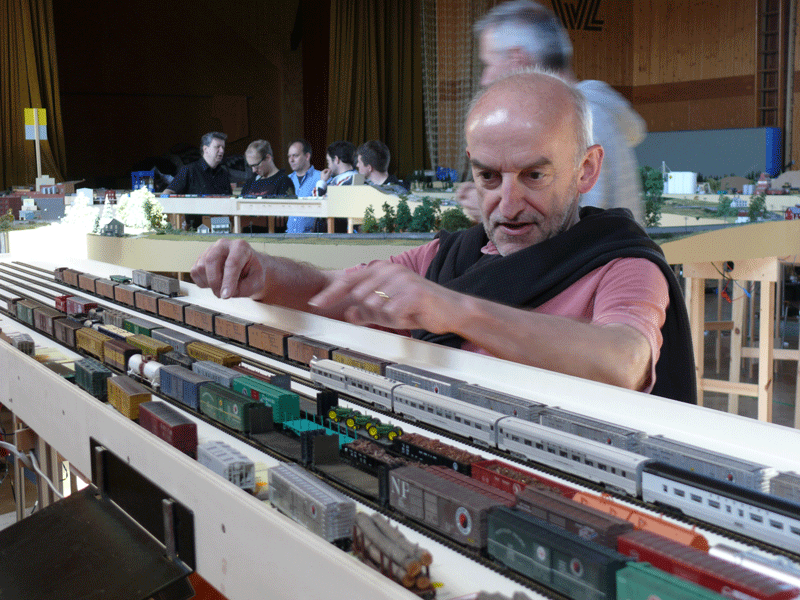 Whitehall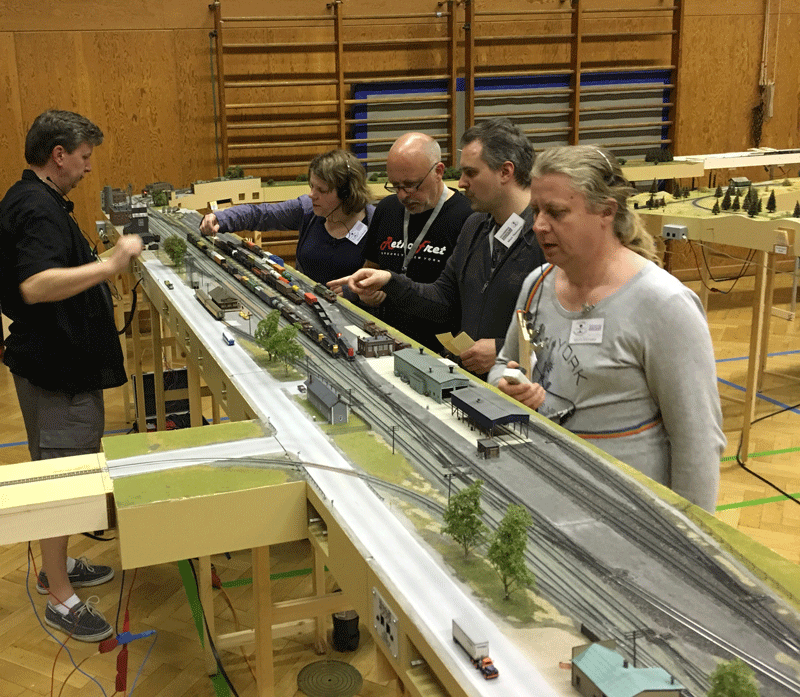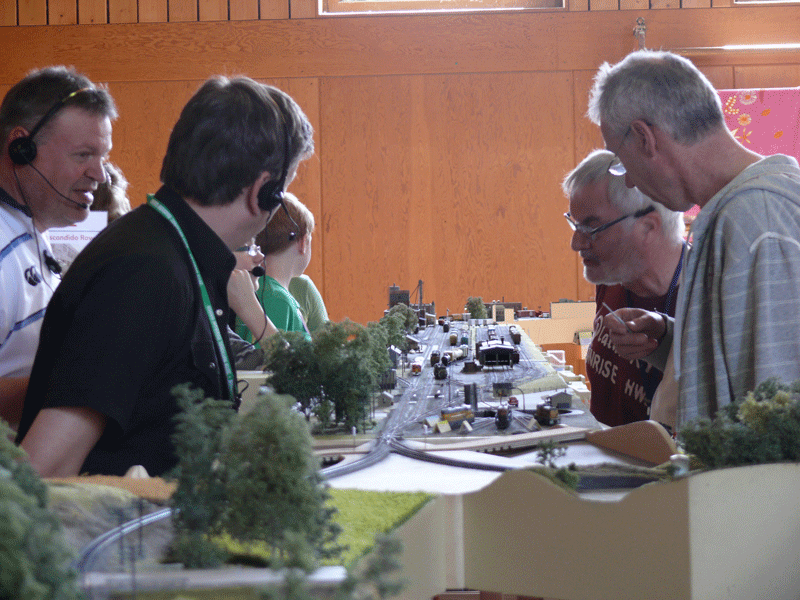 and the following photo is just the center of the photo above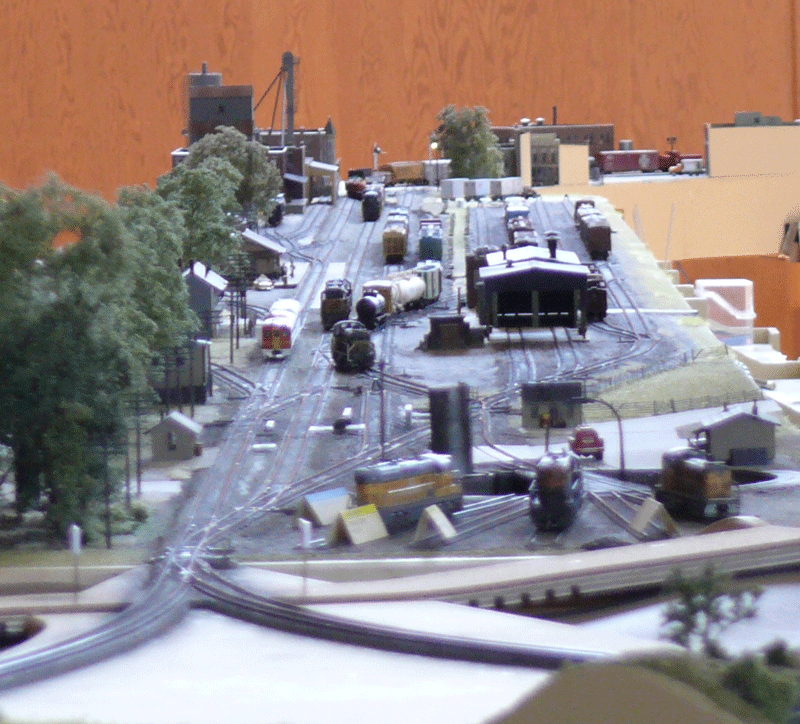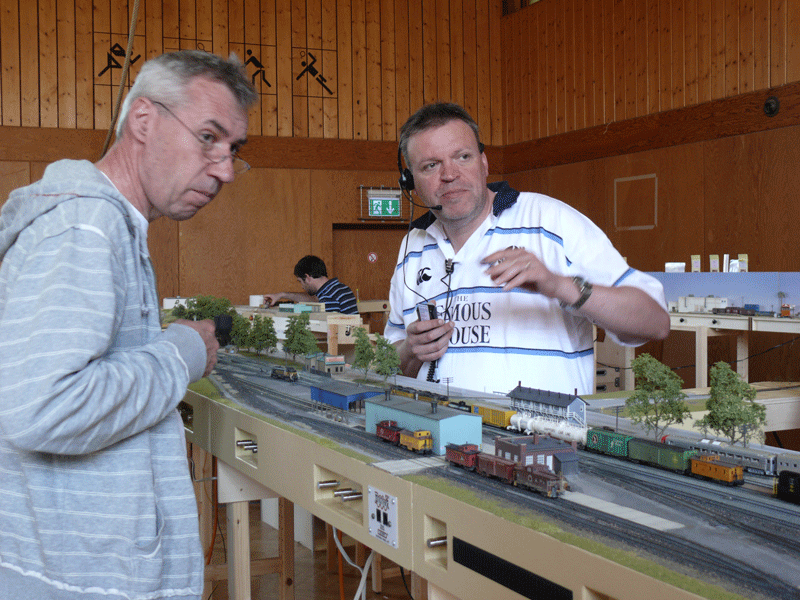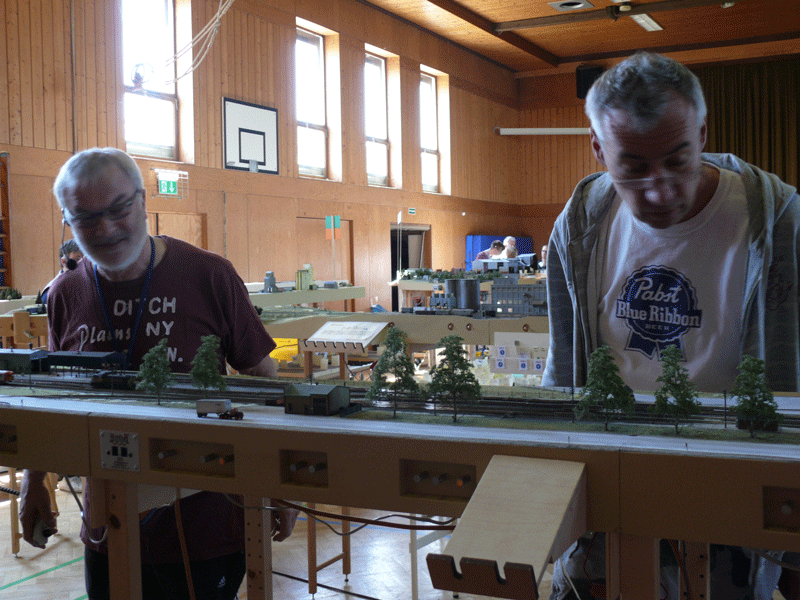 Chatteris + Four Oaks

More photos of Chatteris and Four Oaks are at: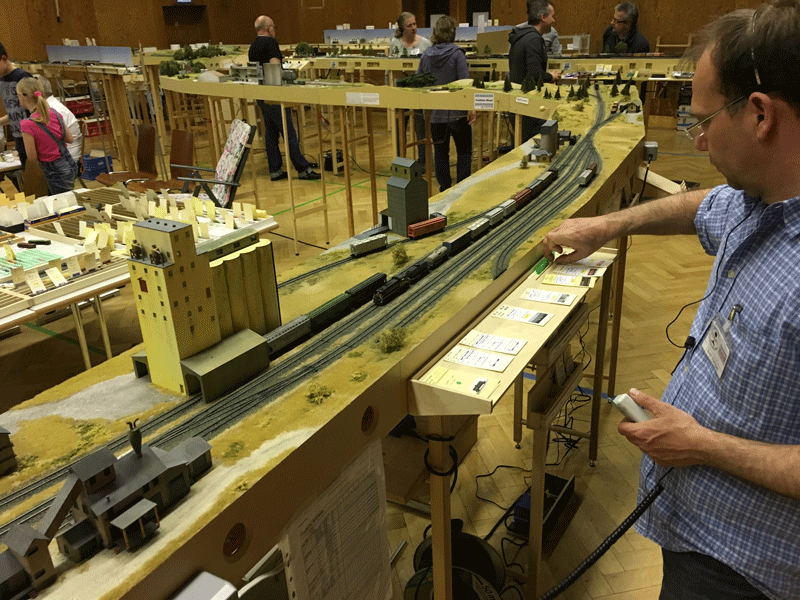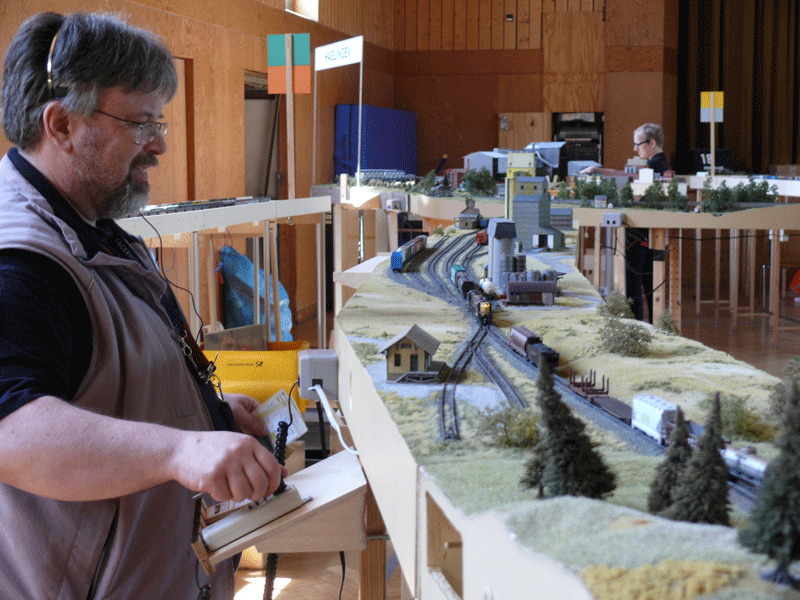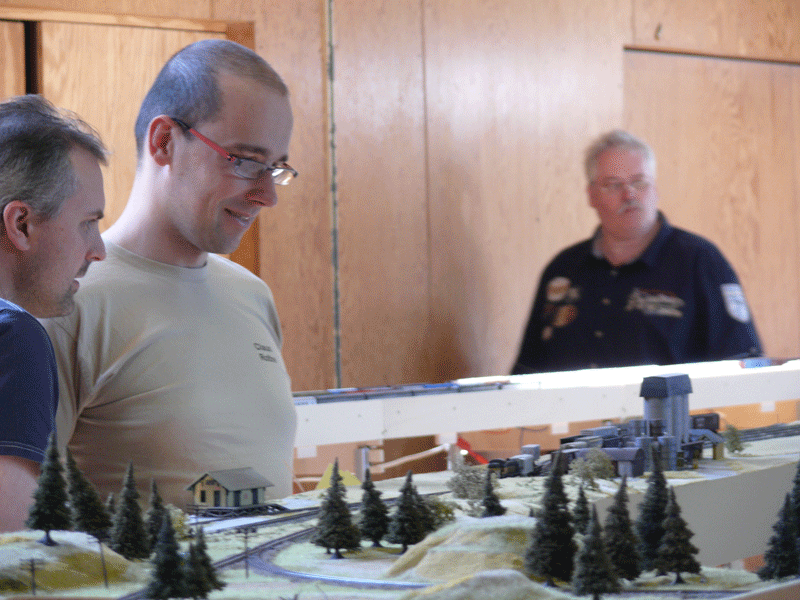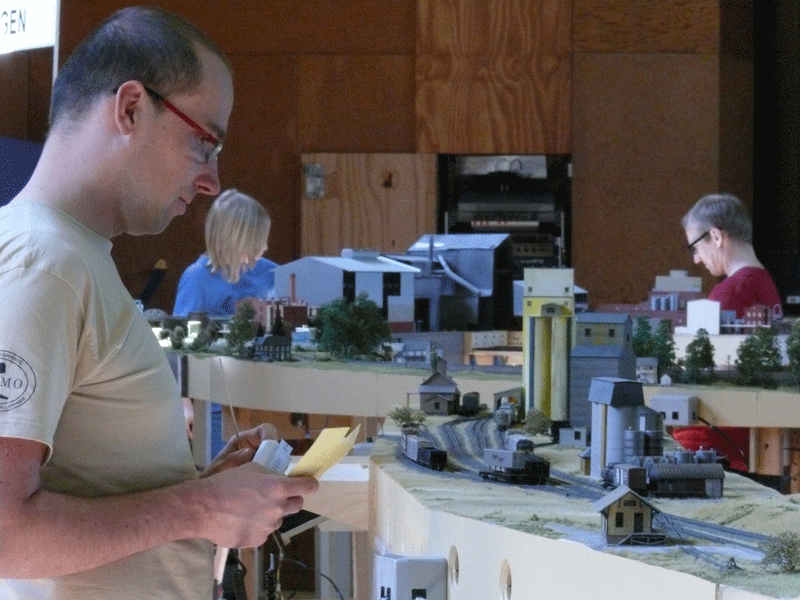 Emeryville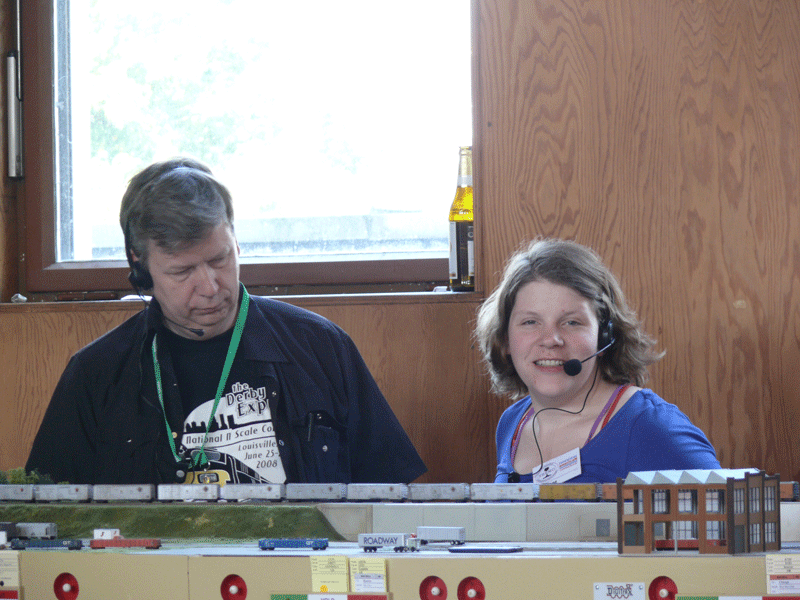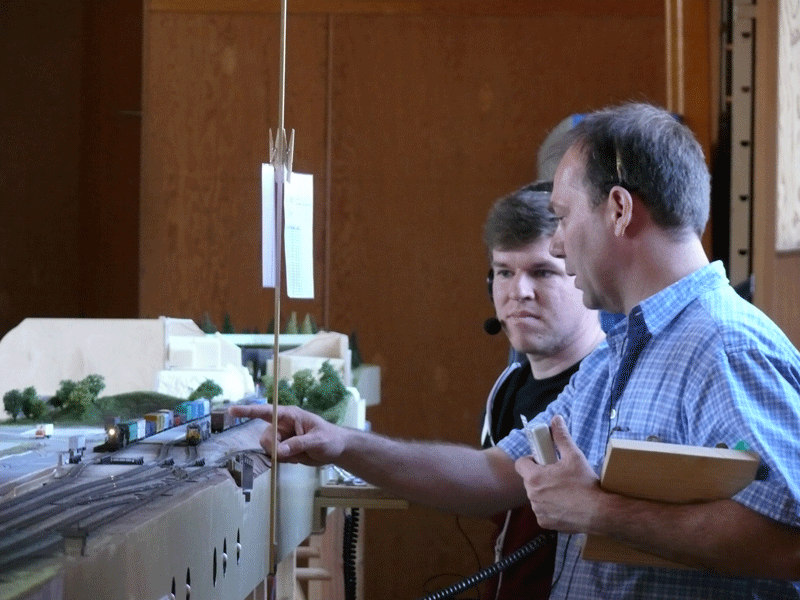 Florida Branch (Lenox Ave. + Escondido Row)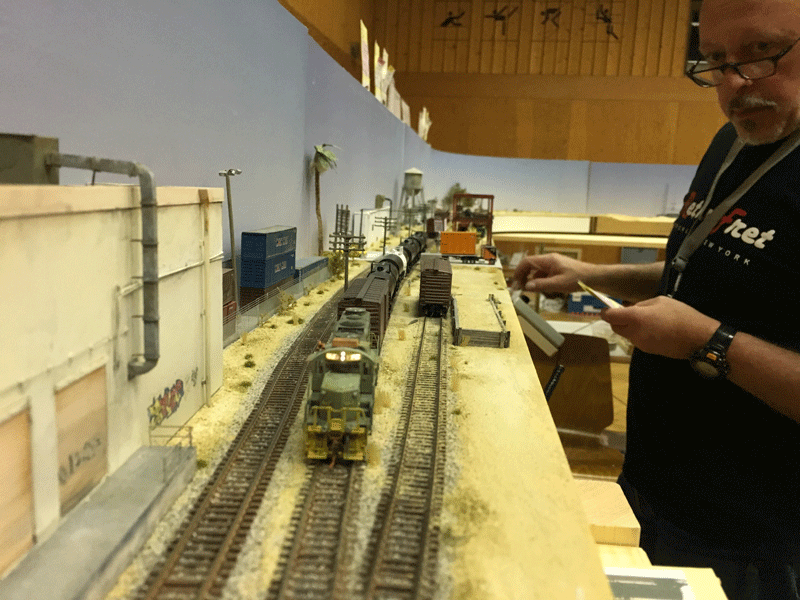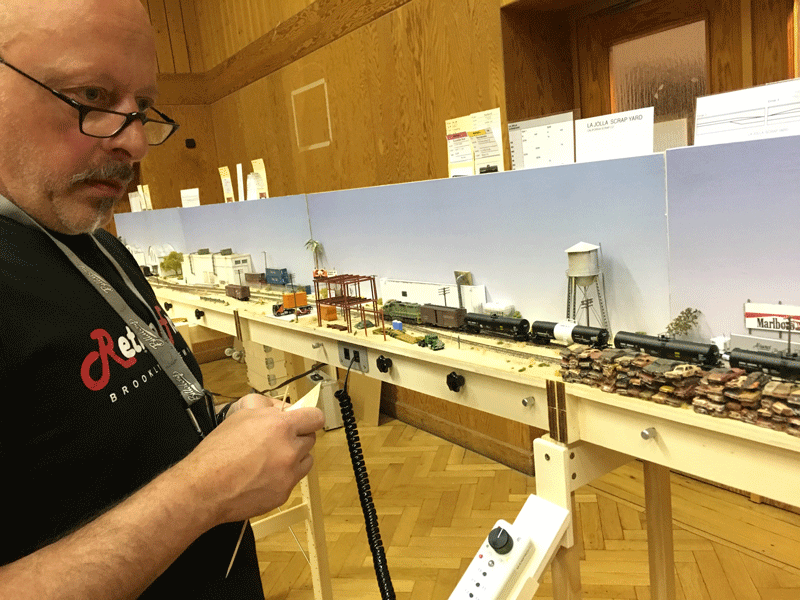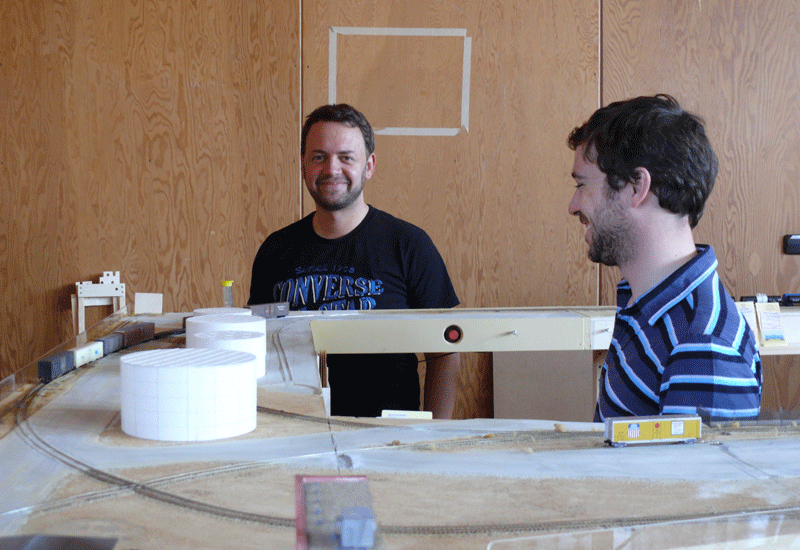 ---
Helikopter flight over Layout:
Main Line from Centralia to Moonrise Yard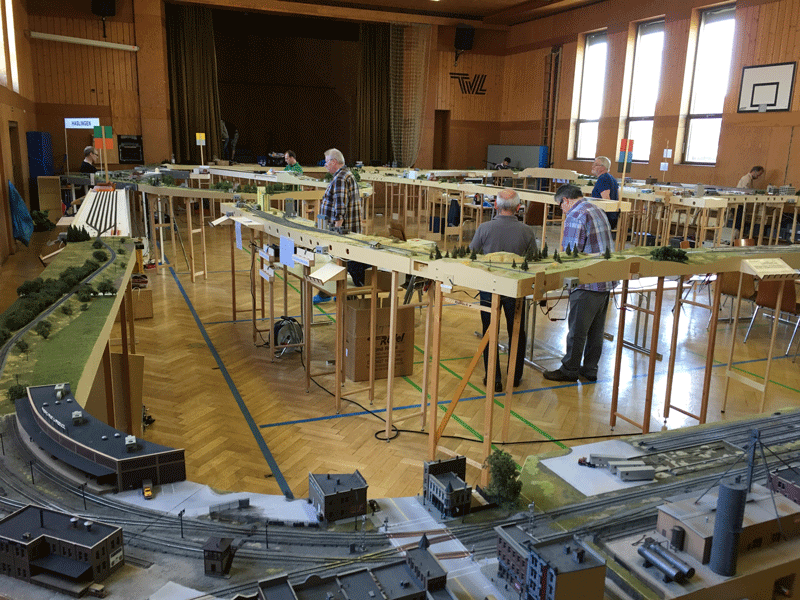 left side:
the staging yard at the end of the track is Centralia.
then: MoPac Bridge (= the green "S")
Whitehall is in the foreground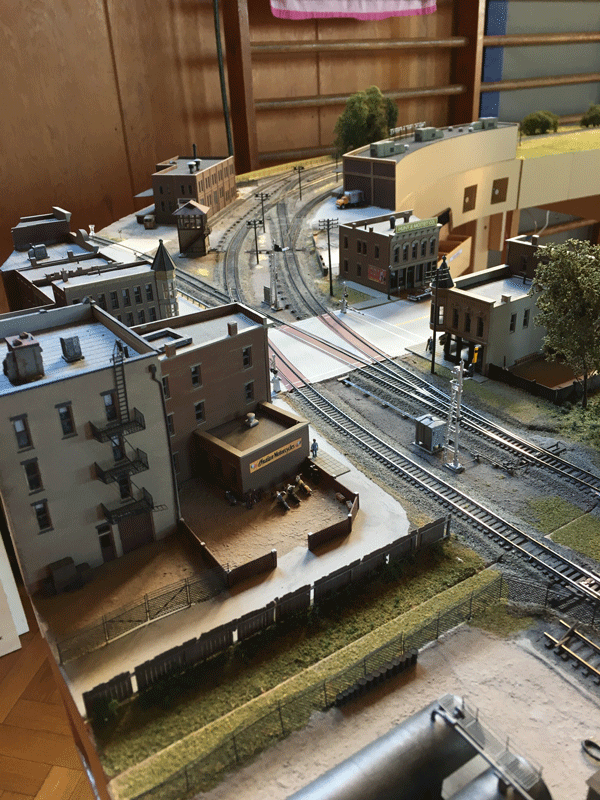 Whitehall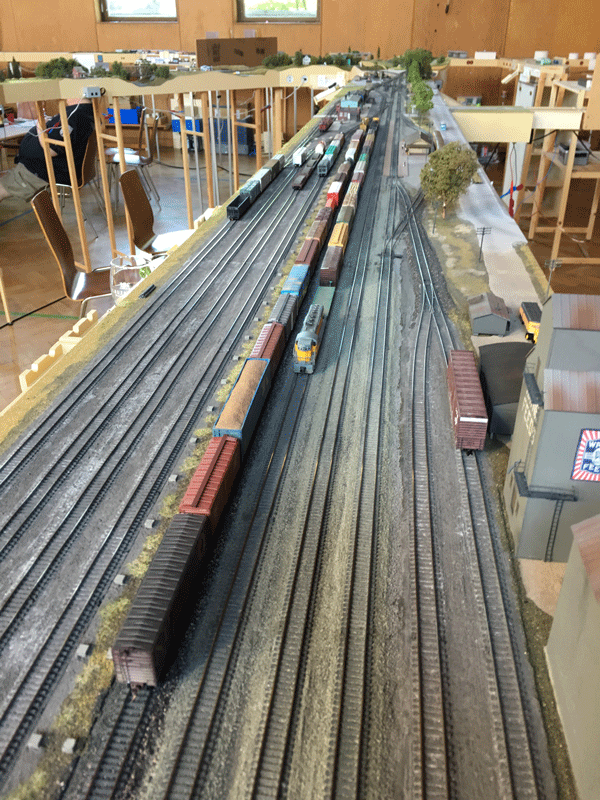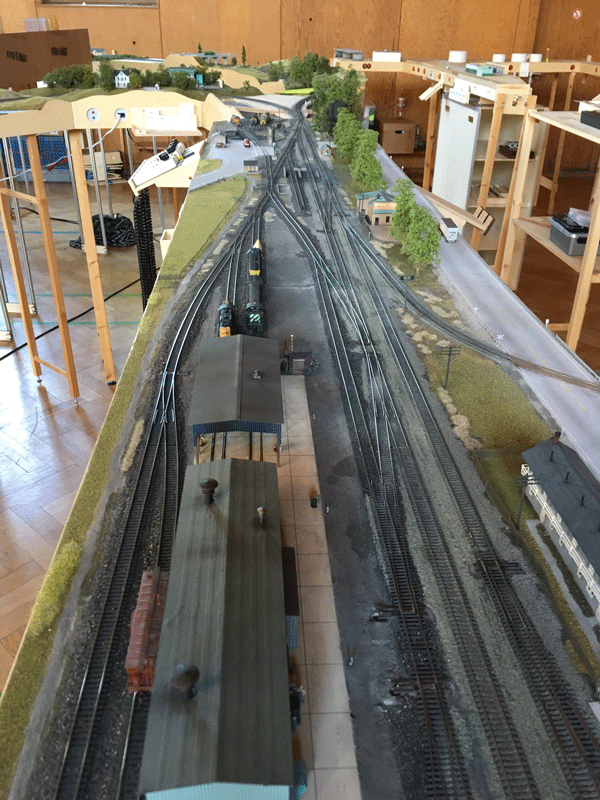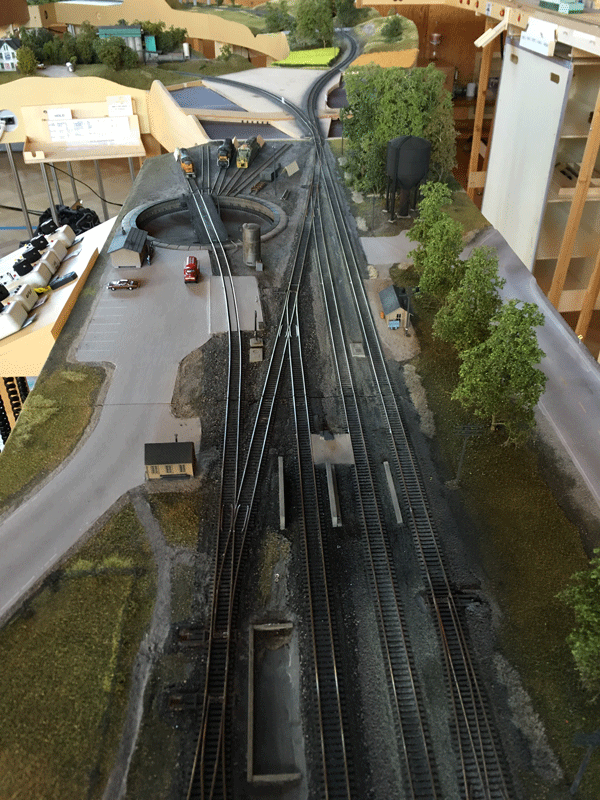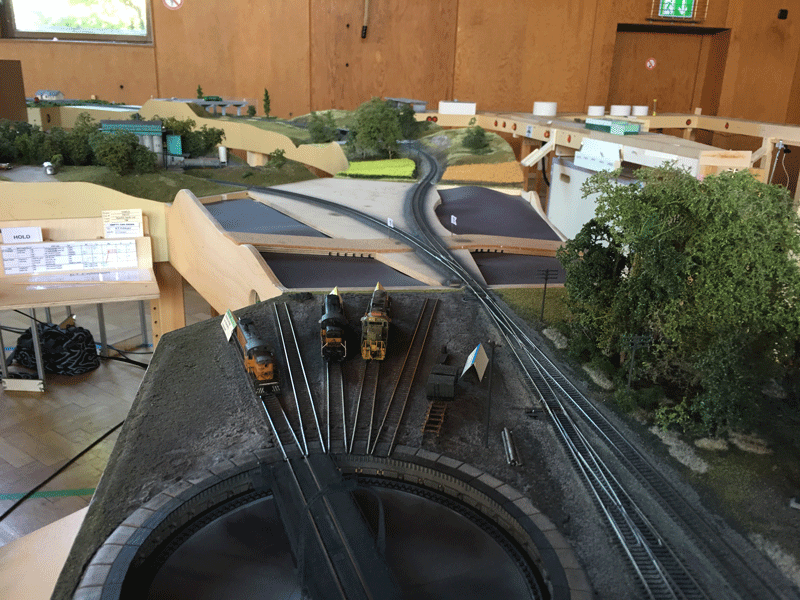 South King Junction behind Whitehall turntable:
to the left: Chatteris Branch
strait on: Main Line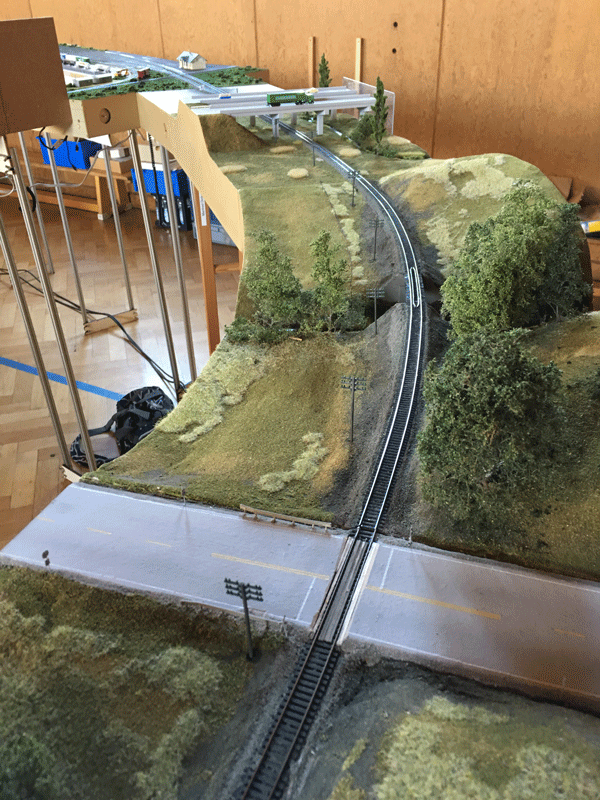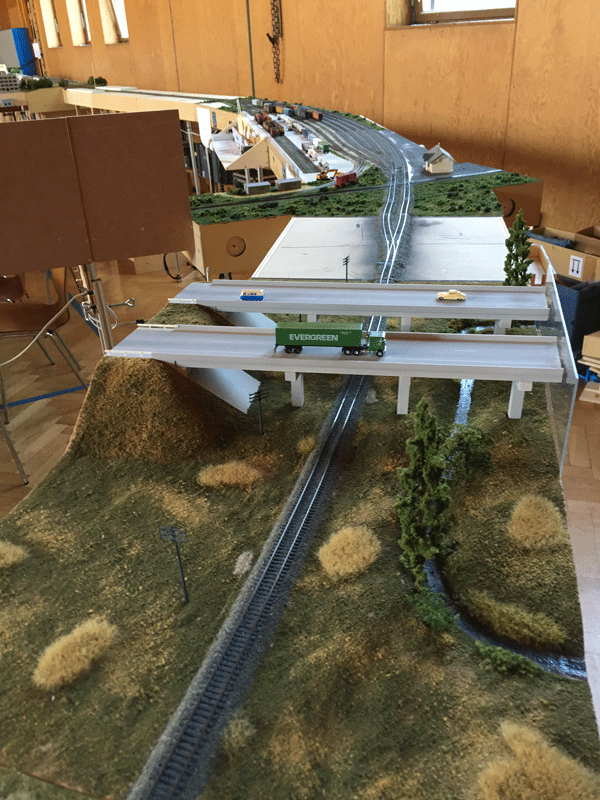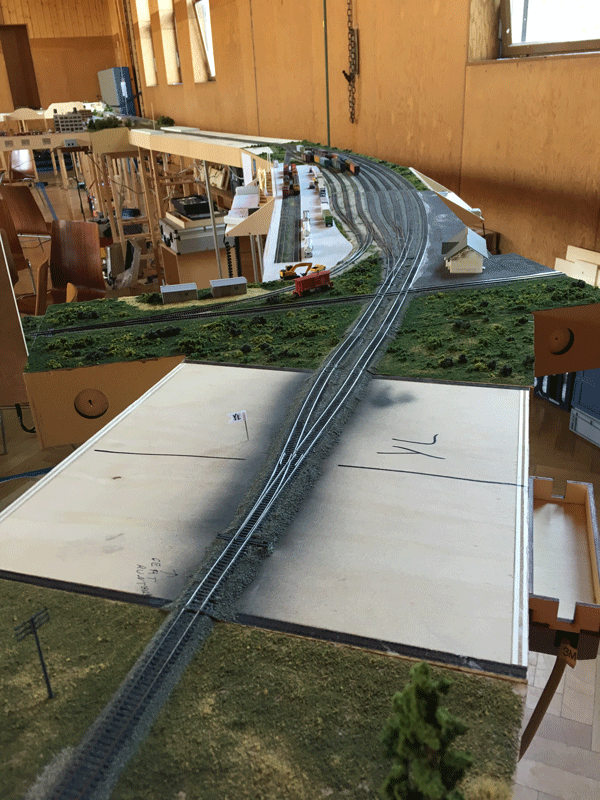 To the left into Ocala Yard, the right track is the through track (and to the Ocala passenger station, at the crossing)
Ocala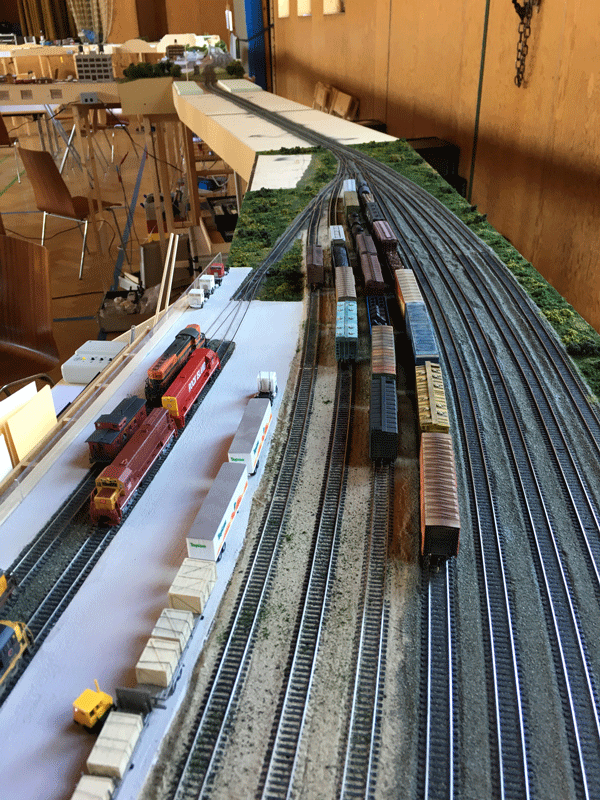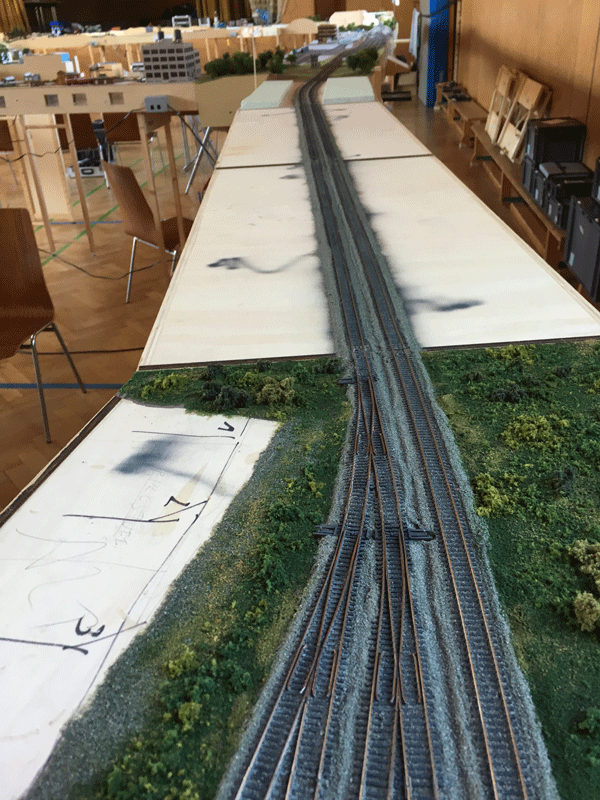 Out of Ocala.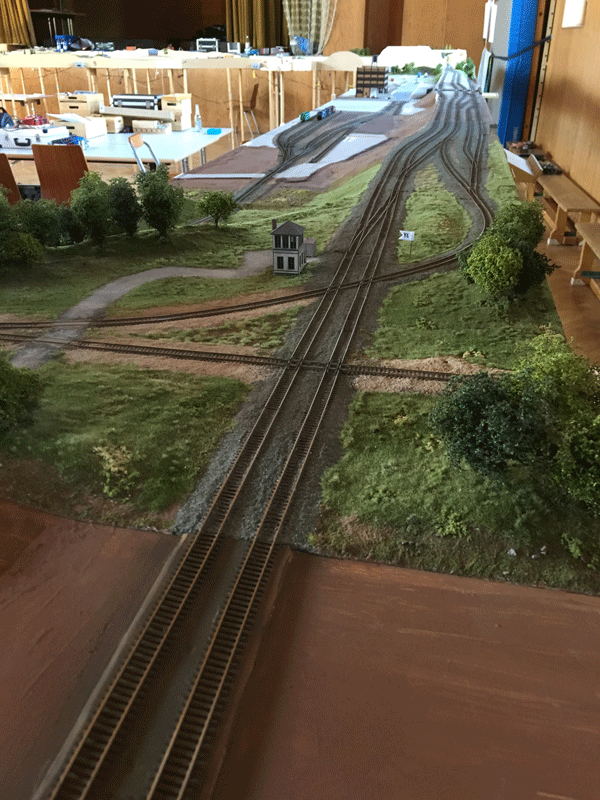 towards Emeryville
Emeryville. The track to the left leads to 2nd Street Branch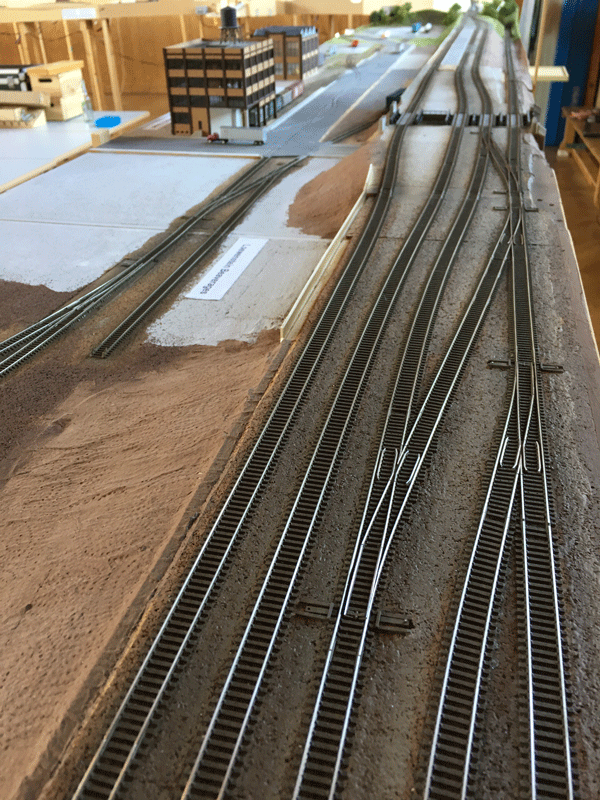 Emeryville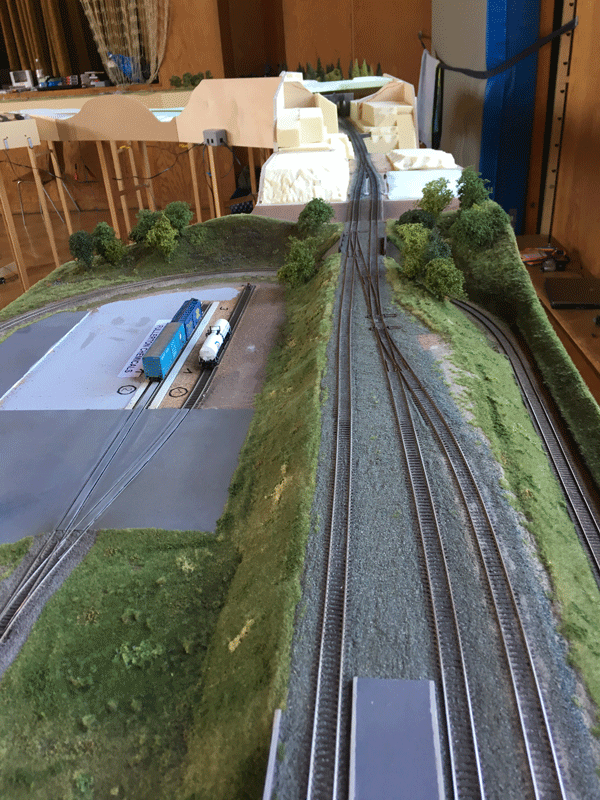 Tracks strait on: Main Line
Track on the right: is going down, towards Emeryville commercial district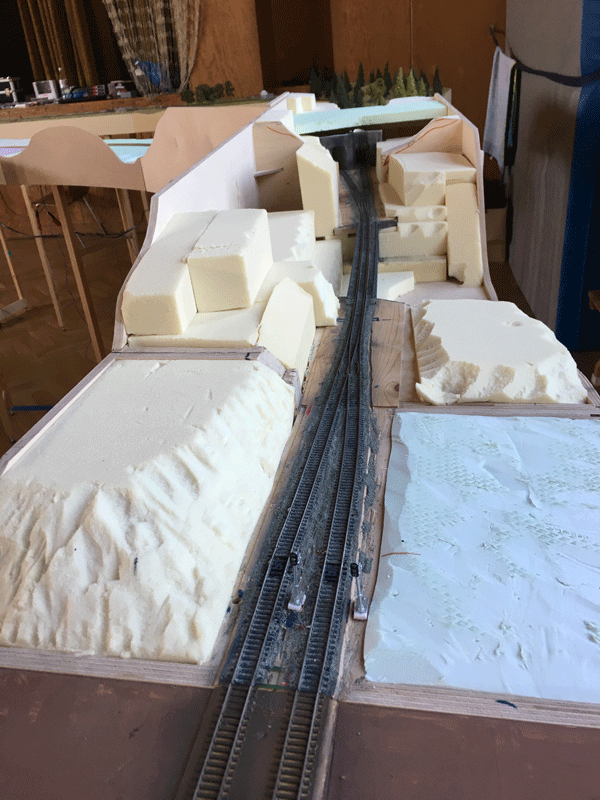 entering the Gauntlet Bridge (Gauntlet = 2 parallel tracks without switch, built to minimize cost of the bridge. Have a look at Gauntlet in Wikipedia.)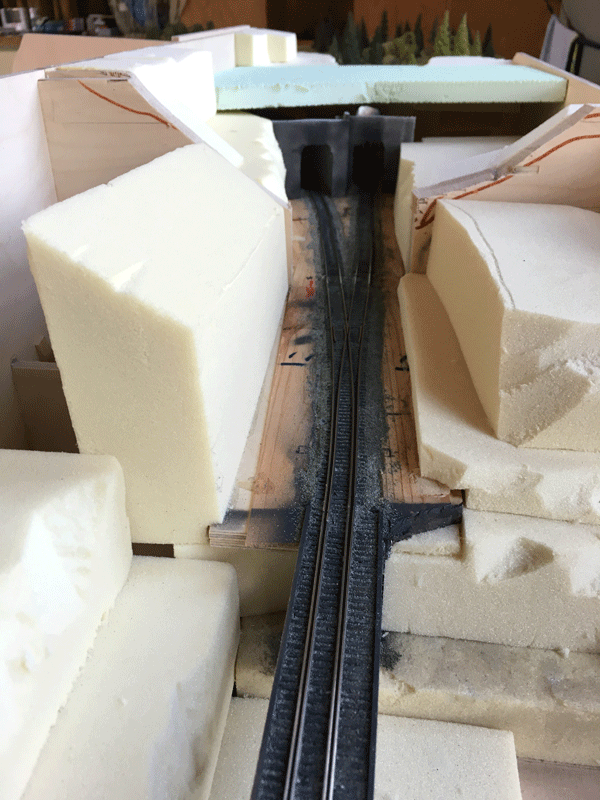 the Gauntlet Bridge.
After the bridge, the tracks are diverting:
to the left: to Rocky Point Branch
strait on: Main Line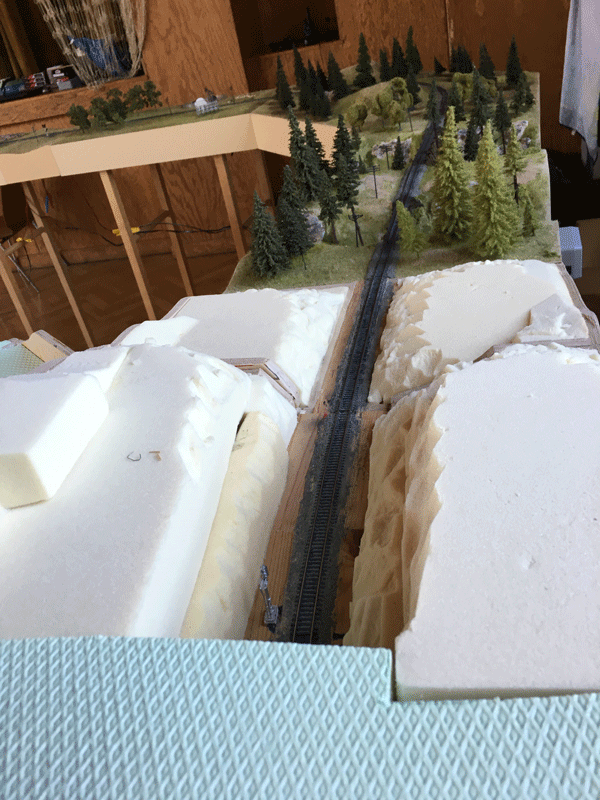 Main Line, out of tunnel, towards Two Trestles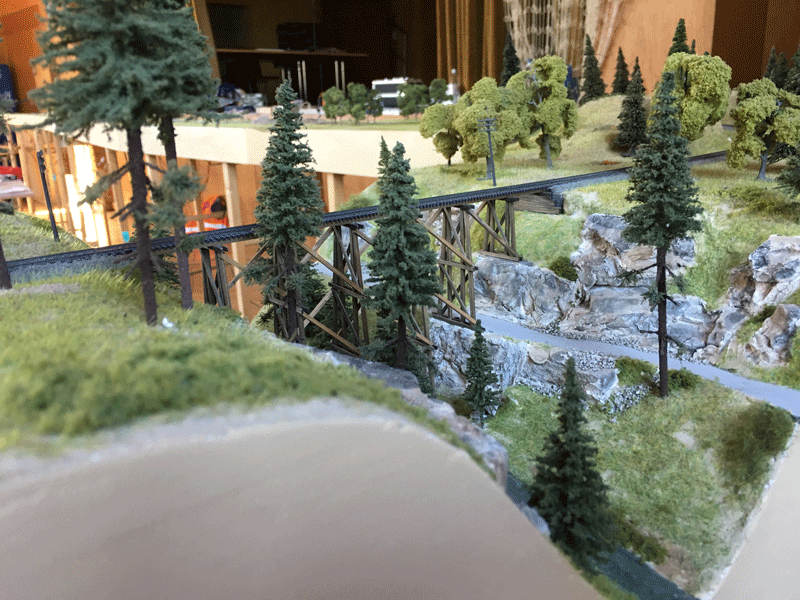 Two Trestles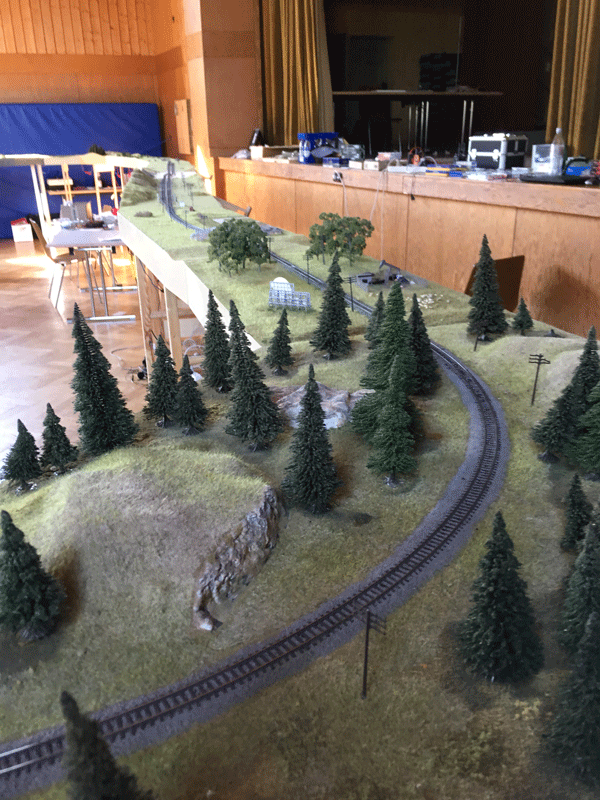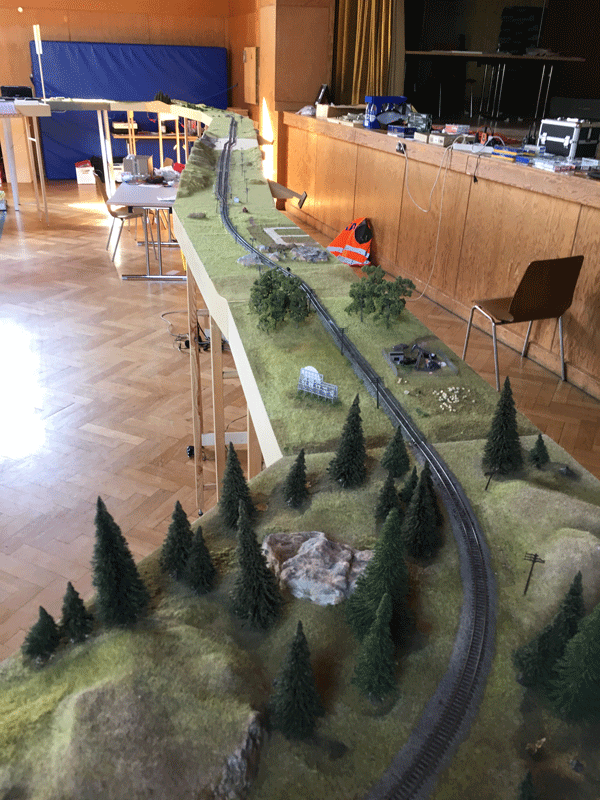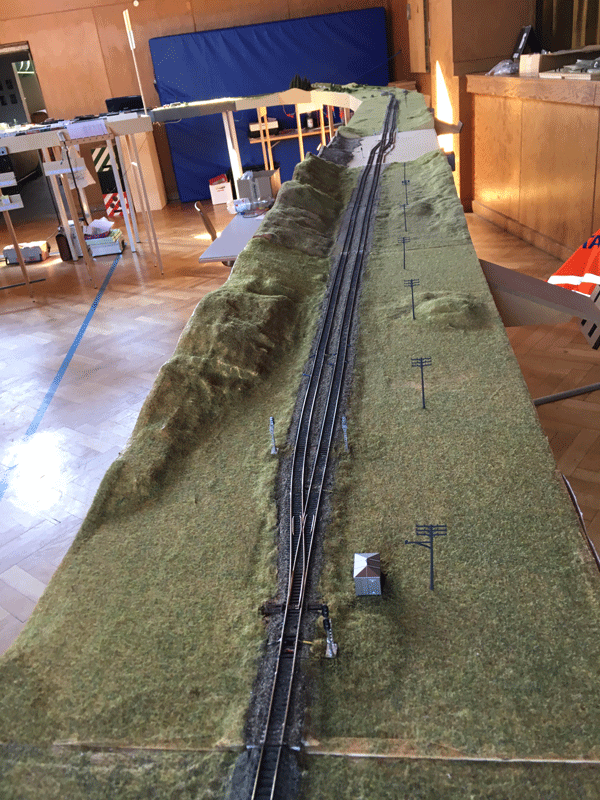 Hazeltine Lap Siding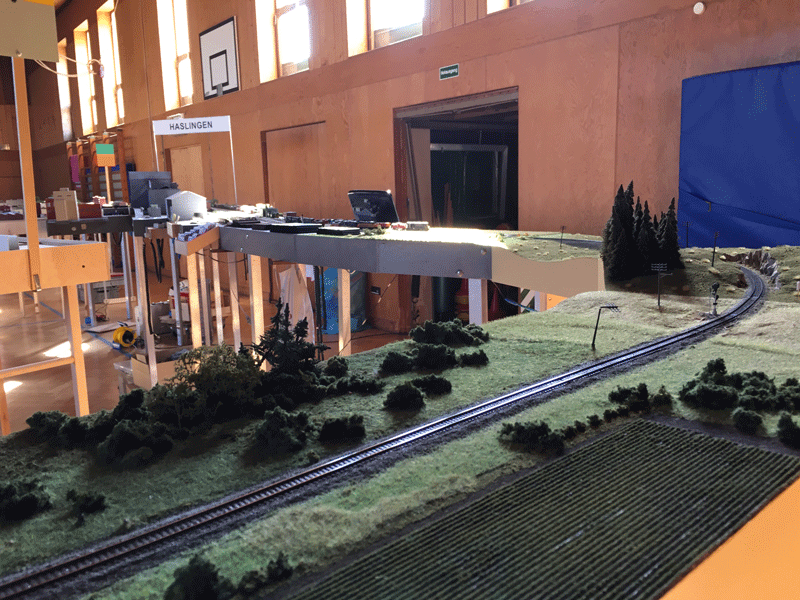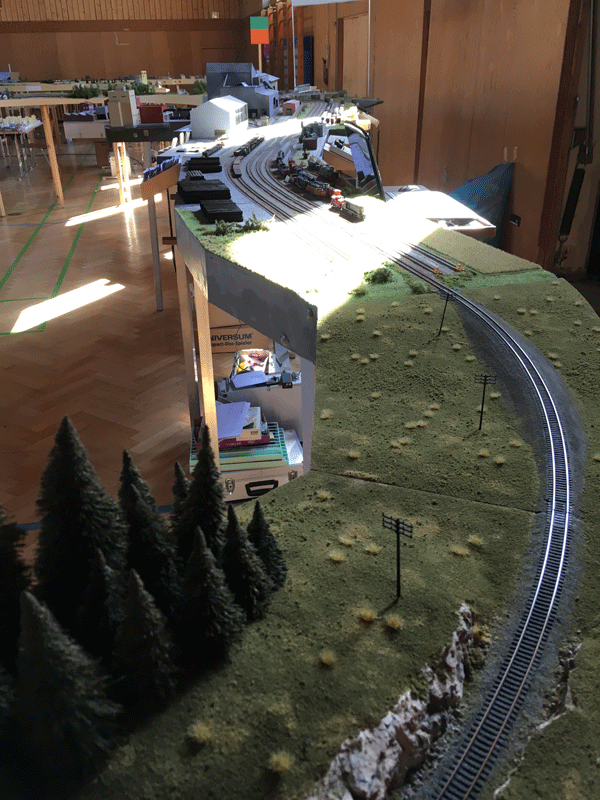 towards Haslingen Steel Mill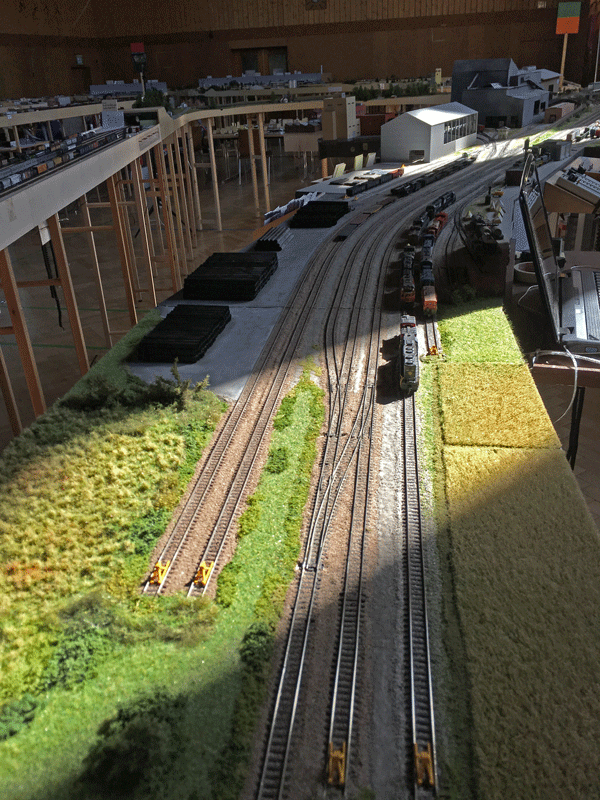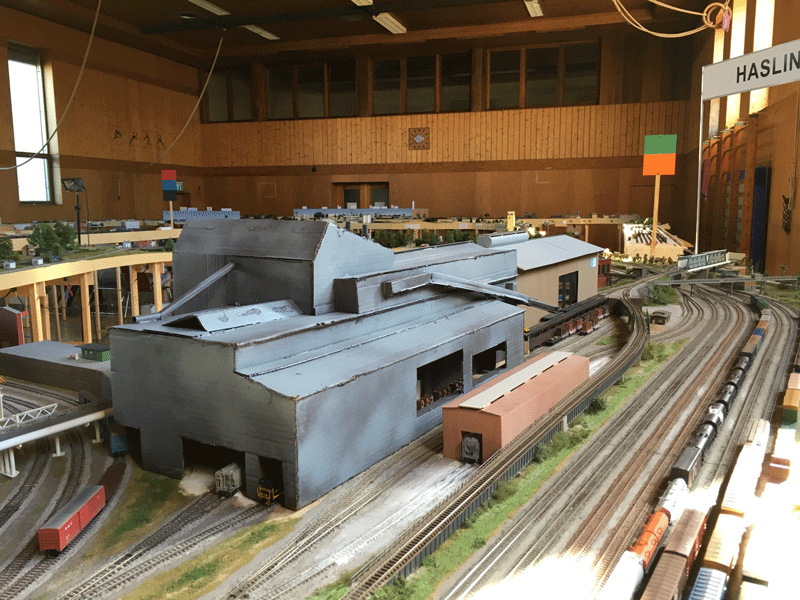 First time at a meeting: the new mock up of the Steel Converter building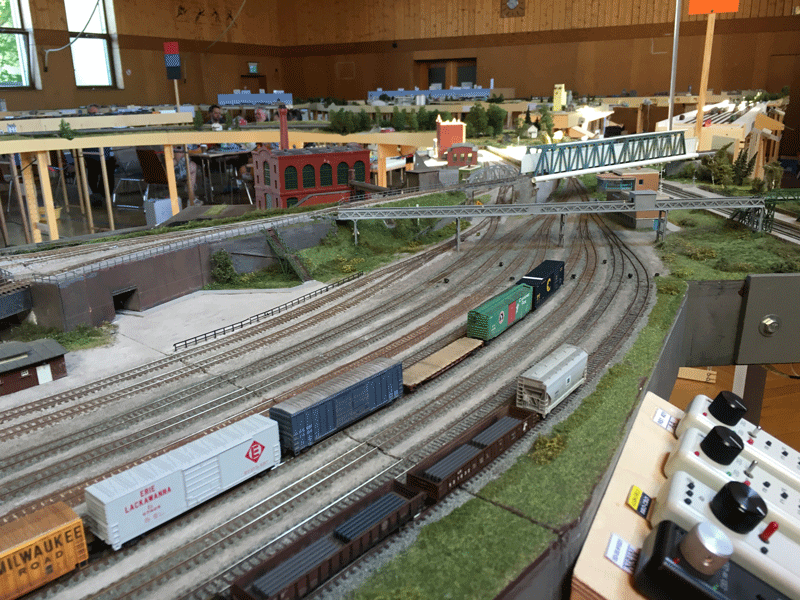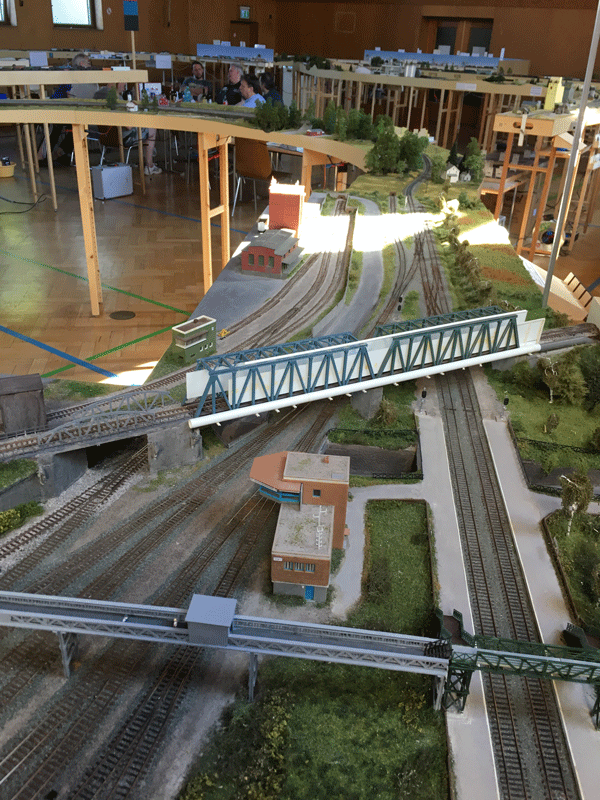 still Haslingen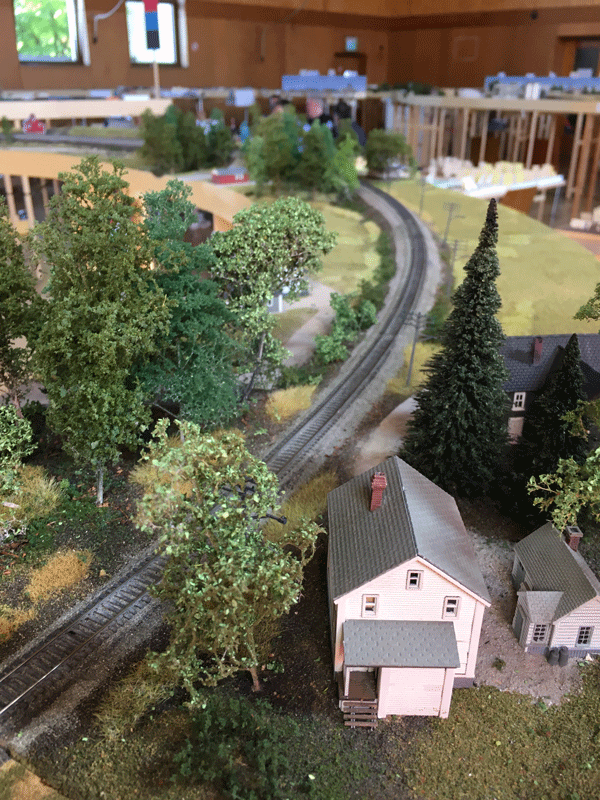 Sabilasville Curve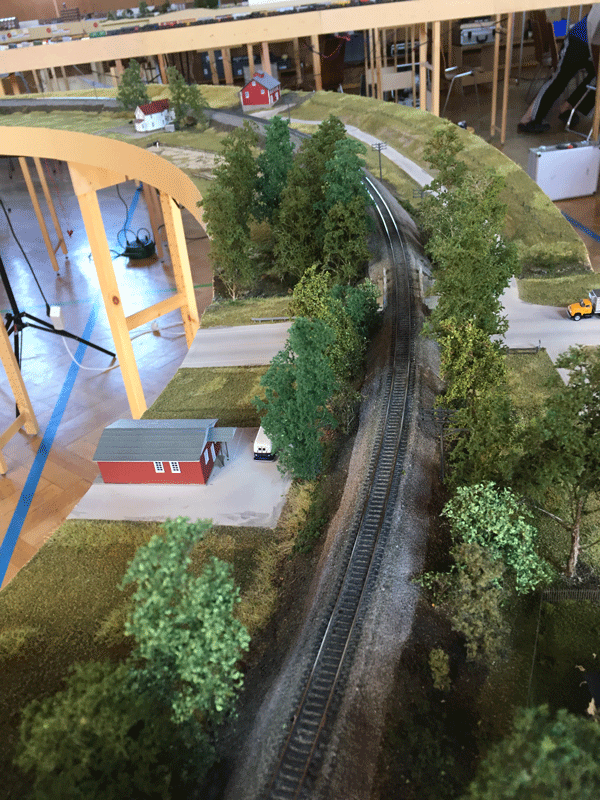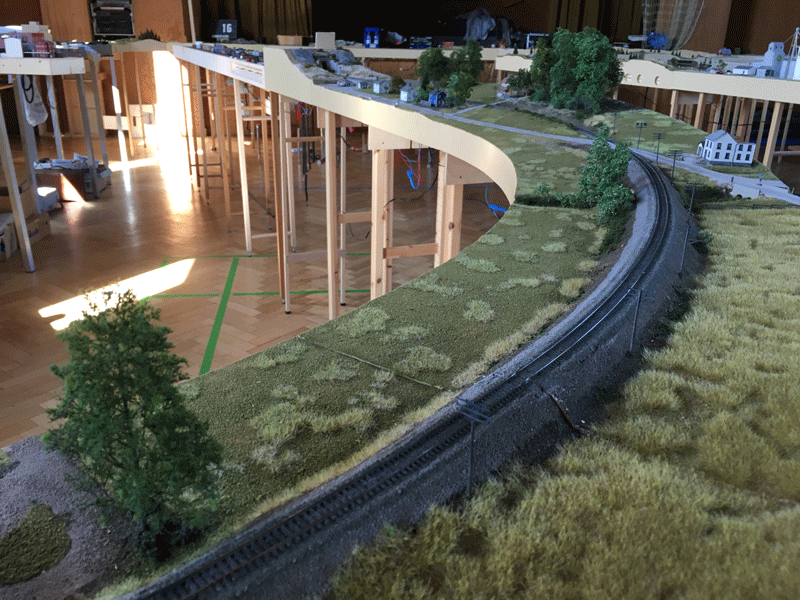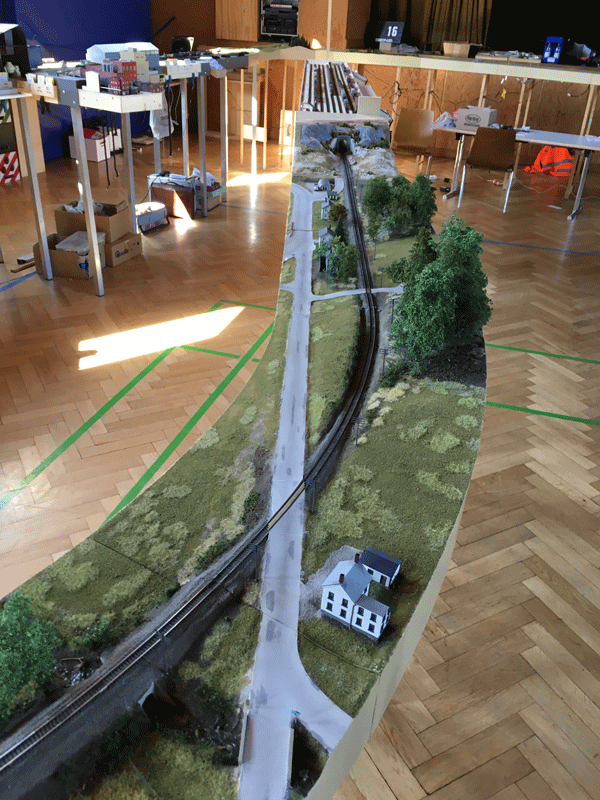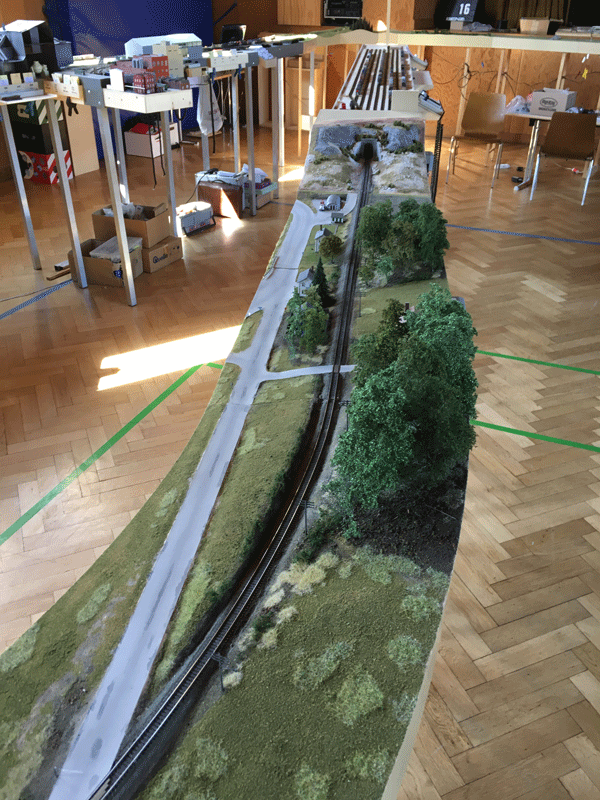 still Sabilasville Curve. Moonrise Yard (= staging yard) in background.
---
Chatteris Branch Line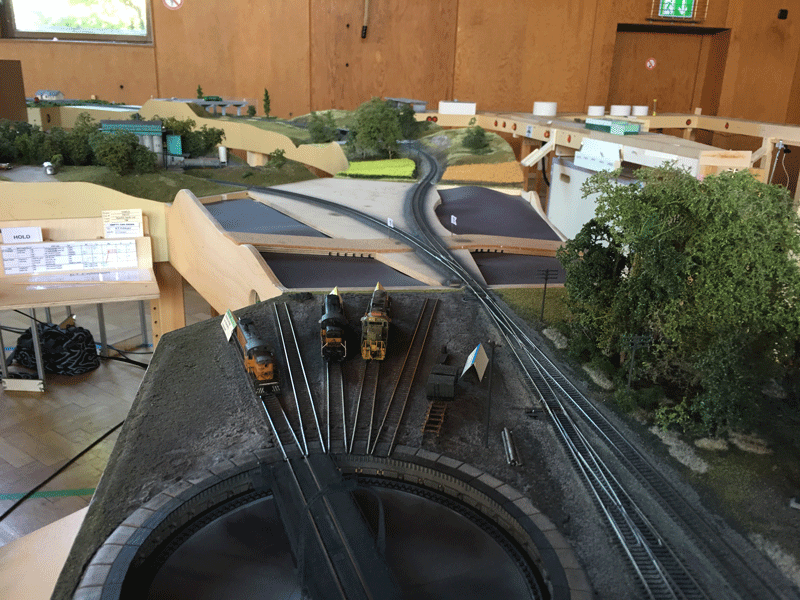 Whitehall Yard is the starting point of Chatteris Branch Line.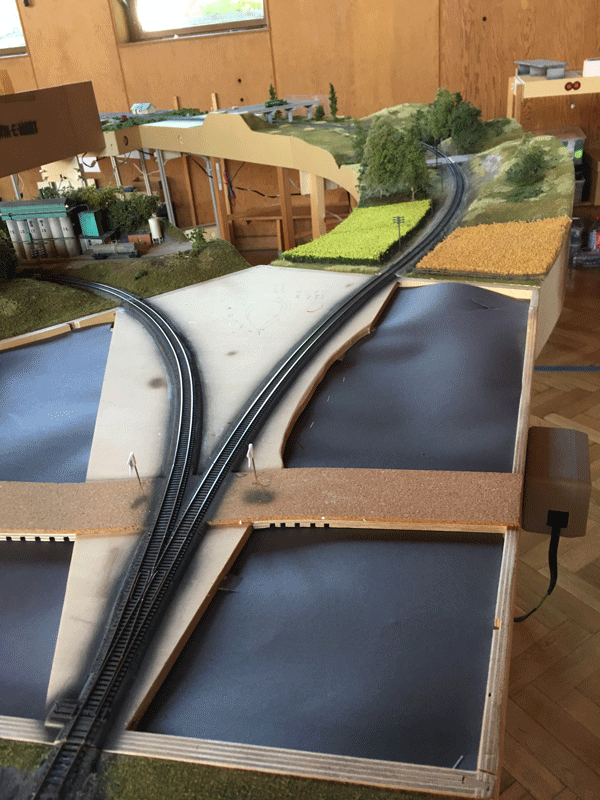 South King Junction:
Main Line to the right,
Chatteris Branch Line to the left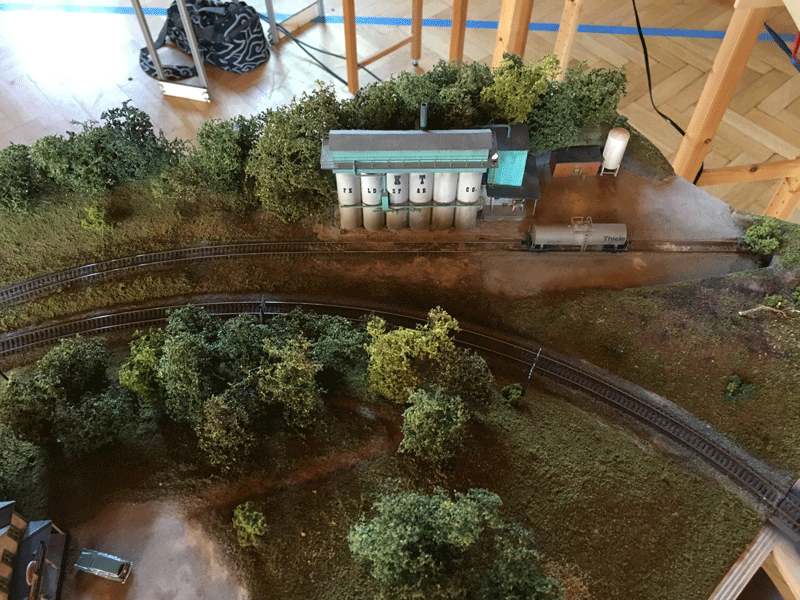 KT Feldspar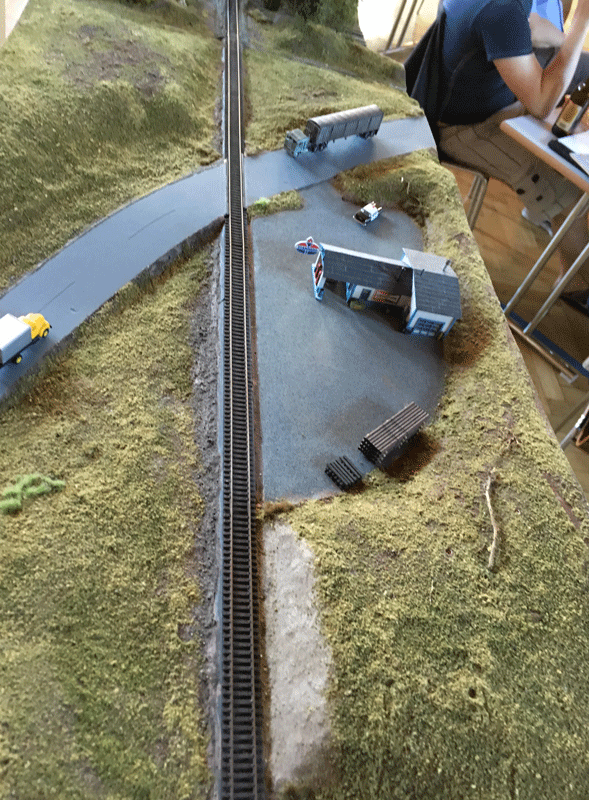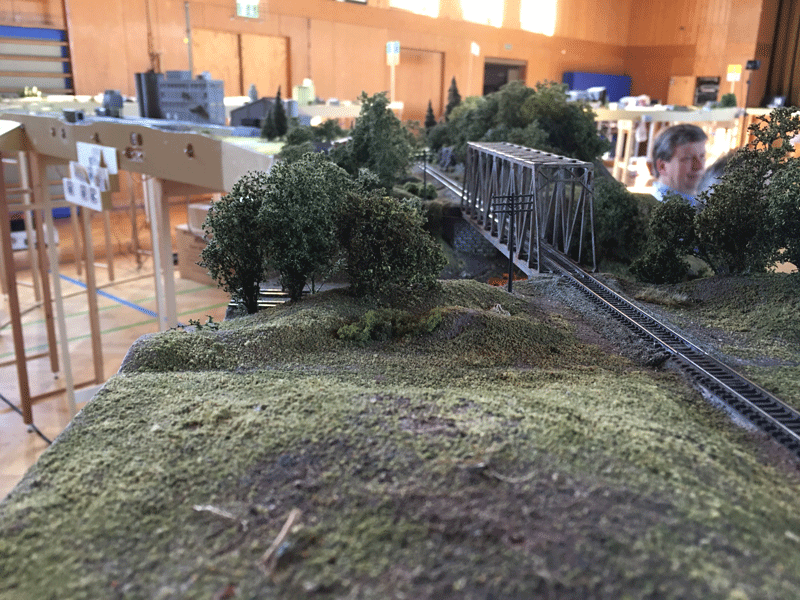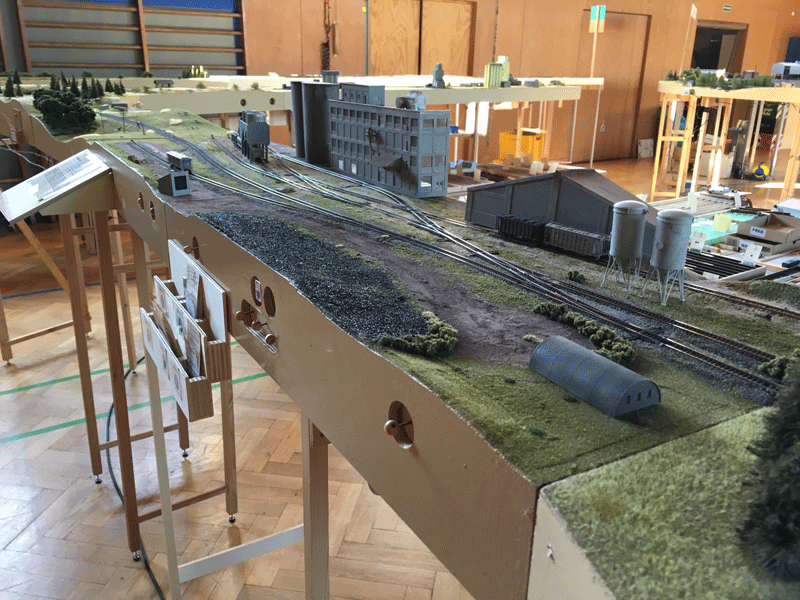 Colorado Cement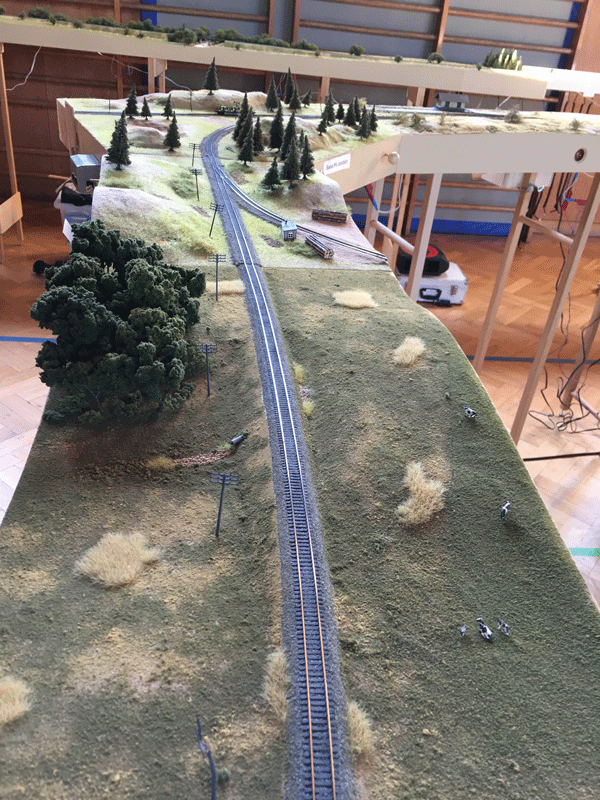 Footless Wood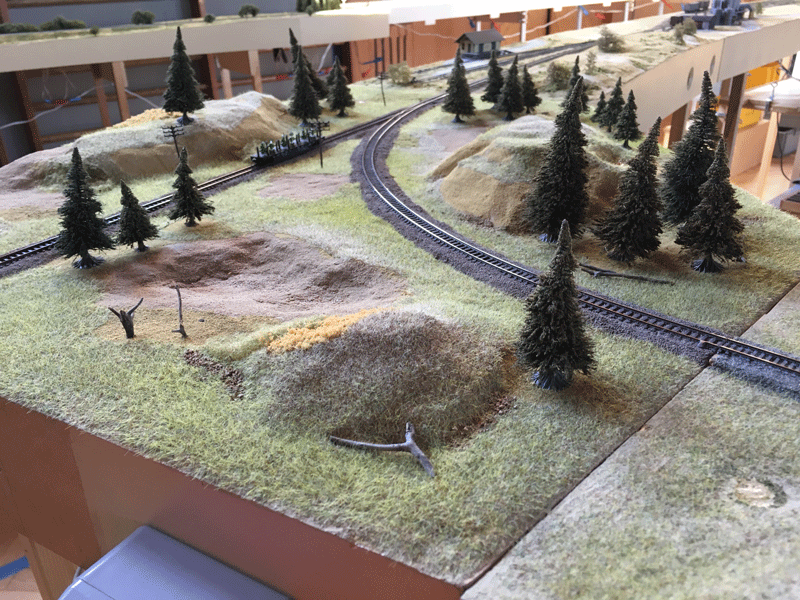 Sand Pit Junction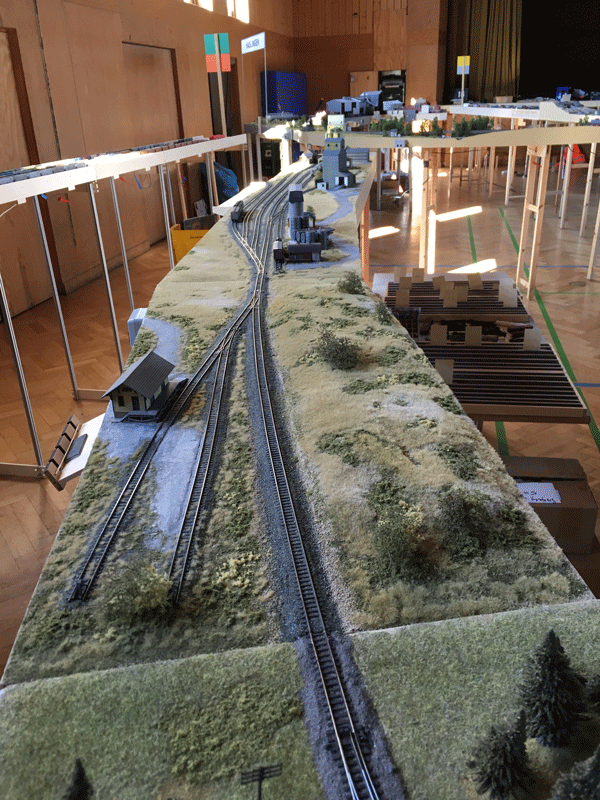 Four Oaks, with Chatteris behind.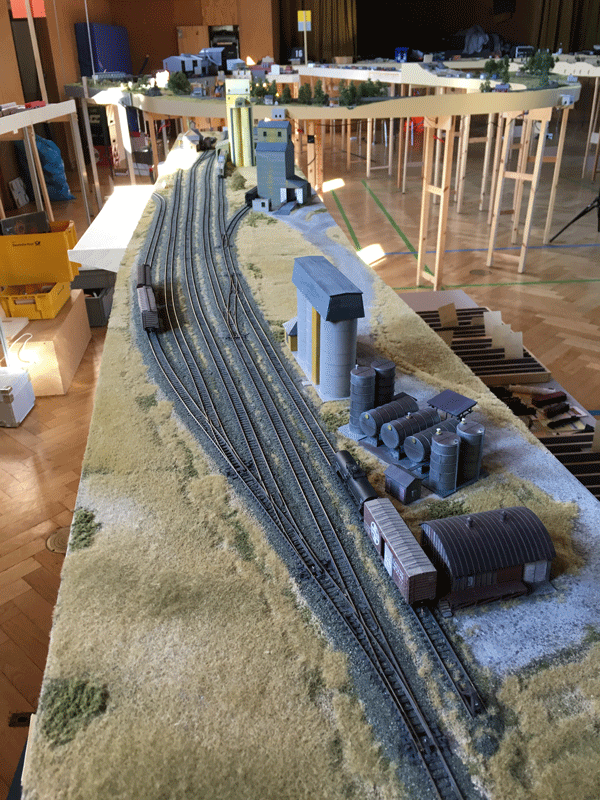 Chatteris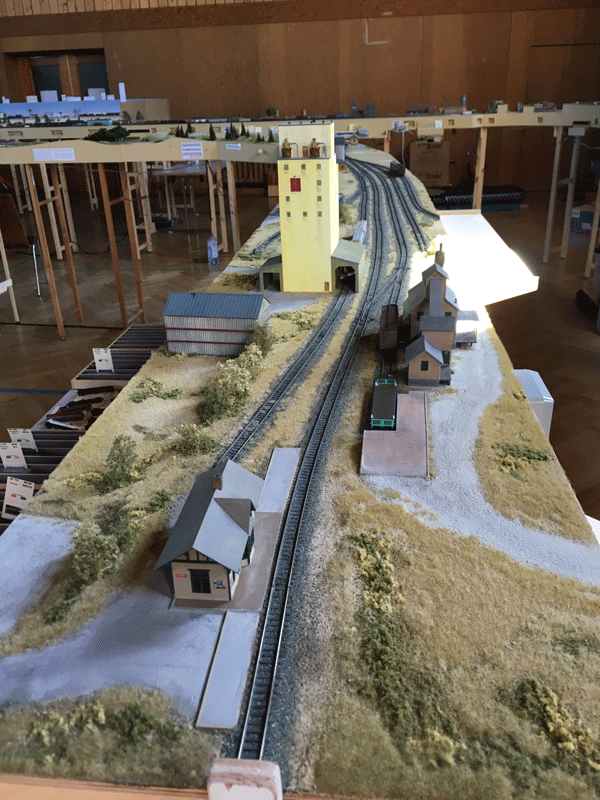 Chatteris, view from End of Branch
---
Emeryville Commercial Area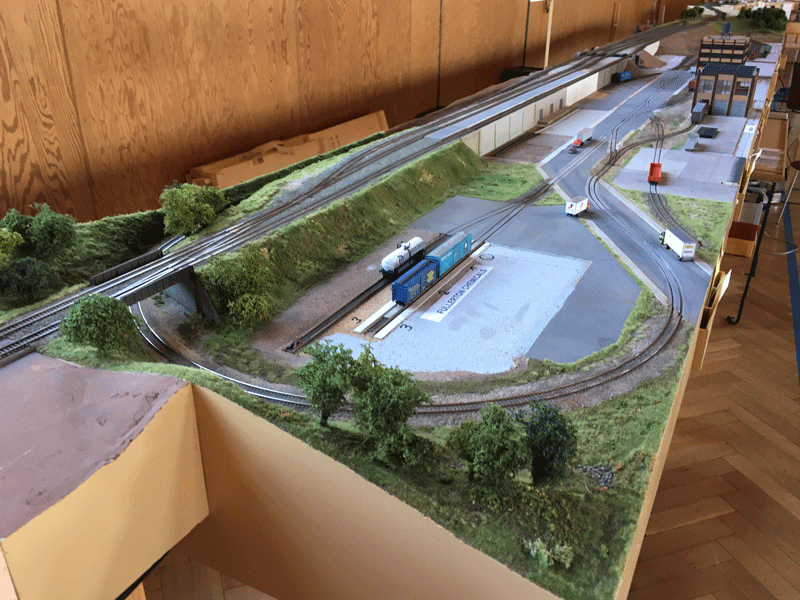 Emeryville Commercial Area, with connecting track to Emeryville Interchange in front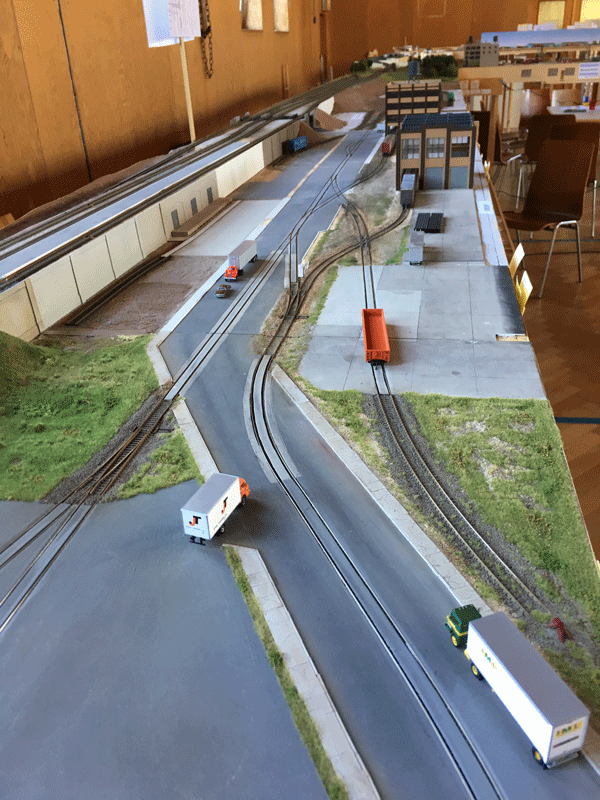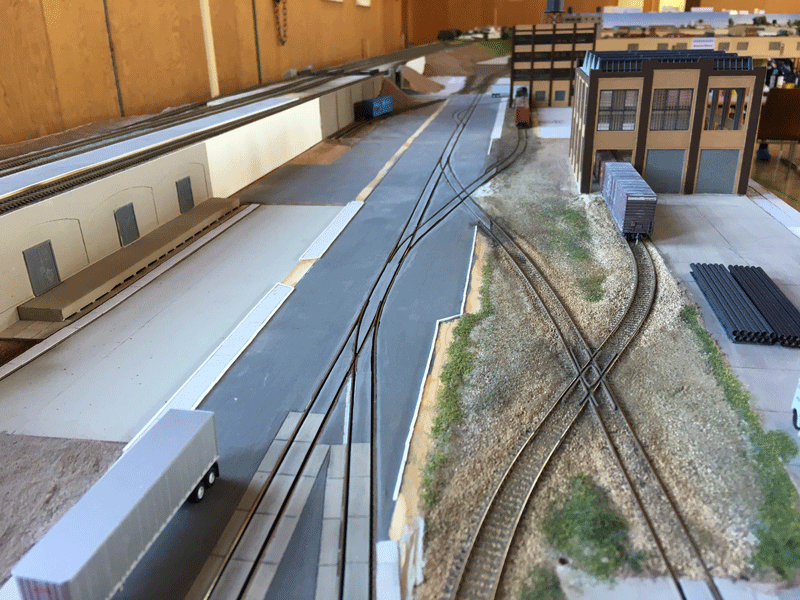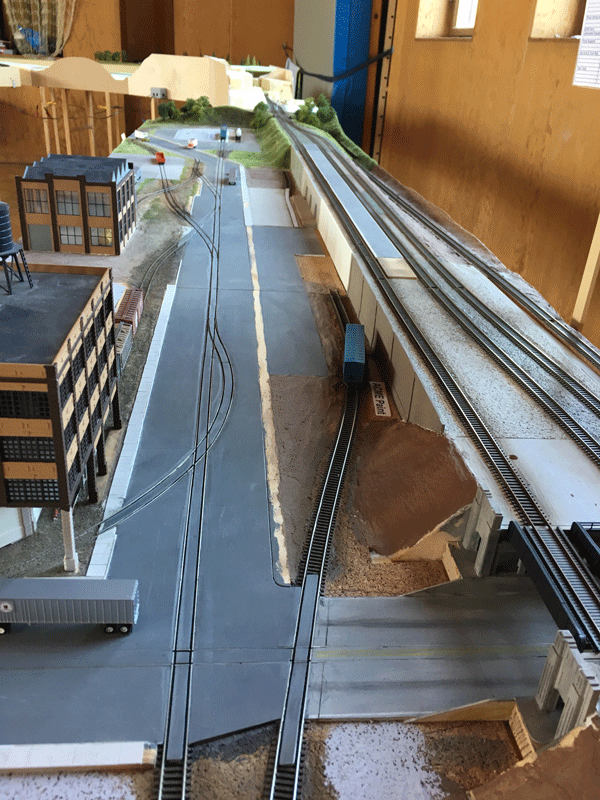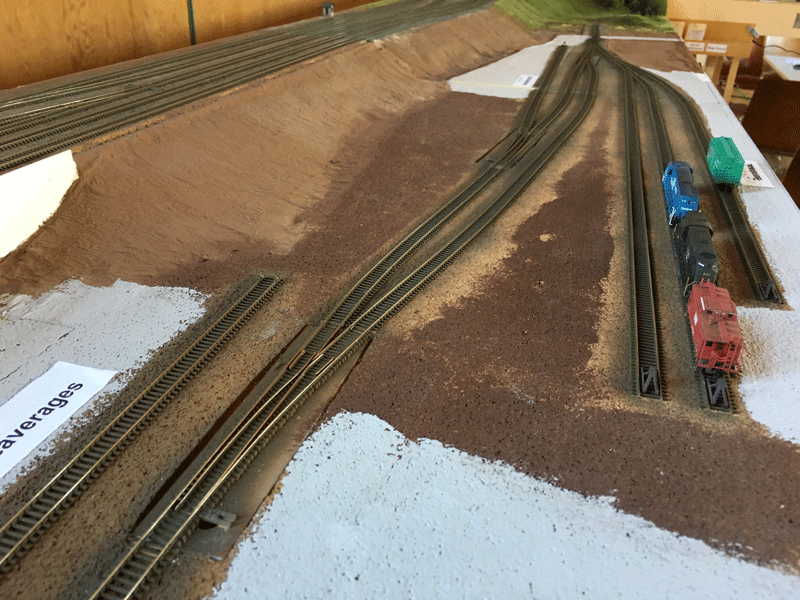 ---
2nd Street Branch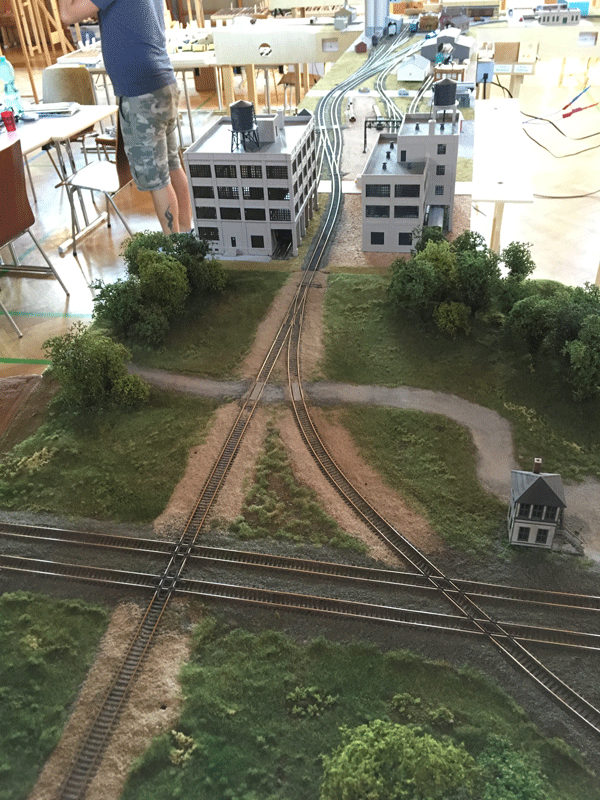 At Emeryville Junction, the 2nd Street Branch has its connection to Rest of World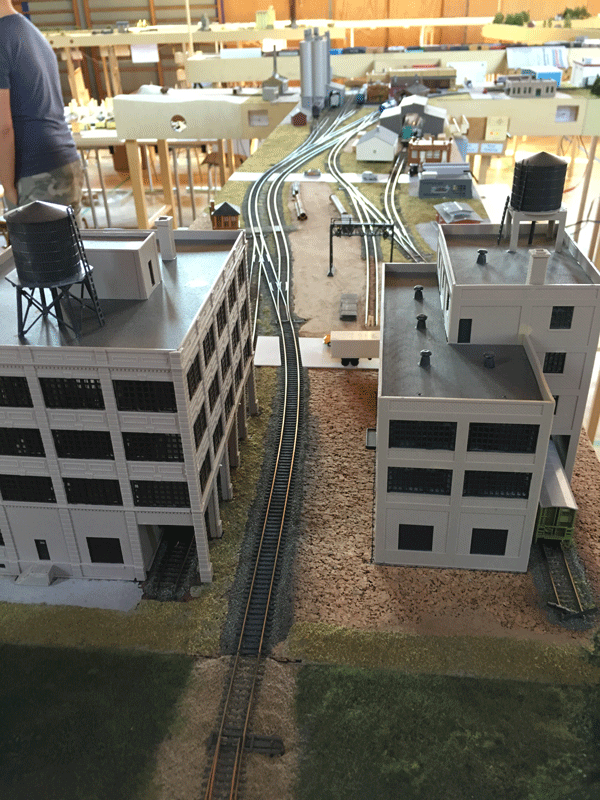 2nd Street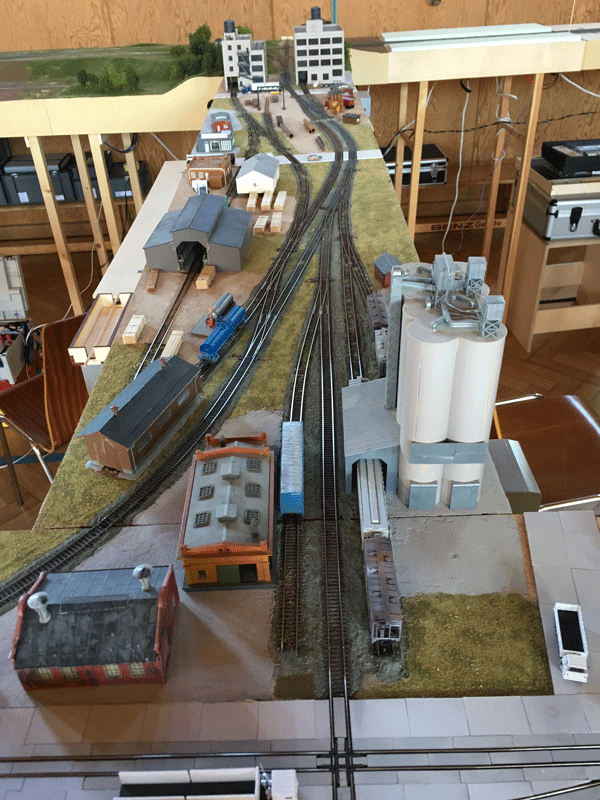 2nd Street, view from other side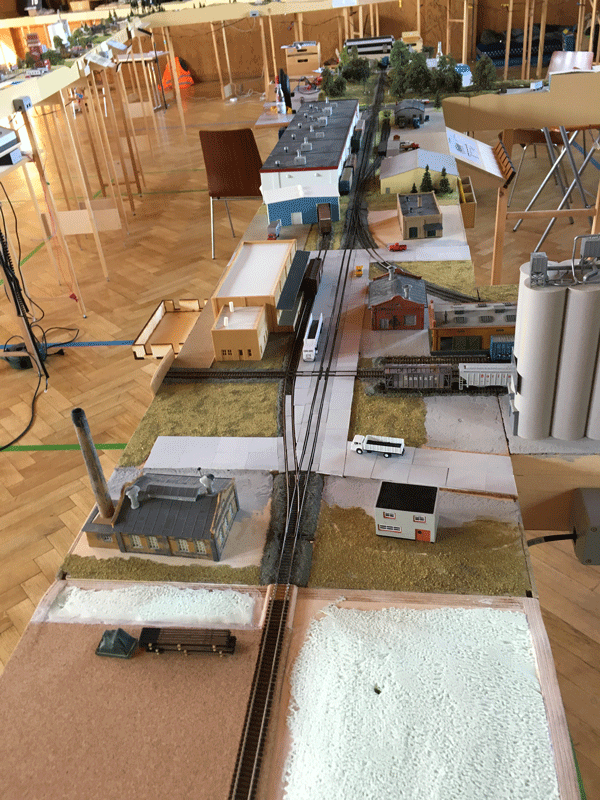 2nd Street Crossing (foreground) viewed from 90 degrees, , with Clausen Storage behind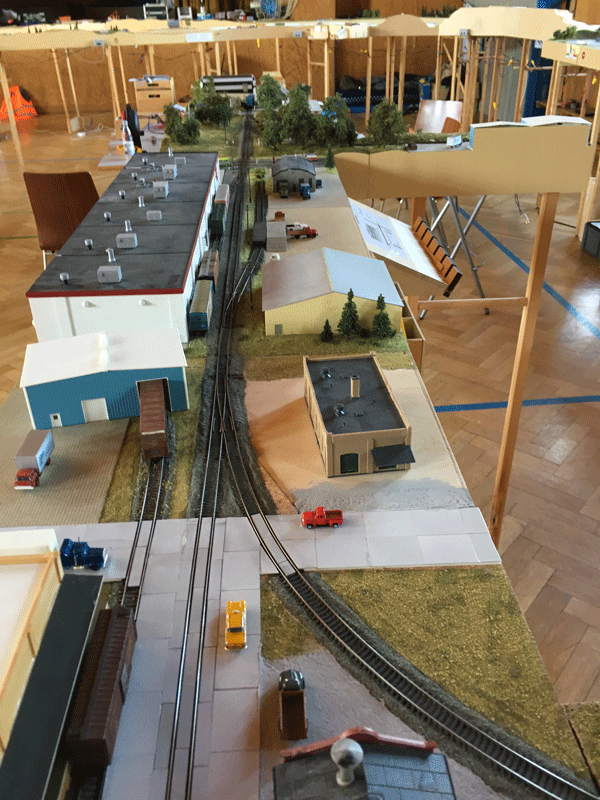 Clausen Storage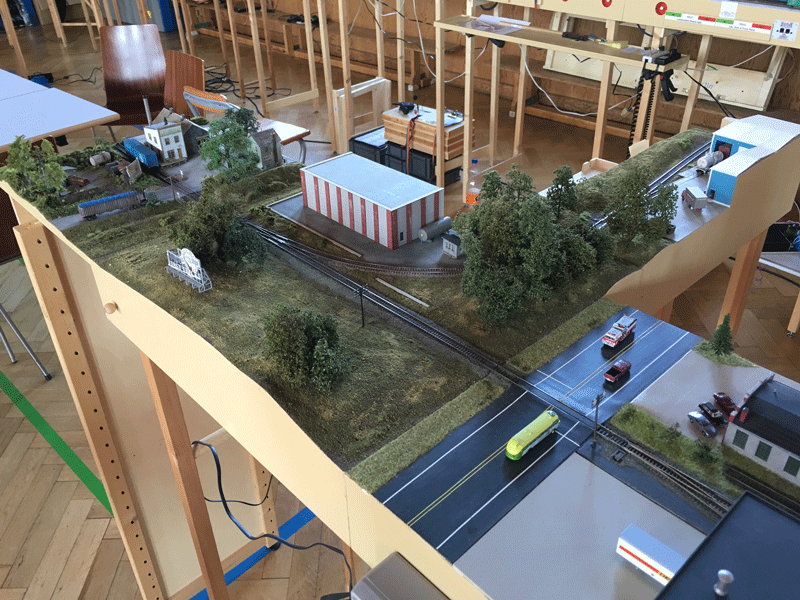 Cars are crossing at Clausen Storage, then to the left: Calahan Paper and Jock'n Meldrum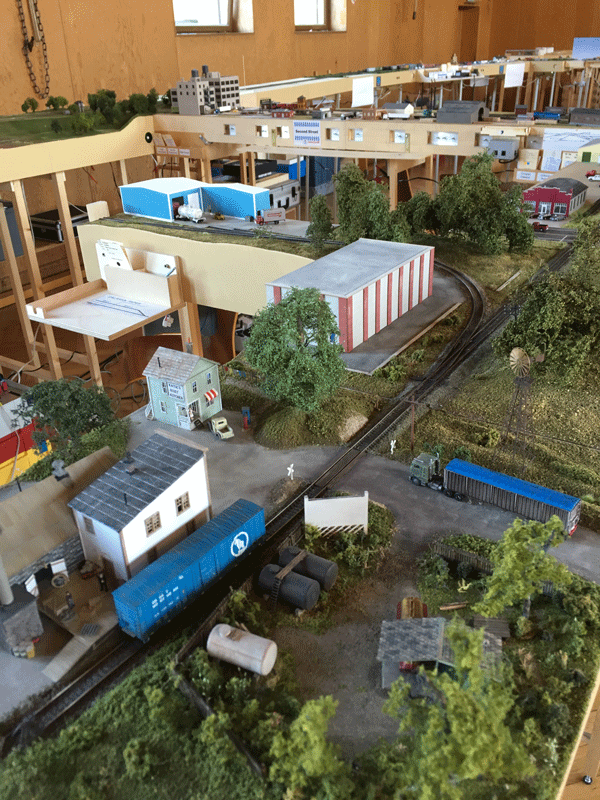 Jock'n Meldrum, from other side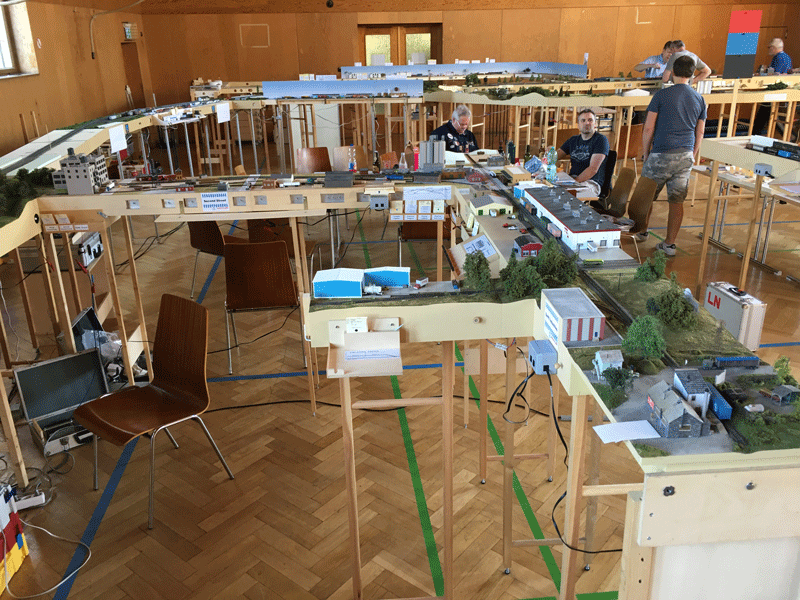 Overview: 2nd Street Branch
---
Rocky Point Branch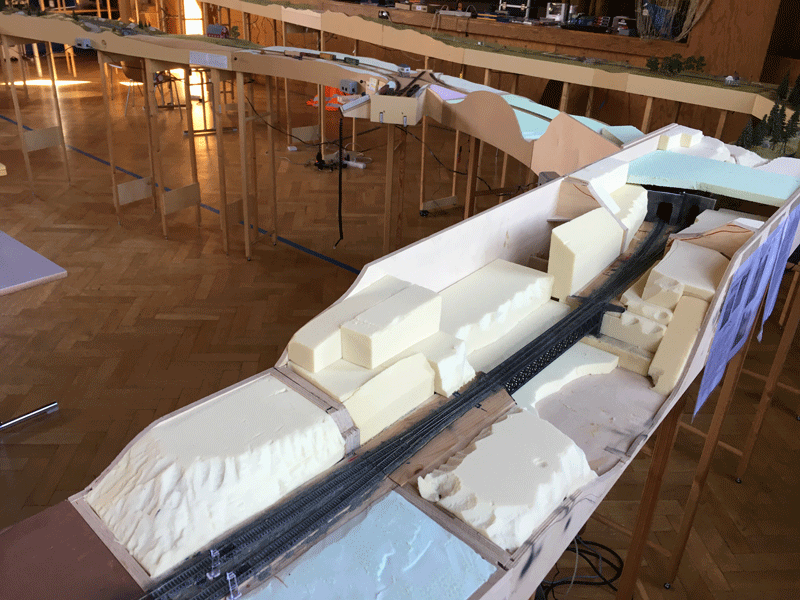 At Emeryville, the train has to take the left track to move on the left side over Gauntlet Bridge, and then into the left tunnel.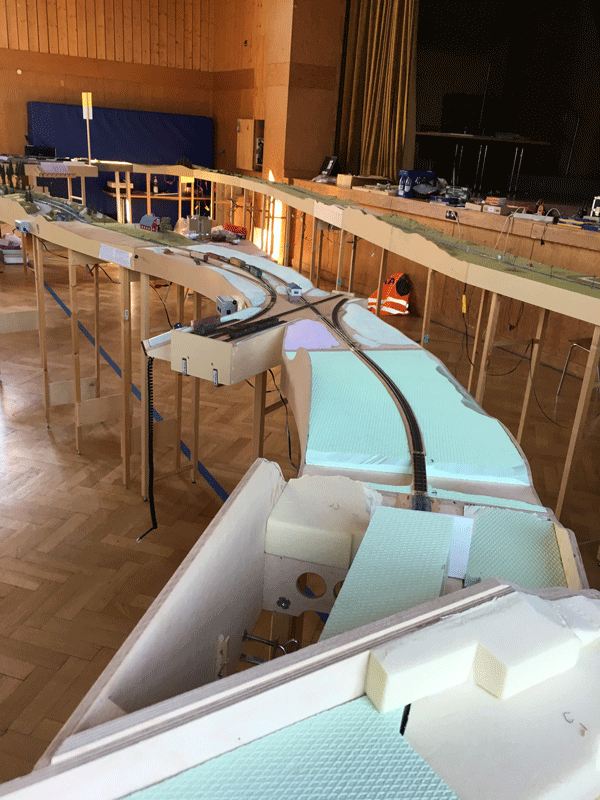 Out of tunnel and towards Boonford Interchange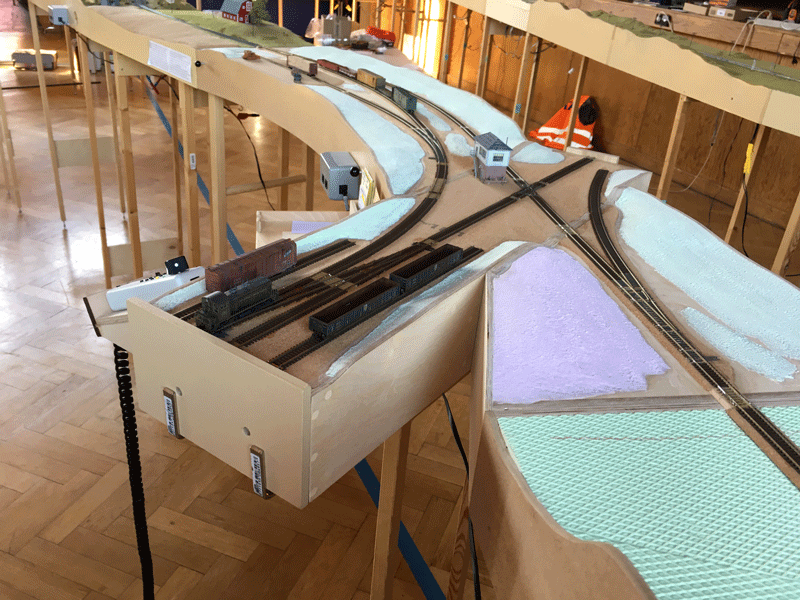 Boonford Interchange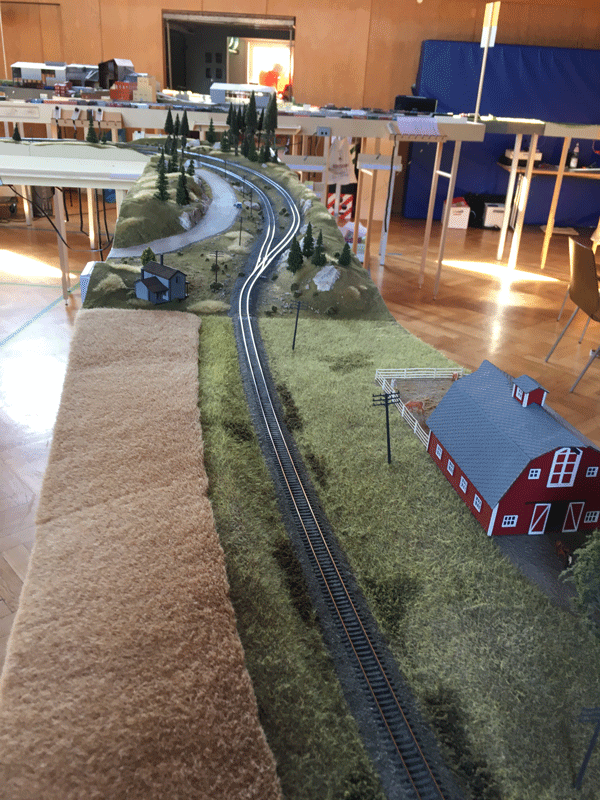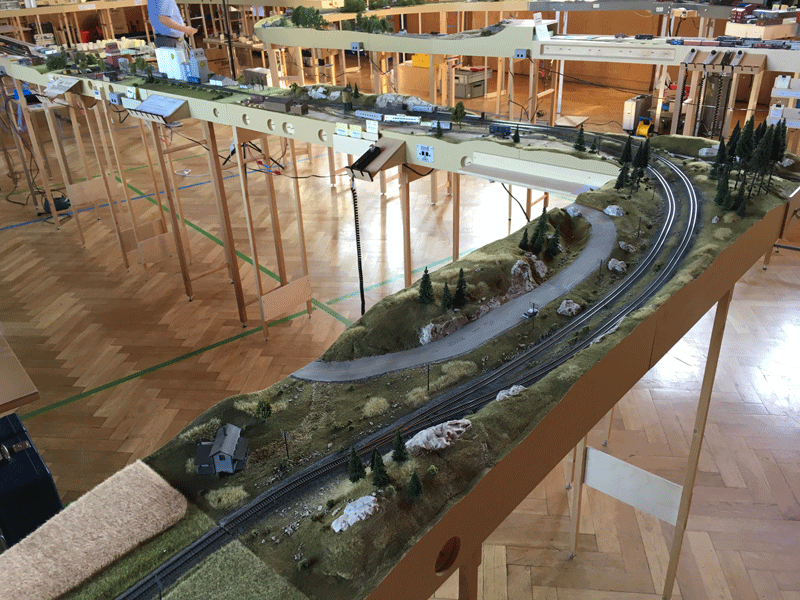 Rocky Point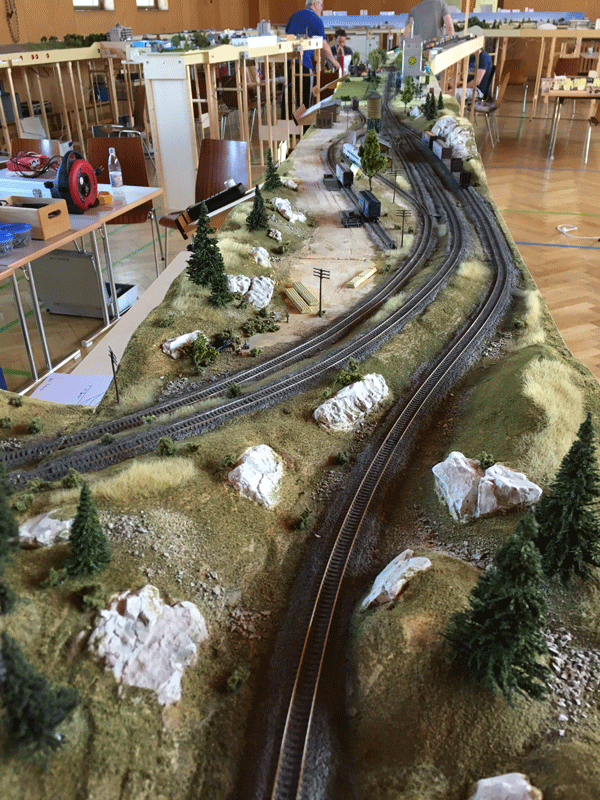 Rocky Point, Interchange Track in front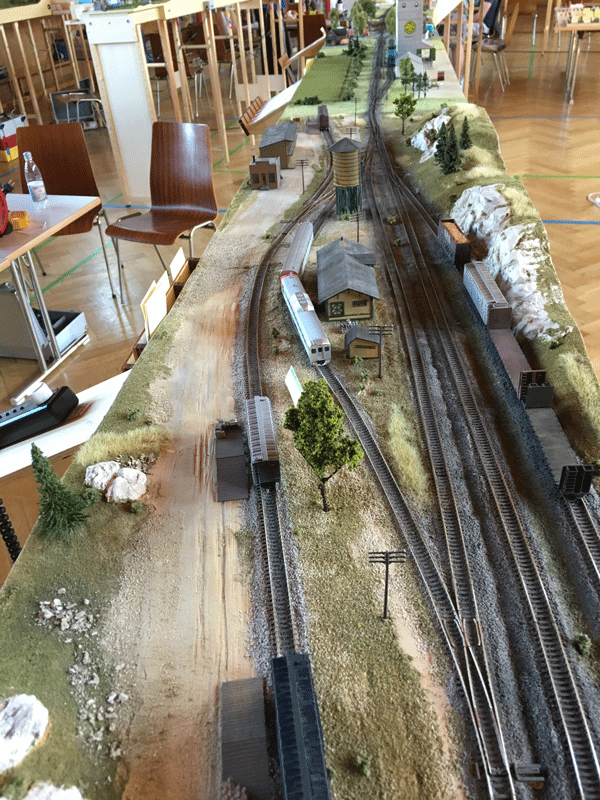 Rocky Point passenger station
Cropperfield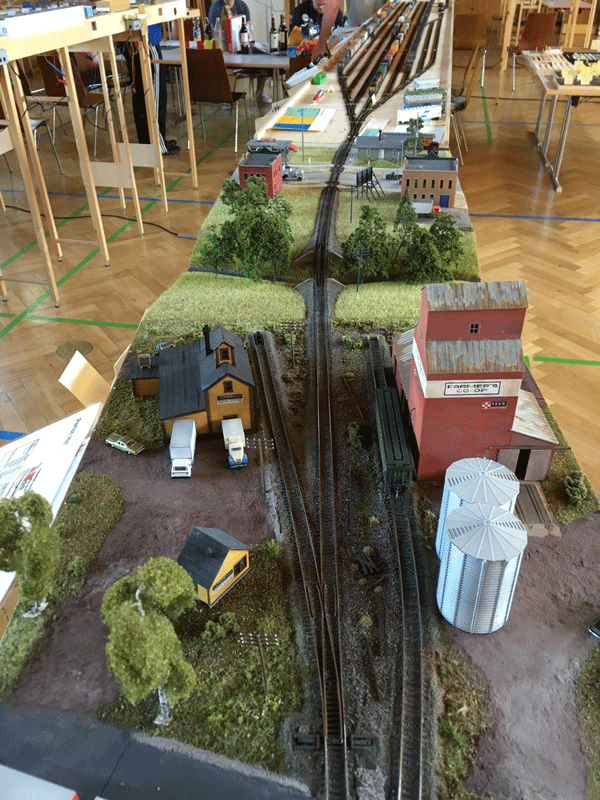 Perish Hill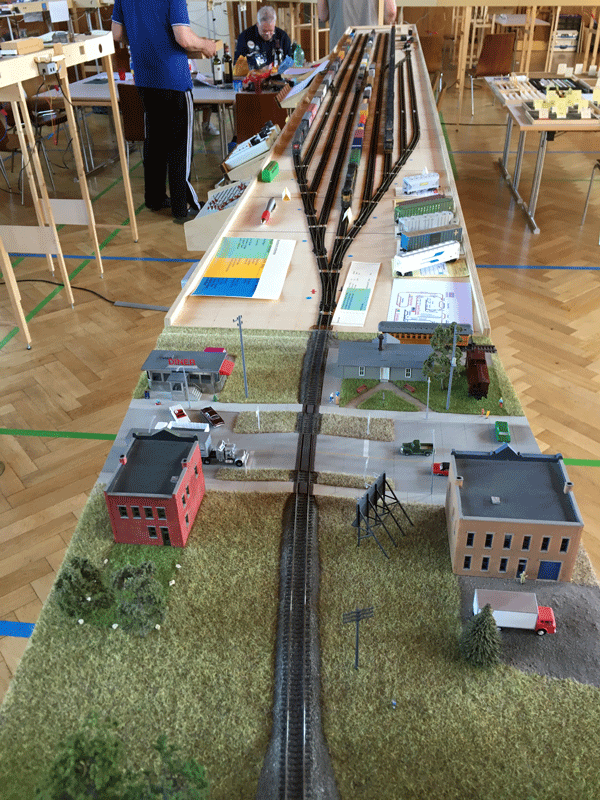 Sarah Creek, staging yard
---
Ocala Branch Line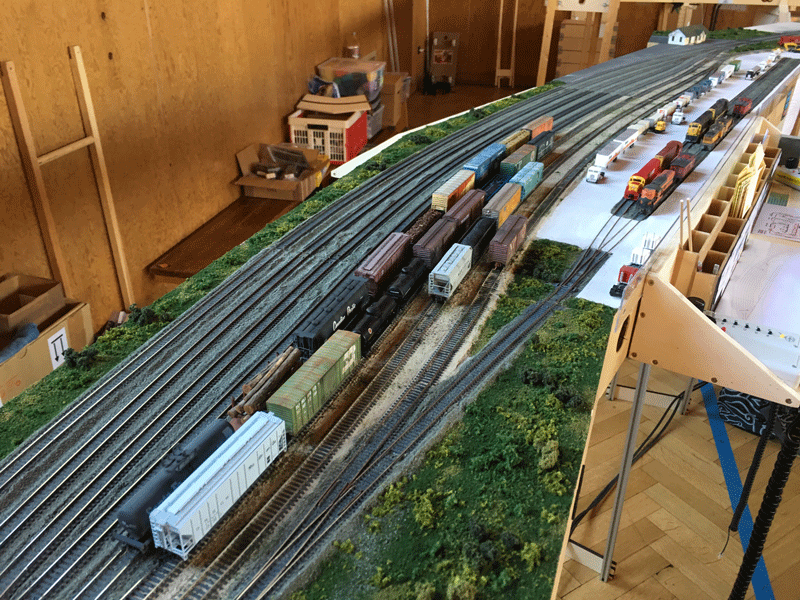 At Ocala, the cars for Ocala Branch Line are classified, and maybe stored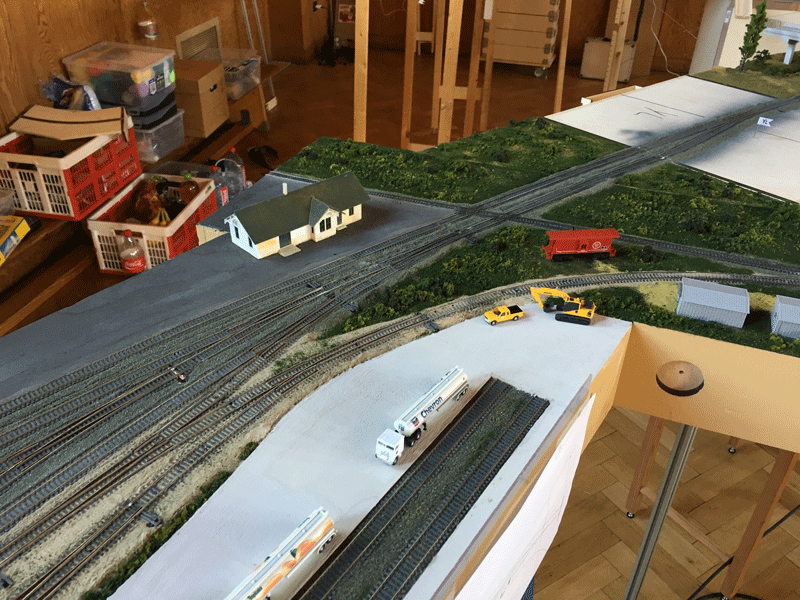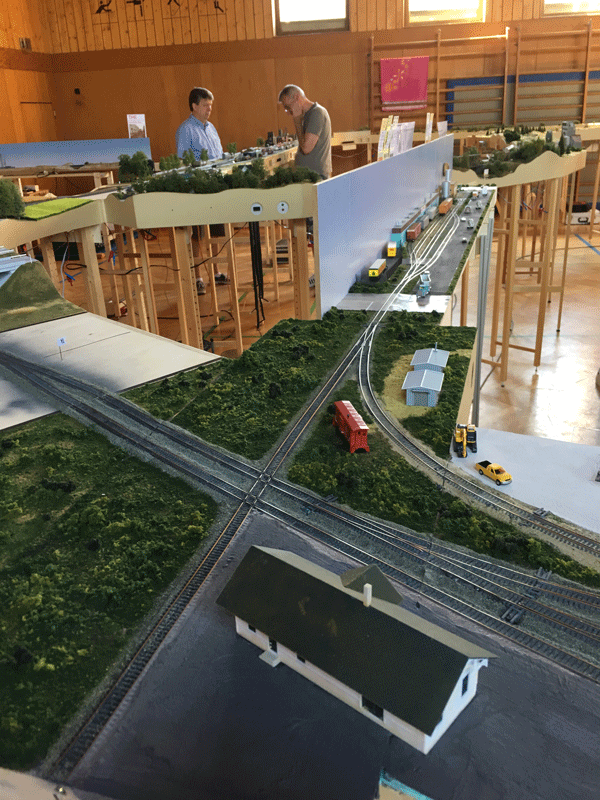 Main Line in foreground, with Ocala passenger station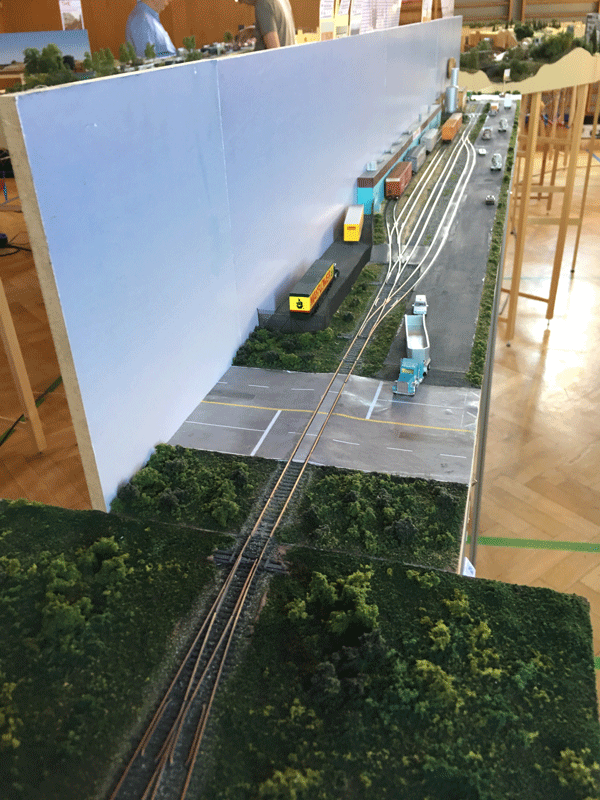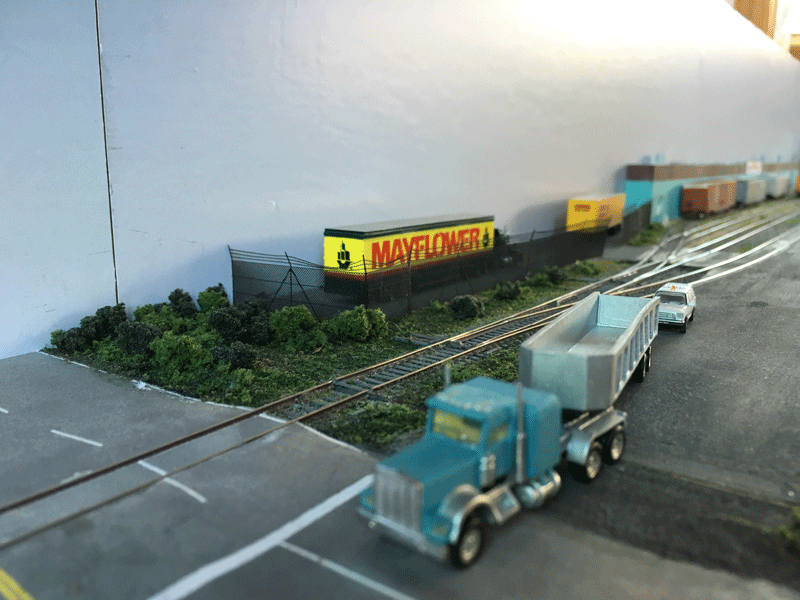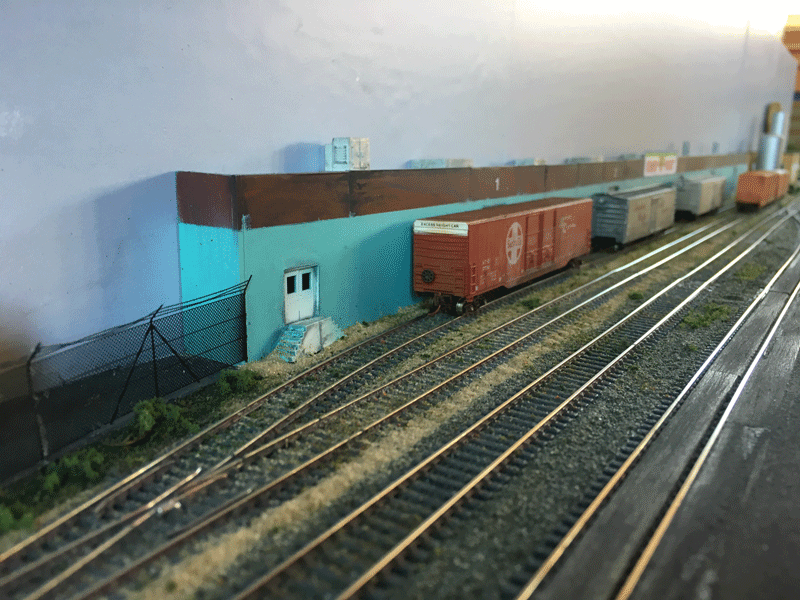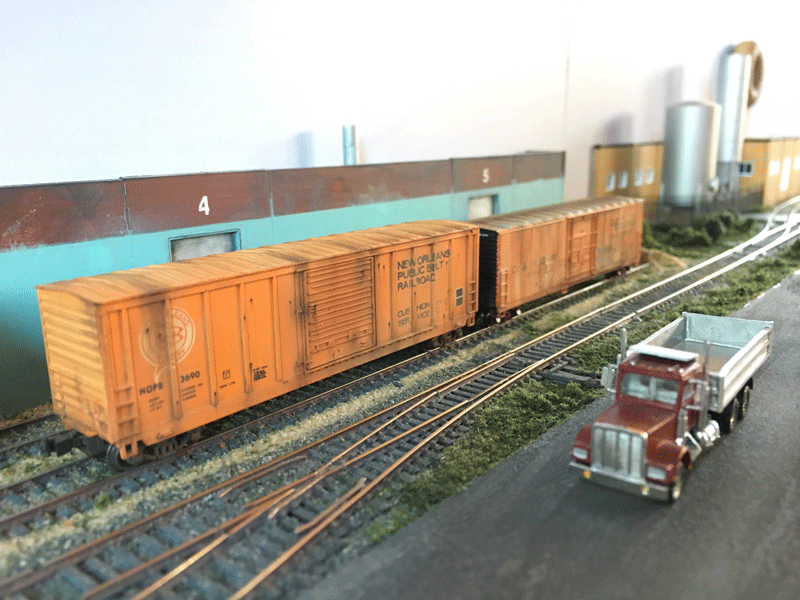 ---
Florida Branch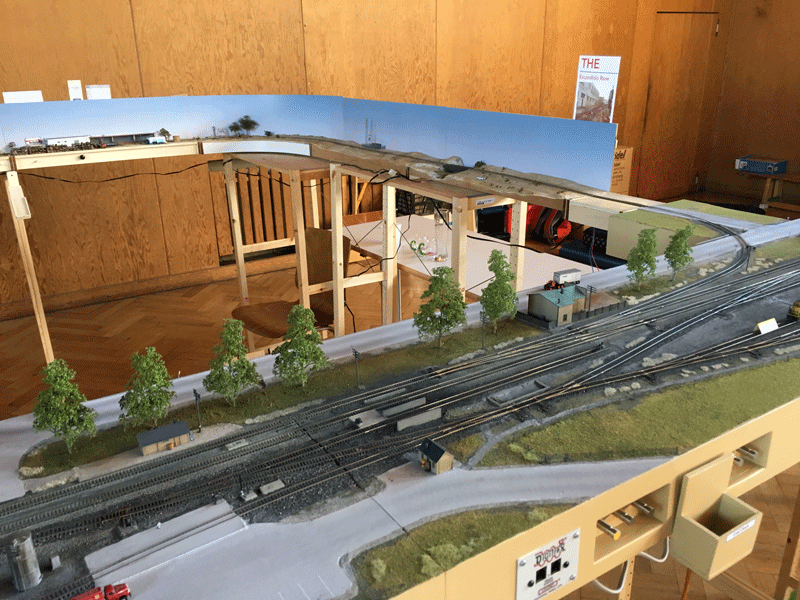 At Whitehall, Florida Branch begins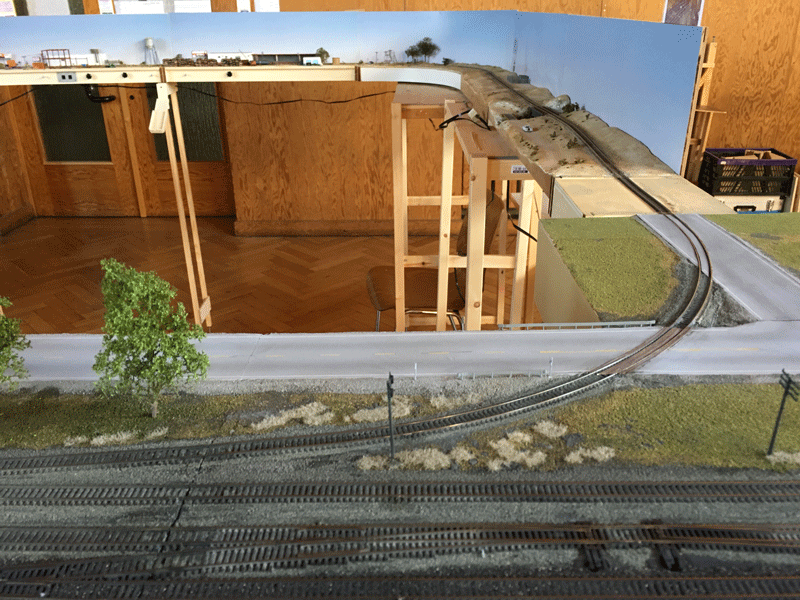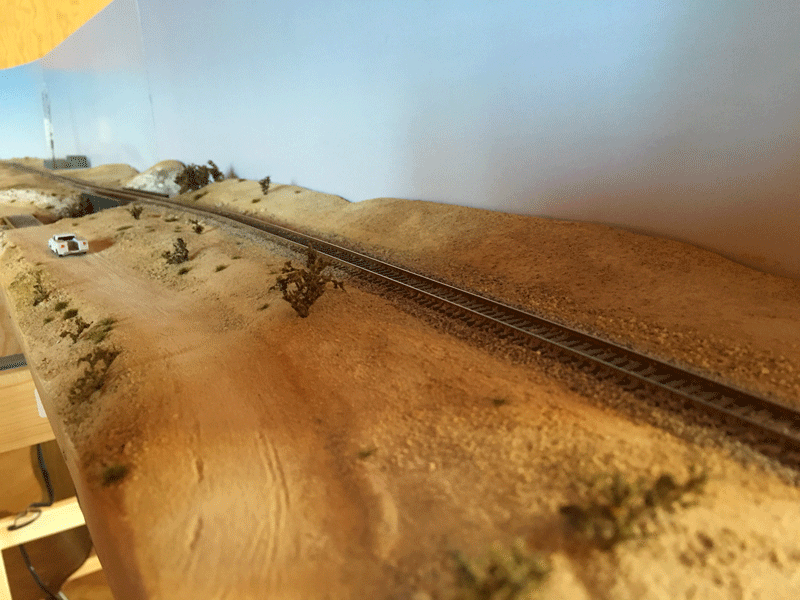 Climate changes: a little bit warmer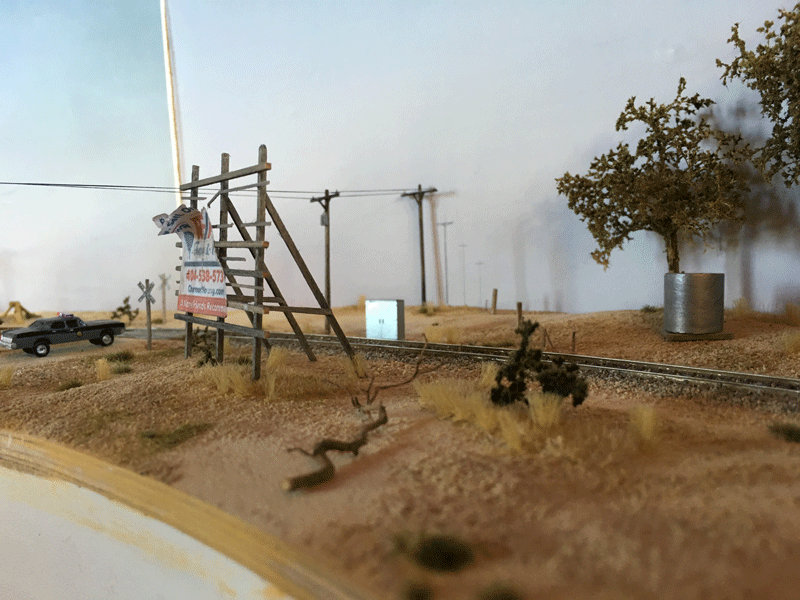 and a look a little bit closer: tree, not rattle snake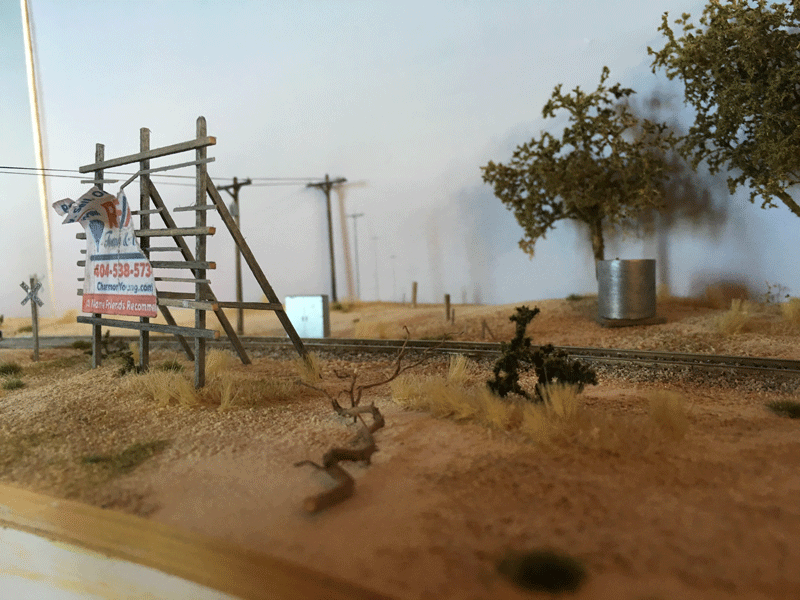 Property for sale, someone interested?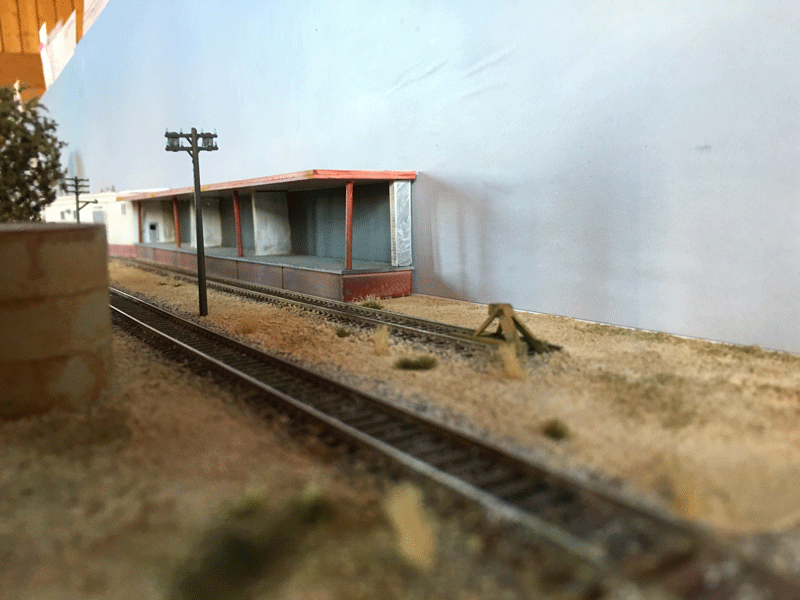 Begin of Escondido Row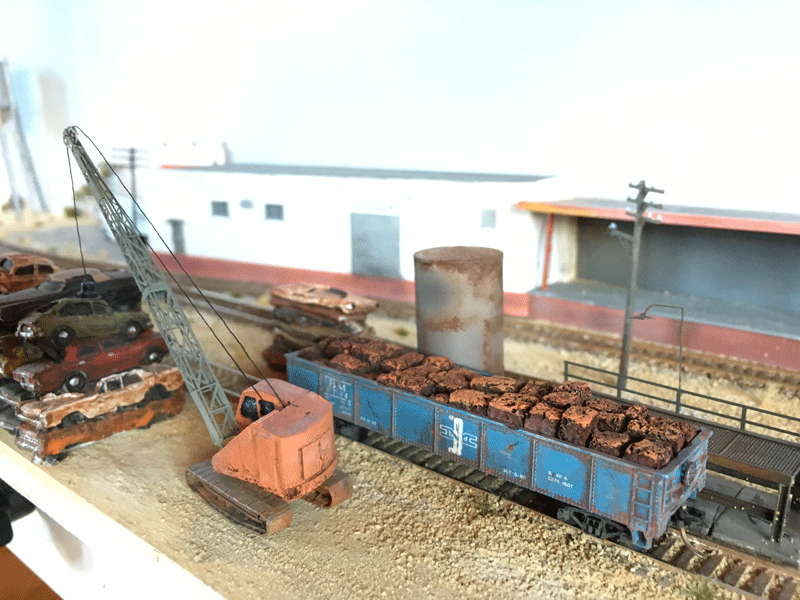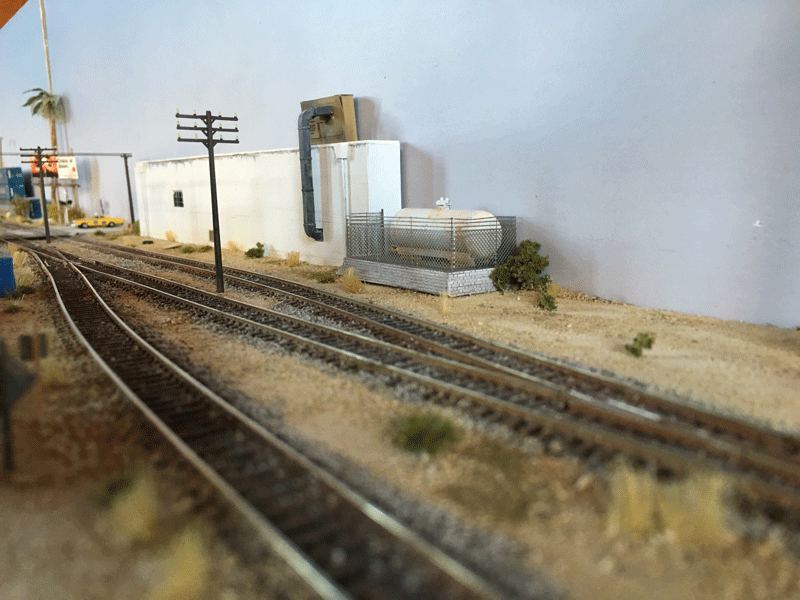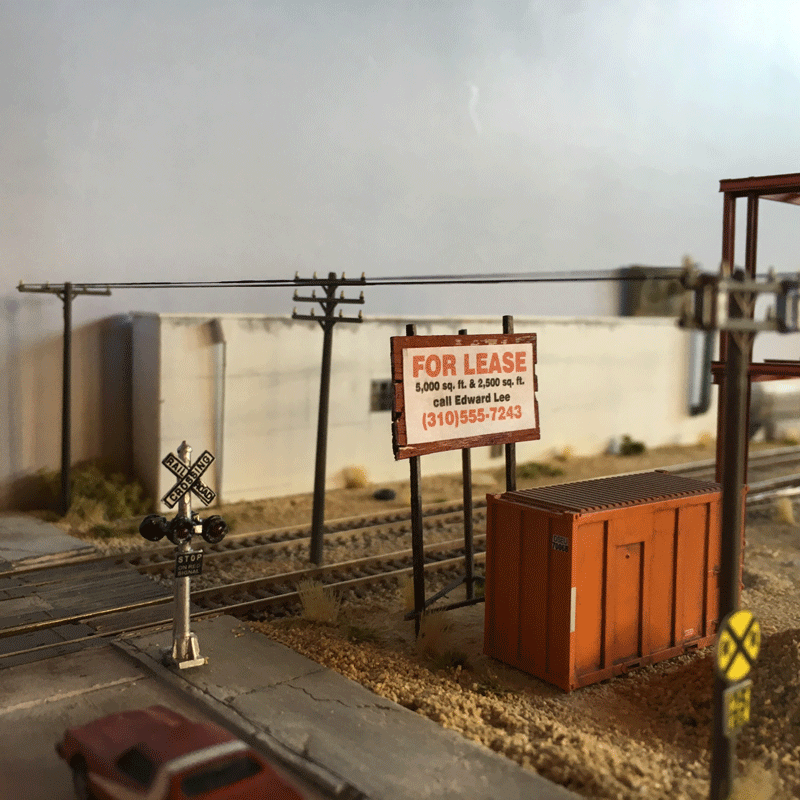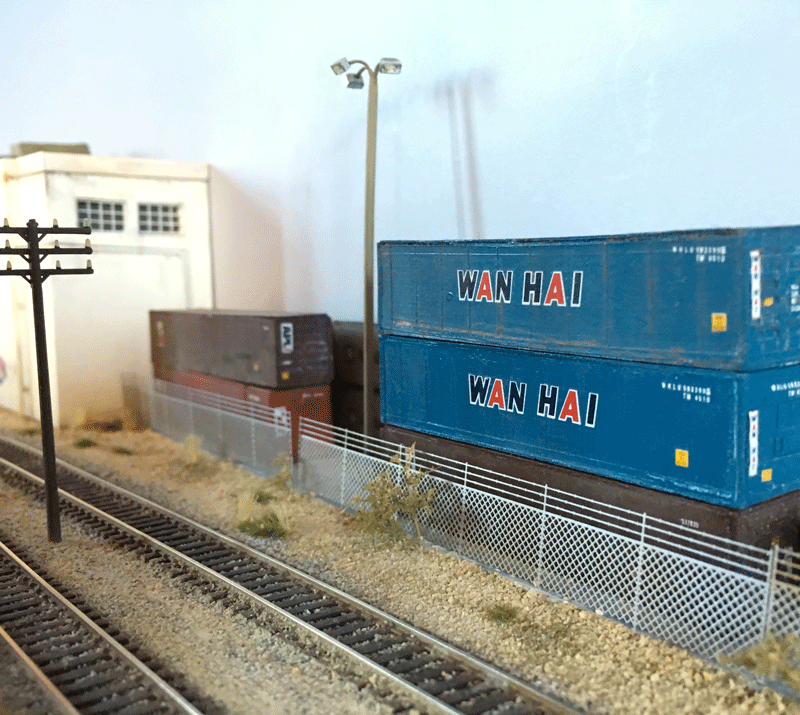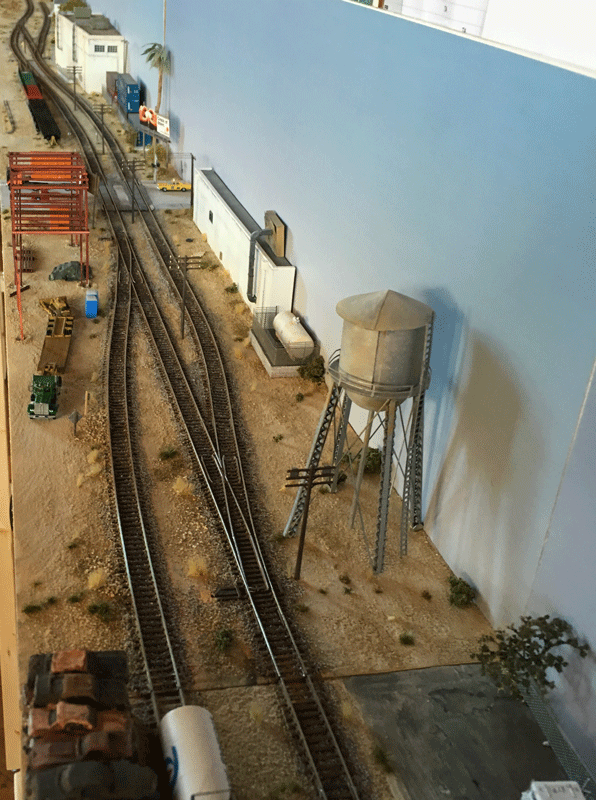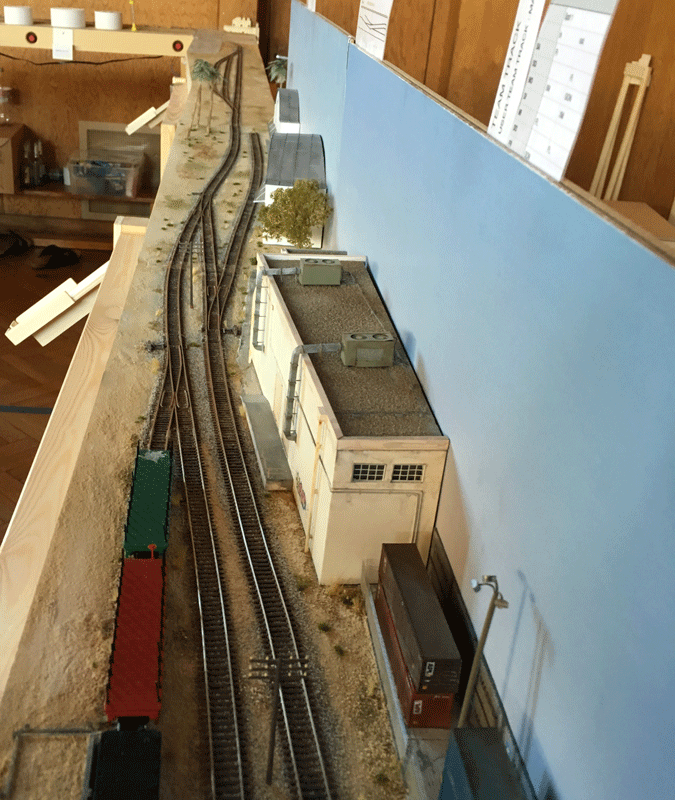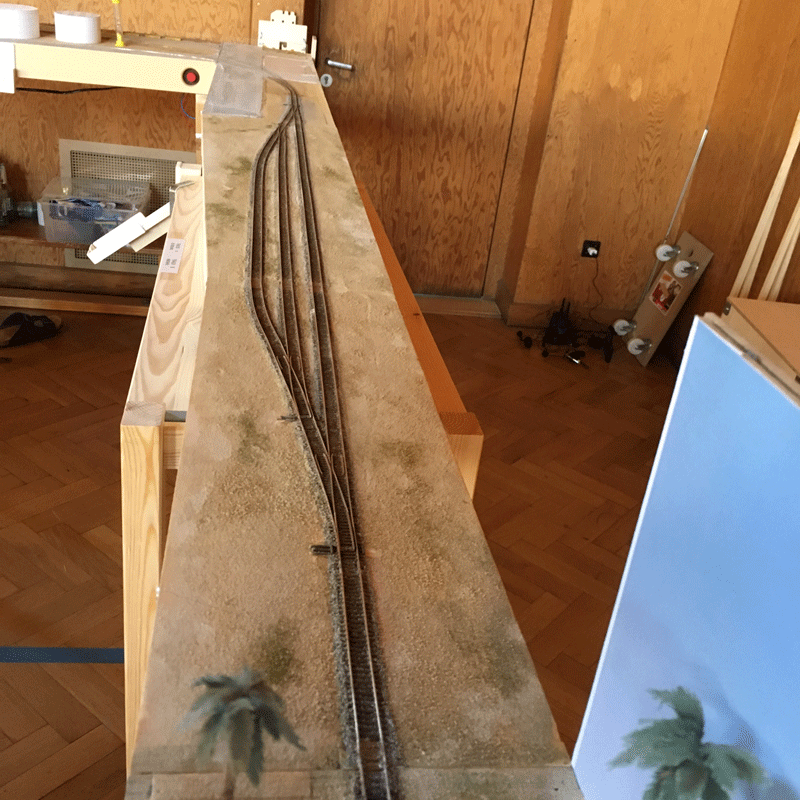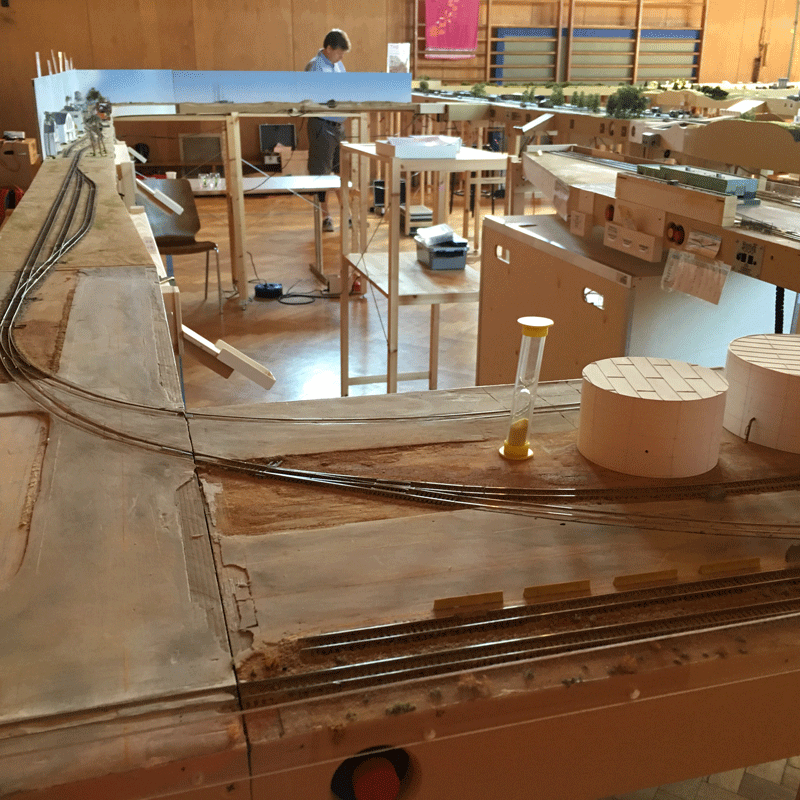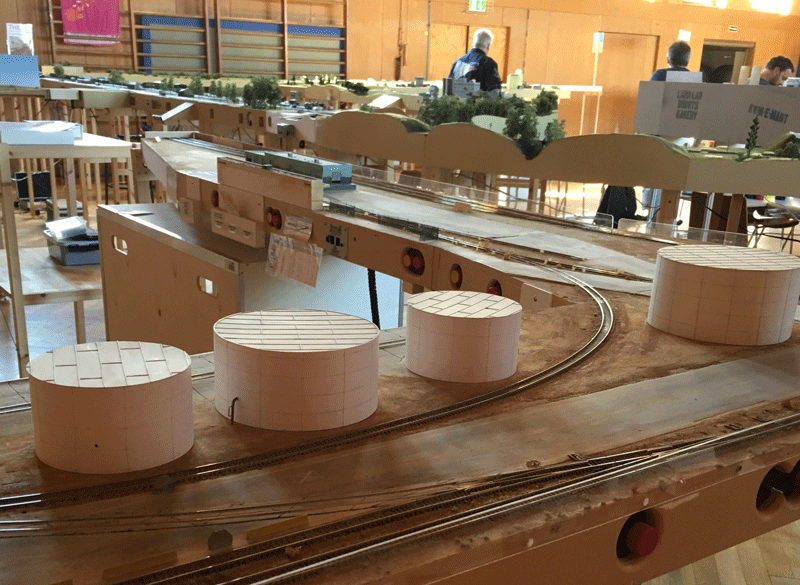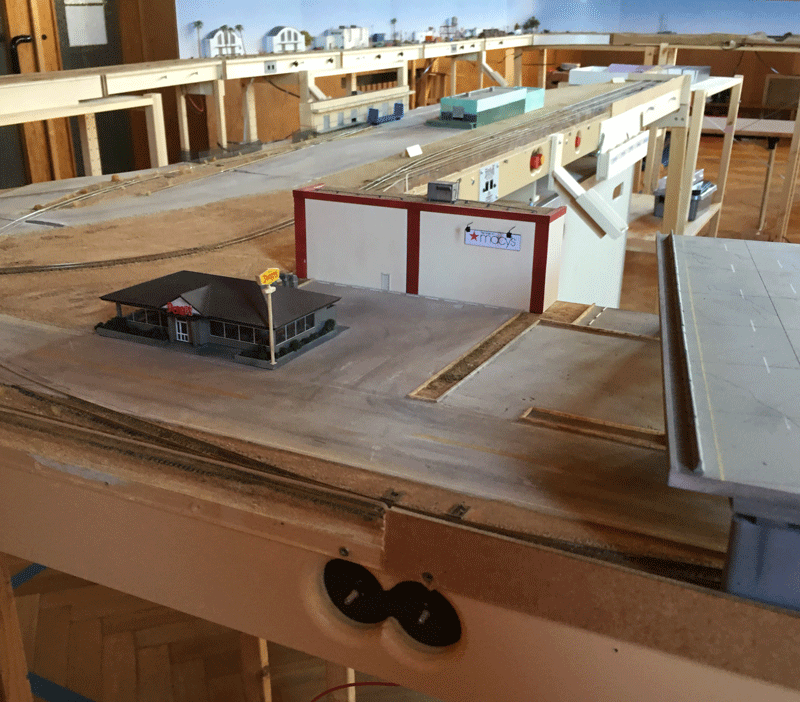 End of Lenox Ave.
---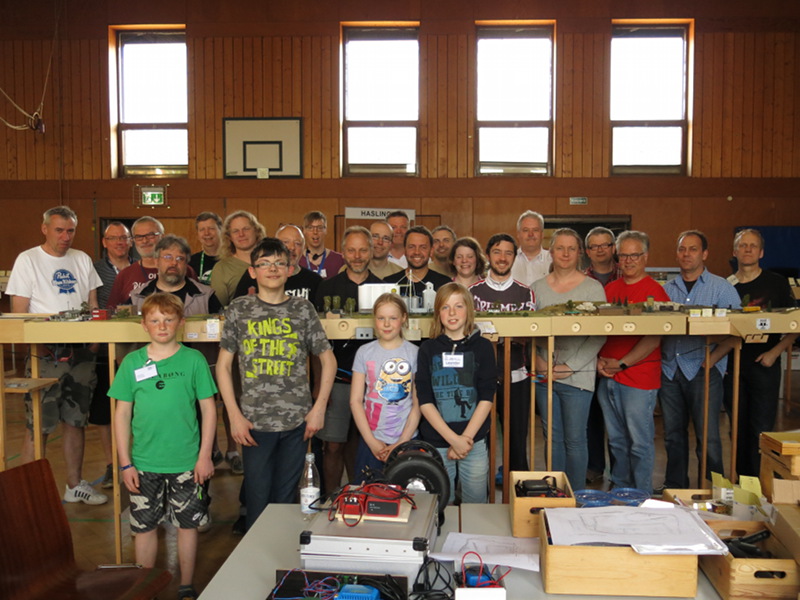 Happy people:
from left, behind modules: Peter, Bernd, Jürgen, Per-Olov, Dirk, Melinda, Elmar, Hagen, Alexander, Claus, Dieter, Stephan, Marc, Simone, Michael P., Wilfried, Naomi, Andreas, Michael H., Oliver and Jan.
in front of modules: Manuel, Jan, Imelda and Leander
Photo und (c) 2016: Bernd Schneider; published with permission
---
to be continued