americaN FREMO - modular model railroad in N scale
americaN: the big Braunlage 2009 layout
Details

Kategorie: americaN
Zuletzt aktualisiert: Samstag, 19. Dezember 2009 12:55
Geschrieben von Bernd Schneider / mh
| | |
| --- | --- |
| Braunlage 2009 | |
americaN: the big Braunlage 2009 layout
The annual FREMO meeting in 2009 took place in Braunlage, Germany.
Among many other FREMO groups with different themes, times, and gauges, americaN set up a module layout.
It was the most complex americaN module layout so far:
main line from staging yard Milwaukee to staging yard Washington

branch line to staging yard Chicago, diverting at Fremont Branch
branch line to Chatteris, diverting at Rocky Point
In sum, this was 55 m of modules (180 feet), or an equivalent of 9 kilometers or 5.6 miles.
The layout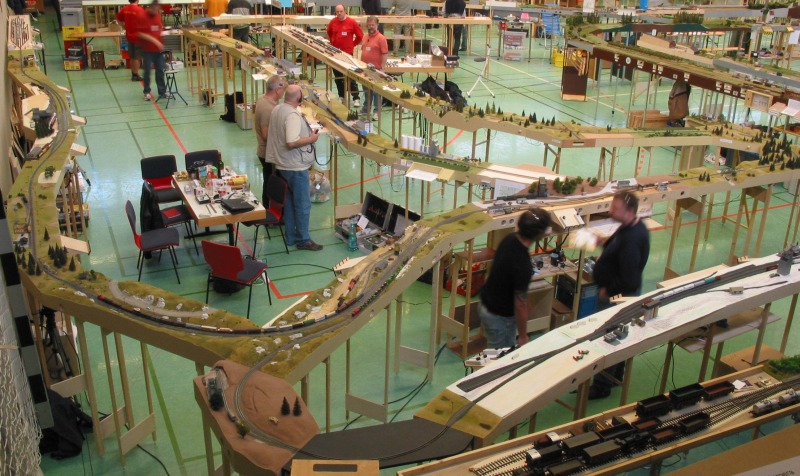 Overview from the balcony. The americaN modules are in a gymnasium, together with other FREMO groups. Those had other gauges (for example: Om in the foreground, HO in the back), or other themes (German Railways, ...) The picture shows only a small part of the gymnasium.
Above is one part of the graphical time table.
Here is the full version as pdf-file.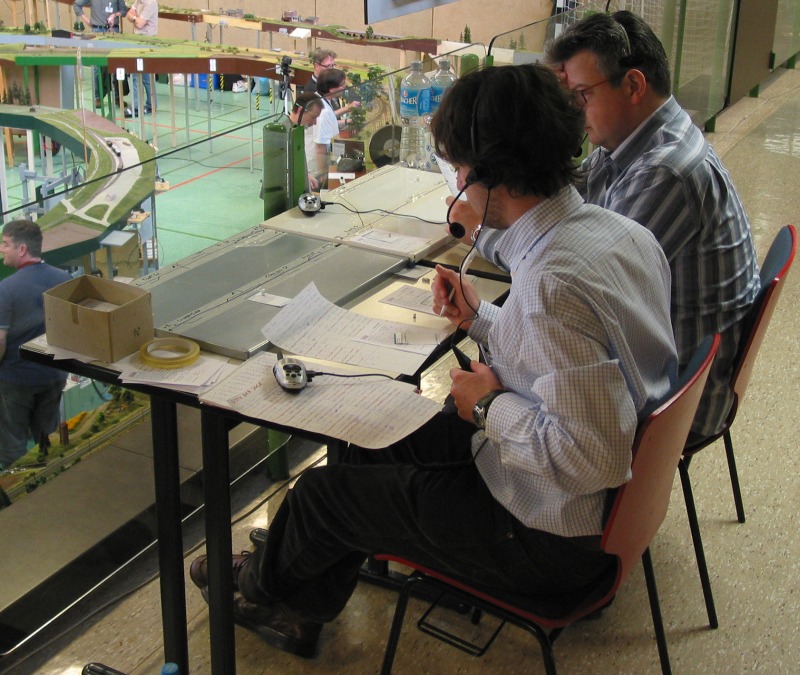 The two dispatchers are far away from the americaN layout they are managing. Sitting on the balcony of the gymnasium, they have a nice view onto the big HO layout which has the German RR as the topic (below)


As often at meetings, new modules had their first operating session.
Two factory sidings were built by Welf. Clausen Storage got a big warehouse and team track...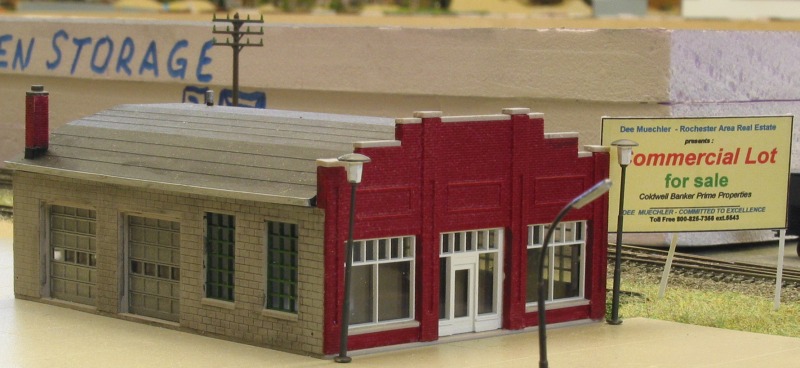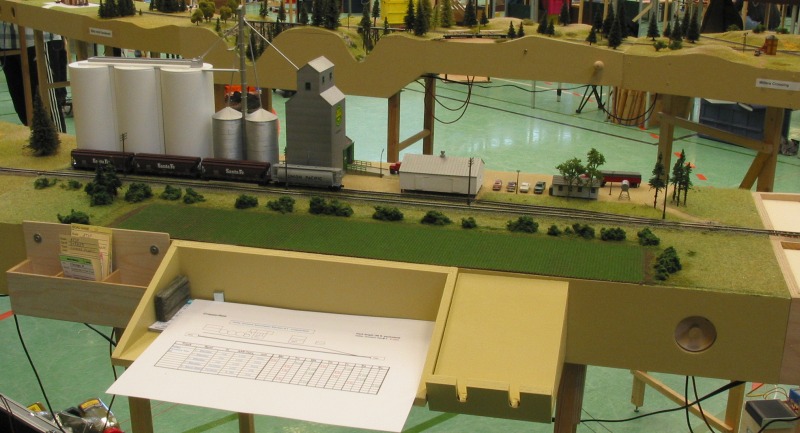 while Cropperfield got a big grain elevator.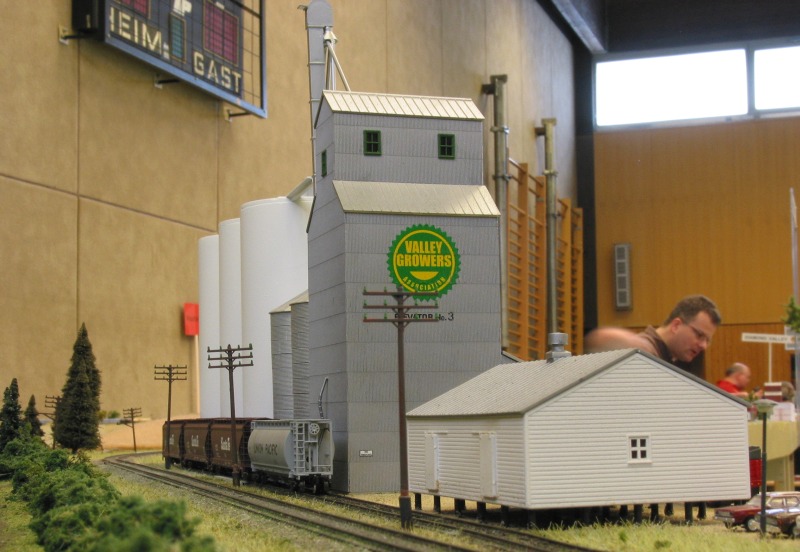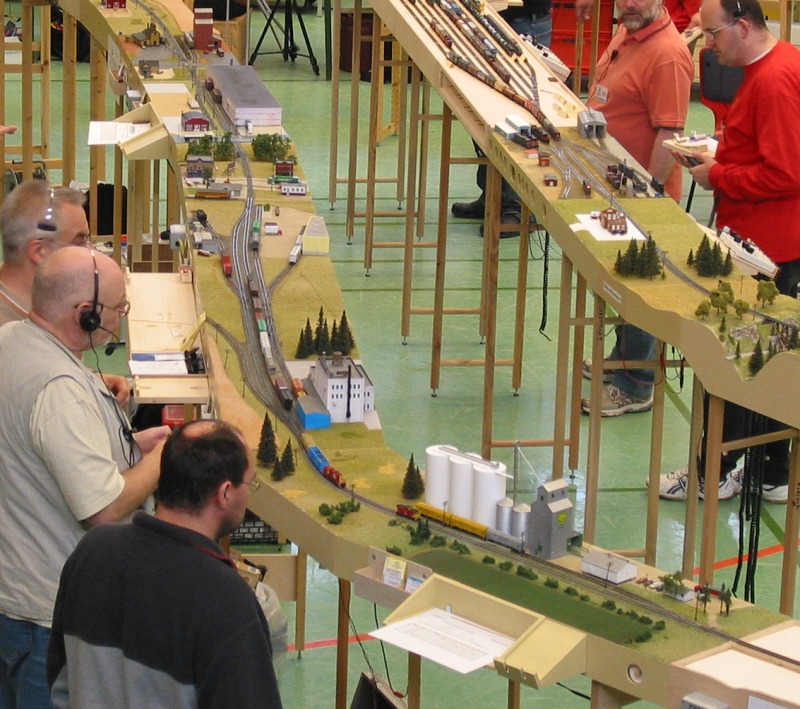 Two trains switching at the same time at Appaloosa Junction (the module with the siding): In combination with Clausen Storage, Copperfield and Perish Hill (this photo you will find it below), Appaloosa Junction got extensive switching activities. The length of modules switched from Appaloosa Junction was over 6 m (20 feet).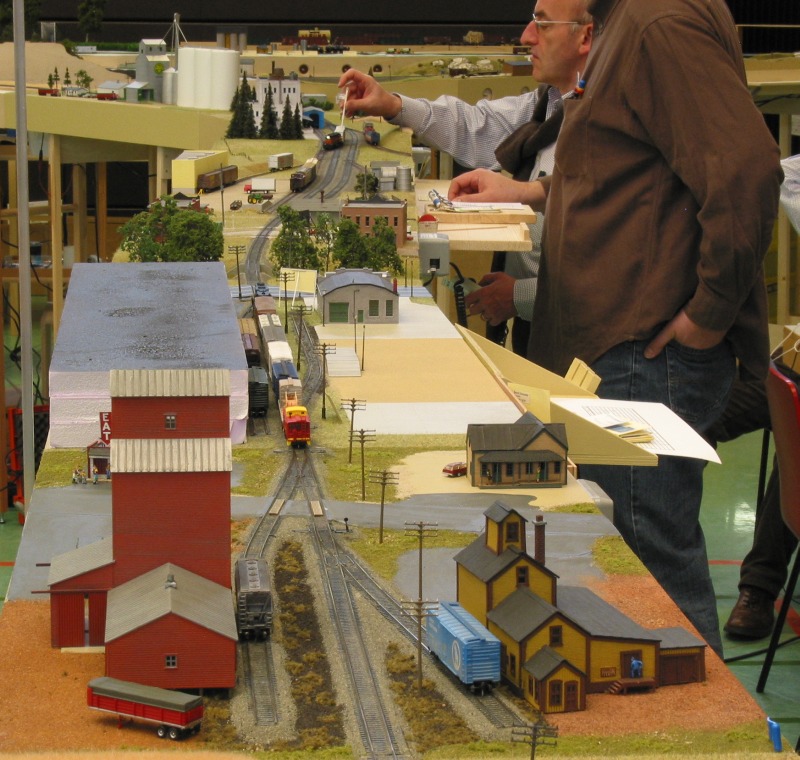 Perish Hill in the foreground, followed by Clausen Storage and Appaloosa Junction (with siding)

JK Coal is getting green, and the first trees are growing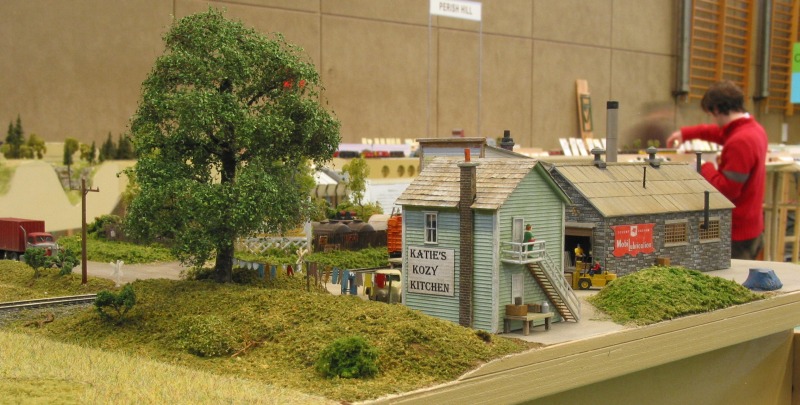 Lots of activity, and details, at Jock and Meldrum (above and below)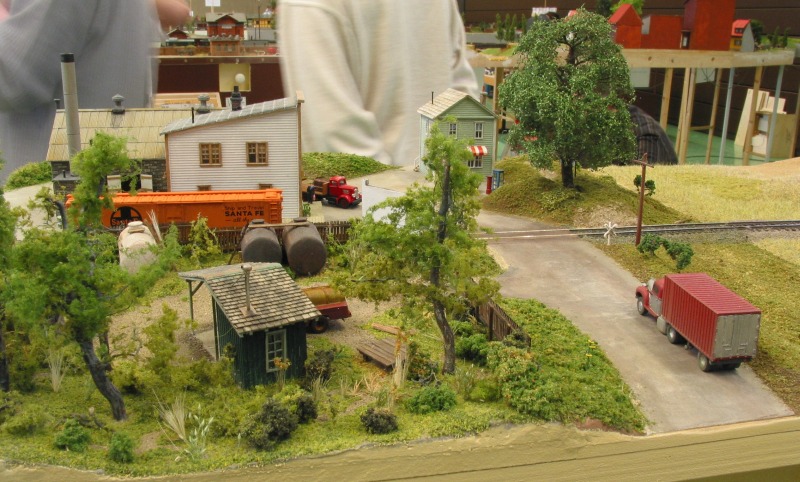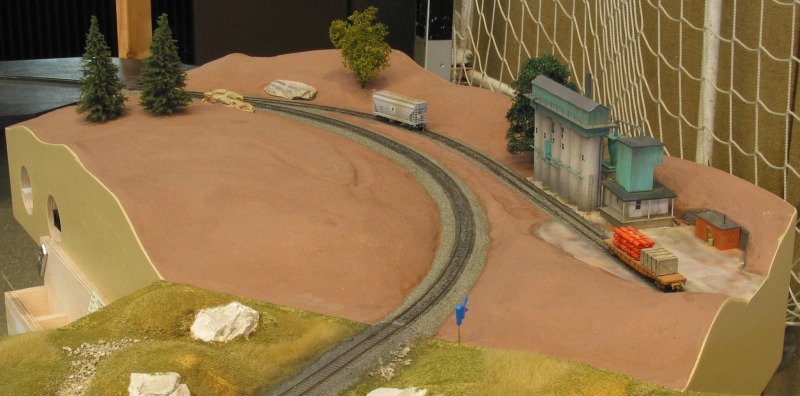 KT Feldspar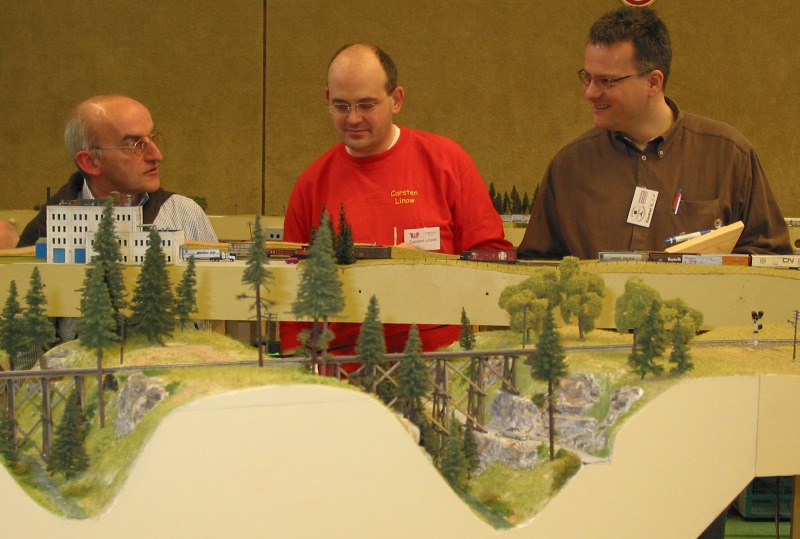 Train Crews working...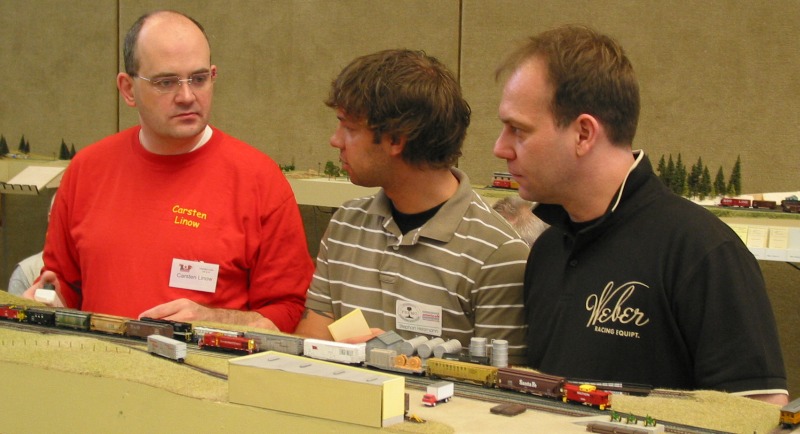 ...discussing next moves (above and below)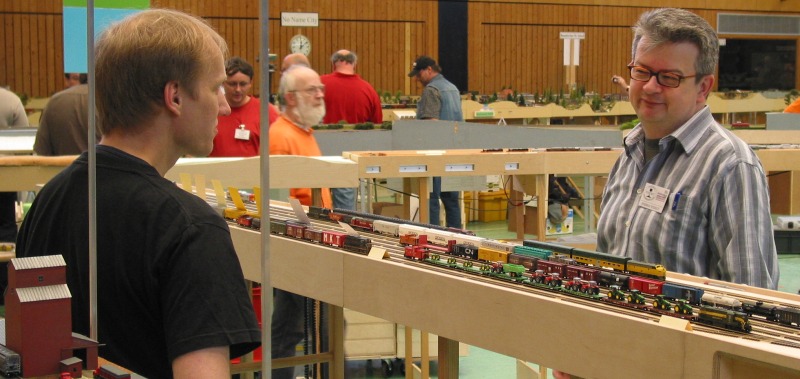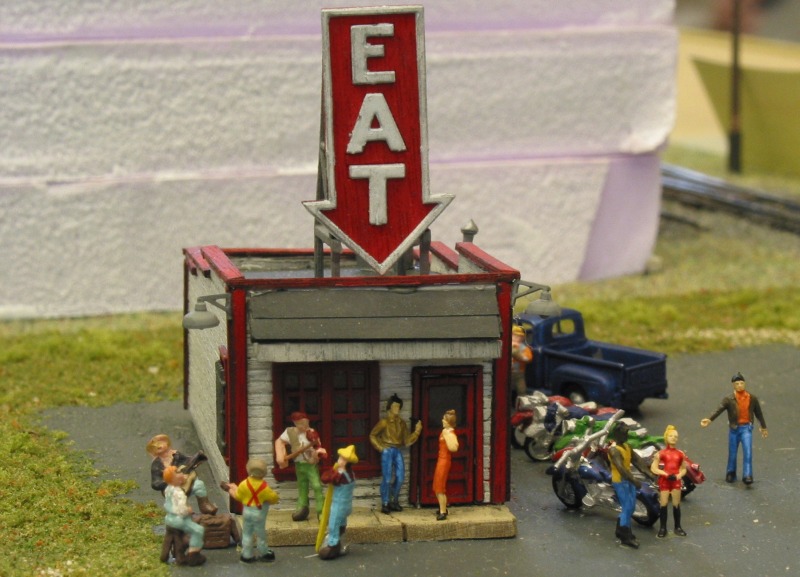 Perish Hill got some live music, and heavy cycles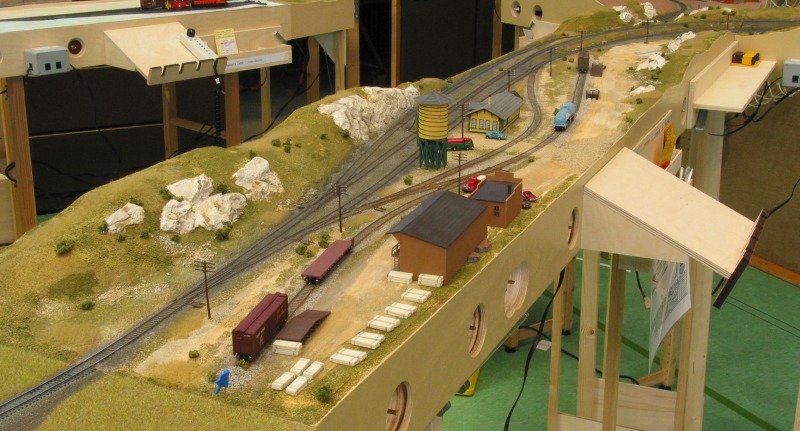 Rocky Point by Stephan and Elmar (above and below). The Wild West...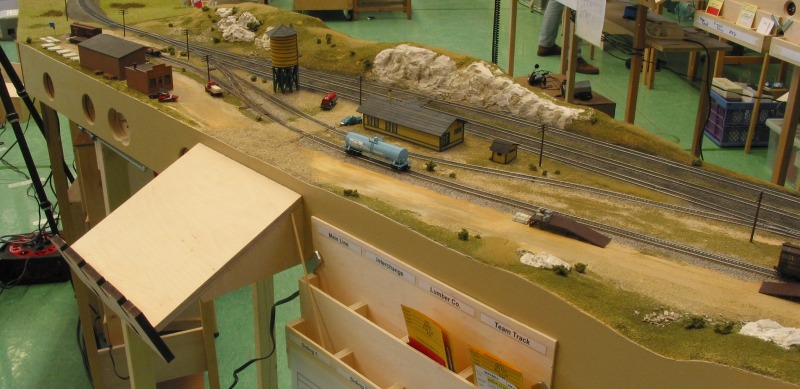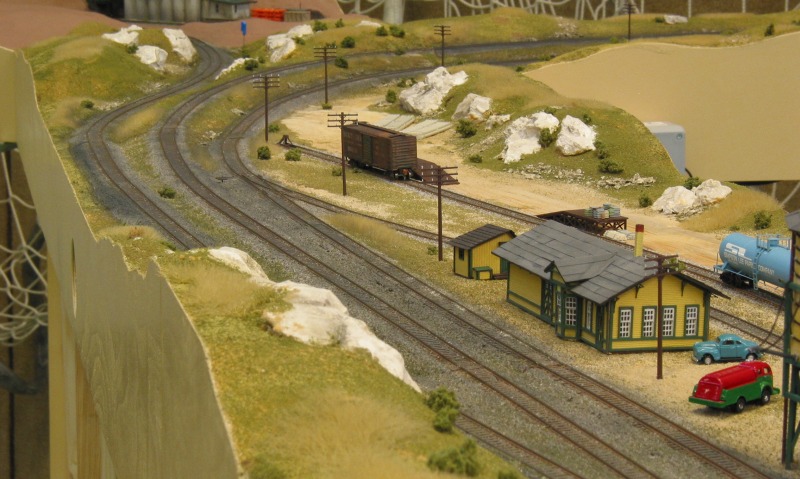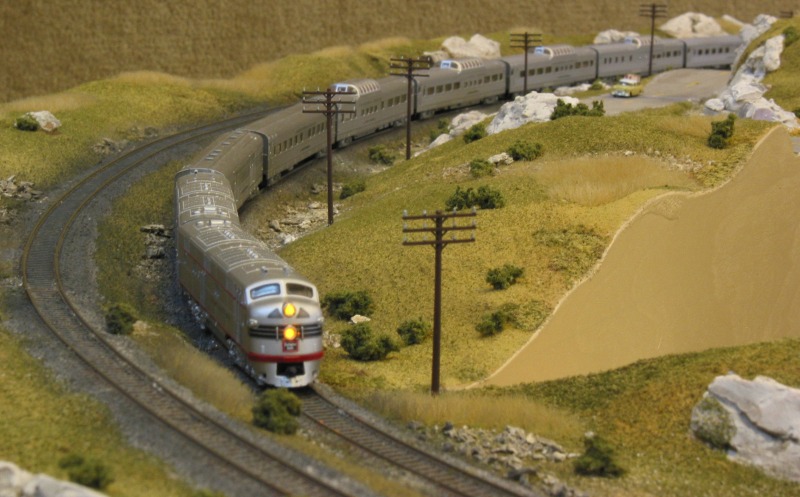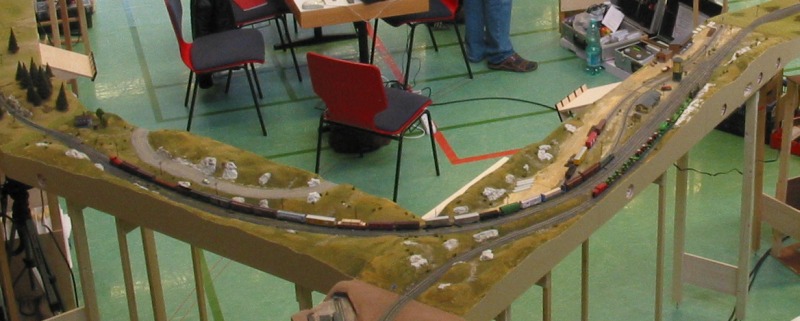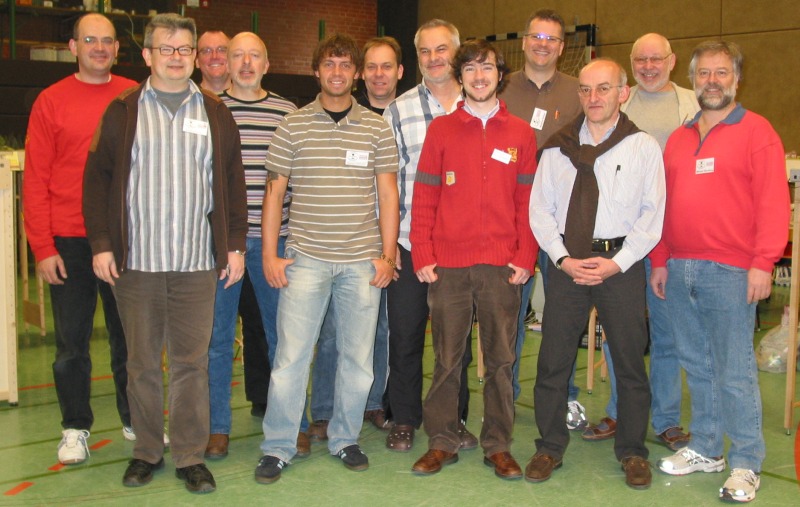 The americaN actors of Braunlage: Carsten, Andreas, Bernd, Elmar, Stephan, Oliver, Jürgen, Michael P. Manfred, Robert, Welf and Michael H. (left to right)
---
Downloads:
---
Source:
Author: Bernd Schneider, www.america-n.de, (c) 04/2009, published with permission
translation; and additions: Michael Homberg