Design und Betrieb / Design and Operation
Roseberg - Design of a railroad model
Details

Kategorie: Design und Betrieb
Zuletzt aktualisiert: Mittwoch, 30. Dezember 2015 09:18
Geschrieben von Michael Homberg
Roseberg (OR) - Design of a Railroad Model
This design study of "Roseberg (OR) is based on
the Southern Pacific Railroad operation in Roseburg (OR),
the railroad model of Joe Fugate's Siskiyou Line,
my associations to Joe's Roseburg yard,
and a cellar room maybe to become available for me with a space of 2,2 to 3,3 m (7.2 to 10.9 ft.)
To differ from the "real world" and Joe Fugate's "Roseburg", I entitled my central yard "Roseberg".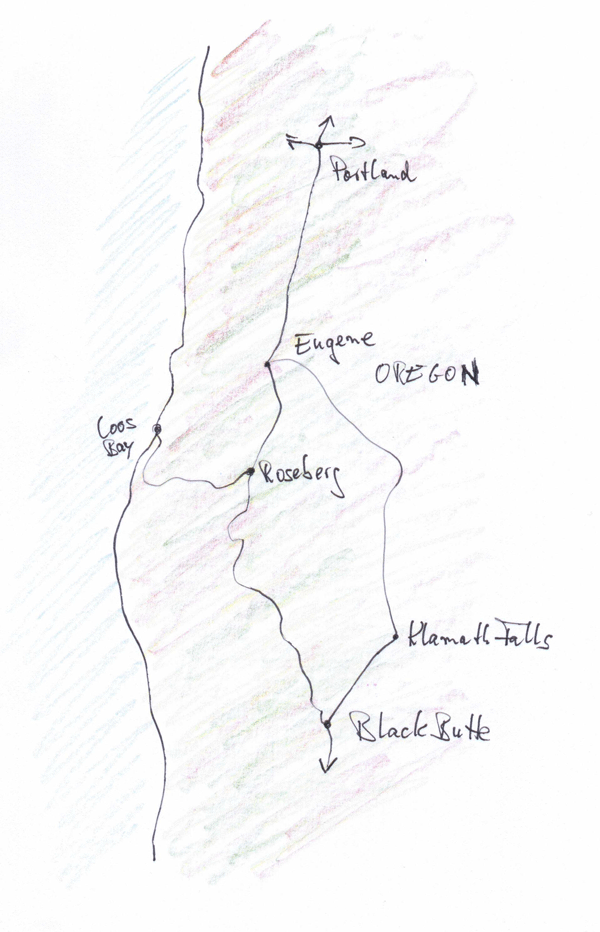 The stage, with modelers licence.
Please note:
Roseberg to Coos Bay is placed according to Joe Fugate's Siskiyou Line
track from Eugene to Black Butte via Klamath Falls exists, and is used as the main connection
 Sometimes, when the main connection via Klamath Falls is blocked, there is a lot of traffic via Roseberg!

Schematic plan of "Roseberg".
Please note: Roseberg, Eugene (= north staging), Black Butte Jct. (= south staging) and Coos Bay (= port staging) are modeled, the stations with light blue background are stations which are operated by local turns from Roseberg, but not modeled.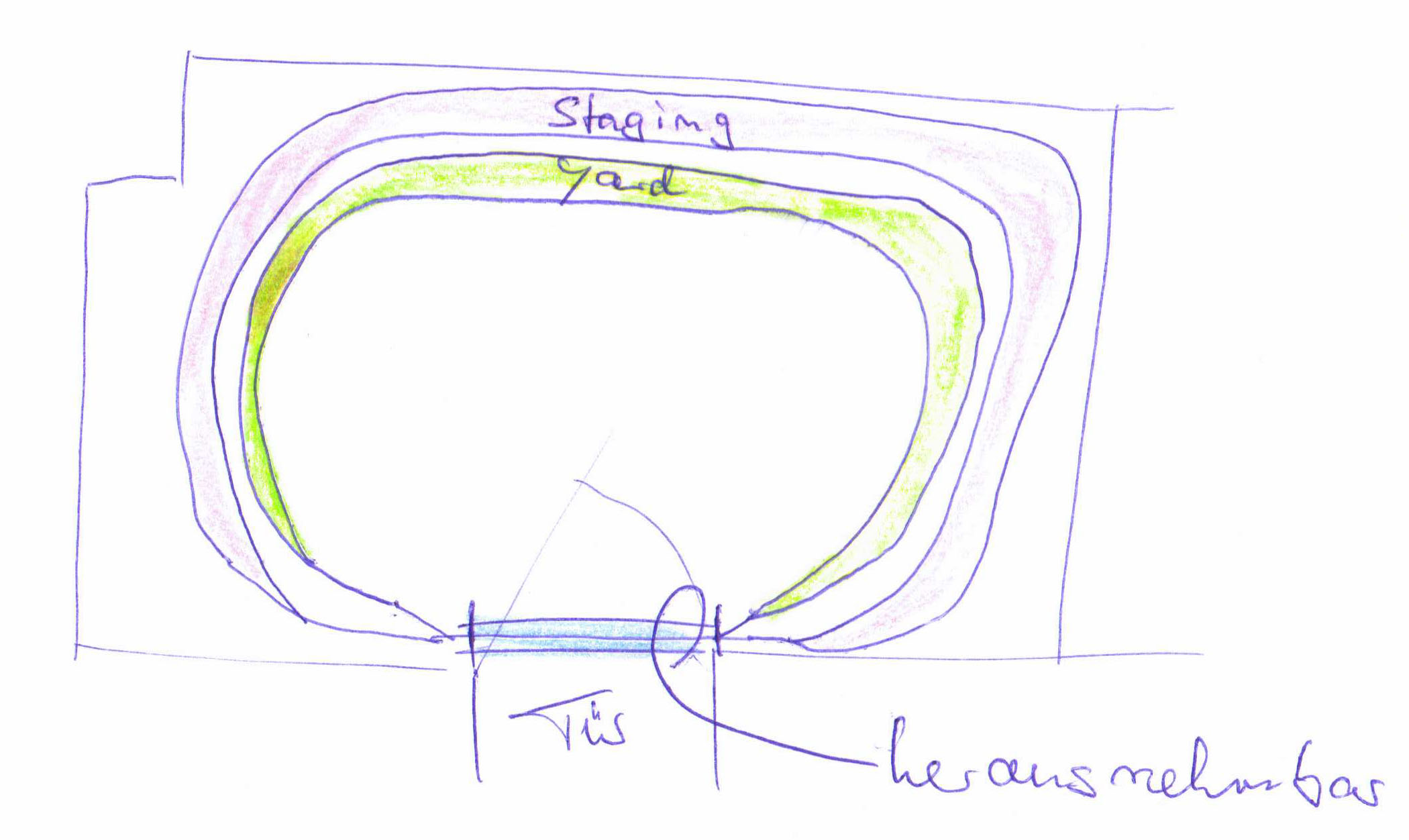 Draft of room and layout. Door (= Tür) and connecting element have to be removable.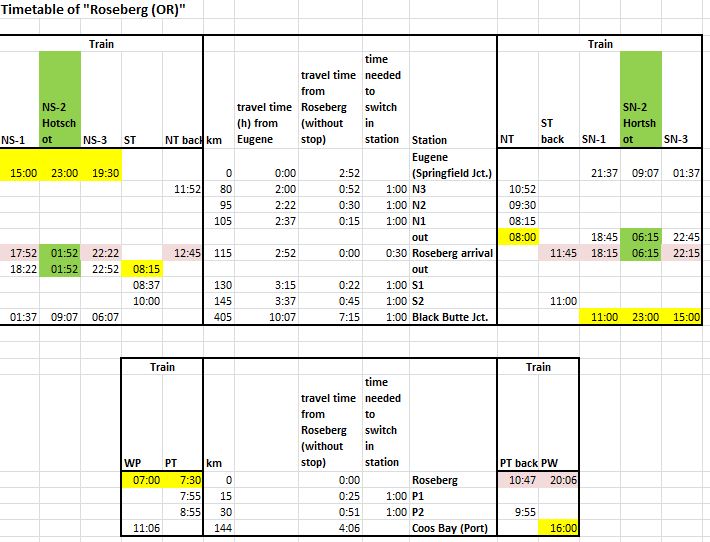 Timetable of "Roseberg (OR)".
Colors indicate: yellow = starting of train; light purple: arrival time in Roseberg; green = Hotshot = train without scheduled stop

At start of operation = 09:30 h (pdf for more details)
All trains are in staging yards (= above).
No train in Roseberg (below)
trains in staging (from top):

SN-1 (= South-North-1)
NS-1 (= North-South-1)
PW (Coos Bay - Roseville - Through Freight)
empty track
PT back (Port Turn, left) and ST back (South Turn, right)
NT back (North Turn)

10:47 h in Roseberg: arrival of PT

11:45 h: South Turn is coming back. PT has been classified, caboose is in caboose track, engines in engine tracks.

12:45 h: North Turn is coming back. Classifying continues.

17:52 h: NS-1 the North South Through Freight has arrived. This train will set out a block of cars, which are as a block at the front of the train (the colored car symbols), and will receive as many "red" cars as allowed for maximum length and weight of this train (in this case: 15 cars)

18:00 h: NS-1 is setting out the block of cars for Roseberg. These will be classified to the four directions later.

18:10 h: NS-1 picked up the "red" block of cars for Black Butte Jct., will make the break test, and then will be ready to depart. But before it can leave, it has to wait for SN-1 which will cross, and then ask to get a track warrant from the dispatcher.

18:15 h: SN-1 the South North Through Freight has arrived, and will set out, and get a block of cars for Eugene. NS-1 will get a track warrant, and then depart.

18:25 h: with the help of switching engines SN-1 sets out a block of cars.

18:27 h: spotting the cars at Roseberg track 5.

18:35 h: picking the "green" block of cars to Eugene.
18:45 h: SN-1 departs

19:00 h: changing waybills of some cars of the trains SN-1 and NS-1 to make them to SN-3 and NS-3 (and in the time between, to SN-2 hotshot and NS-2 hotshot which will only pass Roseberg and therefore do not need another update of waybills).

19:20 h: in staging tracks 1 and 2, trains SN-3 and NS-3 got updated waybills

20:06 h: PW = the Coos Bay to Roseberg through freight has arrived, while switching continues

22:15 h:  SN-3 arrived in track 1, the "through" track

22:21 h: a lot of action in Roseberg.
All rolling stock is in Roseberg now:
3) NS-3 is arriving
1) SN-3 has engines and cars to north at the front, while
2) switching engines help NS-3 to set out the block of cars for Roseberg. The caboose of NS-3 is between the block and the switching engines

22:45 h:
1) NS-3 is ready to depart, the "green" block of cars with destination Eugene is on the back of the train, with the caboose on the end. The switching engines are back on the engine track.
2) The road power of SN-3 is setting out the block of cars for Roseberg.

22:52 h: SN-3 is ready to depart

01:52 h:
all cars in Roseberg are classified for their destinations, the road engines are at the front of each train, cabooses at their ends, and break tests are done. 
1) NS-2 the "North-South-Hotshot" is passing Roseberg without stop
2) WP = Roseberg-Coos Bay Through Freight
3) NT = North Turn
4) PT = Port Turn
5) ST = South Turn

06:15 h: SN-2 the "South-North-Hotshot" is passing Roseberg without stop

07:00 h:
1) WP = Roseberg - Coose Bay - Through Freight is leaving
2) PT departs at 07:30
3) NT departs at 08:00
4) ST departs at 08:15 

08:30 h:  
all trains are back in staging yard
WP, PT, NT and ST

cars, engines and cabooses have to be set up in new order
have to get new waybills

before the next operation can start
at 10:47 h, the next time table is running, and PT will arrive at Roseberg (see above).
---
In December 2013, I set up a Simulation of this railroad with Train Dispatcher Software: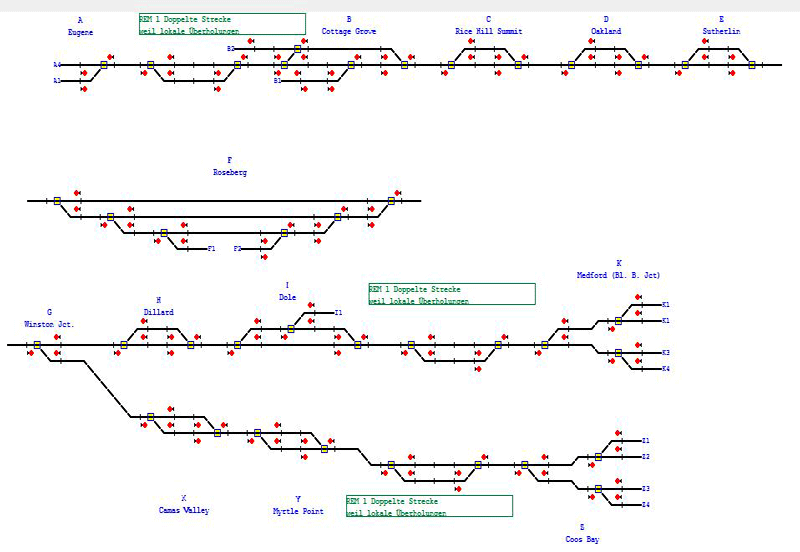 You can operate this layout as simulation with Train Dispatcher Software.
Here is my Date File, which is for free.
---
Remarks
The schematic layout plan, and the timetable, is one example how this layout can be operated. There will be much more options.
As it is planned that Roseberg yard is located in an area without buildings, nothing will fix this layout to a time or location, other than a hilly landscape with conifers. Therefore, this layout will be very flexible.
---
Planning and Construction of Roseberg (OR)
Have a look at Roseberg (OR): Planning and Construction of an americaN-Module