The Model RR Club, Inc., Union, NJ
Jamestown Northern Traction Railroad
Details

Kategorie: The Model RR Club, Union, NJ
Geschrieben von Michael Homberg
Operate 78 trains per day on Train Dispatcher Software
Jamestown Northern Traction Railroad
The Jamestown Northern Traction Railroad is a freelanced railroad. Its prototype is the Trenton Northern Traction of the TMRCI The Model Railroad Club, Union, NJ.
I learned to know about the Trenton Northern Traction railroad by reading the books by Paul Mallery:
Operation Handbook for Model Railroads; Paul Mallery (Second Edition, Carstens Publications, 1991)
Design Handbook of Model Railroads; Paul Mallery (1979; Carstens Publications, third printing 1990)
Traction: Handbook for Model Railroads; Paul Mallery (1974; Carstens Publications 2008)
As I wanted to operate this layout, and because New Jersey (USA) is many miles away from my home in Germany, I built a virtual layout using Train Dispatcher software.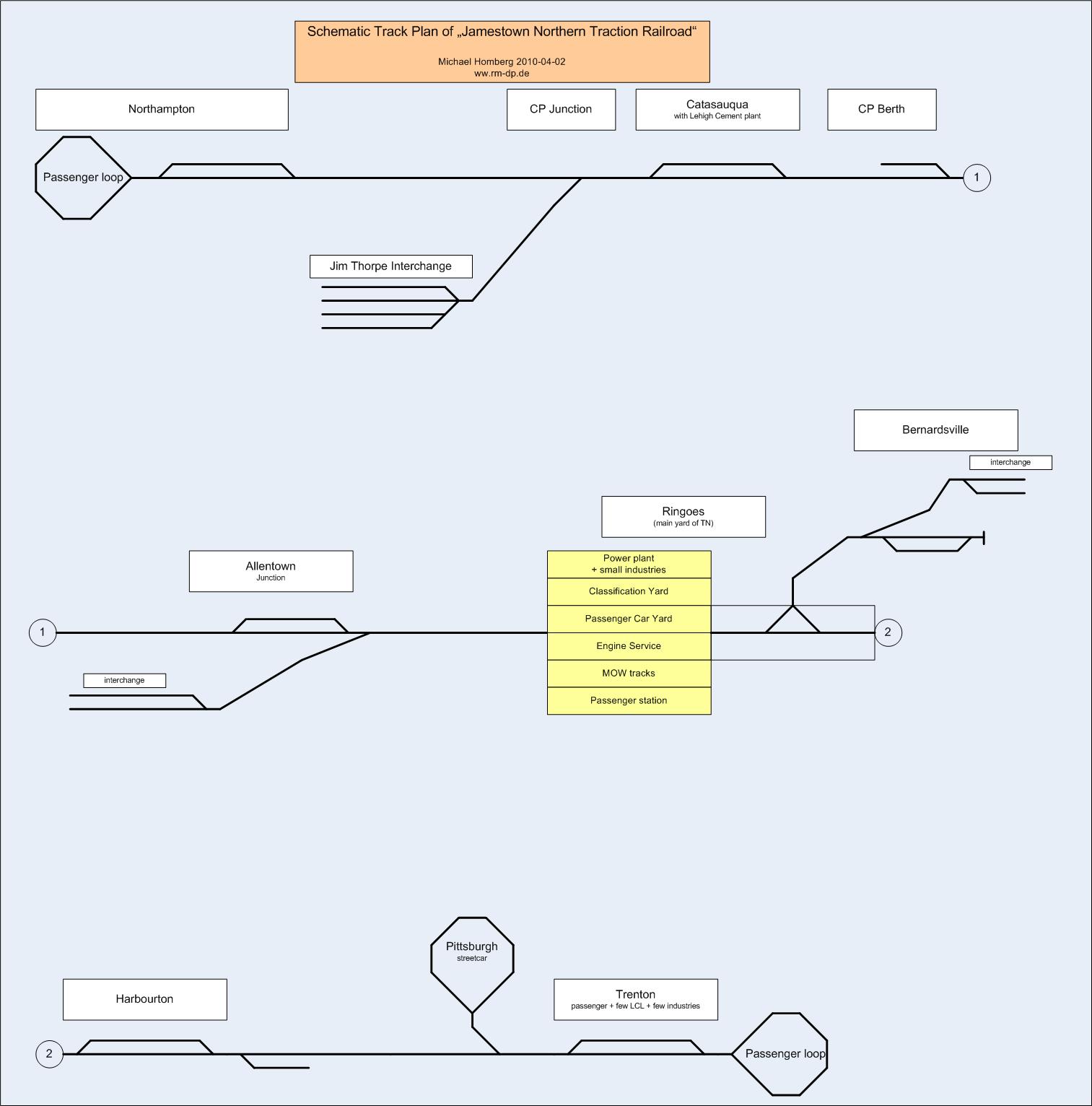 Schematic track plan.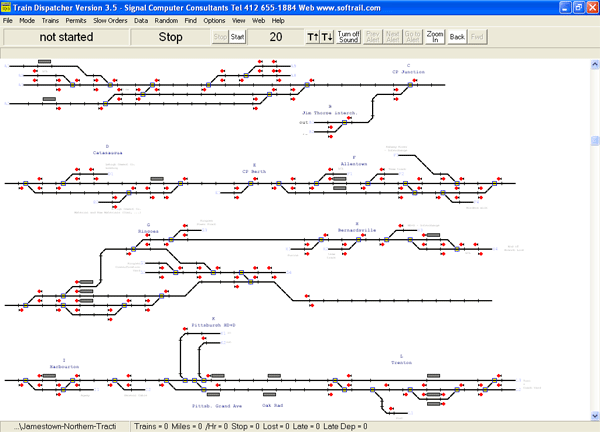 This is the layout overview in the simulation program "Train Dispatcher"

And here is one example: It is scheduled that the three passengers meet at Ringoes
The following screenshot shows how Train Dispatcher shows the scheduled trains: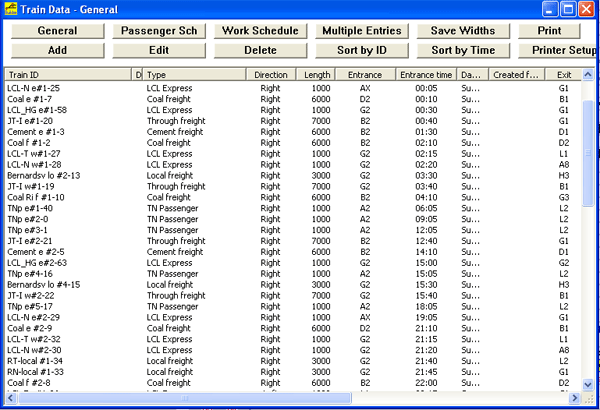 heavy traffic on the traction line: there are 78 scheduled trains...
and these are all scheduled trains in an excel data sheet: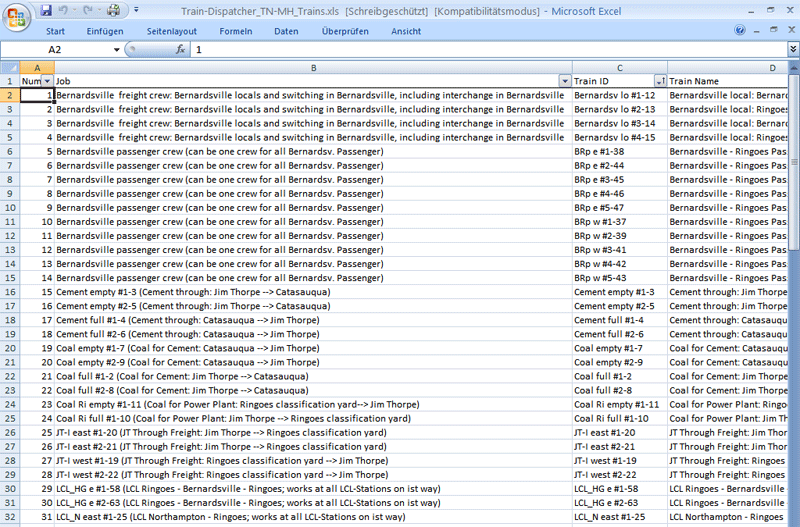 You can download the excel sheet.
In this data sheet you will find
all trains

including the switching and other work they are doing

the train crews

and other jobs on this layout
These are the types of trains running on the layout: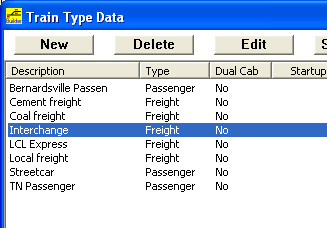 There are 8 types of trains.
Do you want to operate this layout? Just copy my data, open the Train Dispatcher 3.5, and you are ready.
---
The following interchanges are benchmarked from Trenton Northern Traction: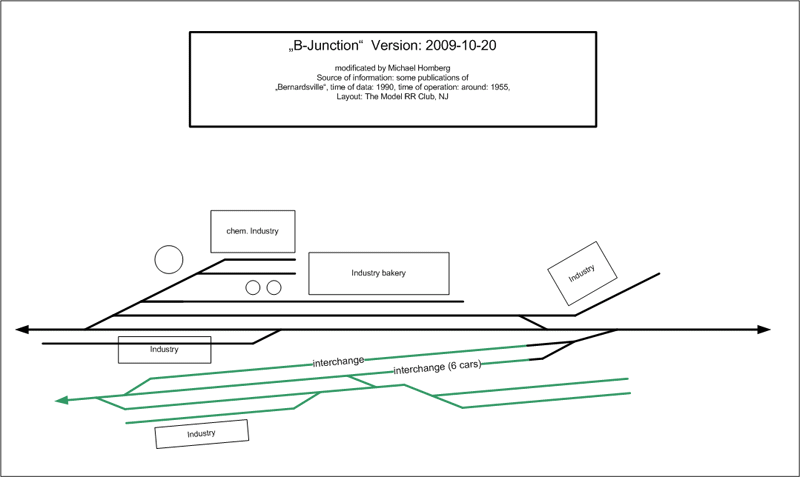 You can find the green tracks of this junction as Bernardsville on the layout above.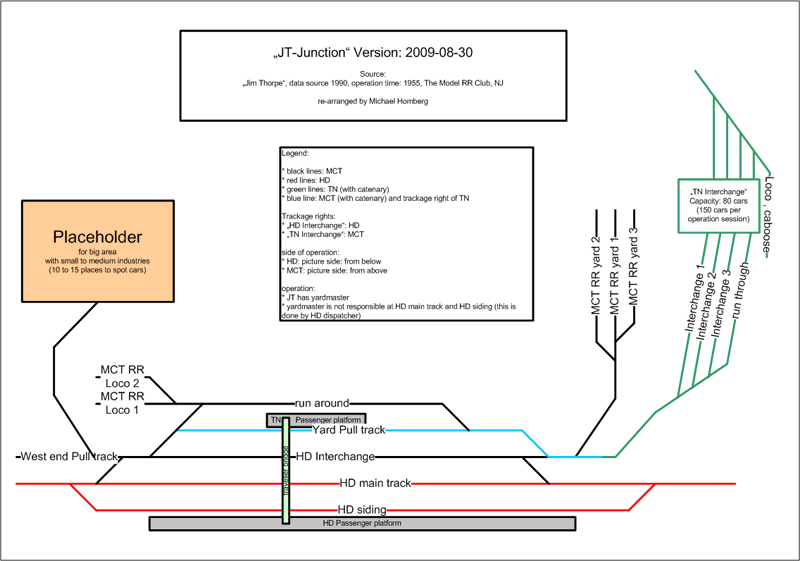 And the green lines of Jim Thorpe are the interchange tracks on the layout above. 
---
Although I tried do get first hand information on the operating schedules of the Trenton Northern Traction, I did not succeed by now. If someone can help me, please get in contact with me!
---
Here is the Jamestown-Northern-Traction.trk