americaN FREMO - modular model railroad in N scale
americaN - Lauffen 2014
Details

Kategorie: americaN
Zuletzt aktualisiert: Freitag, 11. August 2017 16:17
Geschrieben von Michael Homberg
americaN module layout - Lauffen 2014 
At the Lauffen meeting October 02 to 05, 2014, FREMO americaN operated the biggest layout so far: 122 module meters!
Participants will come from Sweden and Germany, modules from Sweden and Germany.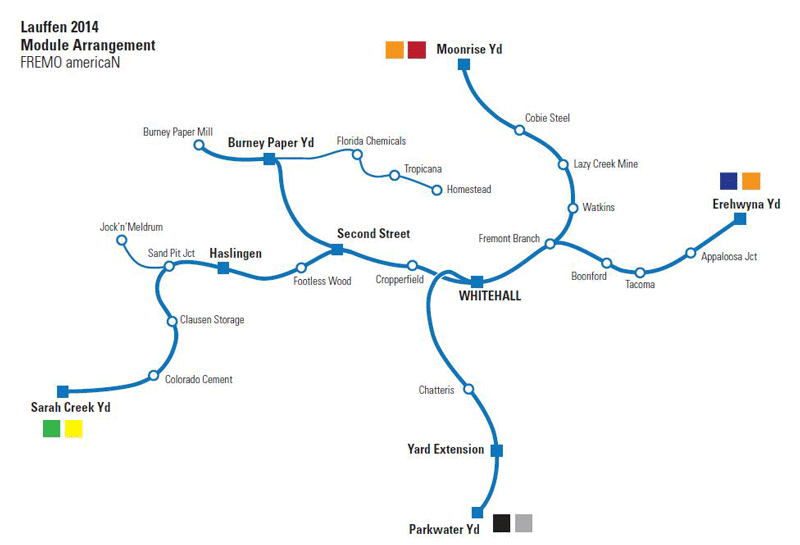 Schematic Plan of the americaN country
This was the plan of the layout: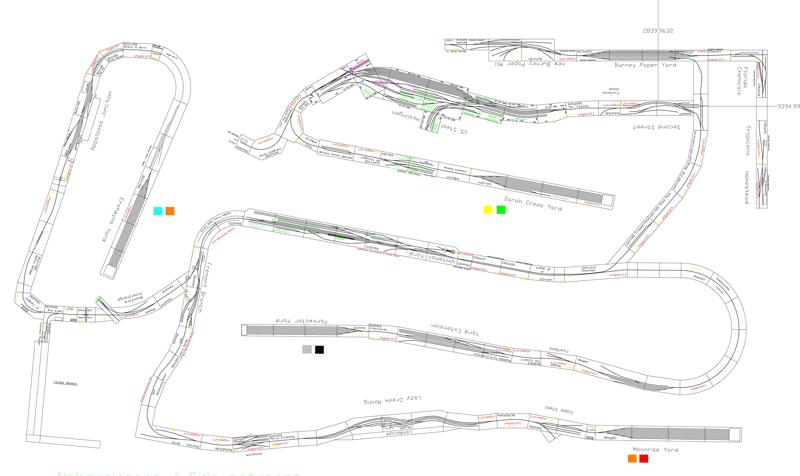 The detaillied version as pdf is here.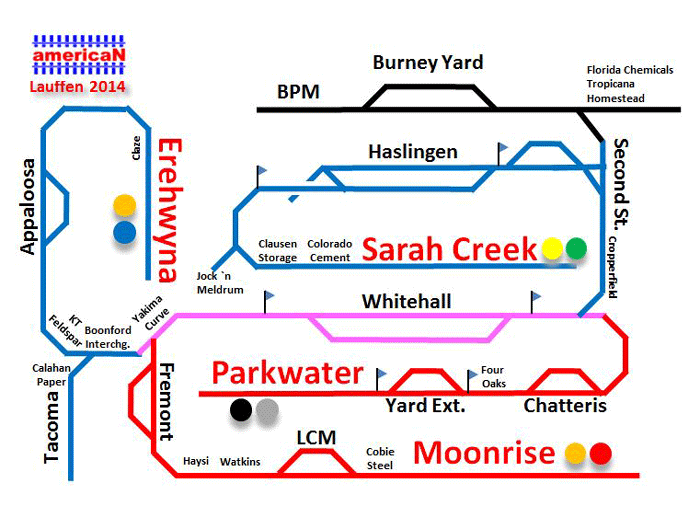 Layout scheme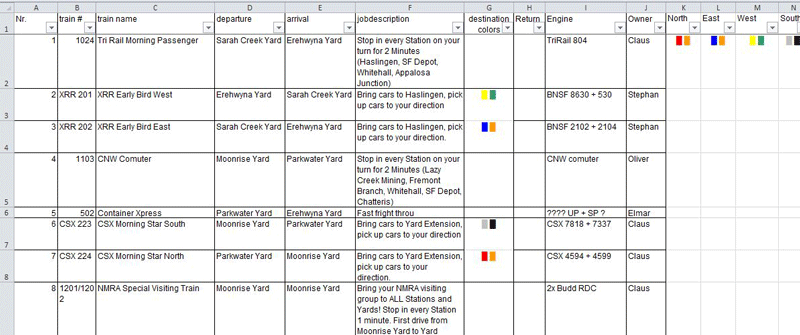 Details of Planning, all Trains, etc., you will find here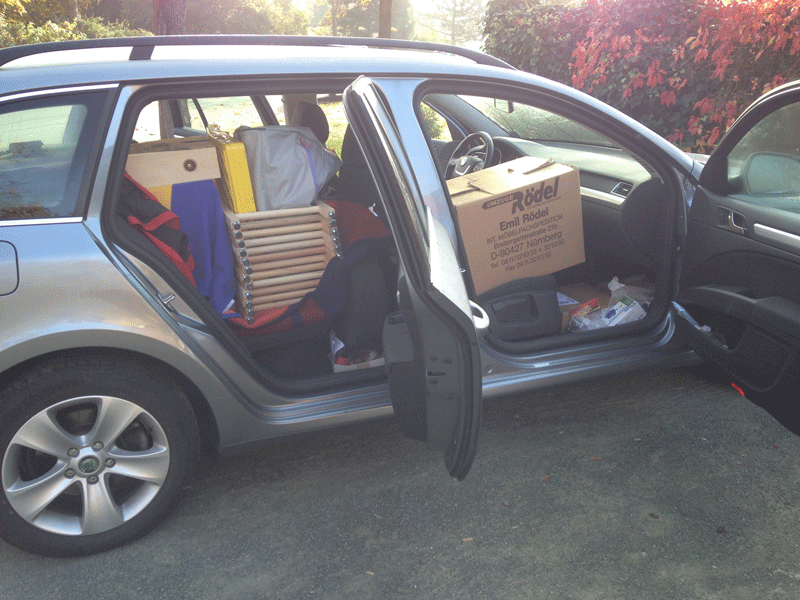 the arriving cars: full of Equipment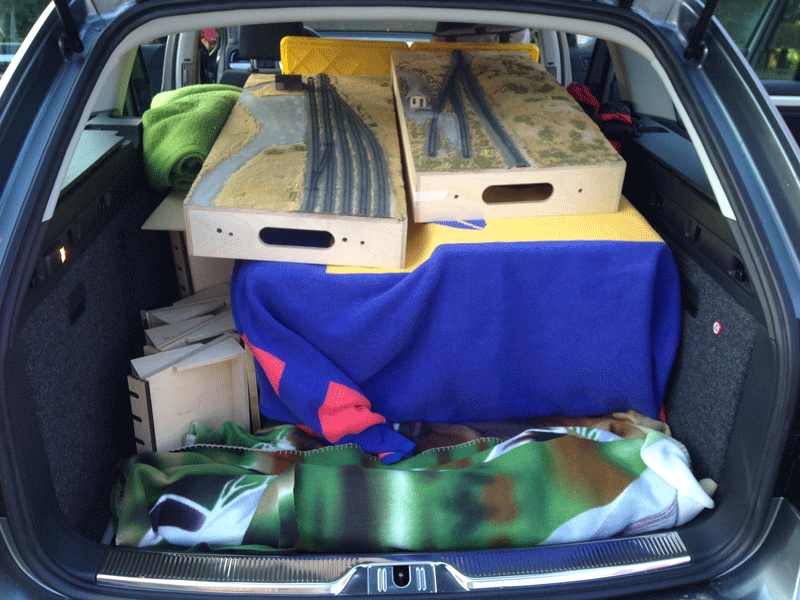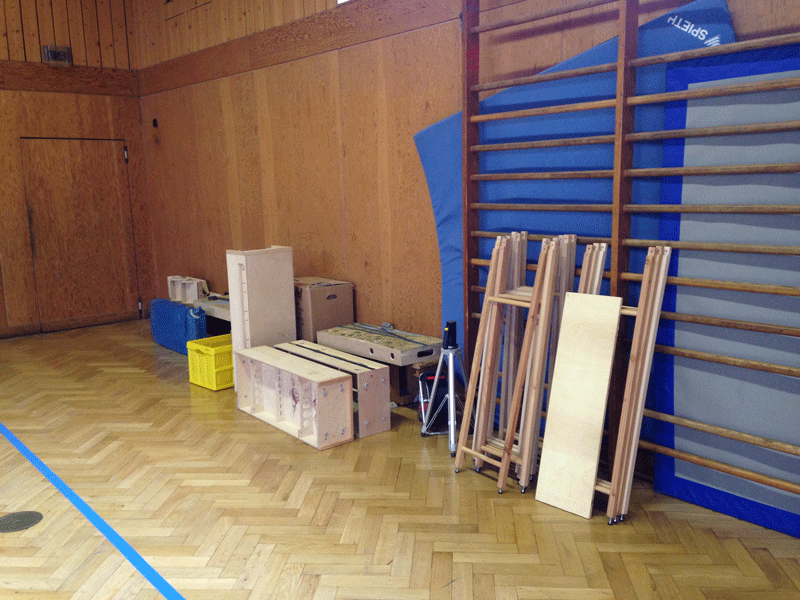 the modules are arriving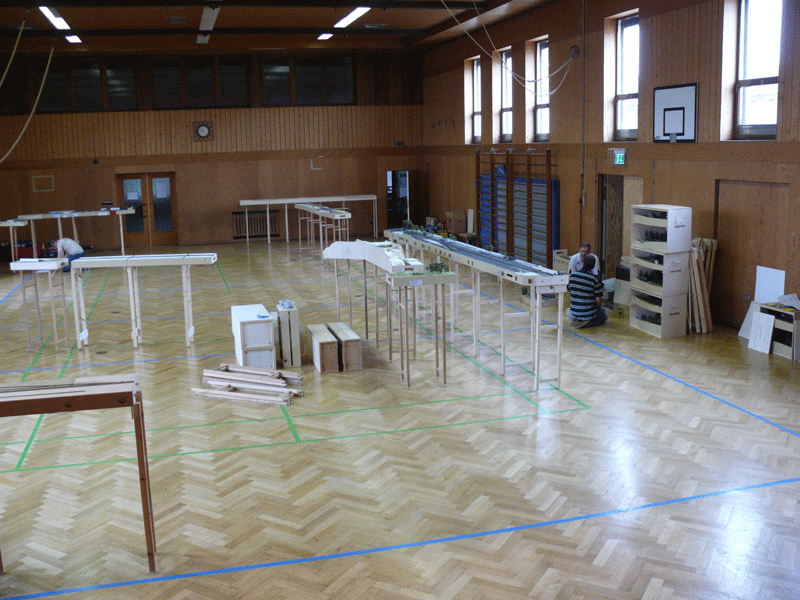 More modules in the hall, and some are on their legs by now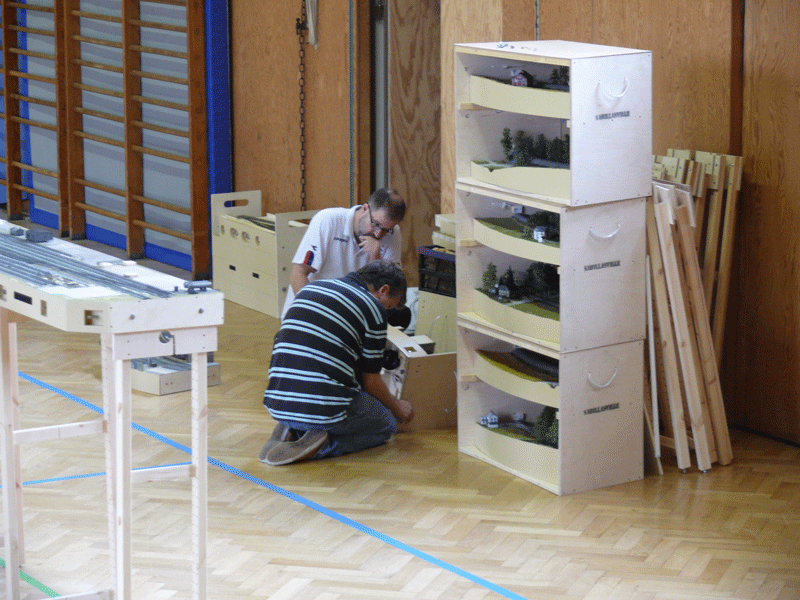 some modules have specially formed cases for transportation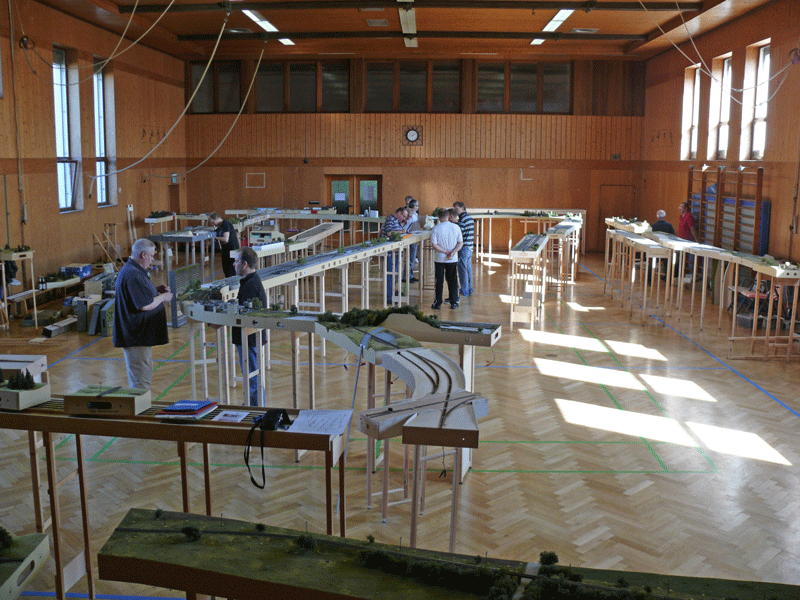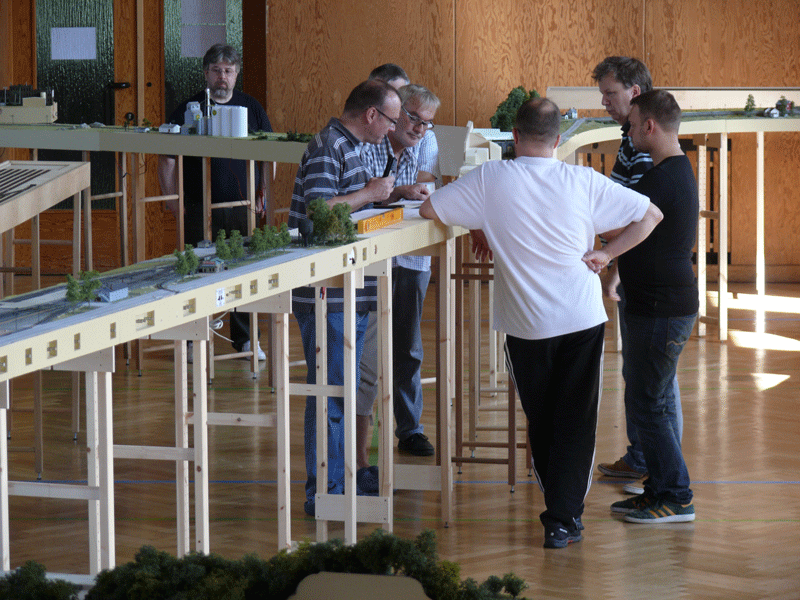 A DCC dicussion. DCC was running a short time after the layout was set up.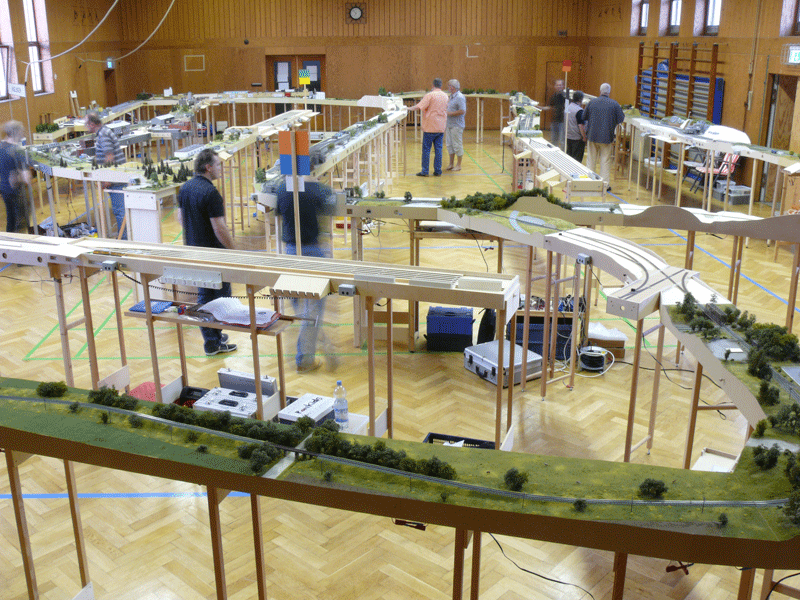 Overview Layout
At Oct. 03, start of first time table was at 09:00 am.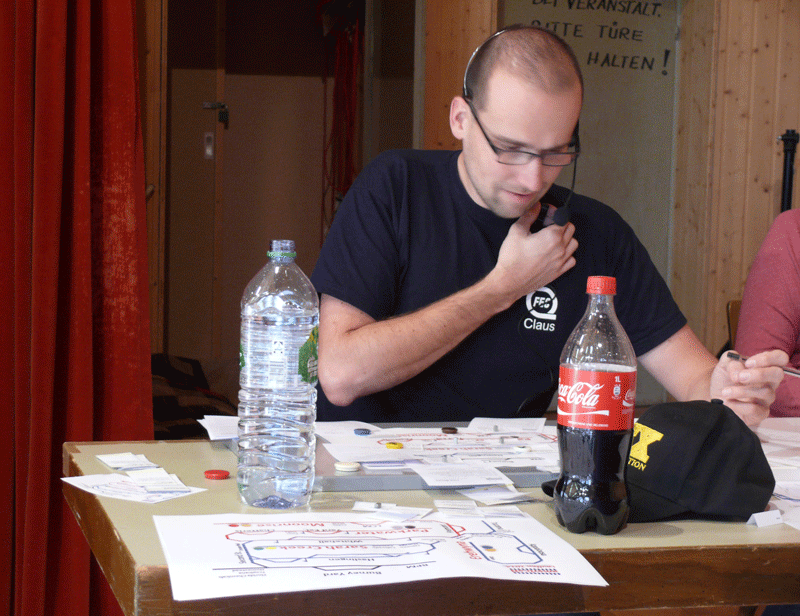 First dispartcher: Claus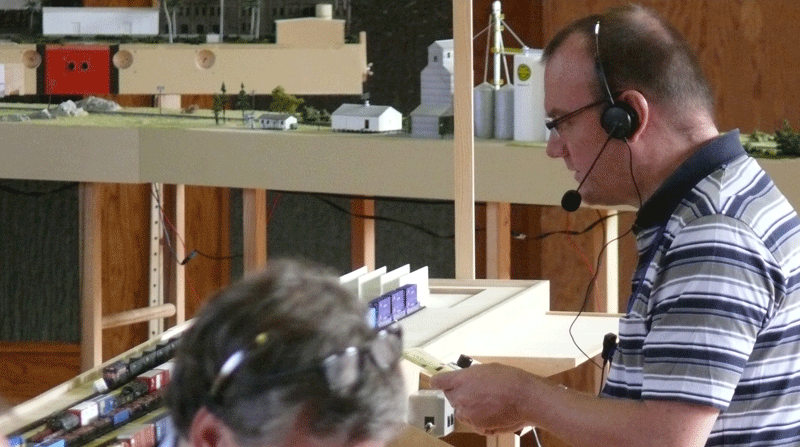 Bernd operating at Sarah Creek Yard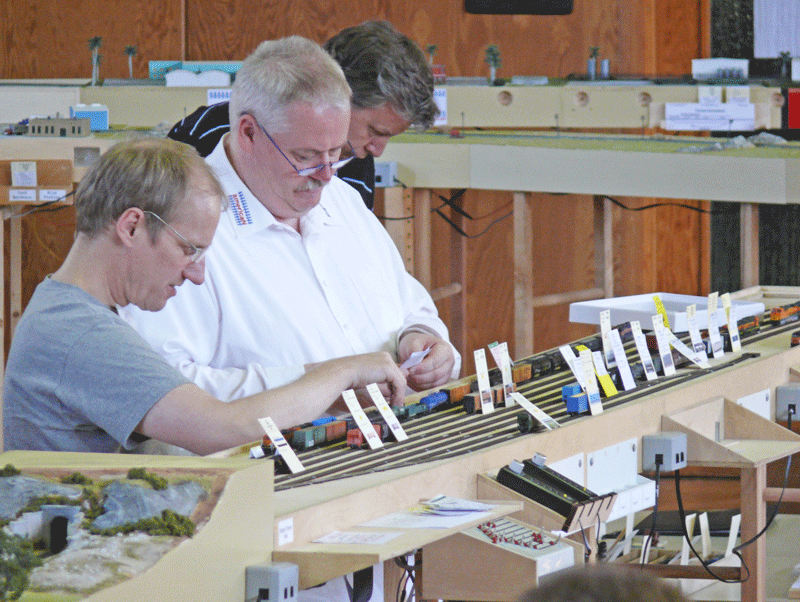 Sarah Creek Yard, Jan and Wilfried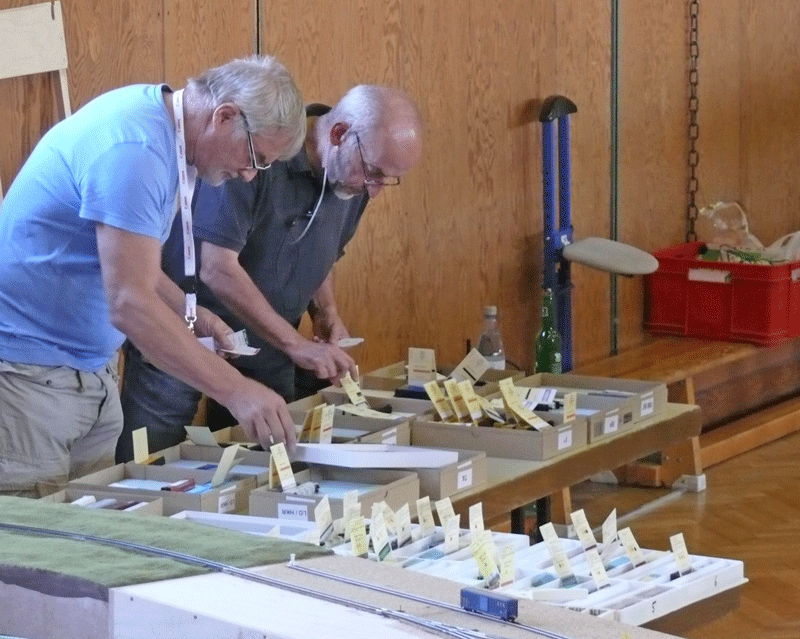 searching for cars to built the trains. Jürgen and Robert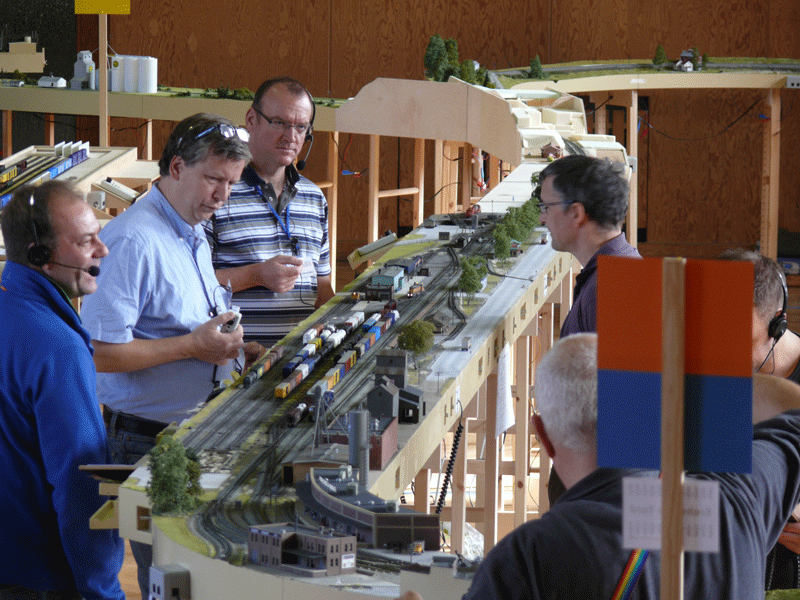 Whitehall Yard. Oliver, Dirk, Bernd, guest.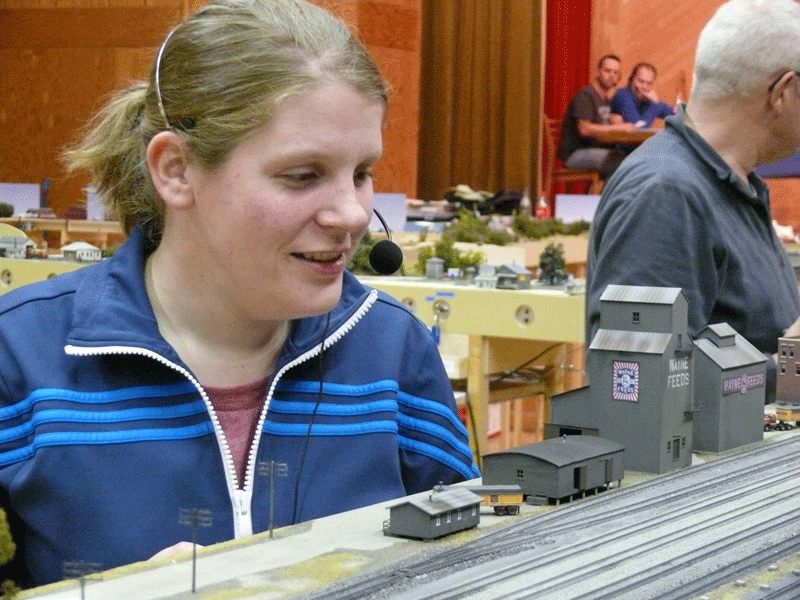 Simone, switching Whitehall Yard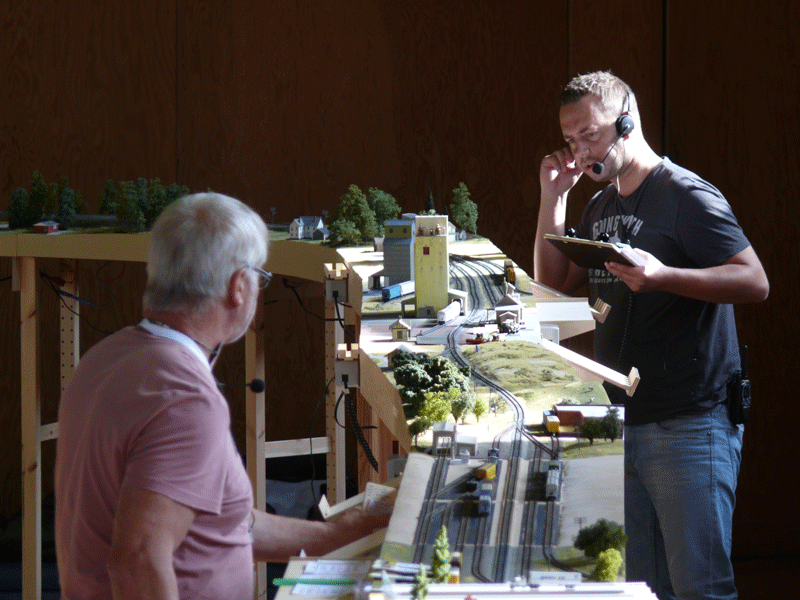 Chatteris (NE) in the back, with Stephan.
Yard Extension in , with Jürgen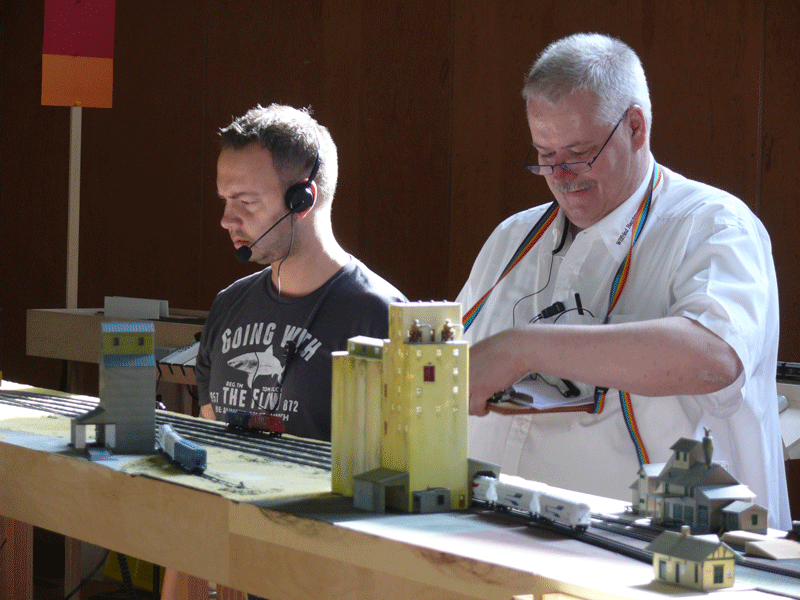 Stehpan and Wilfried, working at Chatteris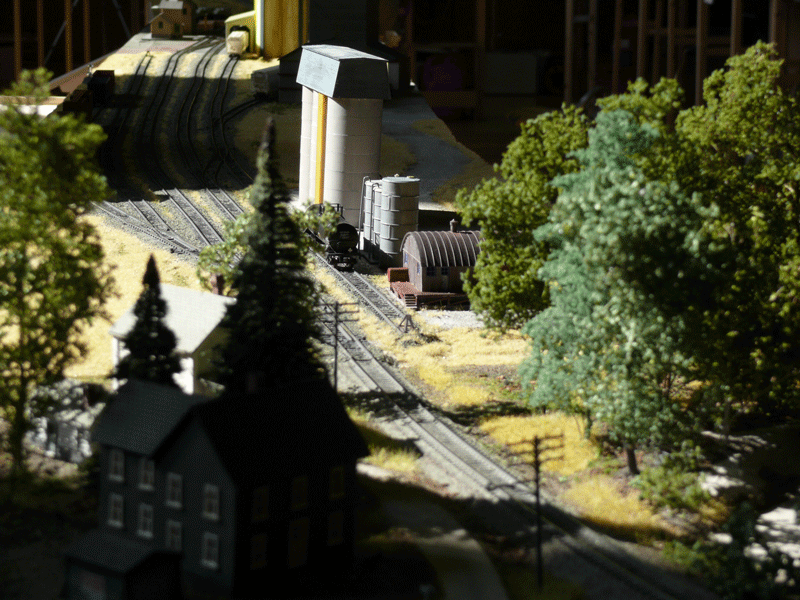 Details of Chatteris (NE)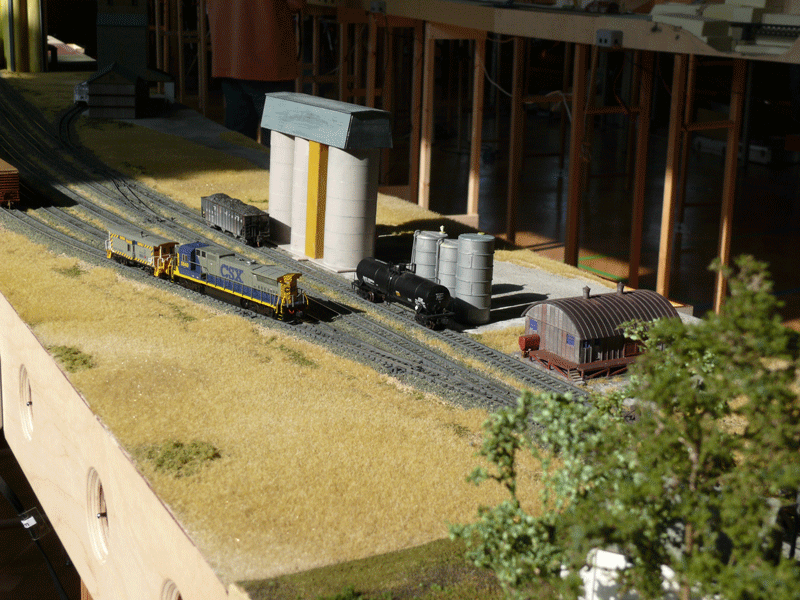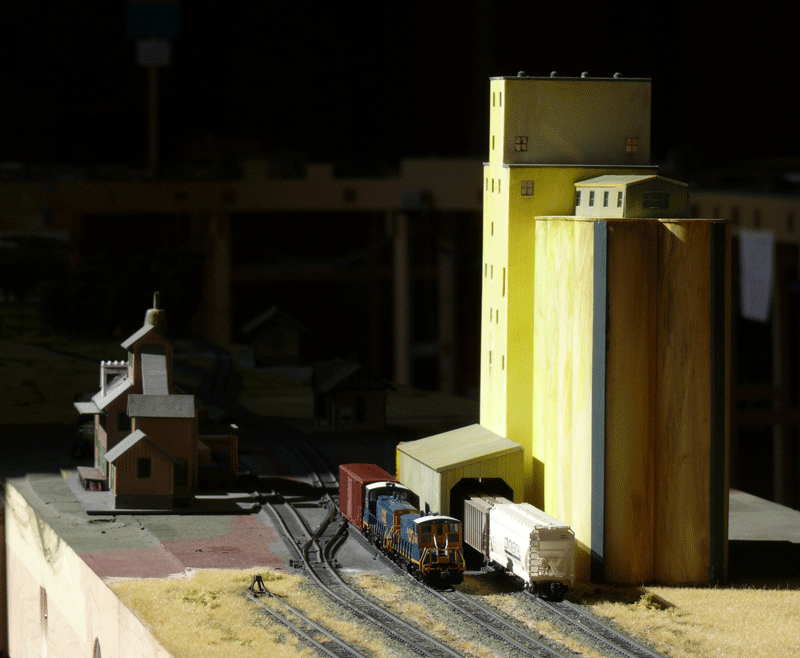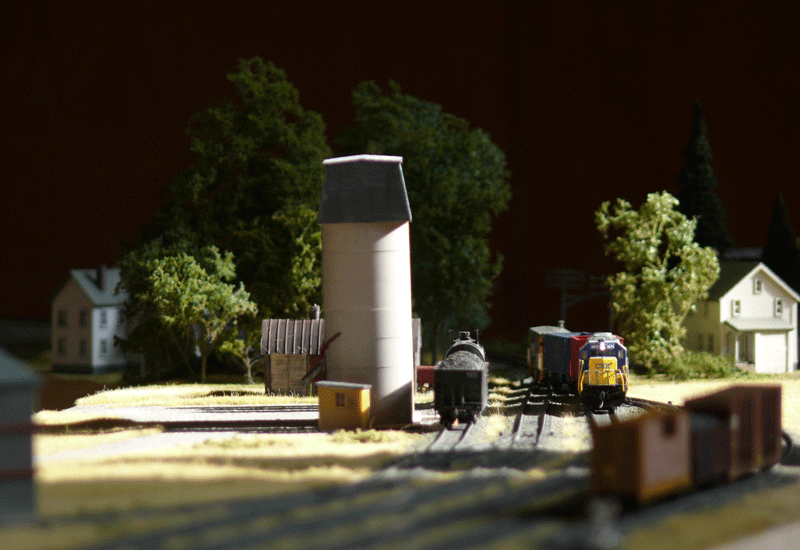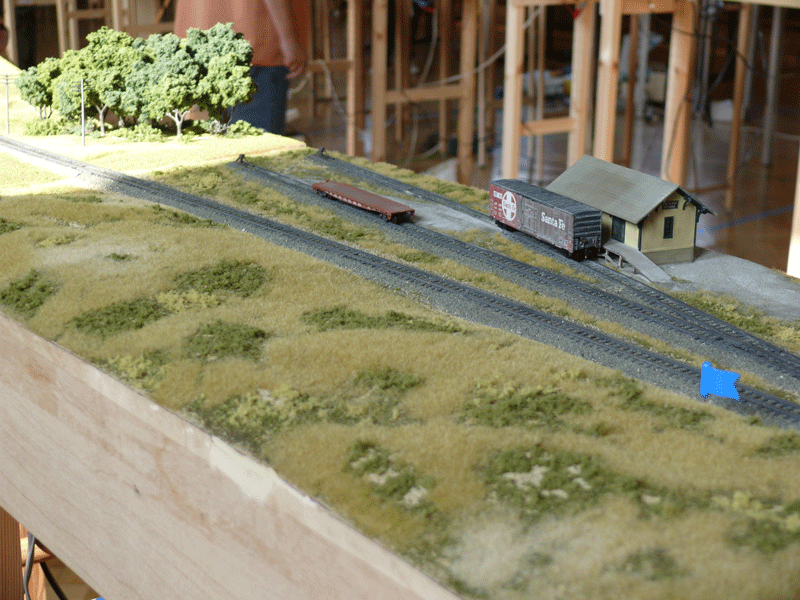 Four Oaks (NE) 
Same day, at about 23:00: some engineers and conductors are still working... 

This is the night shift...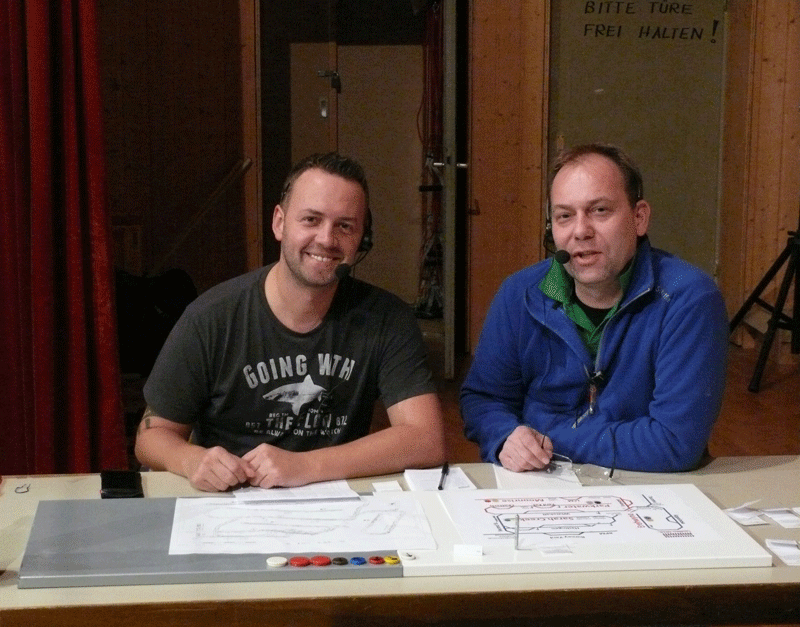 Dispatcher Stephan + Oliver at night shift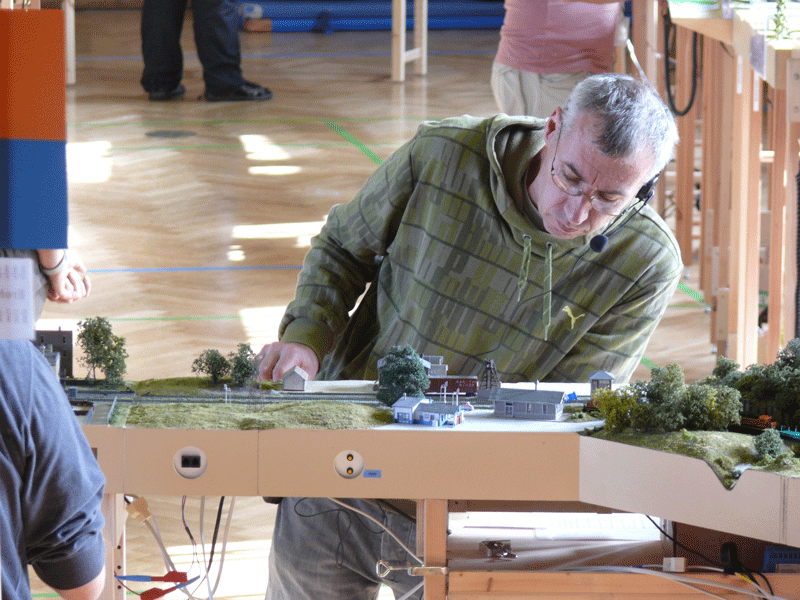 Peter, at Calahan Paper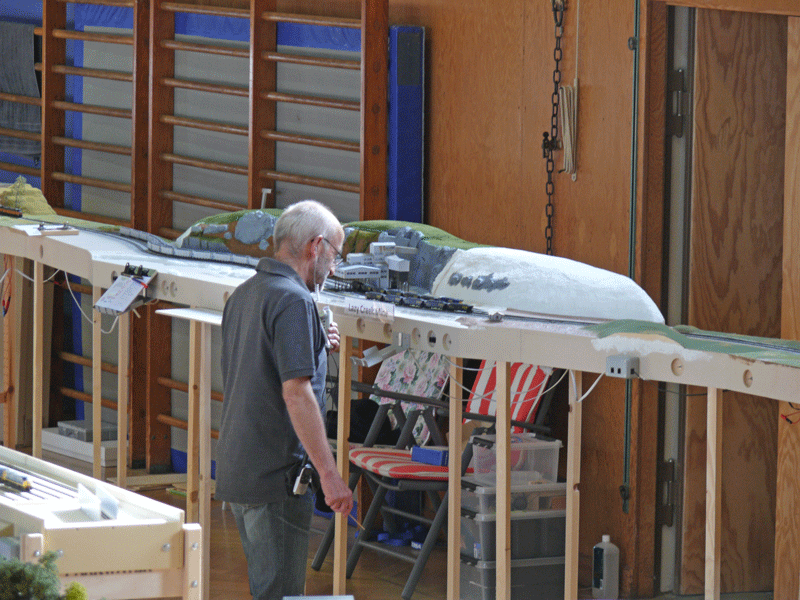 Lazy Creek Mine, with Robert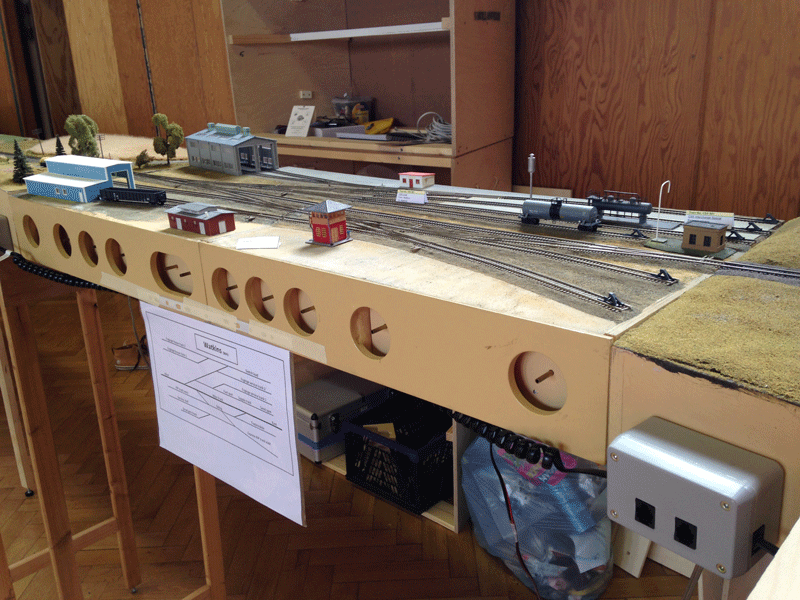 Watkins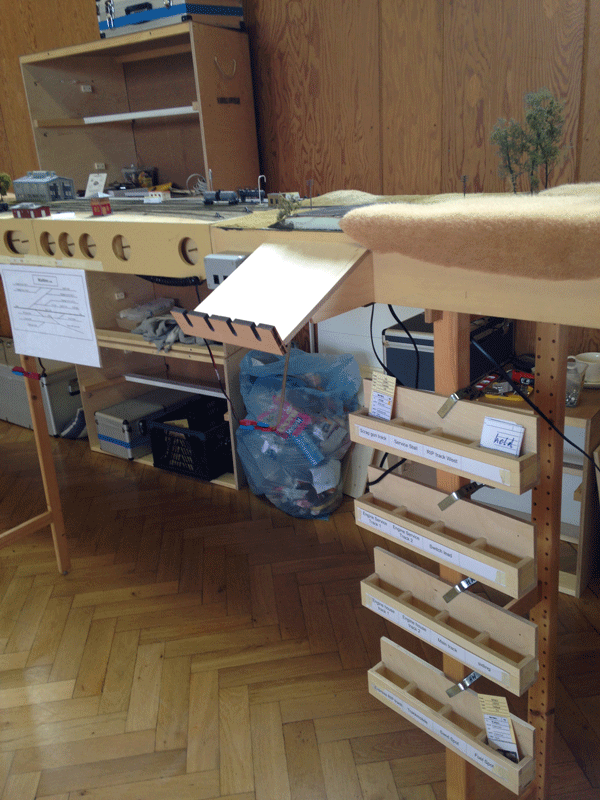 Watkins: Holdes for Car Cards with Waybills, one for every spot.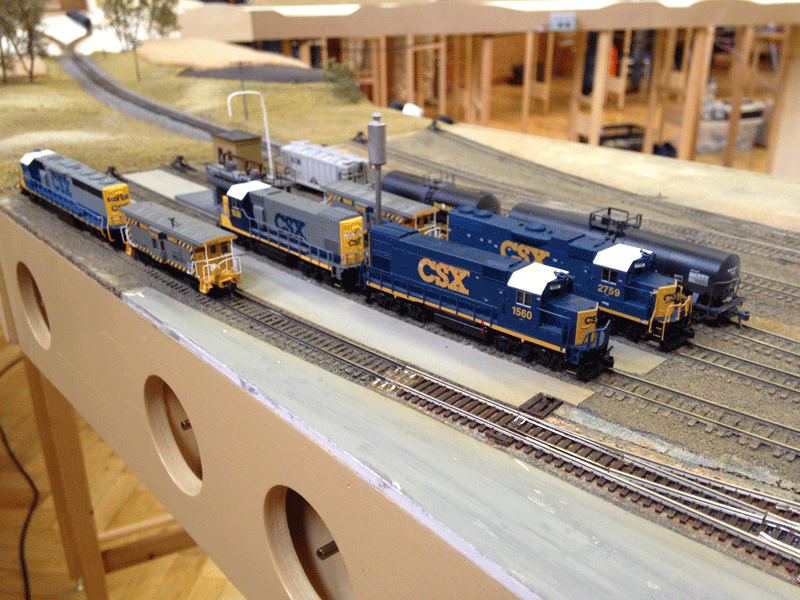 CSX engines at Watkins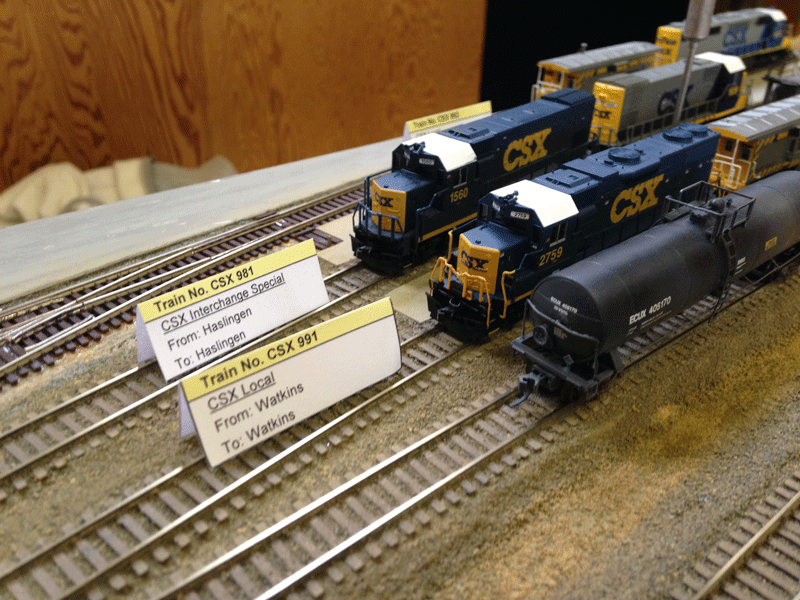 Job descriptions for the trains pulled by CSX engines, americaN Lauffen 2014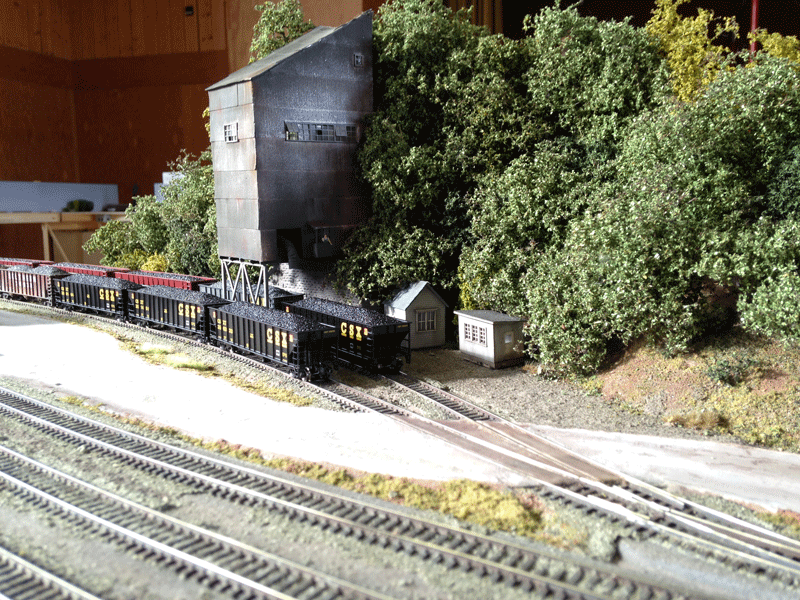 Fremont Branch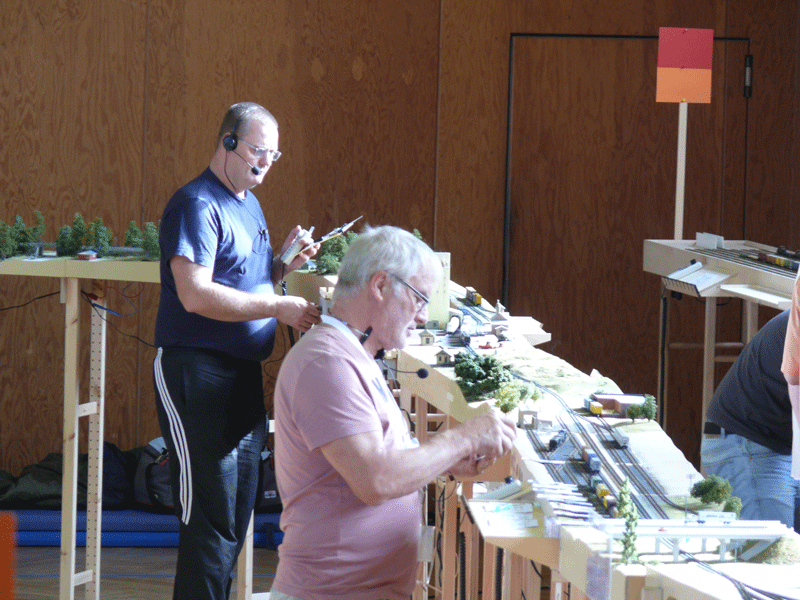 Olle working at Chatteris, Jürgen at Yard Extension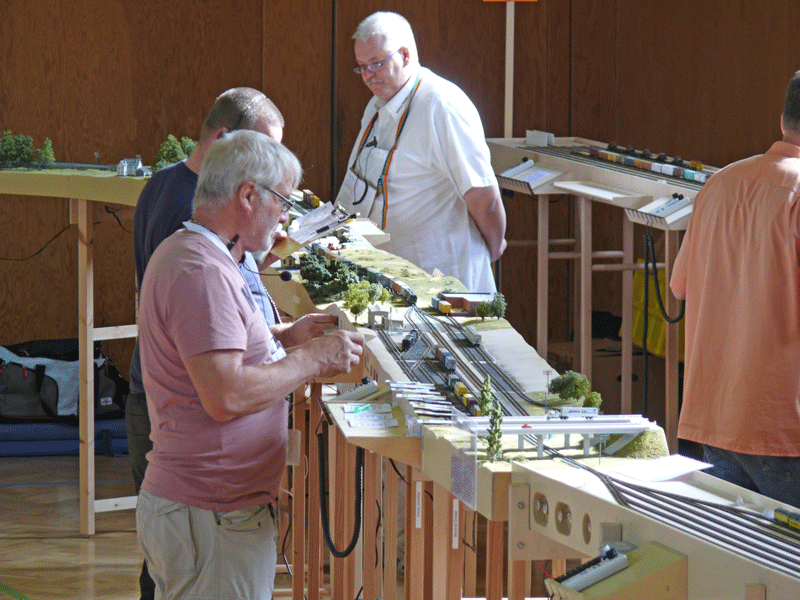 Jürgen at Yard Extension, Wilfried at Chatteris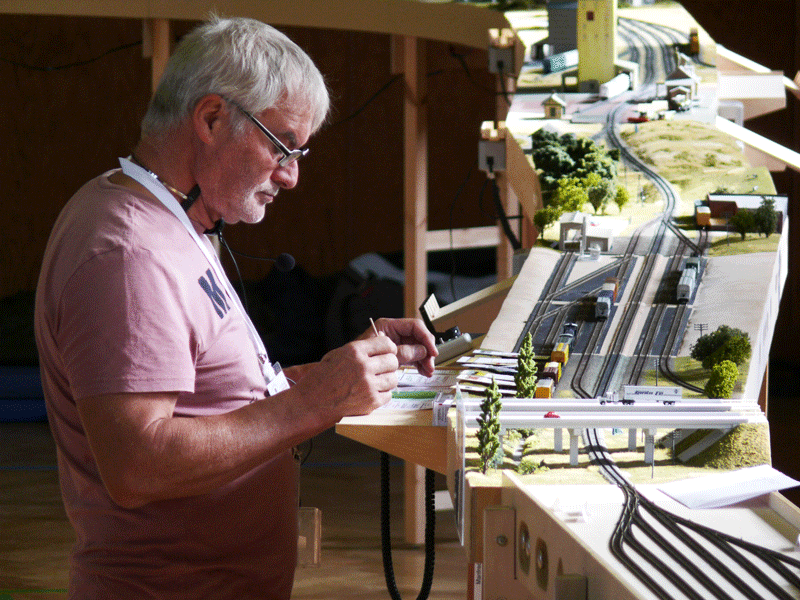 Paper Work at Yard Extension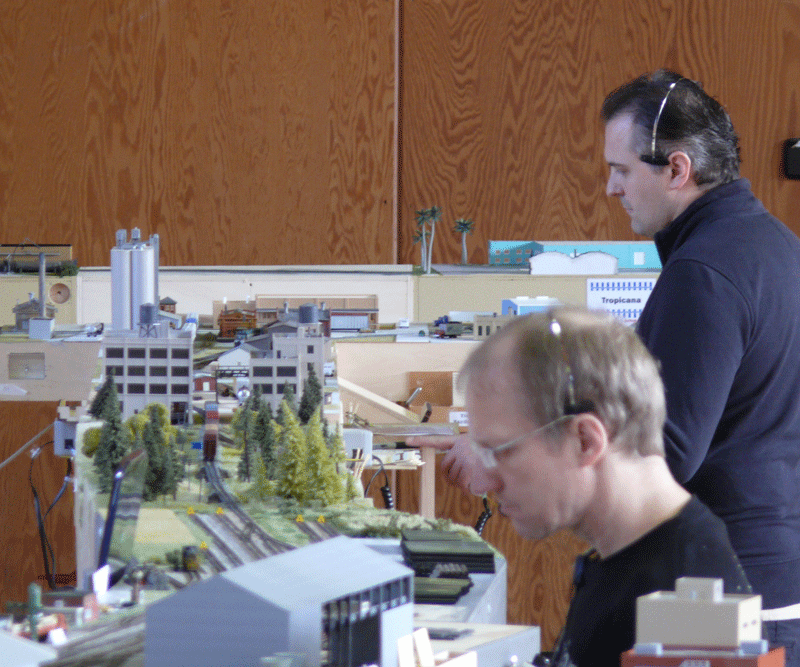 Marc at 2nd Street (below),
Jan at Haslingen Steel Mill (front)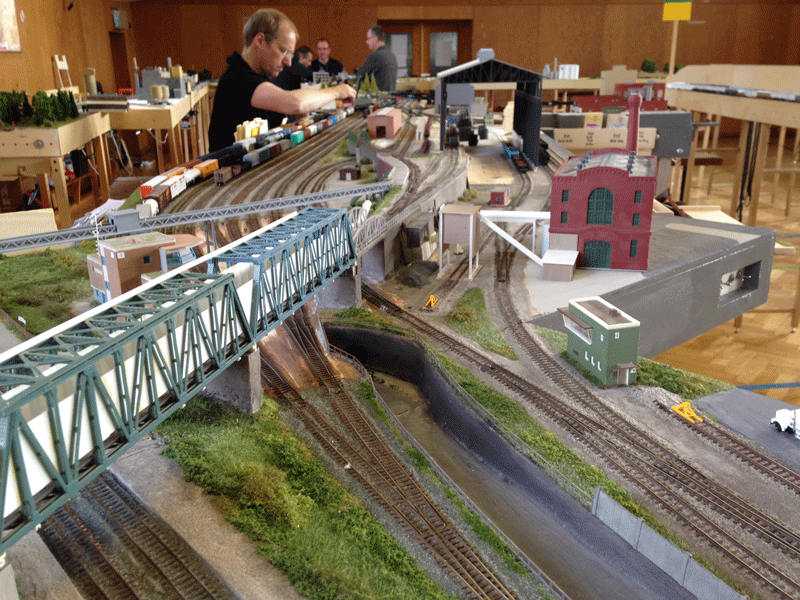 Haslingen Steel Mill, Jan sorting cars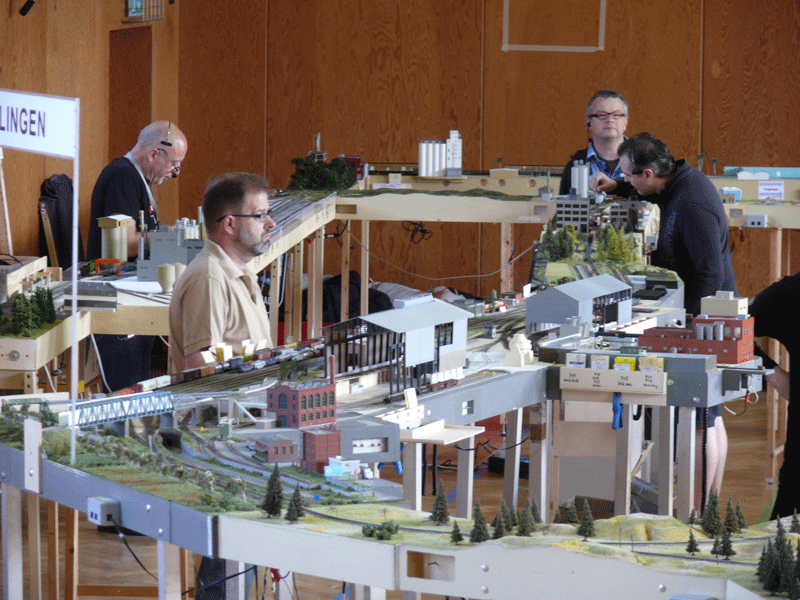 Haslingen.
From left to right: Elmar (at Burney Paper), Robin, Andreas, Marc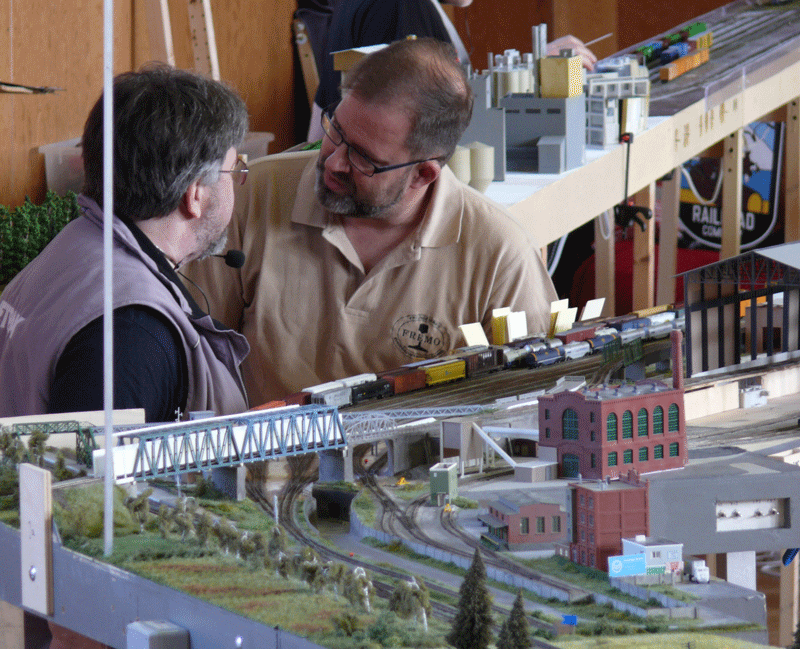 Per-Olov and Robin, at Haslingen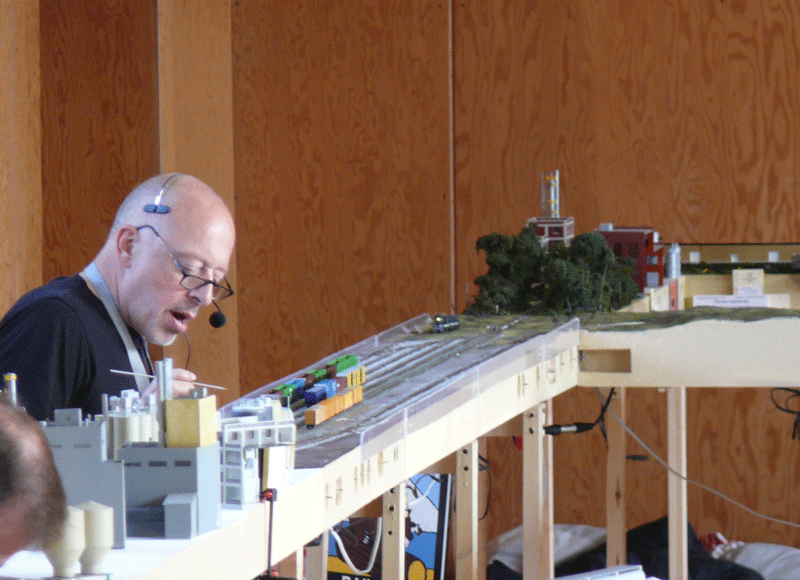 Elmar, switching at Burney Paper
Michael, switching at Clausen Storage
---
Premiere at an americaN Meeting: americaN TT 
These are the first modules "on stage":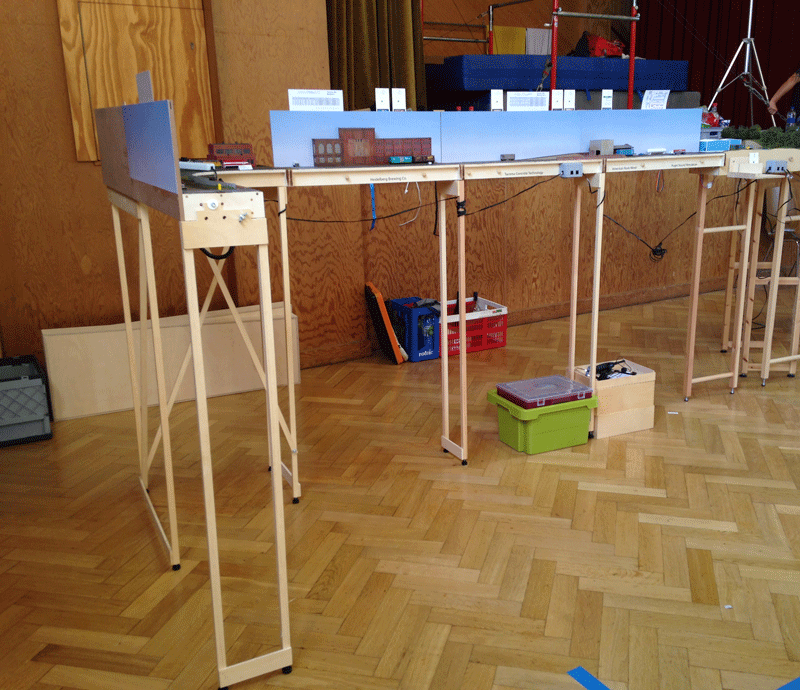 Overview of the set up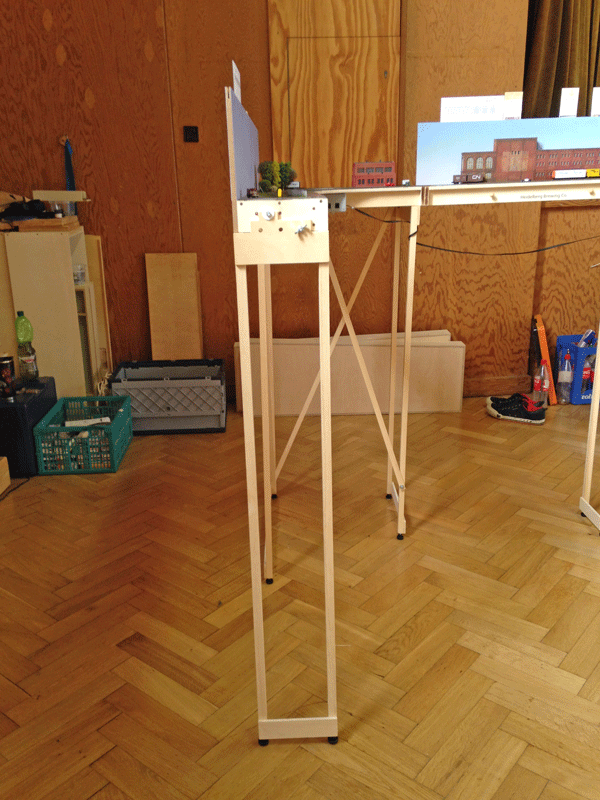 Corner, and set up of legs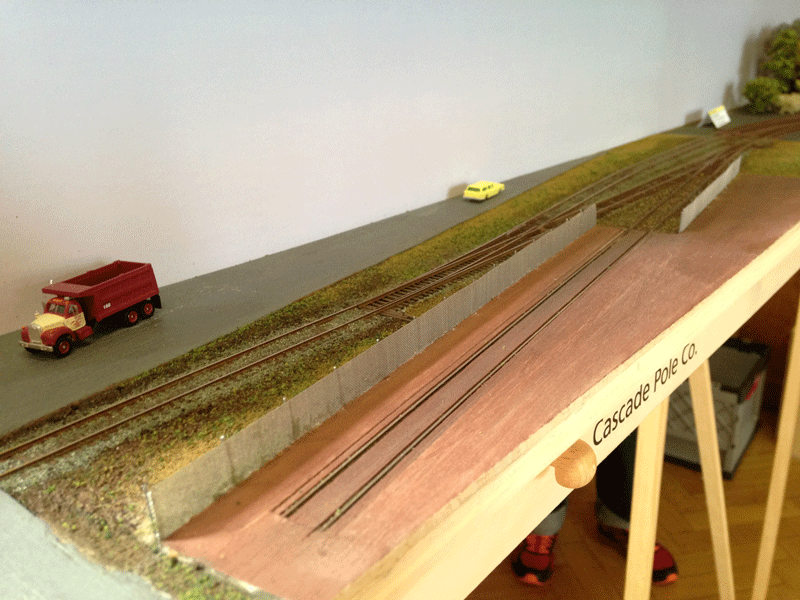 from the left ...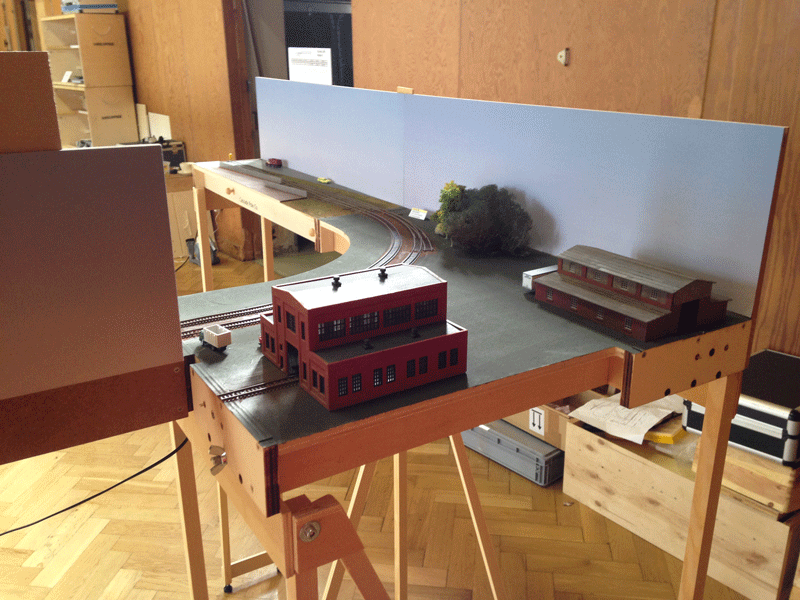 around the corner (looking from behind) 
same corner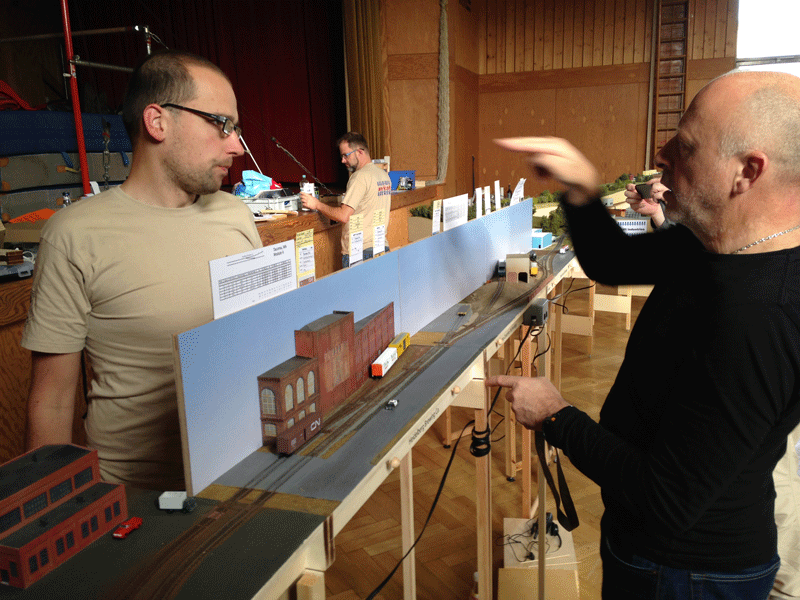 Claus, one of the americaN TT builders, in discussion with Elmar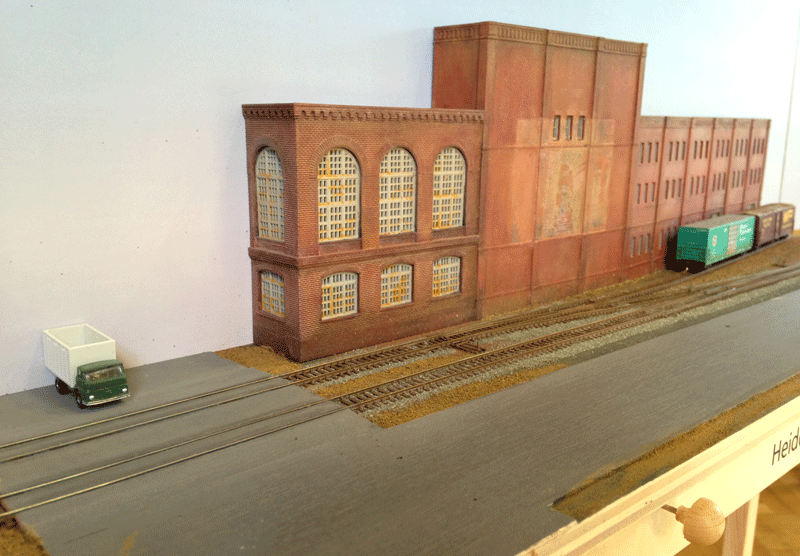 next Tacoma Branch module (by Peter)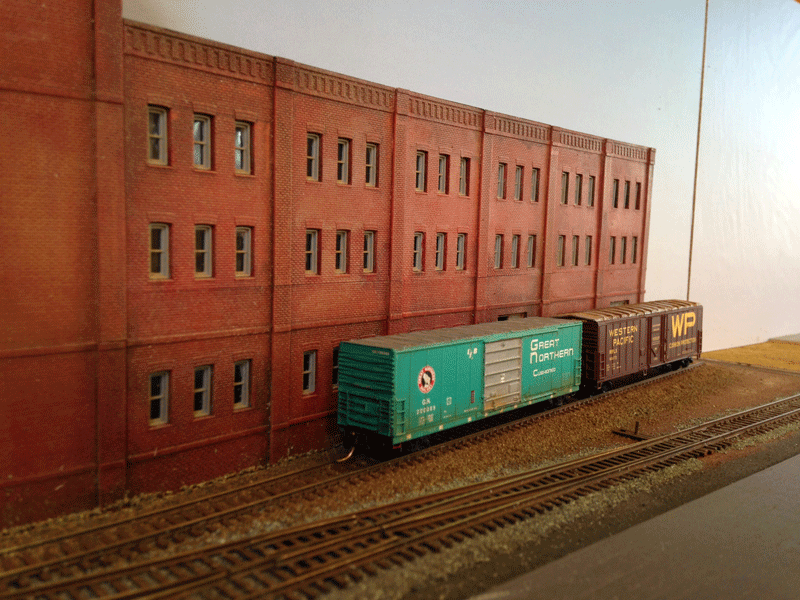 moving to the right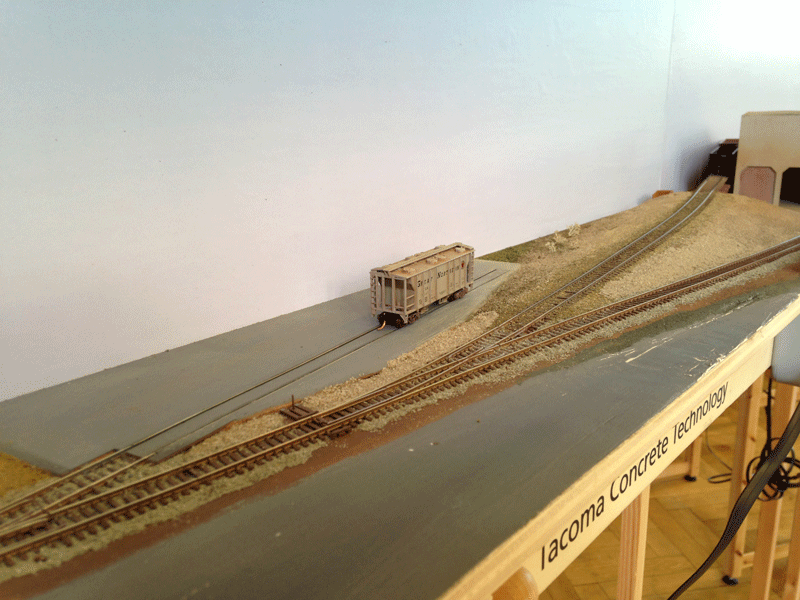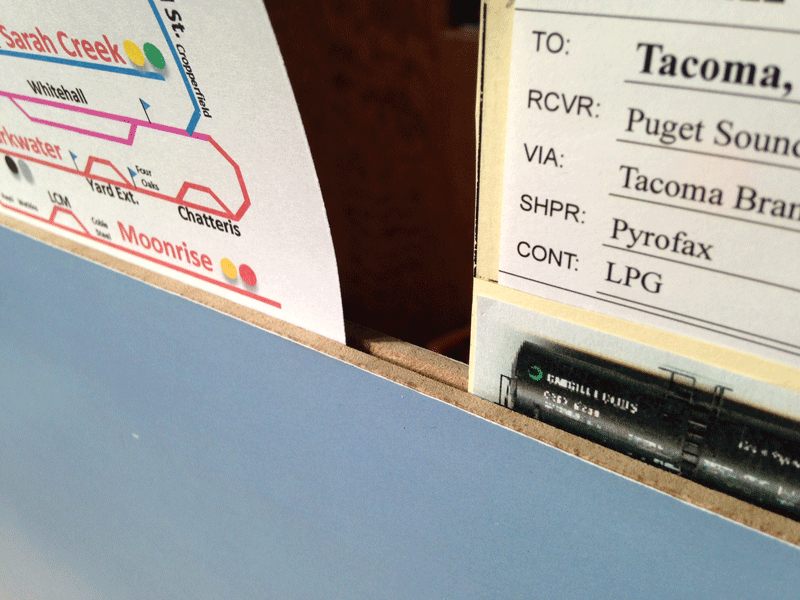 Detail: on top of the backdrop is the place to set up te Car Cards and Data Sheets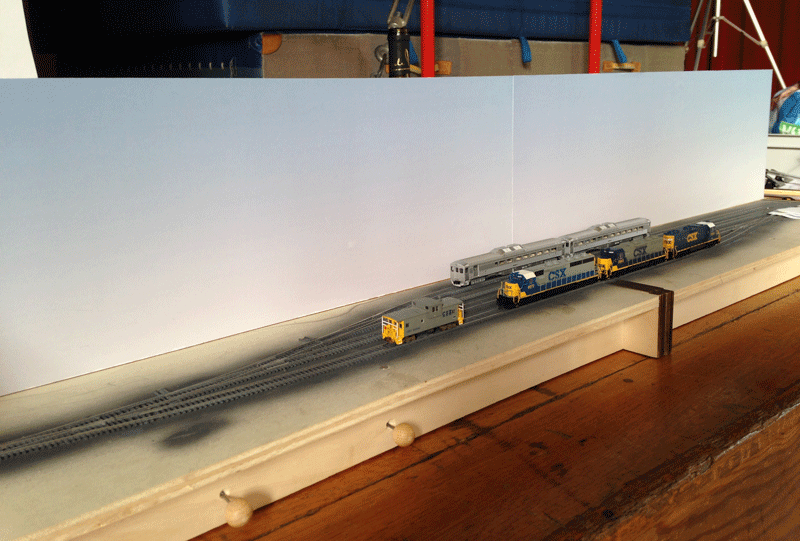 4 tracks, on 18 cm. Module by Claus
Photo with all the surroundings, to give an impression of the size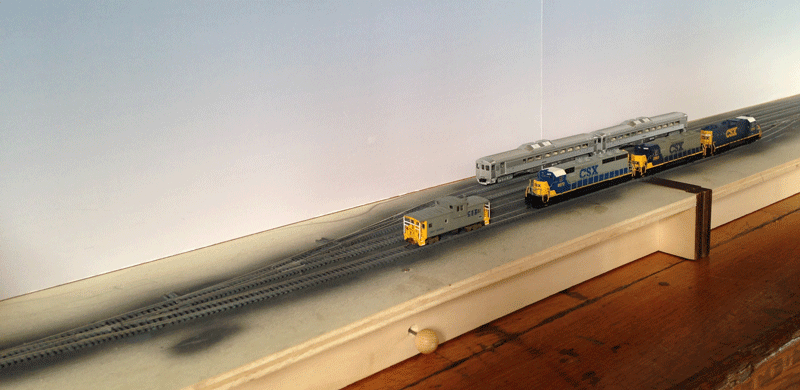 Detail without surroundings, to give an impression of depth
---
Burney Paper Branch, including Florida Branch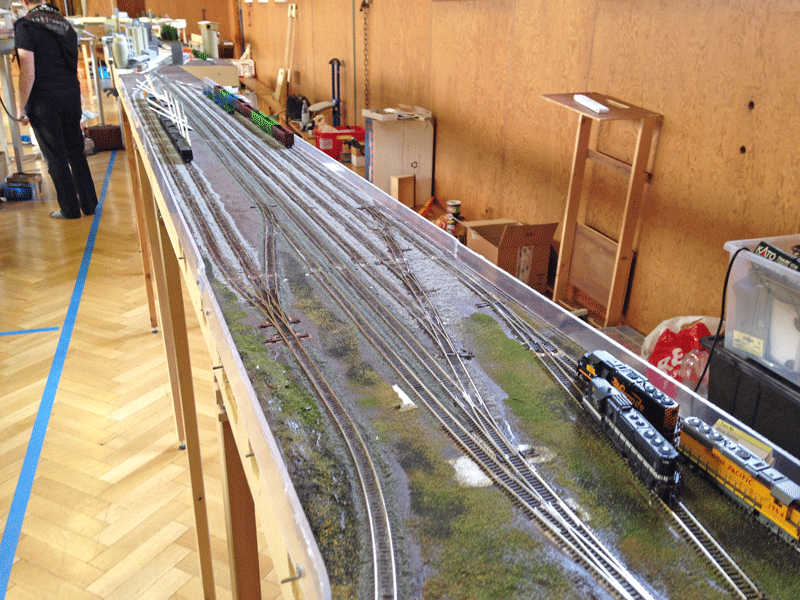 Burney Yard
This yard is an
interchange yard (two tracks on the left) 

industry support  (all other tracks)
Burney Yard is an "Industry Support Yard", built by Marc, according to the principles of railroad operations described in "Industry Spurs: how to coordinate Large Industries, Industry Support Yards and major Classification Yards"
This yard supports an industry railroad which is switching the Burney Paper Mill (behind), and (on this layout) the Florida branch (to the right).
To give an orientation: Burney Paper Mill got "only" 30 cars per day at this FREMO americaN meeting. The limitation was made because the layout system as a whole could not feed more than these 30 cars to this destination.
If the layout has more capacity for this paper mill, Burney mill gets more than 100 cars per day. Therefore, such an industry support yard is essential to operate the mill.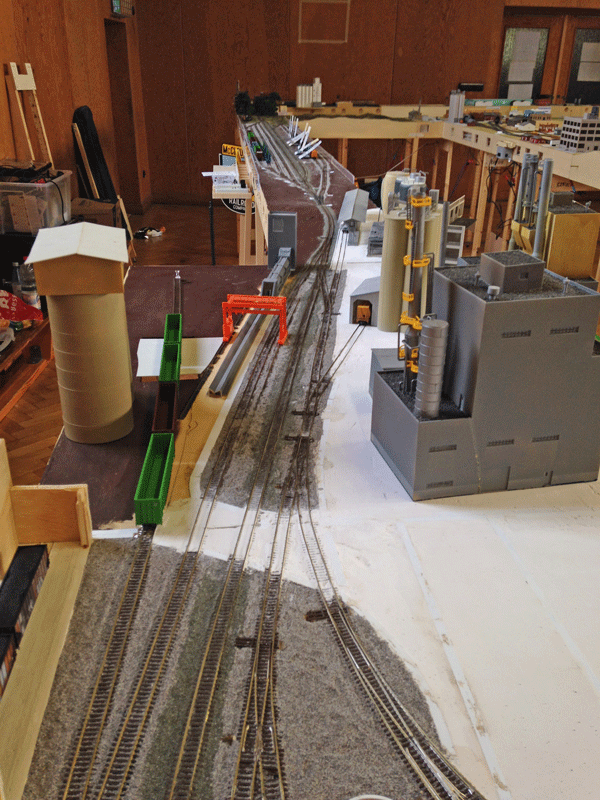 Burney Paper Mill, detail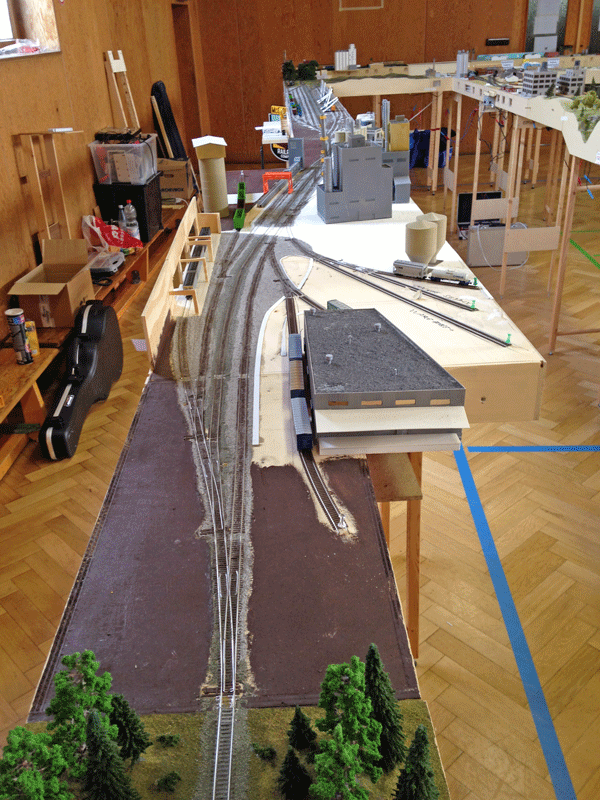 Burney Paper Mill, overview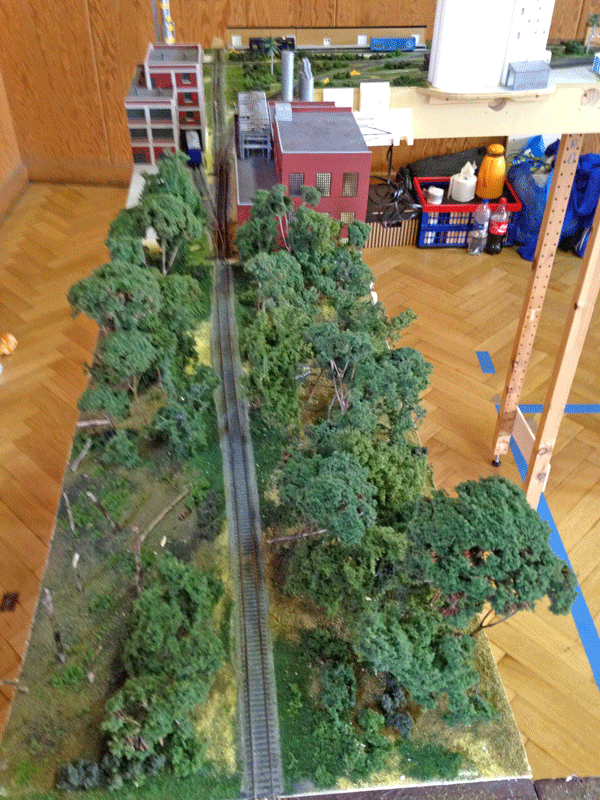 View from Burney Yard towards Florida Branch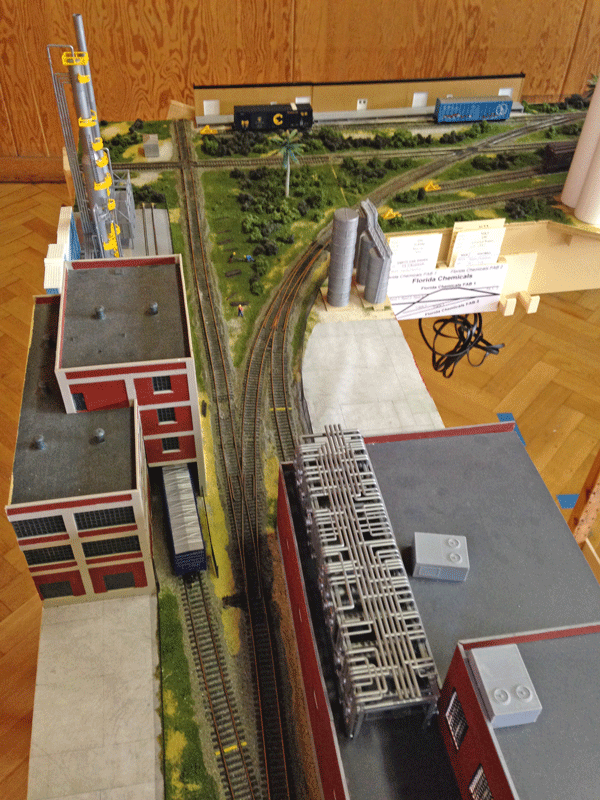 Florida Chemicals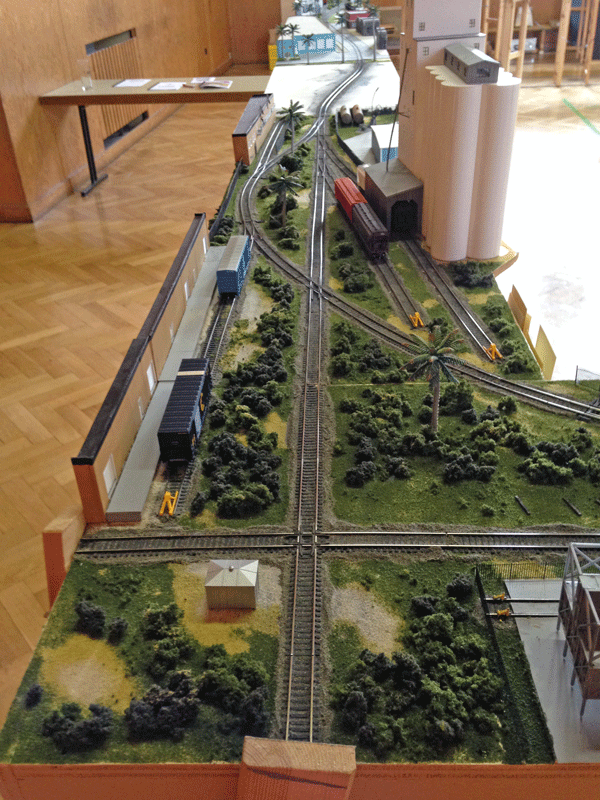 Florida Chemicals, other spots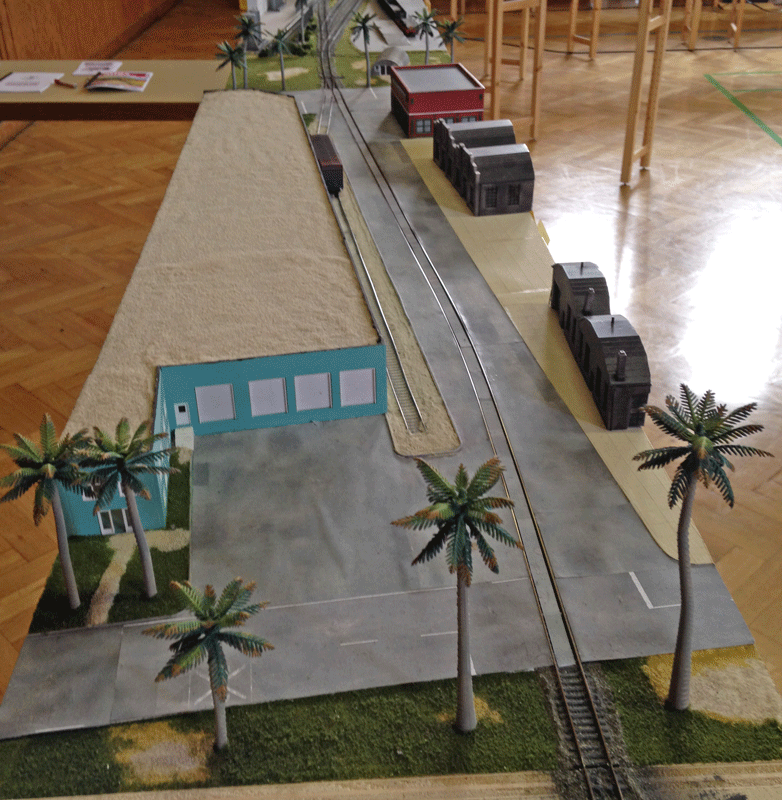 Tropicana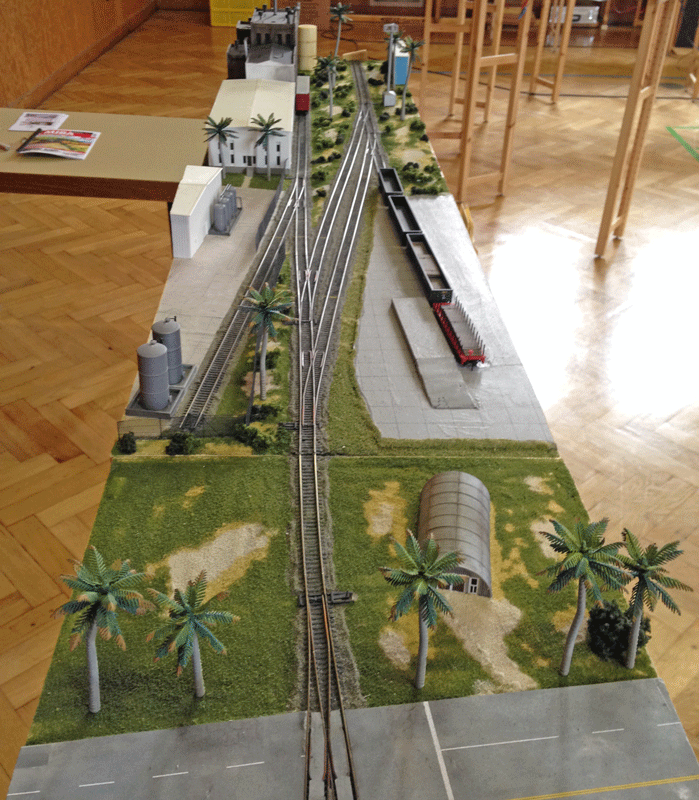 Homestead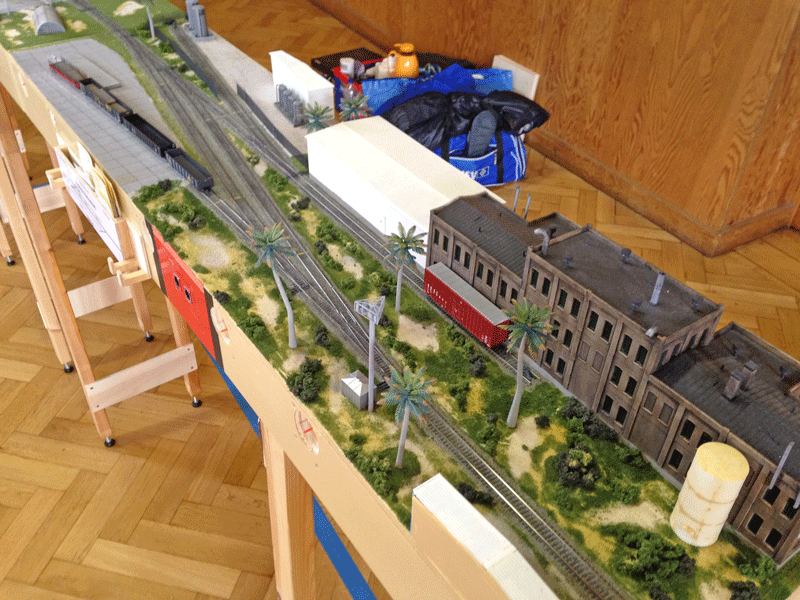 Homestead, other side 
---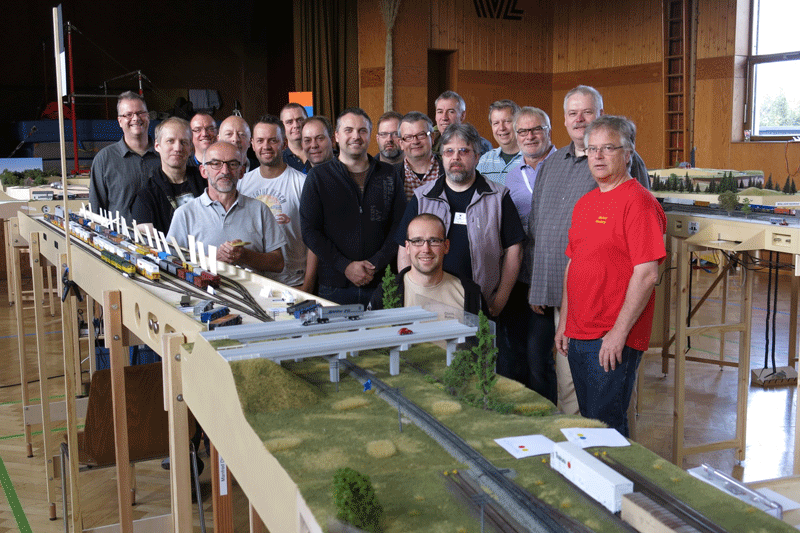 Group photo, left to right: Manfred, Jan, Bernd, Robert, Elmar, Stephan, Olle, Oliver, Marc, Robin, Andreas, Claus, Peter, Per-Olov, Dirk, Jürgen, Wilfried and Michael.
Photo by Bernd (c) 2014, published with permission
---
Story of Planning americaN Lauffen 2014 
Here you get the detailled report of the planning process for this layout, and the operational concept.  
---
Videos von americaN Lauffen 2014
CSX Through Freight from Parkwater Yard to Moonrise Yard
Live Video of switching a local freight at Chatteris, Nebraska (americaN). 
Passenger Train from Erehwyna Yard via Haslingen Steel to Sarah Creek Yard
---
have a look at the other Sites about this meeting: