Operation: Railroad
CLIC, SPINS, ZTS: Zones, Tracks, Spots identification
Details

Kategorie: Operation: Railroad
Zuletzt aktualisiert: Mittwoch, 28. Juli 2010 12:40
Geschrieben von Michael Homberg
CLIC, SPINS, ZTS: Zones, Tracks, Spots identification
please notice: this is a draft Version V0.2 (Status: 2010-07-28).
Please tell me about errors, and additions needed. I will update this site, and I hope the final version is one that a model railroader can use to set up a system to support the operations of his/her model railroad. At least, I will do so.
I got information about the systems from sources in USA and Germany, mostly from LDJ Layout Design Journal of the LDSIG, discussion groups in yahoo, and documents of Santa Fe and Conrail.
Definitions:
CLIC: "Car Location Identity Code"

SPINS: "Southern Pacific Industrial Numbering System"

ZTS: (Union Pacific, Conrail and others) "Zone-Track-Spot"
What I did:
I took the track plan of my model railroad yard "Chatteris, NE", and added the information regarding the CLIC, SPINS and ZTS systems. Please remember: I put in the information I got so far, and I think that there are errors in this draft! 
---
CLIC:

and the data: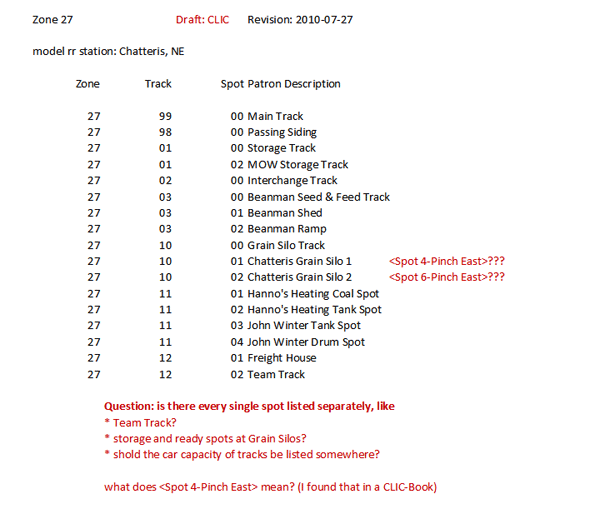 CLIC Instructions:
CLIC = Car Location Identity Code
Maps on CLIC documents are not drawn to scale and are to be used only as a guide to locating customers and yard tracks and the numbers assigned to them.
The geographical area covered in CLIC booklets is divided into Zones. Each Zone has designated tracks and/or industries within its boundary.
A CLIC number will consist of six digits. The first two digits designate a Zone, the seond two digits indicate the Track number within the zone; the last two digits represent the actual Spot along the track.
The combination of the Track-Zone-Spot number is known as the "Car Location Identity Code" (CLIC).
The "CLIC" number will be used for switching and reporting purposes rather than the industry or track name.
**Example of CLIC number**
  ----------------------
  27 03 01
  :  :  :
  :  :  --- Spot Number
  :  ------ Track Number
  --------- Zone Number
All switch targets or stands have been painted with a combination of the Zone and Track number.
Spot numbers have been paintd on doors, docks, buildings, gates, etc., wherever possible.
(Source: Santa Fe, CLIC Bulletin No. 2, Plains Division, H&S Subdivision, June 1986, page "A") 
---
SPINS:
in SPINS, it looks different: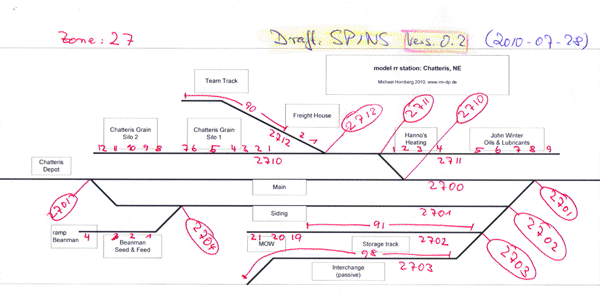 the data: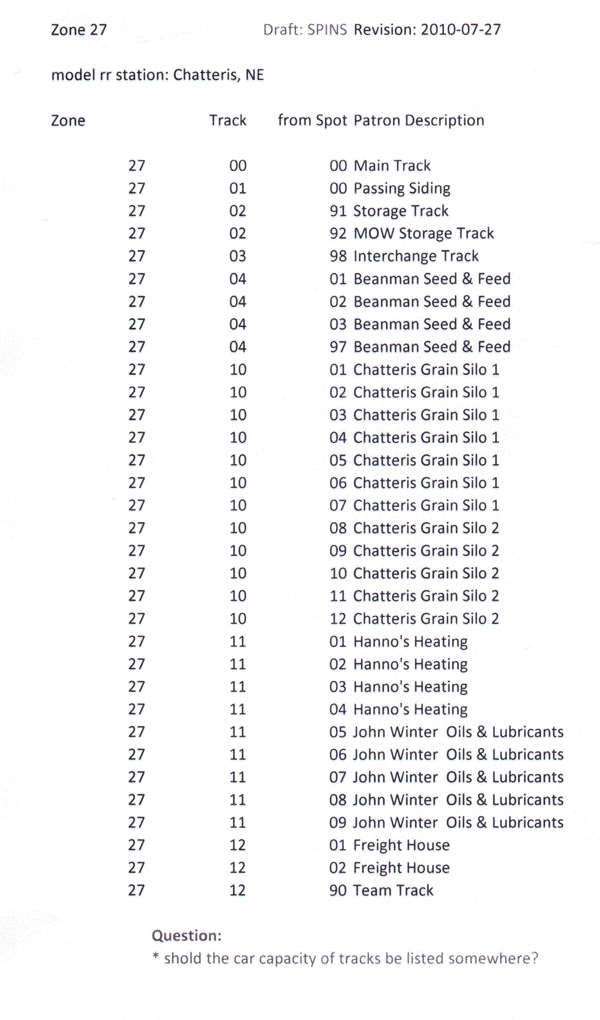 Details of SPINS:
SPINS is the "Southern Pacific Industrial Numbering System".
SPINS books identify industries and switching zones, tracks and consignee loading and unloading spots. By giving Zones, Tracks and Spots certain designated numbers, the railroad was able to print switch lists with exact locations to which a customer's car is to be spotted. A SPINS number contains six digits:
**Example of SPINS number**
  -----------------------
  27 03 01
  :  :  :
  :  :  --- Spot Number
  :  ------ Track Number
  --------- Zone Number
Track numbering of Spots begins at (the first) turnout.
In the example of the track plan of Chatteris (see above), track 2710 begins at switch 2710. The grain elevators are at track 2710, as the switches 2711 and 2712 lead to diverging tracks 2711 and 2712, while 2710 is the one following the track in a "normal" switching position.
Zone and Track numbers appear on the switch targets. At parallel tracks as 2701, the 2701 appears at both switches, at both ends.
Spot signs are placed where a customer normally loads or unloads their cars. Spot sings are 6" x 6" green metal signs with 4" white reflectorized numbers. These are placed at the center of a car spot. In other locations, spot numbers may be painted on customer loading doors or other structures.
(Source: Bruce Morden, Layout Design Journal LDJ-26, page 31, Spring 2001)
---
ZTS:
another system, looking different: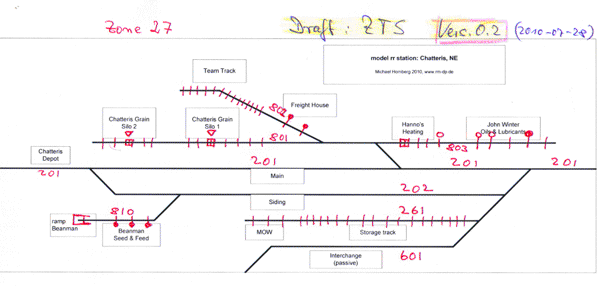 and the data: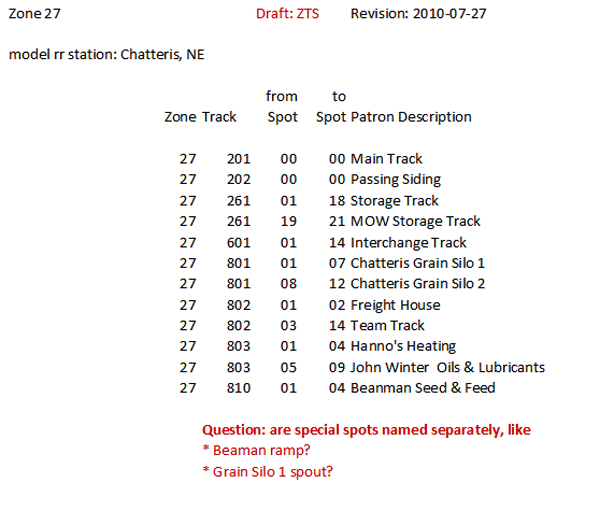 Details of ZTS:
ZTS is the system of Union Pacific, Conrail and others. It is called "Zone-Track-Spot"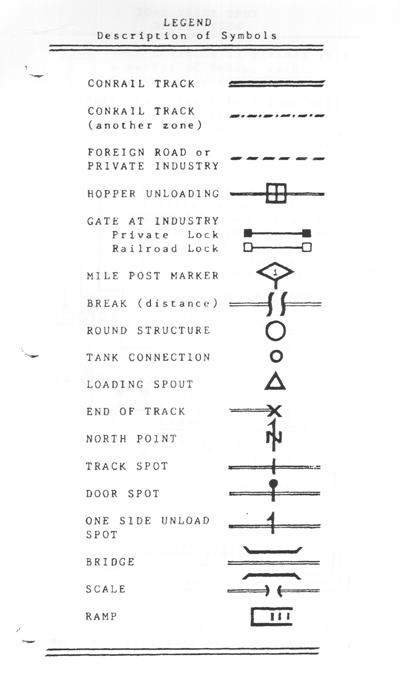 ZTS: description of symbols
(source: Conrail, Stations Department Quality Control, October 1984, Columbus Division)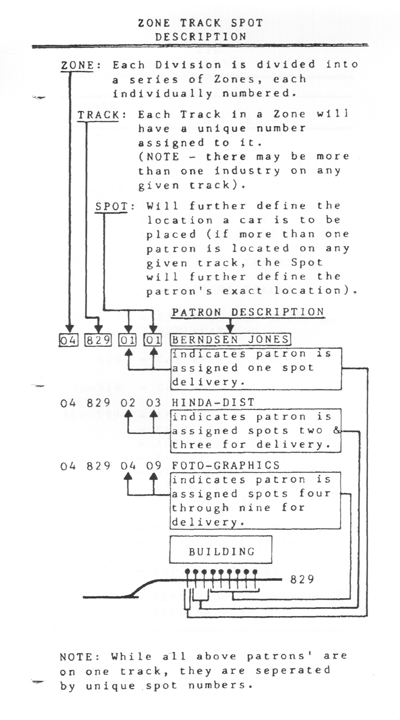 ZTS: description of numbers: zone, track, spot
(source: Conrail, Stations Department Quality Control, October 1984, Columbus Division)
 Number Series

Applies To

 001 - 199
 200 - 299

Main Tracks
Sidings
Switching Leads
Railroad Scale Tracks

 300 - 349
 350 - 399
 400 - 499

Reserved for special Applications 

 500 - 529
 530 - 539
 540 - 599

Intermodal
Flexi-Flo
Auto Terminal
Engine Facilities
Other Company use (tracks for loading and unloading) 

 600 - 699

Outlying Yard Tracks
Interchange Tracks 

 700 - 997
 998 - 999

Reserved for special Applications 
ZTS: Track numbering System
(source: Conrail, Stations Department Quality Control, October 1984, Columbus Division)
---
raw version data: 
please use the following graphic and xls-sheet to make changes and suggestions:

and
---
Please send the corrections and suggestions to michael.homberg(at)rm-dp.de